One of the traditional landmark events for the east coast debuts top women's teams and has an exciting men's group with #1 and #2 in the field.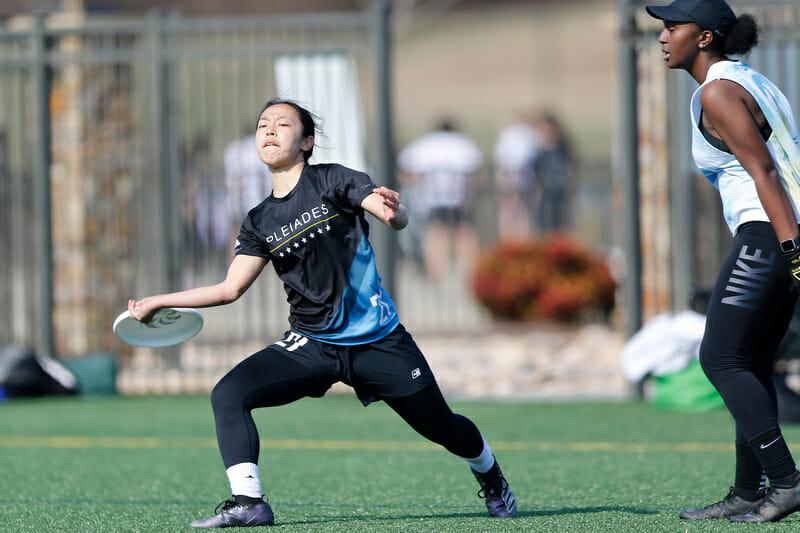 Our coverage of the 2022 college season is presented by Spin Ultimate. You can get 15% off all college uniforms and swag right now at Spin Ultimate!
Queen City Tune Up has long lived up the billing, providing an early season opportunity for title contenders and regional challengers alike to test themselves. It is common top teams to assert themselves with deep runs, but also for less heralded teams to put up statement performances to get themselves on the national radar. North Carolina is the heavy favorite in both divisions, but the tournament isn't their usual home turf. But they still play host to a number of quality opponents, all of whom would be happy to be the one to hit the targets on UNC's backs.
Tournament Profile
Date: February 11-13
Location: Rock Hill, SC
Weather Forecast: High 60s to low 70s on Saturday, high 40s on Sunday, and 5-10 mph winds
Top 25 Women's Division Teams: #1 North Carolina, #7 Brigham Young, #8 Pittsburgh, #10 Vermont, #12 Virginia, #14 Tufts, #15 Georgia, #25 Ohio
Top 25 Men's Division Teams: #1 North Carolina, #2 Georgia, #7 Michigan, #9 NC State, #16 Ohio State, #19 UNC Wilmington
Filming Schedule
These games will be available online next week for Ultiworld Full and Plus subscribers. They are being filmed, not livestreamed.
Men's Division
William and Mary vs. UNC Charlotte
Maryland vs. Case Western
Michigan vs. UNC Wilmington
Vermont vs. Penn State
Notre Dame vs. Appalachian State
Prequarter
Quarterfinal
Semifinal
Final
Women's Division
Appalachian State vs. NC State
Ohio vs. Columbia
Vermont vs. Georgia
Case Western vs. Florida
Michigan vs. Brigham Young
Prequarter
Quarterfinal
Semifinal
Final
College Team Packs are on sale now! Get video access and subscriptions for your entire team and coaching staff (including all of our 2021 college fall footage) along with a guaranteed filmed game, download access for highlight/Callahan/Donovan reels, and more.
Women's Division Storylines
North Carolina's Destined and Dominant Title Defense
#1 North Carolina Pleiades proved they were in a class of their own on their way to a 2021 national championship. Surely you've heard about the splashy additions they have: Anne Worth is back, and they're picking up Karen Ehrhardt and Maya Powell. There are murmurs of this being a worthy sequel to last year's run. They have historically done quite well at QCTU, only dropping one game — the 2020 final against Carleton — since 2018.
Typically, being the one seed would confer an easy schedule, and as far as making the bracket, they are in a good position. However, they do have #7 Brigham Young CHI in their pool, a promising test. For ranking purposes, it'll also connect them with the west coast powers.
Can anyone get anything going against this deep North Carolina team? What does their backfield look like without Tyler Smith and Bridget Mizener? This tournament offers the first hints at how they plan a repeat.
The New New England
The two top ranked teams from New England are both in the field, and both will be showing off what their new 2022 editions look like.
For #10 Vermont Ruckus, we'll see them with ballyhooed rookies Emily Pozzy and Rachel Oram-Brown for the first time. They broke through the Regionals ceiling in 2021, getting to Nationals for the first time in their modern program's history. With an upward trajectory that goes back half a decade, they are hitting the toughest parts of that trend: pushing their way into the elite tier. A deep run at QCTU would be a great first step.
Meanwhile, #14 Tufts Ewo hasn't been seen in action since 2020, when Player of the Year Margo Urheim had them in title contention. The team looks quite different now, but Hazel Ostrowski, Olivia Goss, and promising depth gives plenty of reason to be optimistic about their ability to maintain their position despite their attrition. The Bostonians face a strong challenge from Virginia in one of pool play's most tantalizing pairings.
Starpower To Light Up the Queen City
Queen City Tune Up offers up no shortage of great players who are likely to be key figures in postseason award conversations. North Carolina has a gaggle of them on their own. Georgia's Marie Perivier is a 2021 Callahan finalist and had POTY buzz in 2021. Pittsburgh's Annelise Peters and Jessie Sun have each already been on podiums. BYU's Kate Barry turned heads at Santa Barbara Invite, Appalachian State's Margaret Barry earned acclaim at 2021 Atlantic Coast Regionals, and we haven't even mentioned Vermont's Kennedy McCarthy yet!
While it won't be the primary focus of individual players, they will begin jockeying for position in those future conversations. QCTU is one of the major events of the season, and many players should be mostly in form after the brief break from the 2021 season. Teams might not give them full run, given that there are no college regular season rankings in 2022, but after everyone getting just a few weeks of "season" last time, players should be eager to get a more traditional schedule underway and putting their best foot forward.
Men's Division Storylines
Revenge on the Menu
The way things are laid out in pool play and the bracket, there's plenty of potential for matchups with recent history.
At the top, #1 North Carolina Darkside's bid for a repeat continues after an undefeated Carolina Kickoff. In the final, they kept #9 NC State Alpha, the no. 4 seed that they are lined up to play in semis, in check with a 15-10 score. Trevor Lynch and Dylan Hawkins would love to find a way to make Alpha more competitive with their accomplished neighbors. And if games to go to seed, they'll see #2 Georgia Jojah in the final. It's very early for the top two teams to butt heads, but you have to figure both would be eager to take control of their matchup, and gain whatever mental edge is available. North Carolina may be a powerhouse program being followed around by a TV network,1 but it is Georgia who is returning almost their entire roster, including 2021 Player of the Year Hayden Austin-Knab. That's in stark contrast to North Carolina, who loses some of the best players in the country.
Georgia is the a potential target for someone else's retribution: #7 Michigan MagnUM. The Ann Arbor crew looked like one of the men's divisions best stories at Nationals — again — but it ended in heartbreak as they were completely overwhelmed by UGA in their semifinal on the four-letter network. That's a tough pill to swallow, and should they tangle again, Michigan would love to dish it back out.
Atlantic Coast Power Rankings
We know about North Carolina, NC State, and the #19 UNC Wilmington Seamen, but after this weekend, every notable Atlantic Coast team will have found their way onto the field. Duke and Georgetown both offered up some early success at Carolina Kickoff, while Virginia Tech was one of the top lower tier teams at Florida Warm Up, mostly faring well against the Southeast teams in attendance. William & Mary, Maryland, Virginia, UNC Charlotte, and Appalachian State are all in the field, with the first two seeded inside the top eight. Given what we've seen from the region at other events, it's likely one of these teams will have some notable success.
Ohio State Attempts to Extend National Relevance
#16 Ohio State Leadbelly has emerged over the past few seasons as one of the strongest clubs in the division. They've been a tremendous foil for Pittsburgh in the Ohio Valley, while consistently putting up tough challenges at the College Championships. Most of that has been done with Sion Agami and Zach Braun at the helm. The duo has been the guiding force for OSU in their rise to prominence.
Their final showing at the College Championships was fairly underwhelming, and they narrowly reached the tournament to begin with. Now Axel Agami and Noah Krumme take on the team's largest responsibilities. The younger Agami has some experiencing bearing a heavy load, but how will his teammates respond? They'll need more weapons to emerge, with sharper execution and decision-making than they displayed in Norco. And they'll need to recruit and develop more talent to fill the pipeline if they'd like Ohio State to affix their position in men's division hierarchy.
---
An ACC Network production team was spotted filming the team at Carolina Kickoff, and will be doing so again at QCTU ↩