The most competitive men's division field we have seen this season.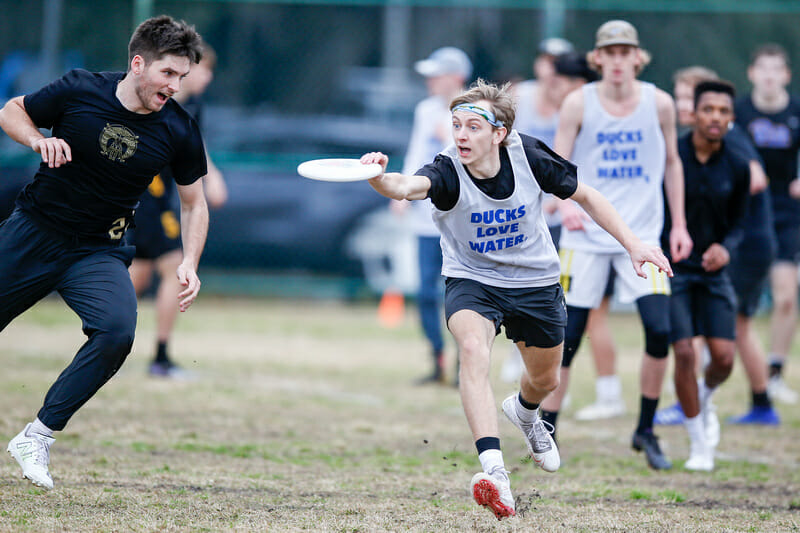 Our coverage of the 2022 college season is presented by Spin Ultimate. You can get 15% off all college uniforms and swag right now at Spin Ultimate!
Taking place right in the heart of the college season, this weekend's Smoky Mountain Invite is a major test for the men's division, with four of the top five, seven of the top ten teams, and 11 of the top 25 squaring off in what will almost certainly preview several Nationals matchups. #1 UNC Darkside remain the favorites, but the list of teams itching to take their best shot at the champs is deep and talented. And there's one interesting note on the format: everyone at SMI makes the bracket, so even a team that goes winless in pool play could win the tournament.
Tournament Profile
Date: March 5-6
Location: Knoxville, TN
Weather Forecast:

Upper 70s, with 10-15 mph winds

Top 25 Men's Division Teams: 

#1 North Carolina, #2 Georgia, #3 Colorado, #4 Brown, #10 Minnesota, #12 Texas, #9 Pittsburgh, #8 Massachusetts, #18 Carleton, #16 NC State, #17 Ohio State
Filming Schedule
These games will be available online next week for Ultiworld Full and Plus subscribers. They are being filmed, not livestreamed.
Men's Division
Colorado vs. NC State
Carleton vs. Massachusetts
Ohio State vs. Tennessee
Prequarter 2Cv3A
Quarterfinal
Semifinal
Final
College Team Packs are on sale now! Get video access and subscriptions for your entire team and coaching staff (including all of our 2021 college fall footage) along with a guaranteed filmed game, download access for highlight/Callahan/Donovan reels, and more. 
Title Contenders Lock Horns
#1 North Carolina Darkside are the top seed for good reason. If it isn't enough that they're the defending national champions, you have to go back to unsanctioned play in fall 20191 to find the last time they lost so much as a game. They graduated some generational players as the calendar turned, but they don't look any the worse for it.
Liam Searles-Bohs, probably the team's best asset, hasn't even really had to turn it on yet in 2022. Andrew Li, John McDonnell, and Tommy Williams have stepped forward in the absence of Darkside's graduated stars. More than that, the team's stellar junior class – whose first foray into college ultimate was interrupted by the COVID-19 wave – and underclassmen are finally getting to show off. Matthew McKnight has been a key cog for the team since he arrived in 2020; joining him this season is a whole new crop. "Jack McCleary, Jason Manning, Jayden Feagans, and Bodhi Harmony are all guys that are finding ways to influence the game now," said coach David Allison. "It's been really refreshing to put 2019 and 2020 behind us and kind of start fresh." Nobody re-tools on the fly like Darkside, and they have every tool they need to remain undefeated for another weekend.
But it won't be a cakewalk for the champs. Right on their heels are #2 Georgia, #3 Colorado, and #4 Brown – whom UNC successively took down in the bracket at December Nationals and who are all looking for some payback.
Georgia Jojah have already lost one rematch with UNC at Queen City. That result aside, they look like a solid bet to continue their impressive run from 2021. Hayden Austin-Knab has been and continues to be Jojah's ace-in-the-hole – he almost single-handedly engineered a second-half comeback in the aforementioned Queen City final with his all-around power game. Alongside Aiden Downey, Jake Powell, and Coleman Tappero, he leads one of the more balanced offensive attacks in the division.
That balance was thrown off a little with the recent injury to Matt Cook.2 Deprived of their most formidable deep cutter, Jojah has been experimenting with defensive stalwarts Jared Bennett and Drew Di Francesco on the O-line. Settling into roles appears to be the team's main focus at this point. "That will shift before Easterns [in April], but for now we don't really feel any urgency to win every game," said Bennett.
Colorado Mamabird are coming off of an undefeated Presidents' Day, although they saw close games against both #6 Cal Poly SLO and #14 Cal. Mamabird, much like Jojah, Darkside, and B. Mo., boast an extremely talented junior class. Danny Landesman and Calvin Stoughton are slotting well into the sorts of heavy-workload roles vacated by Quinn Finer and Mathieu Agee. Walt Johnson has emerged as a lockdown defender, and Thomas Brewster passed the eye test as a reliable finisher for the O-line. Mamabird's most dynamic player, however, remains First Team All-American Alex Atkins, who, as pure a system-breaker as you could make in a lab, pretty much goes where he wants and throws what he wants.
One of the big questions that will hang over the tournament is who, if anyone, can slow down Brown Brownian Motion's offense? Led by the smooth play of handler Jacques Nissen, B. Mo. pressed their advantage in the small-ball arena all the way to a victory at Florida Warm Up. The fact that they did it without their superstar John Randolph bodes extremely well for their campaign to take on Darkside or any other contenders. Leo Gordon and Cal Nightingale also had their share of offensive highlights in Florida. Dylan Villeneuve has been a two-way force so far, and they have an intriguing new defensive player in 6' 7" Cam Curney, who is adapting to high-level college ultimate at a rapid pace.
Looking to Gain Ground
Beyond the clear top-tier are a few teams looking to break through. #10 Minnesota Grey Duck have already proved that they have the chops to hang with the frontrunners with a marquee win over Brown at Warm Up. But maintaining that level of play proved just out of reach, as they would later lose close games to #9 Pittsburgh and # 13 Northeastern. On the agenda for Cole Jurek and company is to try to ride the peaks for a whole weekend this time around.
Speaking of Pittsburgh En Sabah Nur, things appear to be coming back together nicely after a rough (to say the least) go of it at December Nationals. With seniors Myles Cooper and Henry Ing leading the highlight parade, Pitt are a threat to take down any other team at the tournament in a single game, full-stop. Where they have fallen short so far in 2022 is consistency, both game-to-game and possession-to-possession. If they can tighten it up, they may regain their top-tier form.
#8 Massachusetts Zoodisc present an interesting case. Are they actually the team from Warm Up that romped over the lesser programs and took down Pittsburgh before skipping town early and forfeiting before the final two rounds? Or was that just an early season mirage? Furthermore, how will they use Orion Cable, who did not play with the team in Florida? Hopefully we get a full look at them this weekend to see how they stack up.
And let's not sleep on #16 NC State Alpha, although they have some kinks to work out after somewhat disappointing results at Queen City. Coach Michael Lee points to the challenges of ramping up to speed in short order with a very different roster than they used in the fall. "I think the diminished season didn't hit us until recently; there's so little time with this group," said Lee. If they struggle, it won't be for a lack of great pieces on both sides of the disc. The Trevor Lynch/Dylan Hawkins duo on the O-line are going to overwhelm a lot of defenses, and handler Suhas Madiraju, who was injured during Queen City, plans to return to the field in Knoxville.
A Pair of Spring Debuts
We haven't yet seen #12 Texas TUFF in action this spring – it'll be a baptism by fire for the 2022 edition, who will face an upper-echelon gauntlet in Knoxville without the likes of graduated students Vinay Valsaraj, Noah Chambers, Matt Armour, and Brian Street. The jury is out so far on how they will come together on the field, of course, but on paper they look like they can hang with most of the field. Jake Radack and Jacob Sames are top-level college throwers, Matt Chambers will be a problem for opponents whichever line he ends up on, and Zach Slayton, Xavier Fuzat, and John Clyde impressed in December. With lots of talent paired with lots of turnover, it's anyone's guess where TUFF will slot into the pecking order.
If taking stock of Texas at this point is rough guesswork, then trying to figure out #18 Carleton CUT is a complete shot in the dark. Unlike in years past, CUT did not travel for Warm Up last month, so this will be our first look at a team that no longer has Dillon Lanier, Stan Birdsong, Ethan Bloodworth, Luke Webb, or Andrew Roy. Not only would there have been a lot of roster churn between December and now, but Carleton's COVID-19 outbreak and subsequent first round withdrawal at Nationals ensured that we didn't even get to see any of the players who might have remained on for the spring. Who are 2022 CUT and how good can they be?
Looking to Bounce Back
Finally, several teams at the lower end of the field could use a bit of a turnaround after inconsistent or downright poor results earlier this season. Among these, #17 Ohio State Leadbelly are the likeliest candidates to notch a few strong wins and get their season back on course. Losses to NC State, # 14 Vermont Chill, and UNC Charlotte – as well as a mere squeaker of a win over regional rivals Case Western – were a sign that the window may be closing for the recent-vintage Ohio Valley standouts. But with Axel Agami and Eric Coglianese playing, it's far too early to count out Leadbelly. This weekend should reveal whether they are firmly in the Nationals-level conversation or somewhere on the fringes.
UCLA Smaug followed up an encouraging Santa Barbara Invite in January with a clunky performance at Presidents' Day last month. Riley Kirkman-Davis is every inch a star, of course. Smaug found it difficult to perform without him when he was sidelined with an injury, however, and their depth over a full weekend is a question mark even with him. If they break through with a good pool play win or play their way into quarterfinals in Knoxville, though, it will vindicate them and speak well of the whole Southwest region.
Colorado State Hibida, unlike UCLA, did not impress much at the Santa Barbara Invite, going winless on Saturday before earning a pair of victories in the lowest power pool. Those results would not seem to bode well for the stiffer competition they will face this weekend. The same goes for Maryland Space Bastards (9th place at Queen City) and Great Lakes hopefuls Indiana Hoosier Mama's (12th place at Easterns Qualifiers). Tennessee Prohibition, playing host to many of the nation's best for the second time now, will try to feed off some of the hometown support in quest of an upset or two, although they got off to a bumpy season start at T-Town Throwdown in Tuscaloosa in January.
---
According to the team, it is possible that he will be back in time for Nationals. ↩