When you're faced with challenges, you need to know the reasons behind why you play the game to overcome them and flourish.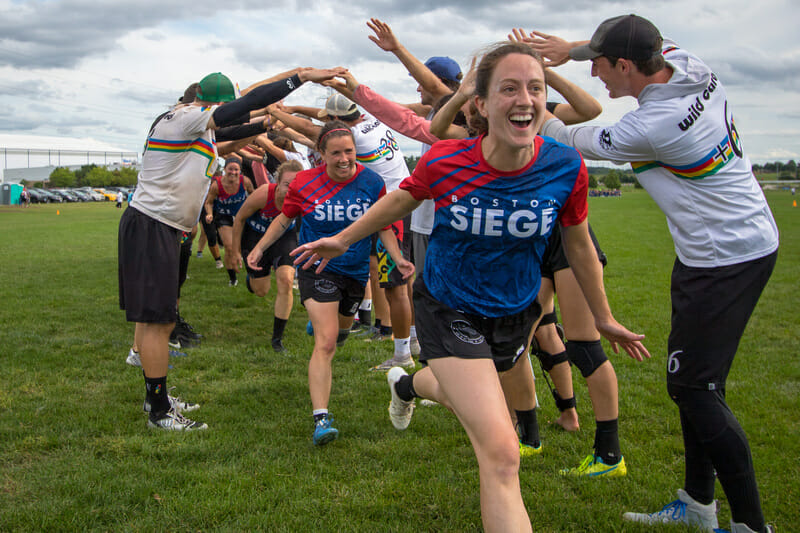 Tuesday Tips are presented by Spin Ultimate; all opinions are those of the author. Please support the brands that make Ultiworld possible and shop at Spin Ultimate!
Our motivation is the why of choosing one thing over another. It's the difference between having power over our decisions as opposed to our decisions happening to us. Every day we make choices: when to wake up, what to have for breakfast, and how to spend our free time. On the field, we decide to chase our matchup deep, make one more 7-cut, and throw a scoober to the end zone. Sometimes we spend our free time playing frisbee and sometimes we spend it eating ice cream. Sometimes we decide to match up and are physical on defense and sometimes we decide we'd rather poach. Why did I choose to write this article rather than watch the newest season of Always Sunny In Philadelphia and eating some chocolate ice cream?
Understanding our motivation is a part of our mental fitness. Practicing and developing our mental fitness is intended to improve our performance as an athlete and our overall health a person who participates in sport.
When dealing with adverse circumstances, it can be incredibly powerful and helpful to have a reason why. Logotherapy, created by Viktor Frankl, posits that "those who have a why can endure almost any how" and is built around finding the things that drive us. In ultimate, we are presented with challenging situations: running a cup and being five minutes into the point and feeling gassed, making your 12th cut only to get looked off again, or perhaps getting skied for the third time by the person you are guarding. When disappointment, doubt, or shame creeps in, motivation can crater and having a clear and defined reason to continue playing at a high level of effort is crucial.
Furthermore, when we are more aware of our why, the amount of cognitive dissonance — we want to do or be this, but our actions do not line up with those desires — is reduced as well as any negative impacts from said dissonance (depression, anxiety, lassitude, or shame).
The next time you have a moment to think — say you are on a walk, in the shower, journaling, or doing something you find relaxing — I would encourage you to contemplate what makes frisbee something you choose over something you have to do, your why. Or better yet, make time for this type of introspective thought. The more that difference becomes defined with intentional thought and framed with feelings and sensations (touch, sight, scent, and hearing), the more motivated and in tune with our own desires and our why we become. This is often termed as self actualization in Maslow's hierarchy of needs and is a pretty high level activity, so be prepared for it to take some effort and be something that you refine over time.
For example, here are my reasons to play and put in effort to ultimate:
The culture of ultimate is amazing. I value the social camaraderie within the ultimate community. The sideline banter and heckling that goes on within and between teams is one of my favorites. Being a part of the community has led me to try fun experiences with new people I never would have otherwise.
I love bidding. The sensation of overcoming my own limits, the thrill of conquering uncertainty, and owning my abilities as an athlete and human is exhilarating. So many sensations: dynamic, strain, wind, zen-like flow, grass stains and odor, cheers, groans, effortless, powerful. Summarized in the words of Deadpool: "Maximum effort"
Watching the new season of Always Sunny and eating ice cream is next on my to do list!
In contemplating your why, know that all reasons are valid and that what brings you joy and fulfillment is ultimately the why that matters. This is what will lead to more motivation and enhanced outcomes for you, whatever your outcomes look like. Club players and pickup players will have wildly different goals and outcomes while perhaps having similar whys, or perhaps completely different whys. There is a wide range here and the idea is to find your own.