The Claremont Braineaters roll to Nationals for a third consecutive season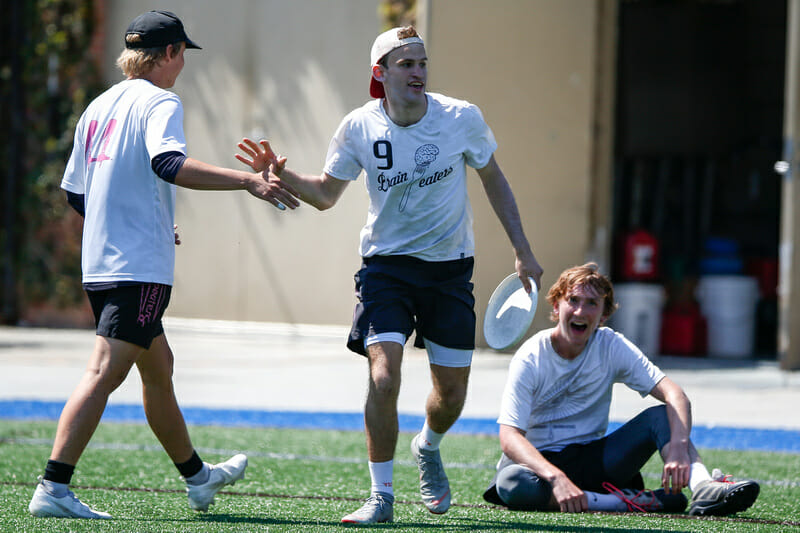 Our coverage of the 2022 college season is presented by Spin Ultimate. You can get 15% off all college uniforms and swag right now at Spin Ultimate!
(Disclaimer: the author of this piece coaches Claremont)
EAGLE ROCK, CA – The #6 Claremont Braineaters are the first team to clinch a spot at the 2022 College Championships, toppling #23 Occidental Detox 11-7 and CalTech Aftermath 13-6 to win the Southwest region.
The Claremont-Occidental game has become a staple of the Southwest region, with the winner all but assured a spot at Nationals given the current round-robin setup. These two teams met in the quarterfinal at the Southwest Showdown just two weeks ago. Claremont won that game 11-8, but each team played strictly person defense without trying to reveal any of the tricks they might pull out in their critical Series matchup. Both teams knew this game would be a bigger challenge.
Claremont had a chance to break on the first point of the game, as Leo Kitchell's spinning outside-in pull trapped Occidental in their own end zone against the backhand sideline. Occidental worked the disc carefully out of the coffin corner, but Claremont's Ta'ir Rocker flew in for a layout block on a break-side in cut to give Claremont the disc. While the Braineaters did not score on their possession, they set the tone for the game on that point by making Occidental work for every single yard.
"We are such a fortunate team in that everyone is bought in," Kitchell said after the game. "The energy that was present throughout the game, both in cheers and in defensive intensity from the very first point, really stood out to me."
Each team managed to hold the first six offensive points until Claremont punched in the first break of the game midway through the first half. Simon Gilbert laid out to block a reset near Occidental's attacking end zone to earn the Braineaters the disc. After a timeout, Claremont was incredibly stingy with possession and managed to break through an aggressive Detox defense for a 4-3 lead.
Occidental then called a timeout to give their O-line a chance to regroup, and Detox was able to hold their next point to keep the game in reach. As the first half neared a close, Claremont ramped up their defensive pressure and trotted out a zone defense that stifled the Occidental attack. The Braineaters notched two more breaks to close the first half on a three-goal run to go up 8-5.
Claremont kept its positive momentum moving from the first half, holding against the Occidental zone to open the second half. Despite generating a few turnovers late in the game, Detox's D-line could not move the disc effectively on offense and they were never able to claw back into the game. Claremont was able to use its zone defense to bleed out the clock, forcing Occidental into long, grinding offensive possessions. The Braineaters held out to win in soft cap 11-7.
"In years past we haven't had coaching, and what's really made the difference for us this year is having such a talented group of coaches in Alex Rubin and Dylan Freechild," Kitchell added. "Being able to throw a variety of different looks was able to tease out our strengths and Occidental's weaknesses and exploit those to the best of our ability. Playing an intellectual game really worked for us today."
Calder Altman and Jack Weber paced Claremont with four goals and an assist each in the game. Rookie Rory Beals led Claremont's throwers with three assists and a block.
In the second game, Claremont took down CalTech Aftermath 13-6. After employing a tight rotation in the Occidental game, Claremont took advantage of its depth against CalTech, who only rostered twelve players for the tournament. With wave after wave of fresh defenders, Claremont jumped out to a 4-0 lead and took half 8-2. CalTech did manage a second-half break, but ultimately was not able to complete the comeback. With an all-senior line to close it out, Gilbert's upline toss to Kitchell closed out the game and clinched Claremont a spot at the College Championships.
Against CalTech, rookies Moises Flores and Ryan Caton caught their first career goals, Adidev Jhunjhunwala notched his first career assist, and Cooper Nissenbaum led the team with two blocks.
"We got really strong contributions from across the team," Kitchell said. "People made great plays, but there wasn't a standout superstar. It was really a team effort and that was really beautiful for us. Especially in D-III when sometimes you have teams that make it to Nationals on the backs of one or two players. The fact that we have moved beyond that is a great omen for our success at Nationals."
In the final game of the round-robin, Occidental took down CalTech 12-6. In his final college game, Detox's Benjamin Ventresca stood out for his athletic, aerial prowess and ability to get open at will. Cole Lewis led the Occidental backfield and will be the focal point of the Detox attack as the team looks ahead to the 2022-2023 school year.
Lorenzo Shaikewitz and Maxwell Vale were CalTech's one-two punch, with Vale receiving most centering passes and Shaikewitz his top target downfield. While CalTech simply did not have the depth to compete against the best teams in the region, its top-end talent was able to keep the disc moving and keep their games competitive.