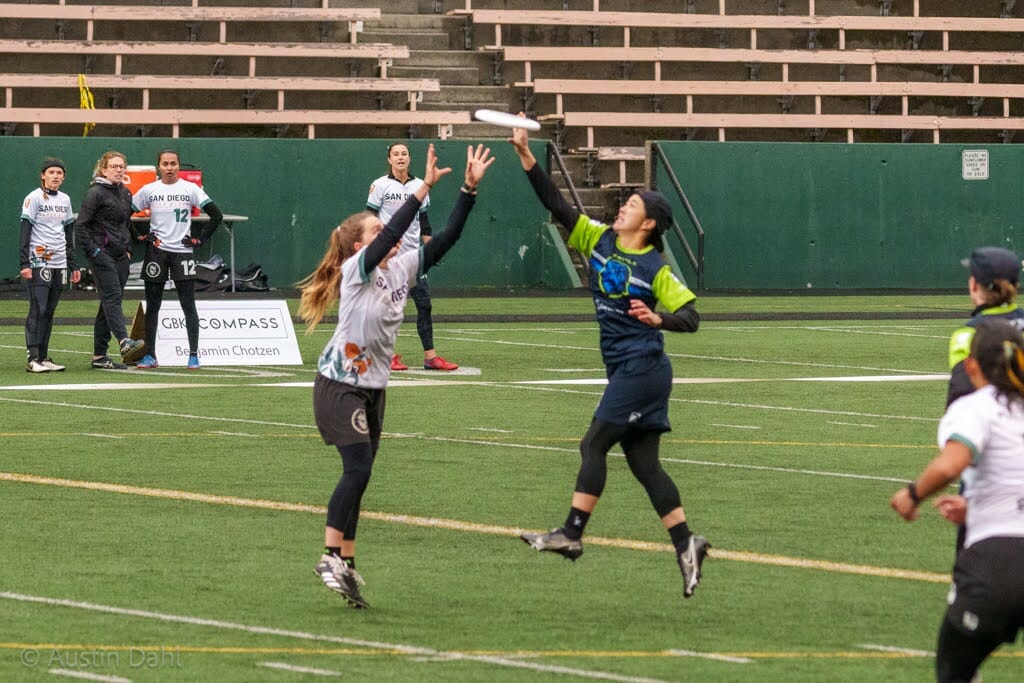 Last weekend the Western Ultimate League wrapped up their inaugural regular season and now the stage is set for the final four teams to compete in Championship Weekend. Seattle Tempest, San Diego Super Bloom, and Oregon Onyx secured their spots ahead of the final regular season stretch with their win/loss records, but Arizona Sidewinders had to wait until the outcome of a Los Angeles vs. San Francisco matchup on April 30 to clinch their spot.
On Saturday, May 14 we'll see no.1 Seattle face no.4 Arizona at 4 PM Pacific and then no.2 San Diego will battle no.3 Oregon at 7 PM. The losers of these games will play a third place game at 10 AM on Sunday, followed by the Championship Game between the winners at 1 PM. All games will be livestreamed on the WUL YouTube channel.
Double Overtime Podcast Preview
Tournament Profile
Date: May 14-15, 2022
Location: Mira Mira High School, San Diego, CA
Weather: Mostly sunny, with temperatures going from 70s down to high 50s in the evening, with 5-10 mph wind throughout.
Teams: Seattle Tempest, San Diego SuperBloom, Oregon Onyx, Arizona Sidewinders
Rosters: WULCW Rosters
Seattle Can Run the Table with a Title
Seattle Tempest have put on quite the show this season with an undefeated record and an impressive goal differential (San Diego's +11 is the only other positive differential) to boot. Week after week, the Tempest have shown their versatility and athleticism against varying defensive systems – Arizona will have their work cut out for them on Saturday to beat this infallible squad. On the plus side for Arizona, they haven't faced off against Seattle since Week One – over two months ago – so they can come into this match up better prepared.
The problem with Seattle, though, is that you can't construct a plan around stopping just one or two or their players. They have a deep bench full of flexible players, as is evident when you look at their stats. Sure, slowing down Qxhna Titcomb (7 goals, 11 assists, 9 blocks on the season), and Jamie Erikkson (12 goals, 6 blocks) would be prudent, but players like Aimie Kawai (3 goals, 2 assist, 8 blocks), Jennifer Ricaurte (6 goals, 10 assists, 3 blocks), and Sam Rodenberg (17 goals, 4 assists, 4 blocks) aren't going to just roll over. If one player has a bad game, two more are ready to step up.
San Diego and Oregon Meet Again
The second semifinal scheduled will be a rematch of a great Week 7 game, which the Super Bloom won 14-11. San Diego notably did so without Kaela Helton, though it has often gone overlooked that the Onyx were playing without Julia Sherwood and Kimber Coles, as well.
The game was neck and neck for most its duration, tied at 11-11 with under seven minutes to go, before a three-goal run for San Diego separated them as they reached the finish line. The Onyx even got the disc with the chance to go up 12-11. San Diego's zone defense proved to be too troublesome for Oregon to execute against in those final moments, though a key red zone scoring opportunity was short circuited by a stall. But once the zone was on down the stretch, Oregon was shut out.
San Diego held Oregon's star handler, Claudia Tajima, to an unproductive game. Tajima piled up seven throwaways, compared to 15.5 in all of her other five games combined, and was held to a mere 65 total yards, well off the pace her nearly 2000 yards for the season would indicate. A repeat performance from Super Bloom's defenders on that front would really increase their odds of playing the late game Sunday.
Oregon can score the upset win if they can take San Diego out of their short range game comfort zone. The Super Bloom have one of the league's most patient offenses, eschewing risky deep looks in favor of sharp moves and breaks. Onyx can win with their size if they tamp down on the mark and win the under spaces. Those kinds of high impact plays could also reduce the impact of a Super Bloom-backing home crowd.
The differing personnel should add some unforeseen changes. Coles' goal-scoring prowess might free up more reps for Morgan Zajonc to play defense, joining Sherwood as valuable reinforcements for that unit. Helton provides San Diego reliable experience and flexibility, and will shift matchup dynamics significantly for both sides. And with only a six-game sample size, it is foolish for teams to feel like they have the full picture of who will show up to the field in San Diego. On top of that, San Diego has home field advantage this time, rather than the neutral site setup the team's played on three weeks ago.
Arizona Searching for First Win on the Road
The big West is known for droughts, and the Arizona Sidewinders are in the midst of one in the W-L column. You have to go all the way back to the opening week, where they hosted Sidewinder Showdown, to find a time they outscored their opposition. They weren't even active as they qualified for the postseason through an unlikely set of circumstances. But they arrive in San Diego with a new lease on life.
If the regular season is a strong indicator, it won't last long. They draw a matchup against the one team they couldn't beat in their debut weekend: Seattle. Nobody else has beaten them, either, making it seem all the more improbable.The Tempest poured in 26 goals in that match, their second highest total of the year; no other team in the league has managed to crack 20 in regulation.1
The Sidewinders will need a better performance on both sides of the disc. Arizona gave away 32 turnovers, compared to an average of 26 in their other games and just 22 in their wins. Their D-line struggled to get the deep game going, with anchor handler Ari Nelson netting just one of five deep looks. Nelson is not playing for the Sidewinders this weekend, putting a lot of weight on Kay Powell, or whichever O-line handlers they cross over. The O-line is also going to be without cutter Lindsay Doyle2 until whichever medal match they play on Sunday. On defense, while they did get blocks on 55% of Seattle's turnovers, they forced only 22, below Seattle's nearly-25 average turnovers despite the high scoring affair. But they did outscore Seattle in the fourth quarter, 8-6, on the back of some fast-paced offense, so there may be a winning formula if they can extract and absorb the concentrate.
As it is, Seattle is the favorite to win the whole thing, let alone against an Arizona team that has not been in its best form down the stretch. Stars Qxhna Titcomb, Steph Lim, and Sam Rodenberg ran rampant against the Sidewinder defense in their previous matchup, but their receiving yardage was well spread and Seattle's deep squad is well set up to pivot if Arizona can quiet their top players.
Potential Gamechangers
Who could be the big difference-makers for each team in pursuit of a championship?
Shira Stern (Seattle Tempest)
While a number of Seattle's balanced roster play both ways, Stern is one of the centerpiece's of the defense's post-turn attack. She's second to Titcomb in yardage, crossing over both the 600-yard throwing and 800-yard receiving mark. Nobody is going to beat Seattle if they are earning breaks through Stern, or if she is enabling offense in a facilitating role.
Kay Powell (Arizona Sidewinders)
Arizona's O-line found some rhythm against Seattle, but their D-line never got traction. Without Nelson, Powell is the D-line's most natural thrower if their rotation holds as it did in the regular season. If she can hold down the deep game, Arizona will be able to keep the offensive firepower out on O-line to battle the stingy Tempest defense.
Alex Diaz (San Diego Super Bloom)
Kaela Helton and Kristen Pojunis both have credible MVP campaigns, but Diaz might have put together a case of her own had she played more games. Diaz led the team in yards against Oregon (with Helton out) and has an unreal 12-5 assist-turnover ratio, despite primarily activating from downfield.
Lindsey Wilson (Oregon Onyx)
It has been established: Morgan Zajonc, Aly Steinfeld, and Claudia Tajima are going to get buckets. That will happen whether the Onyx win or lose. Lindsey Wilson probably won't. She has under 500 total yards, zero goals, five assists, and just one block. But Wilson's ability to limit and derail key offensive pieces of other teams – she might be assigned to Alex Diaz or Kelli Iwamoto against San Diego, or one of the big name Seattle handlers should they meet – could be what makes Oregon championship material.
A Toast to a Success Inaugural Season
No matter which team comes out on top this weekend, the league as whole can look back at their inaugural season with pride. The two year delay didn't seem to slow them down, but rather gave them the time to get it just right. "Building the WUL has been such a journey and it's been so gratifying to see how much has already been accomplished, and to know that we have a solid foundation upon which we can build for future years," reflects League president, Manisha "Slap" Daryani, on the season. "For us, the foundation is based on three elements: watchability, engagement, and reach. It's been incredible to get such positive feedback on the watchability (and suggestions for improvement!), and this Championship Weekend is a chance to leave a highwater mark on the last two elements – engagement and reach."
---
Both Astra and Onyx did so, but needed double OT to get those totals. ↩

Third on the Sidewinders in goals and receiving yards. ↩