The tournament's top seed find themselves in a pool with one of the oldest and one of the youngest programs in the division, plus a former national silver medalist.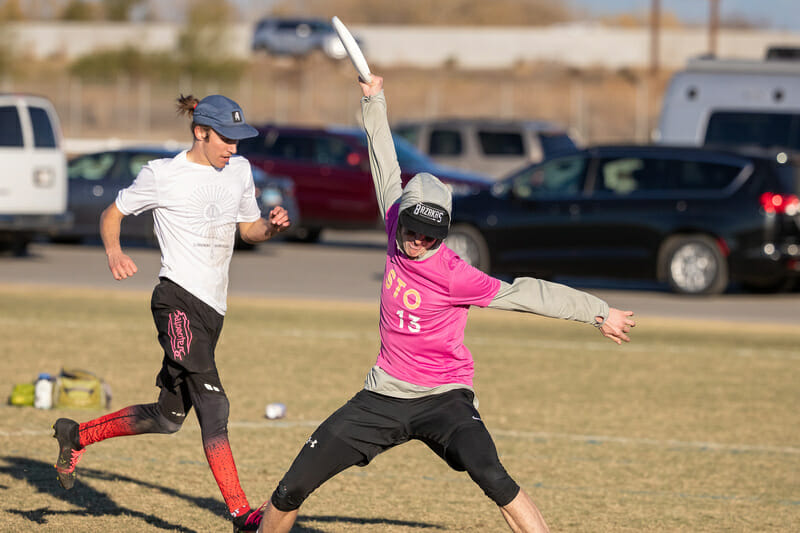 Our coverage of the 2022 College Series is presented by Spin Ultimate. Please support the brands that make Ultiworld possible and shop at Spin Ultimate!
Returning to its normal late-May slot in the calendar for the first time since 2019, the D-III College Championships are finally upon us. The irregularity of a spring season where there were no rankings to influence the bid allocation has produced a men's field where nearly half the qualifiers are either debutantes or haven't qualified for Nationals in over a decade. Still, 16 teams arrive at the campaign's final weekend ready to resume the regular business of crowning a national champion.
We've got you covered for all the exciting action this weekend, but before the first pull goes up tomorrow, let's get to know the teams who will be competing in Milwaukee. Then follow along at ultiworld.com/live for updates and livestreams throughout the weekend!
Pool A | Pool B | Pool C | Pool D
Seeding: A1; overall no. 1
Power Ranking: #1
Path to Nationals: Def. Grinnell 15-4 in North Central final
Past Nationals Appearances: 2012, 2015, 2021
Location: Northfield, MN
After falling just short in the fall with a double game point loss in the semifinals of Nationals, the St. Olaf Berzerkers have returned with a vengeance this spring, riding a 14-0 record to the top overall seed this weekend.
Secluded from many tournaments in the North Central, the Berzerkers were only able to play one regular-season tournament this spring, but they certainly made it count. Their undefeated weekend at Rodeo included a win over 2021 National semifinalists Richmond and, most importantly, a double game point win over Middlebury. The Pranksters were the only team to beat St. Olaf in the fall, and proving to themselves that they can beat the reigning national runners-up gives the Berzerkers supreme confidence going into Milwaukee.
While St. Olaf lose some crucial pieces from the fall, including Donovan finalist Drew Otterlei, they bring back plenty of firepower. Leading the charge for their offense is Will Brandt and Ben Fjetland-Souza. Brandt, our 2021 Rookie of the Year, is maybe the best cutter in the division despite being just a sophomore. With experience playing for the Minnesota Wind Chill and Minneapolis Sub Zero, it's easy to see why he feels so confident against college defenders, getting open seemingly wherever and whenever he wants. Feeding Brandt the disc is Fjetland-Souza, the team's 2022 Donovan nominee. Fjetland-Souza is an offensive coach's dream; he's a center handler with an array of break throws, the ability to put the disc deep, and the maturity to consistently make the right decisions.
The Berzerkers' defense couldn't look more fitting for the team's name; they're big, athletic, and relentless. Leading the charge is junior Luke Bleers. A teammate of Brandt's on both the Wind Chill and Sub Zero, Bleers is an exceptional athlete whose versatility as a defender allows him to match up on the opponent's star, no matter what role they play. Having blown out many opponents this season, this St. Olaf defense racks up breaks in bunches; when following along this weekend, expect to see some lopsided results for the Berzerkers.
St. Olaf were on the precipice of a championship game appearance less than half a year ago, coming up just one point short. They've already shown that they can beat top competition this season. It will be championship-or-bust for the Berzerkers in Milwaukee this weekend.
Seeding: A2; overall no. 8
Power Ranking: #11
Path to Nationals: Def. Scranton 15-11 in Ohio Valley final
Past Nationals Appearances: 1992*, 1995*, 1997*, 1999*,1 2010, 2018
Location: Oberlin, OH
The layout of pool A always leads to quite a bit of excitement between the bottom three teams in the pool. Topping that group this weekend is the no.8 seed and champions of the Ohio Valley, the Oberlin Flying Horsecows.
Oberlin is an interesting team to evaluate. Ignoring Boogienights — a tournament where they sent a roster equivalent to a B-team in order to gain some experience — the Flying Horsecows have an impressive record of 11-2 and haven't lost in the postseason. However, looking at the scores of those wins, many of them appear to be close calls. Only two of their wins were by five or more goals. This is primarily due to the construction of the team: they have a strong and consistent offense, but a D-line that struggles to earn breaks at a high volume.
Oberlin's leadership group jokingly described their offense as being "fully invested in Frank Huguenard dribbling," but the truth is that they are driven by their handlers, Oliver Vickers-Batzdorf and Ben Fuguet. The two are an excellent complement for each other, with Vickers-Batzdorf providing a calm, cerebral presence and Fuguet serving as more of a high-energy spark plug. Together, they pace an offense that is incredibly tough to beat and will keep the Flying Horsecows in most games this weekend.
Leading the Flying Horsecows is their coach, Meghan Drews. A former player for Michigan Flywheel and D-I sprinter, the Oberlin leadership credits Drews with going above and beyond to make an impact on their team. "She has quickly assimilated into the team culture and created personal connections to every player on the team," they said. "She has been a huge help for our team in reaching where we are today both in practice and in games."
The dichotomy between the top two seeds in this pool is fascinating. St. Olaf uses a relentless defense to rack up breaks and blow teams out, while Oberlin relies on a stable, steady O-line to pace things and keep them in the mix. It will be interesting to see if Oberlin are able to find enough breaks to keep their top players fresh enough for games later in the weekend.
Seeding: A3; overall no. 12
Power Ranking: #14
Path to Nationals: Lost to Williams 13-9 in New England semifinal; def. Bates 14-13 in game-to-go
Past Nationals Appearances: 2013, 2014, 2015, 2016, 2021
Location: Waltham, MA
After qualifying for Nationals in the fall but failing to make it out of pool play, Brandeis TRON have qualified out of the tough New England once again this spring, with eyes on making it further into the weekend than they did in the fall.
Brandeis's spring season got off to a later start than expected after having to withdraw from Layout Pigout due to COVID, but once they got going, they began racking up wins quickly. TRON's one regular-season tournament was a 6-1 showing at New England Open, losing to a Bryant team that they would later beat not once but twice at regionals. After losing to Williams in the first game-to-go at Regionals, TRON showed resilience in the backdoor bracket, winning consecutive games on double game point to earn the region's third bid to Milwaukee. This resilience is a point of pride for TRON, as their leadership pointed out that they are 5-1 in double game point games this season.
Leading the charge for TRON is their 2021 Donovan finalist Cameron Park and junior Matt Sehgal. Park is a steadying presence that will lead the team in touches this weekend, commanding the offense from the handler space and moving downfield to cut when necessary. Sehgal is, according to TRON leadership, "the last true hybrid in the game" and dictates the pace of the game while on the field. Maybe his greatest trait is his endurance and durability; leadership says that he played 93% of the points at regionals. Other key players for TRON include handler Noam Gumerman, defensive captain Matt Kolk, and deep threat Griffin Stotland, who leadership claims to be the fastest player in D-III.
Tron's captains are quick to give much of the credit for their success to the team's two coaches, Gabe Colton and Andrew Pillsbury. "As a program, we have spent the last four years [the tenure of the current coaching staff] emphasizing the development of well-rounded team players," said Kolk and Gumerman. "We heavily attribute these well-rounded players and team systems for the back-to-back natties appearances."
A fun story to keep an eye on in this pool this weekend is the clash of siblings when Andrew Marshall of Oberlin faces off against Zach Marshall of Brandeis. Both teams cited each other as the opponent they're most excited for this weekend so that the Marshall brothers could settle which team is better. With Oberlin's comfort in close games and Brandeis's track record on double game point, it should be a thrilling matchup to see.
Seeding: A4; overall no. 13
Power Ranking: #24
Path to Nationals: Def. Butler 12-10 in Great Lakes final
Past Nationals Appearances: ???
Location: Winona Lake, IN
Every year, a team rises up from off our radar at regionals and unexpectedly takes a bid to Nationals. This year's surprise team is the Great Lakes champion, Grace Lancer Ultimate.
Grace entered regionals as the no.5 seed in the Great Lakes, with little to no hype around the team. Mediocre results at Meltdown and Old Capitol Open, followed by losses to Butler and Valparaiso at conferences, had Grace far from any Nationals discussions. However, Lancer was able to avenge those losses en route to the region championship, including a revenge win over Butler in the game-to-go.
This team is about as much of a Cinderella story as you'll find. It's the program's first year in sanctioned play. Only two players on the team had played ultimate prior to the pandemic, with most of the roster getting their first taste of tournament play this spring. The team is also a coed team, a cool wrinkle that is often seen at the conference and regional levels but rarely at Nationals.
Leading Grace's rise to prominence is star handler Ben Close and coach Drew Schramm. Close is the kind of do-it-all star you often see on new programs. Whether he's pulling, vocally anchoring the defense from the deep space, or going every-other on the turn, Close has his fingerprints all over every game for Lancer. Helping set Close and his teammates up for success is Coach Schramm. With a small roster of 18 players, every player has to find a way to contribute, and Schramm works to bring the best out of his whole team. By all accounts from regionals, Grace's 3-3-1 zone was a heavy factor in their success, with Schramm masterminding the scheme.
It doesn't get much more unknown than a first-year program that has never played outside of the region before. Opponents won't be able to scout or prepare for Grace at all, which could be enough of an advantage for Lancer to pull off an upset or two. Regardless of their results this weekend, it's amazing to see a first-year program make it this far, and the experience they have at Nationals should set them up for years of success to come.
---
All appearances prior to 2010 were for the D-I College Championships. ↩