Two legitimate title contenders pair with two first-time Nationals attendees.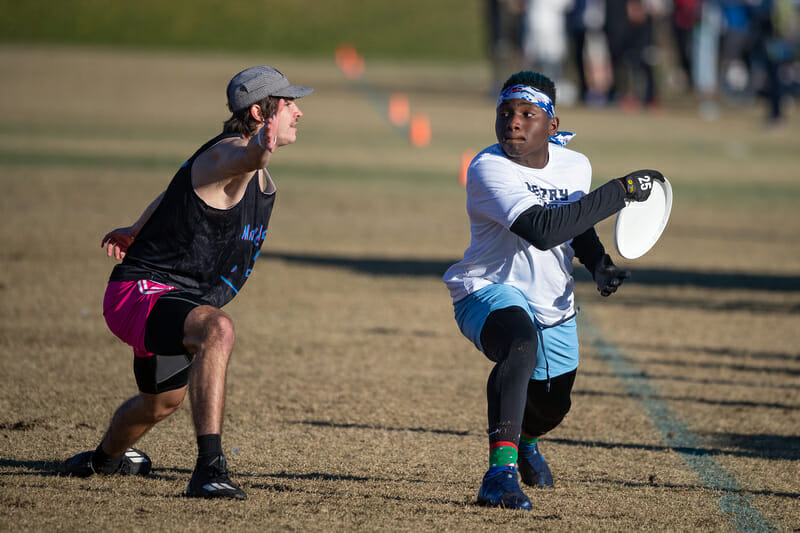 Our coverage of the 2022 College Series is presented by Spin Ultimate. Please support the brands that make Ultiworld possible and shop at Spin Ultimate!
Returning to its normal late-May slot in the calendar for the first time since 2019, the D-III College Championships are finally upon us. The irregularity of a spring season where there were no rankings to influence the bid allocation has produced a men's field where nearly half the qualifiers are either debutantes or haven't qualified for Nationals in over a decade. Still, 16 teams arrive at the campaign's final weekend ready to resume the regular business of crowning a national champion.
We've got you covered for all the exciting action this weekend, but before the first pull goes up tomorrow, let's get to know the teams who will be competing in Milwaukee. Then follow along at ultiworld.com/live for updates and livestreams throughout the weekend!
Pool A | Pool B | Pool C | Pool D
Seeding: C1; overall no. 3
Power Ranking: #3
Path to Nationals: Def. Union 15-7 in Southeast final
Past Nationals Appearances: 2019, 2021
Location: Mount Berry, GA
The top seed in Pool C is the Berry College Bucks. The Bucks took the sole bid from the Southeast region with a 15-7 victory in the final against Tennessee Union. At their conference championship — a combined sectional and regional event — Berry went 4-0, with their closest game on the weekend coming against Georgia College in the semifinal where they won 15-10. A very strong regular season combined with their dominant postseason performance secured their position as one of the top four seeds of the tournament for this program on the rise.
Berry made an upset run to the quarterfinals at 2021 nationals in Norco. Robert Bradham, the 2021 D-III Men's Coach of the Year, found his players' strengths and placed them in positions to succeed. Lots of players stood out throughout Berry's 2021 run, many of which return this season. Berry will lean on 2021 D-III Men's Breakout Player of the Year Caleb Enright to guide their offense on both O-line and D-line. Colin Hill, the 2021 Rookie of the Year 1st runner-up , returns to be a force on defense. Chris Gmeiner, who did not receive lots of attention in Norco, will also be an asset on defense; Gmeiner generates blocks and break chances as much as any of the best defenders in the division.
The Bucks will push the tempo off a turnover, which requires talented throwers to anchor the offense. A key asset in the Berry offense is Walter Ellard. Ellard did not receive as many individual accolades as his teammates in 2021 but stood out on the field with his throwing ability and athleticism. In Norco, Ellard frustrated defenses with his different release points as a handler. Then when teams pushed him downfield, he would churn out big cuts with his legs. These key players, combined with the ultimate IQ of Bradham, means that Berry has a legitimate shot to make a deep run into the bracket in Milwaukee.
Even just a few years into their program's existence, Berry have earned the right to think bigger than merely qualifying for Nationals, and already have reps against some of the division's elites this spring. At FCS D-III Tuneup, the largest regular-season D-III tournament, Berry went 6-1, dropping a single game on a universe point loss to the Richmond Spidermonkeys. Wins from this tournament include a victories over nationals qualifers Navy and Oberlin. Other than the loss to Richmond and a close game to D-I Appalachian State at Needle in a Ho Stack, Berry has not really been tested this season. If they can go up early and hold leads against teams this weekend, there is no reason to believe Berry won't continue their dominance. However, a tight contest might put just enough pressure on the Bucks to break their hot streak.
Seeding: C2; overall no. 6
Power Ranking: #5
Path to Nationals: Def. Missouri S&T 15-12 in South Central game-to-go
Past Nationals Appearances: 2021
Location: Oklahoma City, OK
The reigning national champ Eagles took the second bid from the South Central region with a win over Missouri S&T Minor Threat. The 2022 Oklahoma Christian (no "U") will return some mainstays from their 2021 national championship team, including 2021 award honorees Elliott Moore (1st runner-up OPOTY), Evan Card (1st runner-up ROTY), and Jonathan Costello (2nd Team All American). Of course, it is impossible to look at the Eagles and not discuss the notable loss of D-III Men's Player of the Year Kyle Henke. But Garret Taylor, 2021 1st runner-up D-III Men's Coach of the Year, made a point to focus on the team's gains the past year, not their losses. "Last semester, 25% of our team had a ton of experience and 75% had very little experience. We really worked at getting the younger guys more involved, which has given me and the team more confidence from top to bottom." One such player exhibiting this new confidence is Sammy Roberts, who gained lots of experience from nationals in December.
It's a safe bet to look at the Eagles as a serious contender for another national title, even from the position as no.6 seed. The competition out of the South Central region was some of the fiercest this Series; losing to a very good Missouri S&T team knocked the Eagles out of contention for the tournament's top seed, but they avenged that loss in the game-to-go and jusst escaping the two-bid South Central is a good imitation of the pressure cooker of Nationals.
However, the team that relied on "having a perfect O-line last semester," according to Coach Taylor, will have to generate break opportunities to win games in Milwaukee. Adding Thomas Maguire, Trevor Cook, Manny Bilolo, and Max Hamilton should give them more depth and legs to convert these chances throughout the weekend.
The ability for OC to attract new talent is indicative of the success of their scholarship program. It seems that with every major player they lose, they gain five more who can work into a system. It's a luxury that no other team in the division has. Lots of programs rose to the nationals stage on the backs of key four-year players, lots of whom would return for a fifth year with eligibility rules in the 2021 series. While OC is not immune from the talent turnover problem, their scholarship program limits its impact more than any other school in Division III.
To secure a spot in the bracket, OC will have to come out firing against the rest of their pool. While the lower-seeded teams in Pool C lack the level of nationals experience that OC wears with their 2021 medals, the Eagles have been known to drop games to lesser teams when they come out flat. It could be that the no.6 seed lights a fire under OC that they need to compete this weekend. Elliott Moore, the Eagles' 2022 Donovan Nominee, is optimistic about the weekend and the new talent they're bringing to Milwaukee. In fact, Moore described the team's approach to nationals in very simple terms: "our team is very, very hungry."
Seeding: C3; overall no. 10
Power Ranking: #13
Path to Nationals: Def. Conn College 15-4 in Metro East final
Past Nationals Appearances: none
Location: Ithaca, NY
Ithaca Nawshus won the two-bid Metro East regional tournament to punch their ticket to Milwaukee. They had a dominant 15-4 win over Connecticut College in the first-place game-to-go. This followed their only tight game of the weekend, a semifinal against Wesleyan which they won 15-12.
Nawshus made it a goal this season to focus on their game. "Our team has had a history of playing down to teams we should beat, and we often end up losing those games," the Newhaus captains said. Focusing on themselves was also important outside of tournaments at practices. Nawshus had low numbers at practice all season, which at times made it difficult to do something as simple as a 7-7 scrimmage. But playing many consecutive points at practice allowed their top players to prepare mentally and physically to play back-to-back points at tournaments. Look for standouts Eli Robinson, Owen Young, Nadav Berkman, and Luke Pohlman as the players taking many of these consecutive points this weekend.
As the no.10 seed and a first-time national attendee, Nawshus is no doubt an underdog heading into the weekend. But this doesn't bother them. In fact, they are looking forward to the chance to play the best of the best. "We play better against teams that are better than us," they said, "and we think we can make a run and we're excited for the opportunity." This first-ever appearance in the season's final weekend is a fact that is not lost on team leadership. "We're all thrilled to be able to represent everyone who has ever played or will ever play for this team," the Nawshus captains said. "We played the best ultimate we ever have, won the games we needed to win, and improved our sideline presence greatly, all of which helped us earn this bid."
If Nawshus makes a run this weekend, they will continue to do it as their tight-knit unit. They're bringing a small roster to Milwaukee — just 17 players — which makes playing six or seven games a weekend that much more difficult. Small rosters also mean that sideline presence, something the Nawshus captains view as a positive this season, will be quite limited. They will have no problems "playing down to teams" this weekend, as the talent in their pool alone is some of the highest in the division. Nawshus will make bracket if they hold seed, however, this requires them to save their legs for the last game of the day against Scranton, which for a small roster is a tall order. While the odds of Nawshus upsetting one of the two powerhouses in this pool is slim, they might just be motivated enough to catch a top team flat on their heels.
Seeding: C4; overall no. 15
Power Ranking: #21
Path to Nationals: Lost to Oberlin 15-11 in Ohio Valley final; def. Swarthmore 15-12 in the game-to-go
Past Nationals Appearances: none
Location: Scranton, PA
Electric City Scranton Ultimate (ECSU) has the no.15 overall seed in the tournament, and the last spot in Pool C. They took the second bid from the Ohio Valley region with a 15-12 win over Swarthmore in the backdoor bracket. A 15-11 loss to regional champs #11 Oberlin was ECSU's single loss this season, as the rest of their results include comfortable wins over Haverford, Messiah, and various B-teams from the Midwest.
This has been a big year for ECSU, as the program had never won a regionals game before this season. There were several individuals who contributed to this success. Scranton's Donovan nominee Matt Pindilli is the team's player/coach, acting as a center handler on the field and a culture leader on the sidelines. Michael Kane is a big cutter on defense and offense. He has played through injuries this entire season but has still managed to be a team MVP. Rookie Gabe Hackman is a talented cutter who commands the disc downfield both on offense and on defense after a turn. And their captain, Matt Comiciotto, is another big cutter who runs the D-line. But even with these mainstays, ECSU will look like a different team this weekend than during the regular season. They play as a mixed team all year until conferences, where they split their 89 total members into male and female matching teams for the Series. In a more practical sense, ECSU will be missing their seniors this weekend because of conflicts with their graduation.
When asked about what the team was most excited about for this weekend, captian Matt Pindilli said they were excited about the experience of playing at nationals. "Our team has never done anything remotely like this in the past and we are excited about the new experience," Pindilli said. He also kept an eye towards the future, noting that the nationals stage gives ECSU the opportunity to showcase their talent. "We also want to show that Scranton is a frisbee school and we want to be recognized for it. We want to represent our school well on a national stage," he said.
ECSU is the second team in this pool without any nationals experience and will have to play at their best if they hope to make some noise in pool play. They are undefeated outside of Regionals, but still don't boast any especially notable wins to hang their hats on, except maybe a universe point win against Messiah in March and their game to go against Swarthmore. They enter nationals untested against top teams, which is only a detriment to a program with limited—none, actually—regionals success in past seasons. Their first two games are against Berry and Oklahoma Christian, which does not bode well for their most important game, the battle for third against Nawshus. Fortunately for ECSU however, Nawshus will be dealing with similar personnel problems, which might level the playing field for the last round matchup. Regardless, ECSU is going to have to play their best game if they hope to make it into bracket on Sunday.