A 2021 national finalist starts their 2022 run from a similar position atop Pool C, but there is plenty of firepower lurking behind them.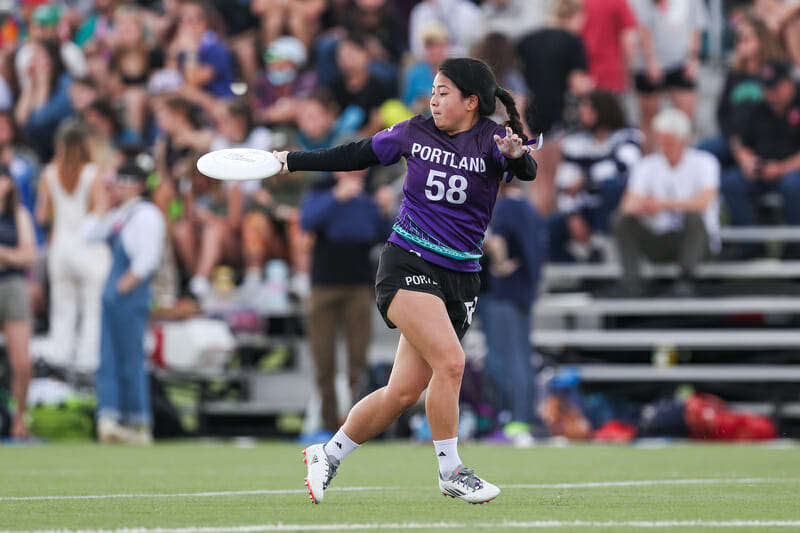 Our coverage of the 2022 College Series is presented by Spin Ultimate. Please support the brands that make Ultiworld possible and shop at Spin Ultimate!
Returning to its normal late-May slot in the calendar for the first time since 2019, the D-III College Championships are finally upon us. Despite an irregular spring season without rankings to influence the bid allocation, 16 worthy teams arrive at the campaign's final weekend ready to resume the regular business of crowning a national champion. This season we have a women's field featuring four previous national-title winners as well as four programs with no previous Nationals experience.
We've got you covered for all the exciting action this weekend, but before the first pull goes up tomorrow, let's get to know the teams who will be competing in Milwaukee. Then follow along at ultiworld.com/live for updates and livestreams throughout the weekend!
Pool A | Pool B | Pool C | Pool D
Seeding: C1; overall no. 3
Power Ranking: #3
Path to Nationals: Def. Lewis & Clark 14-5 in Northwest final
Past Nationals Appearances: 2017, 2019, 2021
Location: Portland, OR
2021 finalists Portland UPRoar is back, and looking to repeat the success they found in Norco. While most teams would really struggle after losing a talent like Kim Dorr (2021 POTY 2nd runner-up, two-time DPOTY runner-up) and the other six members of her class, Portland finds themselves in the exact same starting position as they were five months ago — sitting atop Pool C as the tournament's no.3 seed. UPRoar has reloaded, bringing in eight new players and compiling some impressive results this spring, including romping through the rest of the D-III Northwest at Confregionals, and losing 13-11 to an Oregon Fugue team that lost in the game-to-go to D-I Nationals.
Despite all of the accolades Dorr racked up last season, she wasn't even Portland's most decorated player; that honor belongs to do-it-all senior Jaclyn Wataoka, who was the 2021 OPOTY, also a runner-up for POTY, and a First Team All-American. Despite being only 4'10", Wataoka was one of the most imposing players at Nationals in 2021, and since then she's only gotten better, honing her skills with the WUL's Oregon Onyx. Wataoka isn't the only star returning for Portland — Julia Hanly, who led the team in goals in Norco including seven in the semifinal against Carleton Eclipse, and the power-cutting duo of Makaley Krueger and Julianna Galian are looking to push their team back to the final. Along with returning star power on the field, Portland also retains the services of the star coaching trio of Beckie Zipp, Dan Young, and Elise Hollowell. These three were instrumental in helping Portland place second in 2021, as evidenced by their COTY runner-up honors, and will provide a steadying presence as their team looks to outperform their lofty expectations.
One storyline to look out for as the tournament progresses is the similar path Portland has to get back to the final — if games go to seed (which is never a good assumption in the always volatile D-III), Portland is slated to once again matchup against Carleton Eclipse in the semifinal, with a potential rematch against the Middlebury Pranksters waiting in the gold medal game. After losing 15-10 to the Pranksters in December, the returning Portland players want another shot at the defending champs. While that shot is far from a guarantee, this Portland team believes that they have the talent and grit to make another deep run.
Seeding: C2; overall no. 6
Power Ranking: #5
Path to Nationals: Lost to Wellesley in New England semifinal; def. Brandeis in the game-to-go
Past Nationals Appearances: 2016, 2017, 2018, 2019
Location: South Hadley, MA
Portland's biggest contender in Pool C comes in the form of Mount Holyoke Daisy Chain. Daisy Chain has been a bit of an unknown since ending the season at #1 in the algorithm during the COVID-shortened 2020 season. Due to school policies, they were not able to compete in any tournaments in the fall, and missed competing in the 2021 Series. A major factor in Daisy Chain's ability to stay nationally relevant after an extended time off can be attributed to head coach Evan Johnson, who has provided a sense of continuity to the program, coaching them for the last six seasons. Along with being a great X's and O's coach, the captains praise him for his ability to provide great individual feedback, which has been integral for a team with so many rookies.
After a solid showing at Garden State in late March, including a 10-9 win against fellow Nationals qualifier #7 Haverford, Chain had a Conferences to forget, going 1-3 and getting blown out by New England stalwarts Williams and Amherst. In the three weeks between Conferences and Regionals, Chain seemed to tap into the "chaotic good energy" that captain Gigi Downey says encompasses the team's energy. Mount Holyoke rolled through much of Regionals, losing only to #4 Wellesley in the semis and second place games. They punctuated their turnaround with a universe win over Williams, who beat them 11-3 only weeks before, and a thrilling universe point win in the game-to-go against Brandeis Banshee. Daisy Chain combined a suffocating zone with aggressive downfield defense and had most of the New England region off-balance all weekend long.
Leading the charge, along with the aforementioned Downey, who should be in the First Team All-American conversation, are captain and Donovan nominee Maggie Sullivan, who is the centerpiece of the Daisy Chain defense, and sophomore Sydney Zobel, a steady presence in both handler space and as a deep threat. This also might be the breakout tournament for first-year Jamie Eldridge, one of the big-time throwers that this team has. Rounding out the cutting corps is Reece Liu, Rossi Wang, Hjordis Aho, and Molly Potts, all of whom are major pieces in the Daisy Chain D.
Regardless of how much this team wins, their number one focus has been enjoying the time they have with each other. Downey explained that their central goal for the year was "creating an environment where players and teammates want to learn, grow, and love the sport. Obviously playing to our best potential is up there, but having fun while doing it is most important." All you have to do is walk past them on the sideline for this goal to be evident. Between the numerous egg-themed cheers, the egg costume that gets passed around on the sideline, and the constant energy that everyone seems to feed off of, spectators and competitors alike will be hard-pressed to find a team having a better time than Daisy Chain. And they should be winning plenty along the way.
Seeding: C3; overall no. 10
Power Ranking: #16
Path to Nationals: Def. Trinity 11-8 in South Central final
Past Nationals Appearances: 2014, 2015, 2016, 2018, 2021
Location: Houston, TX
The story of no.10 seed Rice Torque's season has been one of consistent improvement. After struggling in their early-season home tournament due to high winds, Torque made a commitment to themselves, and especially their rookies, that they wouldn't let the elements beat them again.
Rookies have played an important role in helping Torque get back to Nationals. Though many of the players on the team are young, they've benefited from being a part of a program that has won D-III Nationals twice — in 2014 and 2015 — and clearly believes they can compete for a third title. Rice was one of the teams that benefited most from graduated students returning to play in 2021, with stalwarts like Clarise Trinh and Donovan nominee Emily Wang helping guide the team to a ninth-place finish in Norco. With those players now out of eligibility, Torque has turned to young players like sophomore Sandy Wu, who despite only being a sophomore has some of the best throws and highest frisbee IQ on the team, and freshman Alice Owens, who established herself as a player to watch during December Nationals. While these two might be the biggest names, captain Heather Szczesniak asserts that Torque's success comes not from one or two players but from the team's commitment to unselfish play. Having to replace a ton of production from the fall, every player on the roster has stepped up to help fill the void. Rookies have taken on the roles left by seasoned vets, and have thrived in the free-flowing system that Torque runs.
This philosophy can best be seen in the team's season-long metaphor of soup. Szczesniak explains that "everyone puts ingredients into the soup, and then teammates can use that as fuel when they need something to lift their spirits or get their head back in the game." For a young team like Torque, dedication to the principle that they are stronger as a team than just the sum of a collection of individuals (or ingredients) has directly resulted in their growth this season. When watching their games, you can see all seven players on the field filling a variety of roles, ready to pick up their teammates and move the disc to the open player.
Coaches Ashley "Sox" Shelor and Emma Wine have played a major part in helping this young team elevate their play throughout the season. On a team where experience is lacking, coaching can make all the difference, and Shelor and Wine's commitment not only to the team but to the principles that they've helped establish has created an environment where the numerous rookies are encouraged to take ownership of the team. In a tournament where veteran stars usually dominate, it will be interesting to see what the young players in one of the most established D-III programs can accomplish.
Seeding: C4; overall no. 15
Power Ranking: unranked
Path to Nationals: Def. Wheaton 7-2 in Great Lakes final
Past Nationals Appearances: none
Location: Galesburg, IL
The lone first-time Nationals qualifier in Pool C, no.15 seed Knox has their work cut out for them. In a year that was mostly focused on rebuilding after a three-year hiatus from competitive, the Alley Cats have surpassed even their own expectations. The Great Lakes bid-earners were essentially starting from scratch, bringing in a large freshman class to supplement an experienced group of seniors. After a fall focused on bringing these younger players into the sport, Knox had a tough start to the spring at Midwest Throwdown, before starting to show their true colors at Illinois Invite. Fighting through a brutal wind, the team showed how much it had grown in only a few short weeks, with every player scoring at least one goal. The Alley Cats carried that momentum into Confregionals, where they went undefeated, not surrendering more than five goals in any game, and winning by at least four against every team. In the game-to-go against tournament top seed Wheaton (Illinois), they put on a defensive clinic, allowing only two goals in a convincing win.
If Knox is going to replicate their recent success in Milwaukee, much of the burden will fall on the backs of their experienced core, including Tegan Doherty and Odette Herrand. Both players will play all over the field, filling in wherever their team needs them. Also playing the hybrid role with Dohery and Herrand is freshman Nola Walston, who could put herself in the Rookie of the Year conversation with a strong tournament. Another rock for the Alley Cats is handler Morgan Hopkins, who is tasked with distributing the disc to the team's athletic group of cutters. Expect these four to play a lot of points for the shorthanded Alley Cats.
With such a small roster, many of whom are new to the sport, trust and communication have been imperative in this group's success. And without a coach, the few experienced players that the Alley Cats have must pull double duty, not just being the best players on the field but taking on the added work of coaching their younger teammates. These veterans are going to shoulder a heavy load if they are going to compete with 2021 finalist Portland and two-time National Champion Rice. Regardless of the outcome, this small Knox team is ready to push themselves, both in terms of their on-field play and their sideline energy, and can already take pride in being the most successful team in their program's history.