Carleton and Washington each earned their chances, but one team made more with them.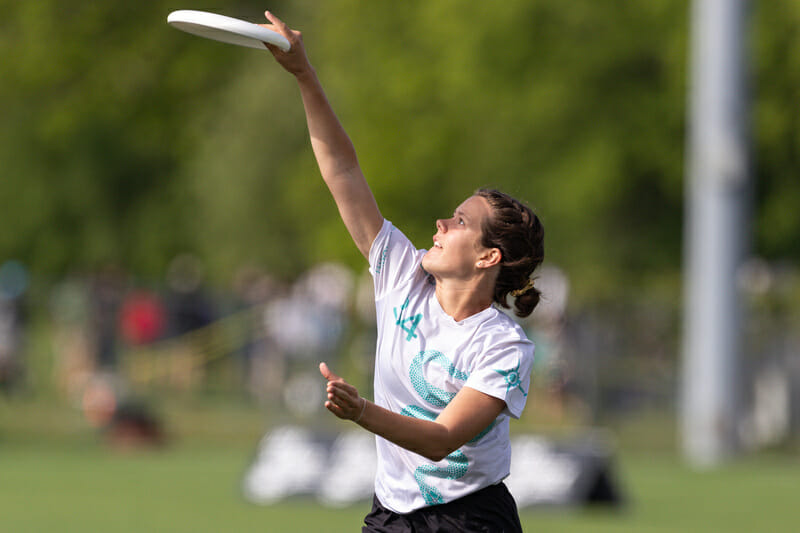 Our coverage of the 2022 College Series is presented by Spin Ultimate. Please support the brands that make Ultiworld possible and shop at Spin Ultimate!
MILWAUKEE, Wisc. — As often in life, the theme of this game was opportunities. There were those that were squandered and those that were seized. In a turnaround from 2021 semis, on this day Carleton Syzygy were the team that grabbed the chances they were given to take control of the game, defeating Washington 15-12.
More than any other matchup at Nationals this was a face-off between players that grew up playing together. Eight players on Carleton roster and more than 20 for Washington hail from the Seattle area. They both knew the battle would be fierce, but friendly. The game was also a rematch of semis at which Element upset Syzygy. "It's hard not to think about fall result," said Carleton star Carly Campana. "But at the same time we are a very different team; it's a new season."
Featuring mostly a vertical stack, with Steph Phillips and Ikran Elmi behind the disc, the Washington O-line looked stronger early, walking the disc crisply downfield, while Carleton gave up the disc on each of their first few offensive points. The start was particularly inauspicious for Syzygy, as a first throw swing from Lanier bounced off Carly Campana's hands and the Element D-line offense moved it calmly to the brink of an upwind break. However, a few yards out, the disc bounced off a receiver's hand, and given a second chance, Carleton converted, finishing deep to a streaking Emma Chin.
After that first throw drop, Campana was incredible all game for Syzygy. She made every catch and every throw in every critical role. Backfield, downfield, offense or defense, she did it all. Her surges through the handler space jumpstarted the Carleton zone offense and she was an almost-always-available downfield bailout. Her stat line of four goals, three assists, and two blocks underestimates her role in the game. One reason it is such a pleasure watching Campana play is that she pays with joy, always smiling. "[That game was] so fun. It was a grind," she said. "Real excited for the next game"
While playing their depth throughout, Carleton crossed players over from the start: Campana to the D-line and Tori Gray and Lauren Yamasaki-Liske to the O-line, most notably. Coach Courtney Kiesow linked these two, noting that knowing that they could count on players deep in their roster to deliver a hold or a break meant that they could load up a line freely, since they could later rest those players confident in every seven that went out. She pointed to every active player on their roster getting on the field in the game.
At 3-3, it was Washington's chance to give Carleton an opportunity. This time, it was the UW superstar Abby Hecko that dropped a challenging pass. A downfield throw from Mia Beeman-Weber popped up in the wind, but Campana skied Nicki Chan and Aria Kischner assisted upwind to a laying out Yamasaki-Liske for the first break of the game. The teams continued to battle, with defensive and tough catches, including a number of snares on a Washington downwind break.
Element presented their opposition with another opportunity at 5-5, as a throw from Steph Phillips was just out of Sophia Palmer's reach. With Tori Gray driving the tempo, Carleton's D-line offense powered to their second upwind break. Going the other way, Pua'a missed a swing in her own end zone and Syzygy quickly cashed in their downwinder for a 7-5 lead. The margin as the same as Carleton took half 8-6.
Carleton looked especially loose at during the pause, throwing a halftime dance party. Maybe a little too loose, as they got into a competitive but sloppy point where both teams got numerous chances. But it was Carly Campana who go the goal and hold for Syzygy for a 9-6 advantage.
The tenor of the game only sharpened down the stretch, with Carleton holding off Washington to prevent a run that could turn the tide. Following an upwind break for Element, with an 11-10 lead, Carleton had a chance to score a valuable upwind goal, but Hecko took flight for an energizing block at the front cone. But that opportunity, too, went unrealized, as Hecko overthrew Kate Crawford on an ensuing deep shot and Campana again scored for Carleton.
The final opportunity for Element came with them trailing 14-12, after Mae Browning generated a block. Washington was able to advance to midfield, but unable to complete the possession. Carleton was able to close the game with a hold, 15-12.
"We didn't capitalize when we had your chances," said Washington coach Amanda Kostic.
"We knew that we were going to get really challenged by their handler movement and willingness to break mark. We tried our best to put on really flat marks to try to prevent that," said Kiesow. "At times it worked in our favor, at times it really didn't, but I think we had enough opportunities."