Recognizing the top performer of the 2022 season.
Ultiworld's 2022 College Awards are presented by the National Ultimate Training Camp; all opinions are those of the author(s). NUTC helps young players become better athletes and community members.
Each year, Ultiworld presents our annual College Awards. Our staff evaluates the individual performances of players from throughout the season, talking to folks around college ultimate, watching film, and look at statistics, voting upon the awards to decide those to be honored. The regular season and the college Series are both considered, with extra emphasis for performances in the competitive and high-stakes environment at Nationals.
We begin our awards presentation with Player of the Year, our most prestigious award. Our Player of the Year winner is the best performer of the 2022 college season, and the highest vote-getter for All-American honors. The winner is not eligible for consideration in any of our other individual awards. The runner-ups up will be identified as the second and third vote-getters when the All-American Teams are revealed.
Player of the Year
Coach of the Year Award (Coming soon.)
---
D-I Women's 2022 Player Of The Year
Dawn Culton (North Carolina)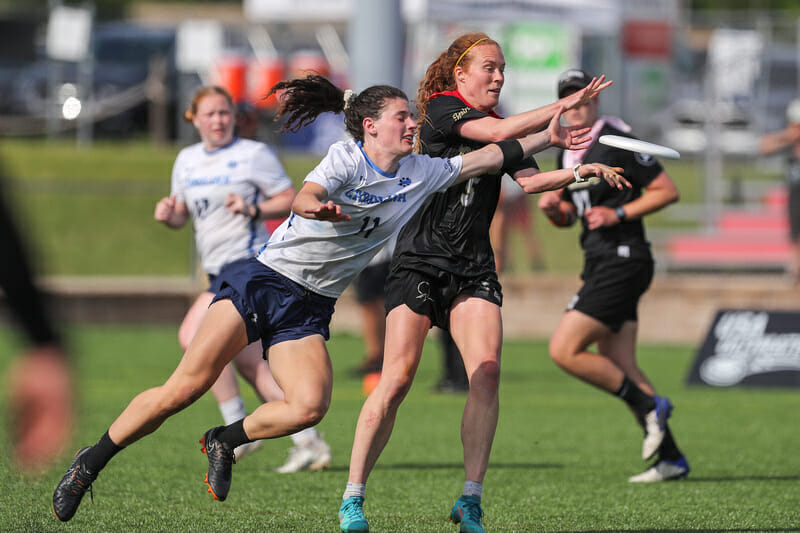 This award might have already been teased when Culton won the Callahan midway between the men's semis at Championship weekend, but there's still no one more deserving. Lest we forget, Culton won her second national championship after receiving the voted upon honor, adding to her already illustrious resume.
Thanks to the importance of an elite offense in college ultimate, we haven't had a primarily D-line player win Player of the Year in the women's division since the inception of the award, so Culton stands alone in this feat. It's well-deserved, too. Culton is a generational talent that has stood out among her peers since entering the college division, and this year was her magnum opus.
All season long, Culton humbled the best offensive players that the college division had to offer. UNC's coaches would give her the hardest assignment, only for her to ace it. She's the type of talent that gets higher marks on AP classes than the rest of us get on regular courses. When it comes to defensive intensity and field IQ, Culton just had it. Perhaps more impressively, she did it all while making her team better. Culton's defense wasn't just about winning her matchup, it was about covering for her entire team while also playing individual defense. Her ability to notice a breakdown in defense and recover for her teammates before closing back in on her mark showed an understanding of the game that exceeds what one would expect from a college player. To put it plainly, it would not be a stretch to see Culton back on awards ballots when the club season rolls around.
It'd be easy to analogize Culton as the Michael Jordan of UNC's Toon Squad, but her play style was closer to the Tazmanian Devil. She was a tornado on the field, swallowing everything that came into her orbit and completely owning entire portions of the field. Her unrelenting energy wore down opponents, set up blocks, and allowed her to score with merciless ease after the turn. We often talk about elite players having an 'orbit' or a 'gravity' to them, that was Culton through and through. Every team had to adjust for her because to ignore her was to accept defeat.
Much has been made about Culton's defense, but her offense was just as valuable to her team in 2022. A crucial point of UNC's title run came in the finals when Theresa Yu, a budding star for the team, got injured. Culton then played every point on offense and defense to help bring UNC the gold. That two-way play is exactly what the team needed of her, and she provided it without complaint or concern. The same power and field awareness that earned her so many blocks proved just as effective on offense, helping her become a vital cog in UNC's system.
When in doubt, the Player of the Year is most commonly awarded to the best player on the best team. Not only did that fit Culton in every sense of the word, it wasn't ever really in doubt. Even UNC's own offense will tell you that the primary reason they were so good this past season was because they had to scrimmage their defense every practice. Not only was Culton the toughest defender against UNC's opponents, she was also the toughest defender against UNC, and that's a team that won a title in 2022.