Recognizing the top seven performers of the 2022 season.
Ultiworld's 2022 College Awards are presented by the National Ultimate Training Camp; all opinions are those of the author(s). NUTC helps young players become better athletes and community members.
Each year, Ultiworld presents our annual College Awards. Our staff evaluates the individual performances of players from throughout the season, talking to folks around college ultimate, watching film, and look at statistics, voting upon the awards to decide those to be honored. The regular season and the college Series are both considered, with extra emphasis for performances in the competitive and high-stakes environment at Nationals.
Our All-American teams recognize the top performers across the division. While previously we have closed our Awards with our First Team and Second Team, displaying the top seven and next seven players who had the best seasons, they have been moved up in the schedule. As our voting process is ordered, the top two vote-getters for All-American honors, excluding the Player of the Year, will be recognized as our Player of the Year runner-ups. As such, those three players are listed in order, with the runners-up identified; the other four players are listed in alphabetical order.
---
D-I Men's All-American First Team

Liam Searles-Bohs (North Carolina)
The great achievement of Searles-Bohs's college career may be how he learned to both thrive as a member of the UNC machine while still finding room to be a dominant player. Picking all of the right spots to shine without taking anything off the table for his teammates. Defying the traditional categorization of being either a rote system player or a "rulebreaker," Searles-Bohs found a higher level. Instead of breaking the rules of the team's system to create impact, he elevated the system to a place where it just broke opponents instead.
For more on Liam Searles-Bohs, check out his Player of the Year writeup.

John Randolph (Brown) Player of the Year First Runner-up
Perhaps the highest praise you can give to John Randolph is that he has come the closest to actually embodying that favorite term of sophomores touting their teammates in an All-Region thread: "unguardable." We at Ultiworld have put a soft moratorium on the word, but at least at the college level, we might have to make an exception for JR.
While he has developed as an impact thrower, showcased by some of the massive standstill upwind hucks he unleashed in the semis and final of Nationals, we've all seen the GIFs of his cutting footwork. That's the real game-changing stuff right there. The thing that not only elevated Randolph above the rest of his peers, but became the calling card for a Brown team that turned "unguardable" from a punchline into an ethos.
Randolph's definitive trait has been his ability to push excellence within the constraints of a system to a point where his excellence becomes inseparable from the system itself. The ability to get open in advantageous positions over and over and over again, never tiring nor growing impatient, was perhaps the single most effective skill any player brought to the table in 2022, and emblematic of his team's imperious march to the National final.

Alex Atkins (Colorado) Player of the Year Second Runner-up
If some of his All-American peers embody the virtues of high efficiency play, Atkins embodies the virtues of brutally skying someone, throwing a full field huck for a break, then mean mugging the entire world while stalking off the field with arms raised, asking "are you not entertained?" It's a matter of preference which one you prefer.
Atkins was the heart-on-the-sleeve leader of Colorado Mamabird's run to the semifinals, bringing a fiery attitude and complete lack of fear to the forefront. The focal point of their offense and a devastating weapon when brought over onto the D-line, Atkins put up a crazy high usage rate for Colorado all season. Start listing the things he does well and it's easy to see why, as Atkins was equally menacing with the disc in his hands as he was downfield. Other players may have exhibited more refinement, but no one played with as much of an obvious impact, or with as much swagger, as Alex Atkins in 2022.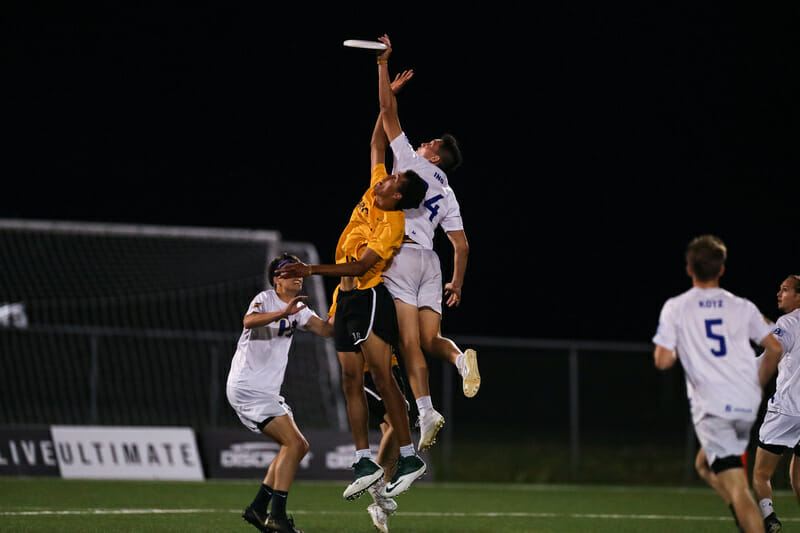 Henry Ing (Pittsburgh)
A few cruel twists of fate ensured that we did not see much of Henry Ing's early college career. His freshman year was lost to injury. Just as he was starting to get back out on the field, the pandemic shut down the sport. Last fall, an abbreviated season followed by Pitt's early exit at Nationals kept him mostly out of sight. So what did Ing do with the first genuine full season of his career? Only light up the division at an unmistakably elite level.
An initiating cutter par excellence in 2022, Ing was the default look after Pitt centered the disc, converting a huge percentage of his unders into picture-perfect hucks. No one in the division was more reliably devastating from motion this year. Of course, one of the major reasons he could collect so many unders in the first place was the threat that he might break deep and put one or two hapless defenders on a poster – a talent he was not shy to show off. It might have taken until his senior year until he had the chance to demonstrate it, but Henry Ing was the definition of elite.

Andrew Roy (California)
ARoy is an atypical pickup for a college team. How many teams on the cusp of Nationals contention drop in a hub handler with years of elite club and semi-pro experience into an offense specifically built to accentuate his strengths? Few, if any. Of those players, how many step into a captaincy position right away and drive success both on and off the field? While credit for Cal's underdog run to the quarterfinal round of the college championships does not rest one the shoulders on one single person, Ursa Major simply would not have been the same team without Roy.
A dynamic distributor who has every mark-breaking, zone-opening, and give-and-go move in the book, Roy brought a level of confidence and calm every time he stepped on the field. With tremendous endurance, Cal could rely on Roy to play both offense and defense, pairing a unique, stingy zone defense with a capable, patient possession offense to score breaks in runs. The trademark Roy throw is probably his dipping around backhand, but Roy launched some beautiful pulls on his defensive points this season too. As an all around asset, Roy's play elevated that of his teammates and brought Cal to an unprecedented level of success this season.

Hayden Austin-Knab (Georgia)
If you watched Georgia play this season, chances are you got to witness one of 2022's most delightful recurring sights: Hayden Austin-Knab milking a throw for a goal. He had a special way of flinging both feet out ahead of him as if he had decided to take a seat in mid-air, landing be damned. Those last-ditch, heedless hop-ins were emblematic of a player whose style was to juice every advantage he could out of his skills, his strength, and the on-field situation.
Austin-Knab in 2022 earned a place on the short list of players to put up double digit tallies of both goals and assists at Nationals. He would appear on an even shorter one of players who were regularly able to both muscle a flat backhand from one goal line to the other and chase down a screaming huck for a last-second leaping block. And he perhaps stands alone this season as the guy with the preternatural instinct to find those extra few inches that distinguish a simple catch from a goal, or a loss from a win.

Jacques Nissen (Brown)
Nissen was unbelievable this season. Not exactly in the sense that he played well – which we have grown used to from him over the years and can definitely believe – but more along the lines of "Did-he-really-just-throw-that?" and "Did-he-really-just-throw-that-again?" Brown's center handler spent the entire spring flinging blades, hammers, and hucks from a dead stand-still with unreal accuracy. There's an early scene in Moby-Dick where the harpooner Queequeg successfully applies for a job aboard the Pequod by hurling his harpoon at a miniscule spot of tar on the surface of the harbor: that was Nissen in 2022, only he did it a couple hundred more times.
Nissen was more than just his backbreaking initiating throws, of course. The nine goals at Nationals alongside his 19 assists speak to his wider capabilities as a player. He spent plenty of points dizzying defenders as one third of a tornado in Brown's weave. And his length as a mark was an essential asset for B-Mo after the turn. He makes this list for a well-rounded body of work in 2022.
But, my word, those throws.