We tuned the definition to fit the circumstances, but these rookies were simply outstanding.
Ultiworld's 2022 College Awards are presented by the National Ultimate Training Camp; all opinions are those of the author(s). NUTC helps young players become better athletes and community members.
Each year, Ultiworld presents our annual College Awards. Our staff evaluates the individual performances of players from throughout the season, talking to folks around college ultimate, watching film, and look at statistics, voting upon the awards to decide those to be honored. The regular season and the college Series are both considered, with extra emphasis for performances in the competitive and high-stakes environment at Nationals.
The Rookie of the Year award recognizes players who impressed in their first college ultimate seasons. Typically reserved for freshmen (or the occasional first-year ultimate player who joined the sport later in their college career), we have temporarily expanded the eligibility for this award due to the lack of an intercollegiate competitive season during the 2020-2021 academic year. Consequently, this year's "rookie" class includes players who joined their teams before the fall 2021 semester, but haven't been seen in college competition before, as well as players in their first-ever year of college ultimate. This definition includes players whose teams were unable to complete in the 2021 fall Series. As in any year, whether they come to the college game from years of youth experience, a background in other sports, or none of the above, these players made debuts to remember in high-level college play.
Rookie of the Year Award
Coach of the Year Award (Coming soon.)
---
D-I Women's 2022 Rookie Of The Year
Abbi Shilts (UC San Diego)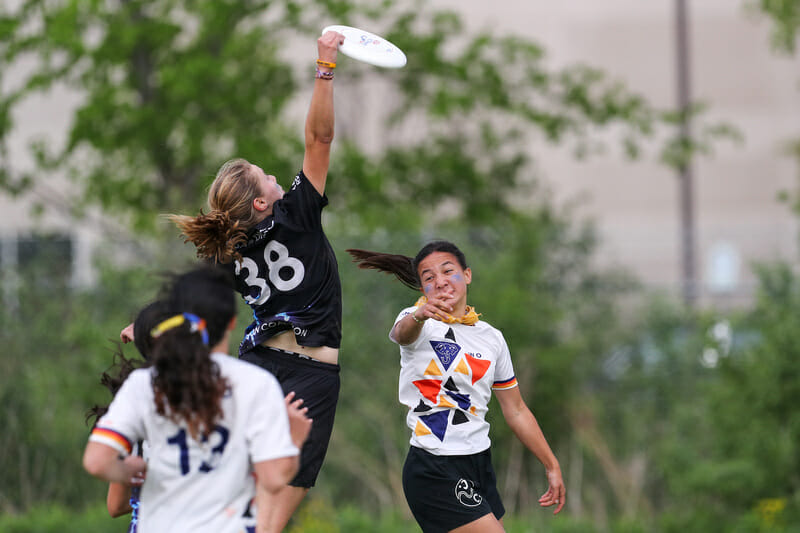 Such are the vagaries of multiple COVID-affected college seasons that one player can finish on back-to-back Rookie of the Year podiums, and yet such are the singular talents and contributions of Abbi Shilts as to deserve this historically unique honor. Alongside this year's OPOTY Ava Hanna, Shilts led a frequently short-rostered UC San Diego team to success, including impressive runner-up showings at both President's Day Invite and Stanford Invite. Despite lining up next to POTY runner-up, for significant stretches of those tournaments, Shilts looked like the best player on the field, ripping off highlight plays at a clip typically reserved for All-American upperclassmen.
While UCSD's Nationals run ended in prequarters, Shilts showed throughout how dominant of a player she can be. The freshman often served as D.Co's primary deep threat as well as their deepest defender in the zone, and only on rare occasions was she beaten in the air. That's remarkable given Shilts' rookie status, but her ability to read the disc and to routinely box out taller and more experienced players speaks to her prodigious capacity. With the disc in her hands, Shilts is no less dangerous, since she's more than willing to boost a huck deep off either side to a continuation cutter, or find one of the Hanna sisters for a reset before jetting off deep once again. Equipped with a complete package of tools and as one of the purest talents to emerge out of a stacked rookie class, it should take no one by surprise if the now two-time ROTY podium finisher out of San Diego finds herself rising once again, this time to a POTY podium sooner rather than later.
First Runner-Up
Devin Quinn (UC Santa Barbara)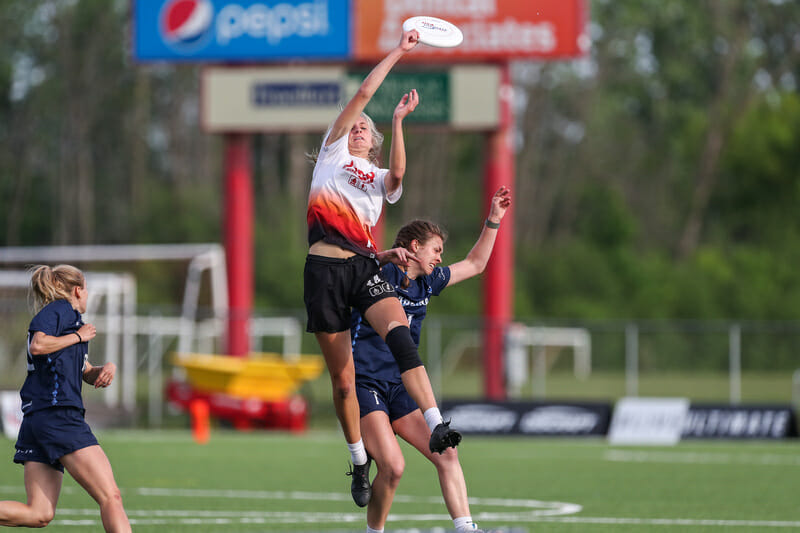 Here are two true things about UCSB Burning Skirts' Devin Quinn's 2022 season: It was her very first full season playing college ultimate and she led all players at 2022 D-I Nationals in goals with 22. Yes, you have that right, this incredible first-year player not only led her team in goals but the entire division out in Milwaukee. The last time a rookie finished atop the goals leaderboard at D-I Women's Nationals was, well, never, at least per available stats dating back to at least 2014, although the odds are in Quinn's favor that she stands alone in that feat. That fact on its own is well worth a place on the ROTY podium, but Quinn's contributions on the whole are nothing to be sniffed at either.
With her speed and cutting prowess, Quinn proved a threat to even the stoutest of defenses, and often drew the toughest defensive assignments that the opposition could throw at her. On the other side of the disc, she likewise proved a menace in shutting down lanes with precision and even coming up with a huge layout block in the Burning Skirts crucial pool play game against Washington Element. While her prolific goal-scoring rightfully garners most of the headlines, Quinn's all-around playmaking will be a thorn in the division's side for as long as she's at UCSB.
Second Runner-Up
Mika Kurahashi (British Columbia)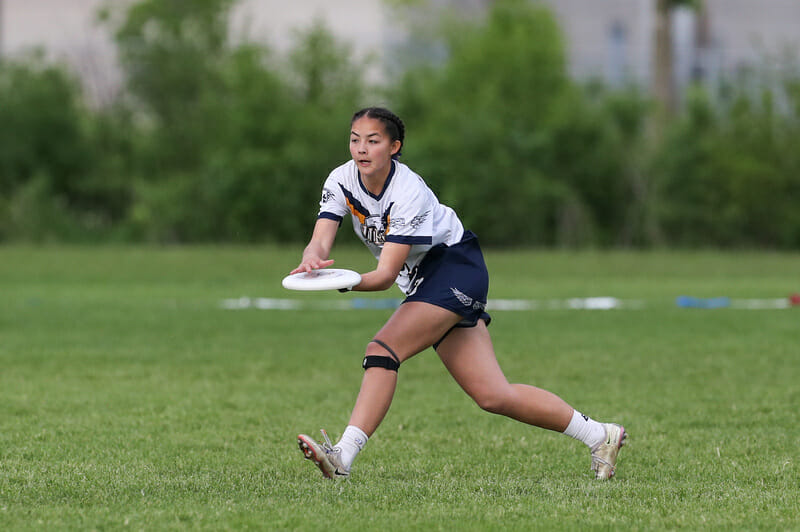 Coming into this spring, all eyes were already squarely trained on British Columbia's Mika Kurahashi. UBC has a history of churning out top players, but a player who had received an invitation to Canadian World Games tryouts before ever playing a college game?! That was worth tuning in for. In her first season of college play, Mika Kurahashi lived up to the billing, standing out on a deep and talented UBC roster that scored more goals against national champs North Carolina than any team all Series.
An imposing figure in the cutting lanes, Kurahashi was routinely open for huge gains downfield and was a key to the Thunderbirds' smooth offensive flow. She also finished second on the team in assists behind just All-American Madison Ong. Despite often facing the opponent's top downfield defender and playing sparingly in UBC's blow-out pool-play wins as she nursed an injury from Northwest Challenge, Kurahashi ended up just one goal short of the rare double-double at Nationals. As a credit to her complete game, Kurahashi was also one of the first O-line mainstays to cross over when UBC stacked a D-line.