Highlighting players who took a leap toward stardom in the division this spring.
Ultiworld's 2022 College Awards are presented by the National Ultimate Training Camp; all opinions are those of the author(s). NUTC helps young players become better athletes and community members.
Each year, Ultiworld presents our annual College Awards. Our staff evaluates the individual performances of players from throughout the season, talking to folks around college ultimate, watching film, and look at statistics, voting upon the awards to decide those to be honored. The regular season and the college Series are both considered, with extra emphasis for performances in the competitive and high-stakes environment at Nationals.
The Breakout Player of the Year recognizes rising juniors and seniors who made themselves known in a new light this season. While our nebulous definition of "breakout" reflects an evolving set of criteria, rather than celebrating the improvement of those from whom big things were already expected, we aim to use this award to celebrate the emergence of those who previously have not been on the national radar. Whether it be through growth in ability, role, or both, the Breakout Player of the Year and runners-up honor those who rose to the occasion with improved and high-impact performance on a new level this season — putting them squarely in the spotlight moving forward.
Breakout Player of the Year Award
Coach of the Year Award (Coming soon.)
---
D-I Women's 2022 Breakout Player Of The Year
Winner: Lylah Bannister (Vermont)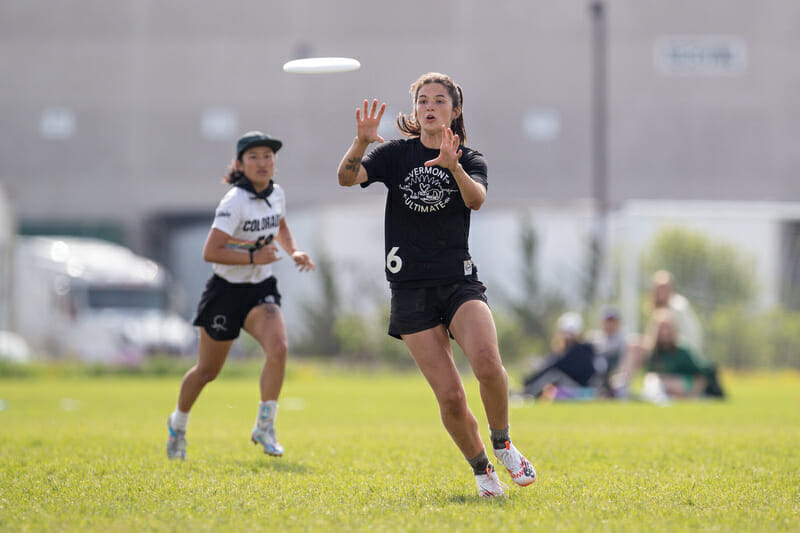 The epitome of the breakout player is when folks on the sideline keep asking, "who's that making all the plays?" That scenario was repeated all season for Vermont Ruckus sophomore Lylah Bannister.
A big part of Vermont's emergence this season was having too many options downfield for opponents to neutralize. For teams that put their top deep defender on Kennedy McCarthy, Bannister made them pay…over and over again. And even when teams switched their top defenders onto her, Bannister still made the tough catches and skied the packs. As a critical example, an amazing grab to put Ruckus up 9-6 in their prequarter vs Stanford led her teammates to bow down in homage, but was just one of six goals in that pivotal game to go with an assist and four blocks, as Superfly tried to figure out how to stop the Vermont huck game.
Bannister's devastating combination of speed, height, and athleticism is complemented by an excellent sense of timing, as she made every cut count while leaving space for her formidable teammates to flourish. Bannister caught everything within her considerable reach and almost never gave the disc back, as she was effective keeping the flow moving when she caught an disc coming under. On the other side of the disc, Bannister still managed to rack up the blocks while primarily playing offensive points, helping her O-line teammates regain possession over and over.
Even now as a more known quantity, with eligibility left for almost all of Vermont's key contributors, Bannister should still find space to impact games. Expect big things from Bannister moving forward for a program on the rise.
First Runner-Up
Theresa Yu (UNC)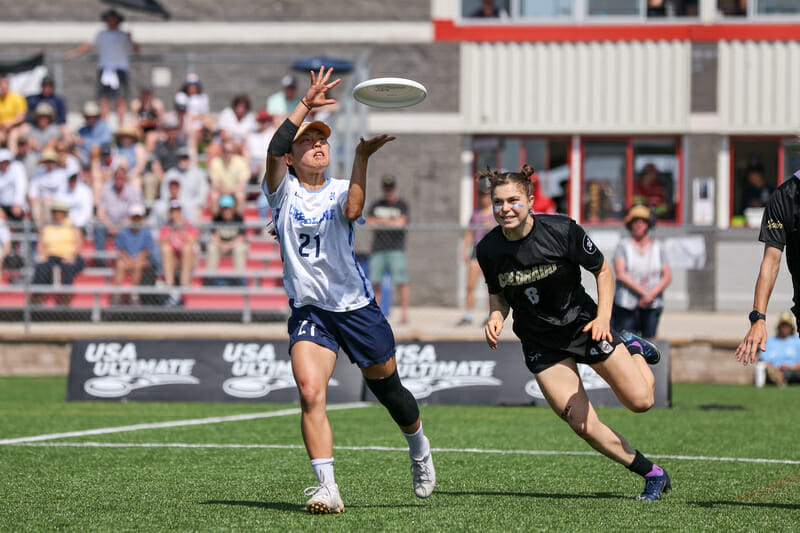 North Carolina is a team with a lot of talent. Even without their graduate students, their seniors soak up so much of the scouting report and media attention that earning recognition outside of that core is no easy feat. This season, though, Theresa Yu put on a performance that forced everyone to take notice. On a line that had some of the most familiar names in college ultimate, Yu was often the one making all the right plays at every position on the field. Her ability to generate offense both downfield and behind the disc gave the Pleiades a new facet to their game, allowing their veterans to play off Yu, rather than having to force a throw or break from their cutting shape. In many ways, Yu was the connective tissue keeping her team together. UNC's offense would not have been as effective without her. In the national final alone, when Yu went down, UNC was forced to cross over Player of the Year Dawn Culton to the offense, and it was during those points without Yu that Colorado broke back into the game. When Yu was back on the field, UNC held point after point, right to a gold medal.
It wasn't just Yu's prowess on offense that made her stand out this season. Yu had a knack for baiting throws to receivers that she could easily lap up, and was surprisingly effective when defending against deep shots, too. With her opponents consistently underestimating her, Yu might not have been UNC's best defensive player on the O-line, but she was very likely their most effective one.
Second Runner-Up
Hannah Huddleston (Stanford)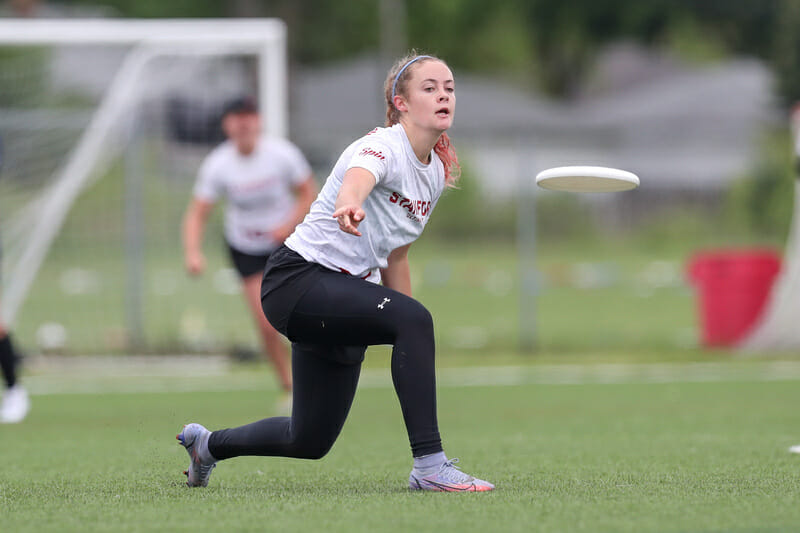 It may not have been until Nationals that junior Hannah Huddleston broke out as the standout player on the breakout team of the 2022 season. In game after game in Milwaukee, Huddleston provided the critical spark to grind Stanford Superfly past their opponents. On offense, she was an effective deep threat, finding space and making big grabs in traffic, while also effectively advancing the disc with her throws. She did all that while valuing the disc, making acrobatic grabs and throwing just two turns on the weekend. However, it was on defense that she left her biggest mark, with Superfly's game versus Georgia perhaps the best example. It wasn't until they were down 4-6 that Stanford ran person D with Huddleston taking the Marie Perivier matchup (Perivier had figured in all of Georgia's goals to that point), but soon after that switch Huddleston, got a block and scored at the other end to complete the bookends. From then on, she seemed to be surgically attached to Perivier's hip, not getting more blocks, but forcing high-stall throws with her active mark and coverage sacks as Athena players locked in on their usually reliable reset outlet or missed the small windows Huddleston's defense allowed. Before one could blink, Superfly had taken half 8-6, with Huddleston scoring twice more.
But shutdown person defense vs opponents' best receiver was just one of Huddleston's contributions. In zone looks, she was also often the tip of the spear in Stanford's enveloping cup, using her speed to keep the pressure on, even as teams aggressively tried to change the point of attack. And, eventually, the Superfly coaches realized she was also their best deep deep in the zone, where she could use her speed, size, and disc sense to cover huge swaths of territory. That change aided a furious comeback by Superfly from down 13-8 in their prequarter vs Vermont that fell just short, ending Stanford's 2022 season. However, now that more of her potential has been exposed, look for the Superfly coaches to figure out many more ways to use her talents in 2023.