Plus a primer on which Worlds is which.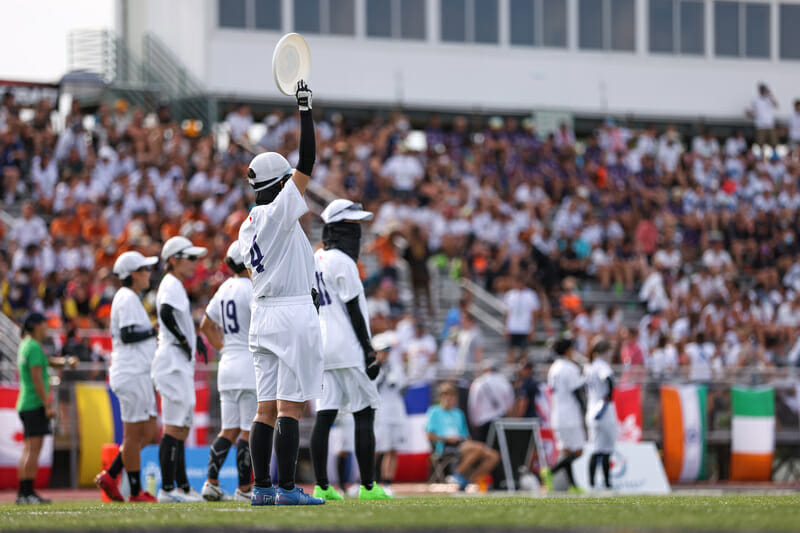 Opening Pull is Ultiworld's weekly wrap-up of the previous week in ultimate, available both here on the site and as an email newsletter. We've gathered the news you need to know and highlights you need to see. Check back weekly or subscribe now to receive Opening Pull in your inbox along with a rundown of the previous week's content on Ultiworld.
World Ultimate Club Championships Get Going In Ohio
With the World Games in the rear view (see below), the global ultimate community's focus will remain on the United States as major international competition transitions to its second leg of the year (and month). The World Ultimate Club Championships began Saturday, July 23 in Lebanon, OH, with opening ceremonies and a lone showcase game between Traffic (CAN) and MUD (Japan), which MUD won in front of an excited crowd.
Pool play began in earnest on Sunday and continues Monday. Tuesday will feature power pool play and lead into bracket games Wednesday to Saturday. To get a lay of the land, we have previews for the Women's, Mixed, and Open divisions, and updates throughout the tournament.
Ultiworld is the official media partner for the World Ultimate Club Championships, and we are combining with WFDF to bring a bevy of streams from this massive 128-team tournament. We are streaming eight games a day, except for Saturday, July 30, when we will stream each of the three finals.
Both our live and on-demand video access is available to our Full and Plus subscribers. That's as low as $12.99 USD per month. Subscribers at those levels get tons of access to our staff and community, including the Ultiworld Discord, the best place to talk about the sport we love. We hope these changes help us bring more and higher quality ultimate coverage to the community and help WFDF shift the burden of costs from competitors to other parties.
We are also hosting a Free Stream of the Day on both Ultiworld and YouTube. All three finals will be free and simulcast around the world on the Olympic Channel and WFDF website.
The Color of Ultimate showcase will also be one of the Free Stream of the Day selections.
The showcase game will take place at 5:00 PM ET on Wednesday, July 27. There is also a fundraiser selling VC Ultimate jerseys to help support the participants. The players that will participate in the event were announced Monday.
No Undefeateds as United States Takes Gold at World Games
A tremendous week of ultimate of the highest class, hosted in Birmingham, AL, concluded with the United States claiming a gold medal with a 13-11 victory against Australia in the final of the World Games. No team went undefeated at the tournament, a sign of the balanced and consistent level of competition each team faced. The champions themselves lost to Germany 13-10 in pool play before improving their play in a series of elimination matches.
Colombia, who fell to the USA in semifinals, finished in third, taking home a bronze medal by beating Germany 13-11.
The stars were on full display, priming us to see more of the world's best at the World Ultimate Club Championships.
What's With All the 'Worlds'?
Confused about which World Championship is which? Understandable. A brief primer!
The World Games (WG) is directly associated with the Olympics, and can be considered the Olympics of ultimate. Mixed gender, national team rosters of 14 compete in the most competitive of tournaments.
The World Ultimate Club Championships (WUCC) feature the best club teams from a wide variety of qualifying countries. Teams' placement at their national championships can earn them spots. A massive tournament with men's, mixed, and women's divisions, it is comparable to Champions League in soccer.
The World Ultimate and Guts Championship (WUGC) features national teams, with each competing nation sending a single team in each of men's, mixed, and women's divisions, usually comprised of the best players in their country regardless of club. There are also Under-24 World Championships and Under-20 Championships (also known as WJUC) that are similarly structured.
SFI-East Offers Debut Stage for Club Teams
Amidst all of this international competition, the club season is somewhat sneakily getting underway.
In the men's division, Virginia Vault took down the tournament, surviving a couple of close calls. They are building a strong resume, having only lost to PoNY this season through two events. It could be their breakout season.
Huntsville Space Force came away in first place in the mixed division, going undefeated. They scored a narrow 8-7 win over in-state opponent, Auburn HeyDay, the no. 12 seed who otherwise won all of their prior games in an eye-opening showing before dropping their semifinal and third place match against Washington DC Rally.1
Mostly coasting through the women's division was Washington DC Grit, who won all of their games by three or more goals, including a 12-8 victory against Philadelphia Flight in the final. Flight was also on the losing end of Grit's smallest margin of victory; nobody else could offer much resistance.
Coming Up
Our WUCC coverage will be at full go, and it'll be what everyone is talking about, so you better not miss it!
Don't worry, more club coverage for the USAU season is on the way. Rosters, event coverage, and more are around the corner.
---
Correction: This article previously stated Space Force beat HeyDay 10-9 and HeyDay won all of their other games. ↩