Based on how they've played so far this week, which clubs look like genuine medal contenders?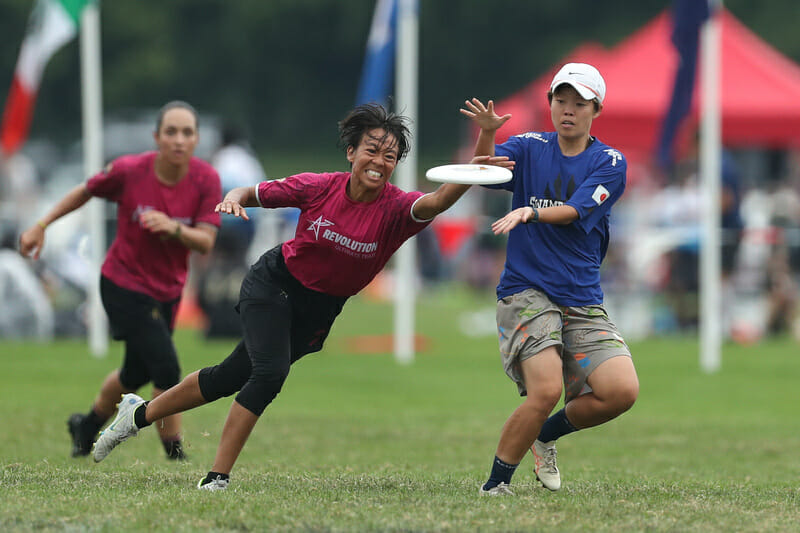 LEBANON, OH – Pool play at the 2022 World Ultimate Club Championships is done. It's all elimination games from here on out. Technically, 32 teams still have a chance at medaling this week, but based on what we saw in pools and power pools, only a handful of those are likely to make a lasting imprint on the rest of the tournament.
Here is a look at how those teams shake out, based exclusively on how they've played to this point in the week.
Gold Favorites
San Francisco Fury (USA), Medellín Revolution (COL), Raleigh Phoenix (USA)
Here they are, the big cheese of the women's division. In addition to having unbelievably stacked rosters, these teams also all operate with notably high chemistry levels. They are teammates as well as friends, peers, and even family that have played with each other long enough to get their screws and bolts tightened. These clubs each operate as a unit, achieving their goals with efficiency, communication, and trust. They are three of the loudest teams on and off the field, and their chemistry is very visible as they play.
We all knew these three were likely to be in this position, but today was not quite a cakewalk for these machines.
An unexpectedly riveting first half between Fury and Traffic on Tuesday morning set the day on a thrill track that only escalated through the rounds. Vancouver have tended to match their opponents in skill — playing up or down to their opposition — and frankly looked like a different team today than they did at the showcase game on Saturday. Incredible performances from Sarah Norton, Daisy Lin, and Catherine Menzies helped keep Traffic neck and neck with Fury through the first half of their power pool matchup. Despite appearing a tad stunned in the first half, Fury stayed composed and shifted into a higher gear for the second half. Once Fury's deep shot connections started going off thanks to beautiful placement on hucks and some dirty skies — we see you, Opi Payne — there was slim to no chance of Traffic coming back. In case anyone needed a reminder of the mastery that Anna Thompson and Claire Desmond possess on the field, look no further than this game. There is less room to recover from slow starts the later into the tournament we go, so Fury will need come out of the gate swinging, as they've proved they can so many times before.
Part of Revolution coach Mauricio Moore's plan, as he mentioned in an interview on Monday, is "to create a more wide rotation, and, at the same time, [making sure everyone] gets that Worlds experience." Medellín has adjusted their rotation game by game to match the situation. While their first game of the day against Chicago Nemesis (USA) wasn't much of a threat to Revo's undefeated record, their afternoon matchup with Swampybarg (JPN) required some adjustments. Revo tightened lines as Swampy commanded more from them, both offensively and defensively, than anyone has thus far. The Colombians chiseled away on the inside lanes until Swampybarg threw a zone that consistently forced high-stall, risky throws and shut down the downfield options. Revo's frustration built until they had to call a timeout to chat about how to jump this hurdle. Whatever was said in that huddle proved to be crucial, as the Revolution offense clicked immediately after and started busting through the cup with powerful handler movement, classic Revo-style big swings, and beautiful downfield placement of throws.
Levke Walczak and Michelle Phillips, two tournament pick-ups with Revo this week, showcased their robust skill sets along with roster pillars Manu Cardeñas and Alejandra Torres. Swampybarg continued to play with heart and prowess, but Revo outplayed them in the second half, soaring to a comfortable 15-9 victory. Revolution has yet to have a game with a second half that isn't completely one-sided, but continuing this trend will get increasingly challenging as they move through the bracket. Claire Chastain, a member of the champion US World Games squad, joins the club as reinforcement on Wednesday, undoubtedly a welcome addition to the already absurdly talented list of athletes that Medellín can call on. For now, Revolution continues zooming to finish lines like Lightning McQueen. Kachow, baby.
As the tournament's top two seeds, it's not surprising that Fury and Revo lead this list, but one late surge from Raleigh Phoenix (USA) this afternoon was all it really took for them to announce themselves as an equally potent gold medal threat. The North Carolinians handled Seattle Riot earlier in the day on Tuesday, and apart from their first half showing against CUSB Shout in pool play, Phoenix have put up the type of score lines in Cincinnati that you expect from the most dominant teams at this level.
But their afternoon showcase game against Melbourne Ellipsis (AUS) felt like their first true challenge, and for a large portion of the game, it looked like they weren't quite ready to rise to it. The offense was a mess from the very beginning and they were, frankly, a little fortunate to not trail by more than two breaks at the half. They couldn't do anything to slow the Ellipsis offense for their first eight points on the field. It wasn't until they trailed 11-9 that they finally earned a turnover off the Australian O-line, and even that was a result of a poor decision from Cat Phillips more than it was about Phoenix's defense. But later on that same point, Dawn Culton took flight for the type of explosive layout block we have to just expect from her at this point. Culton followed it up by making a big leaping grab for the bookends on that point, and from that point on it felt like an entirely different game.
Ellipsis dropped a simple under on the next point which gave Phoenix a cheap break opportunity that they quickly took advantage of, and while they didn't completely wash Ellipsis away down the stretch, their 7-2 march to victory was championship quality. It was the kind of run you see from gold medal regulars when they're tired of entertaining an underdog's fantasy of an upset. And it came against Ellipsis, who until that point had arguably looked like the second-best team at the tournament.
The dramatically improved defensive performance came from a couple of major adjustments Phoenix made. "'We switched to challenging unders a lot more — like a lot higher commitment to challenging unders," said head coach David Allison. "Then we threw a couple of junk looks at them and just kept changing and keeping them off balance, enough that they finally made that first mistake. And I think they changed a little bit after that … You know, it's pressure. They're feeling the same pressure we are, and we were just able to just kinda run off a couple of them from that."
But it wasn't just the defense that switched for Phoenix, their offense was remarkably improved too. After struggling to gain their footing early in the game, Ellipsis really began to struggle to slow them down in the second half. Allison credited that largely to the performance of Ella Juengst, who ended the game with five goals and two assists. On a line with Sarah Meckstroth and Kami Groom, Juengst was often drawing Ellipsis' third cutter defender and, as a result, the UNC product was frequently left in acres of space and Ellipsis was never really able to adjust to slow her down.
"You put all that effort into pressuring Kami and Mecks, and those are big names and everything, but we've got Ella," said Allison. "When people are writing that scouting report, they're not [asking] 'how do we stop Ella?' But they might now."
Phoenix showcased the ability to hang around while an elite team is playing nearly perfect ultimate, the intelligence to adjust to completely flip the script of a game, and the depth of talent to create matchup nightmares for opposing defenses. All of those things greatly buoy Phoenix's stock as a championship contender this week.
Medal Contenders
Melbourne Ellipsis (AUS), Boston Brute Squad (USA), Toronto 6ixers (CAN)
Ellipsis were absolutely untouchable for the first two-thirds of the game against Phoenix. Despite the loss, they looked like the better team for the majority of the game. As mentioned above, the team's O-line did not have a turnover until the game was 11-9. But the offense was not able to adjust in time to the defensive changes Phoenix made at the half and they couldn't quite survive the massive wave of momentum Phoenix created.
But during those first 18 points, Ellipsis looked like true gold medal contenders. They caused the Phoenix O-line all sorts of issues and if they'd been a little more ruthless with their first-half break chances, they could have put the game out of Phoenix's reach before they ever had a chance to get their footing.
Ellipsis coach Steve Wright hopes that the game both proved to Ellipsis that they can win the whole tournament and provided a little bit of motivation to find that extra gear that they'll need to hold off the best teams down the stretch.
"I really want them to believe. What I've felt like I've known for months – or even longer – is that we can compete with the very top of this division on the world stage. And, you know, it's one thing to tell the players that, and for them to feel it in transient moments, and it's another thing for them to have the example," said Wright. "I feel like now with the game that we played against Riot, some of the other games that we played off stream, but also this game as well, regardless of the outcome, we've demonstrated that we're a real threat to win. I think it's good to be disappointed when you lose because it's fuel for the fire; but I think we should be really proud, too."
Brute Squad came in as the three seed and has largely performed as such on the scoreboard. Yet, something has seemed slightly off for Boston since day one. No doubt, they are still a dominant and talented team, but they seem to have a rockier time finding flow and getting people to the right spots at the right time than we've come to expect from this club. This wasn't much of an issue as they remained undefeated through their first five games. Then at roughly 6:30 PM on Tuesday, Toronto 6ixers (CAN) all-star Brittney Dos Santos grasped the disc, scoring a game-winning point against their regional rival and confirming Brute's mortality. The entire game had been a series of ties and exchanges for the lead, nothing ever guaranteed, and both teams played with pure heart and grit. Spectators paced, others sat tapping a foot and sweating through their shirts as they absorbed the ambient stress that consumed Field 19 at Lebanon Sports Complex in Mason, OH.
Possession proved an elusive component of this game, both teams struggling to limit turnovers due to intense defensive pressure and increased susceptibility to frazzled-ness that comes with games as even as this. "They bring out the best in us [and] you could feel how much we wanted it," Jessie Tsang of the 6ixers noted. "We had to be on our A-game, we had to be perfect to win this game." Indeed they were with Sara Mar, Reve Chan, and Neelima Basra as crucial contributors, amongst many others on this strong roster.
For Boston, Kelly Hyland "popped off," as the youths says, with three assists and four goals, along with the critical performances of Samiya Ismail and Angela Zhu. This may be a disappointment to Brute Squad, but their path to victory is far from closed off. Additionally, it's worth noting that, based on both teams performances in Tuesday's game, we wouldn't bet on the 6ixers to overcome Boston's determined squad in a rematch.
Teams That Could End Your Week
Tokyo Swampybarg (JPN), Tokyo Mavericks (JPN)
It may be unfair, but Swampybarg feels like the one team of the eight already guaranteed a spot in the round 16 that doesn't have winning a medal in their realistic range of outcomes. A big part of that is that Fury is their projected quarterfinal matchup — if they make it that far. But they also failed to really push Revolution in a way that would indicate they have enough in the tank to win the three games they would need to in order to take home a medal. But with that said, Swampy is still capable of ending one of the favorites' medal runs if they play their best game or catch a team on an off day.
One thing that's held Swampybarg back from that top level is their penchant for starting slow. Even against the bottom teams in their pool, they would find themselves down a couple of early breaks. They would consistently battle back to win, but it's a trend that the elite teams will more ruthlessly punish.
"I think that it's more important to gather the information in the first three defense points and just adjust and revise our defense on them to get a break," said Minori Yahata when asked about her team's slow starts. "[Against] the best teams, I think it's the same, what we're gonna do, but we have to do it more quickly and we must grab the chance if they make a cheap turnover."
Perhaps more worryingly, though, was getting off to a better start against Revolution, and having their resilient zone defense solved by the Colombians and then not being able to hang down the stretch of that game. But even still, with Swampybarg's depth of technical ability and a zone that has been so much trouble for every other team they've played, they could certainly knock off one of the true top teams if a couple of things break their way.
The same is true of their compatriots on Tokyo Mavericks, who started Day 3 in Cincinnati by upsetting crosstown rivals MUD in impressive fashion. Both teams' zones were so resolute in the red zone that the game ended at 13-10 because of how long the points lasted despite minimal turnovers. They then backed up that victory with a win over Vancouver Traffic (CAN) in a much more offensively dominated game.
So Mavericks are strong on both sides of the disc, but as is the case for Swampybarg, the bracket shook out a little unkindly to them. They're due to face Revolution in quarters, and it's difficult to see that game going so differently than Revo's win over Swampybarg that Mavericks could be considered to have much of a better chance than their fellow Japanese outfit did. Still, though, with their depth of technical skill – truly a theme for the Japanese clubs here – it is not beyond the realm of possibility that they do shock one of the tournament's giants a round early.
Tough Outs
Noisy-le-Sec YAKA (FRA), Quebec Iris (CAN), Tokyo MUD (JPN), Vancouver Traffic (CAN), Seattle Riot (USA)
Yaka (FRA) have really flown under the radar this week but they have quietly put together a solid resume, which was capped by their double game point victory over Seagulls Hamburg (GER) to end their day on Tuesday.
The return of Aline Mondiot has been particularly helpful after she missed the start of the tournament due to COVID, and while they are unlikely to to make it out any further than the round of 16, they won't be a cakewalk for whoever they match up against in the bracket.
Quebec Iris (CAN) were up on Swampybarg at the half but gave up a run of breaks in the second half as offensive mistakes began to stack. They've shown a few times this week, though, when their offense is clicking, that they can hang with plenty of bracket-caliber teams.
MUD were upset by Mavericks to start the day, but they weren't pushed over by Fury in their 15-10 defeat. They haven't quite had the week expected of them after their win over Traffic on Saturday, but even when they haven't been at their best, they've never been completely outclassed in a game this week.
Traffic also took two losses on Tuesday, but by a combined five goals to Fury and Mavericks. Their showing against the Japanese, in particular, was impressive as their offense really found its footing in the second half. They have to convert their break chances at a higher clip, and their inability to win those close games prevent them from being in a higher tier, but with the caliber of players they have, and the way their performances have improved since the start of the week, Traffic will not be an easy out in the bracket either.
Riot seems to have settled into an unfamiliar identity: a stronger middle-tier team that won't truly threaten the top dogs, but will consistently be a challenging team for at least half the division. Riot lost badly to both Ellipsis and Phoenix, but looked substantially more athletic and dialed in for the Phoenix game than the Ellipsis game, which was more of a steamrolling than a game. Riot still possess dangerous talent and won't ditch the competitive scene so easily.