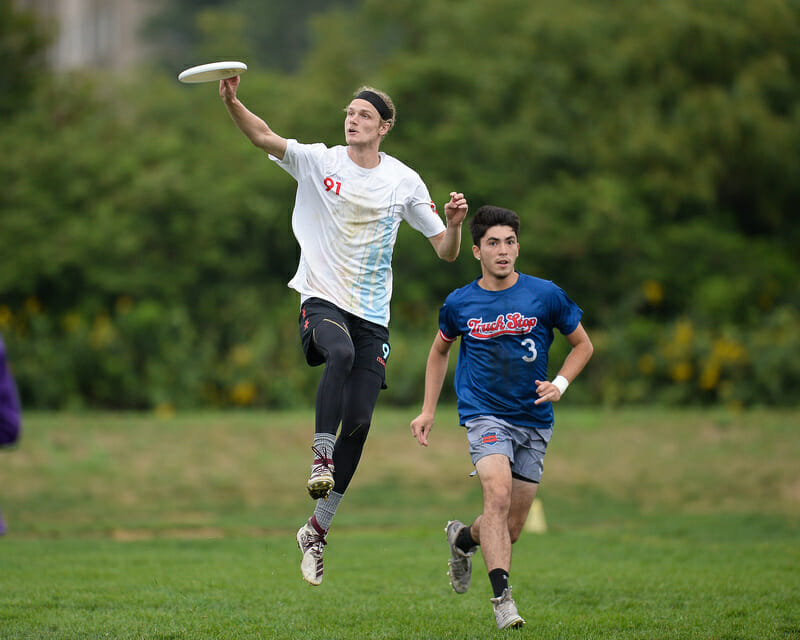 The 2022 US Open is here! Beginning 8:30 AM Central on Friday, August 5th, top club men's and mixed teams will take the field with a huge crop of YCC teams joining them on Saturday.
Streaming coverage will be available on USA Ultimate and Ultiworld's YouTube channels and Ultiworld.com/live starting with club division pool play on Friday. Ultiworld and USA Ultimate's coverage will continue with prequarters, quarterfinals, and select consolation games on Saturday and Sunday, along with YCC pool play and bracket games. Tune in for the U20 Girls semis and final and the U20 Boys final on Monday! On Saturday and Sunday, ESPN will broadcast the semifinals and finals of the adult club divisions.
In addition to our video coverage, Ultiworld is posting round-by-round updates on our event page and livetweeting games at Ultiworld Live. Watch the site for full recaps, features, and stories from the tournament!
Here is the complete live video schedule for the tournament (all times Eastern). Ultiworld is also filming an additional game every round for tape delay release (after the weekend and after some post-production) for Ultiworld Full and Plus subscribers!
Friday, August 5th (EDT)
9:30 AM: Arizona Lawless v. Philadelphia AMP
11:45 AM: Chicago Machine v. Minneapolis Sub Zero
2:00 PM: Atlanta Chain Lightning v. Seattle Emerald City
4:15 PM: Mixed Crossover
Tape Delay for Ultiworld Subscribers
Boston Dig v. Utah Pando
Minneapolis Drag'N Thrust v. San Francisco Polar Bears
San Francisco Mischief v. DC Rally
Men's Crossover
BIPOC Showcase Game
Saturday, August 6th
*11:30 AM: Men's Quarterfinal
*1:45 PM: Mixed Consolation Game
*3:30 PM: Men's Consolation Game
*6:45 PM: Triangle Triforce vs. Bay Area Red Dawn [U20 Boys YCC]
ESPN3
1:00 PM: Mixed Semifinal #1
3:30 PM: Men's Semifinal #1
6:30 PM: Mixed Semifinal #2
9:00 PM: Men's Semifinal #2
Tape Delay for Ultiworld Subscribers
Mixed Quarterfinal
Men's Consolation Game
Mixed Consolation Game
Cincinnati Flying Pig vs. Nashville Villians [U20 Boys YCC]
Sunday, August 7th
9:30 AM: Mixed 3rd Place Game
11:45 AM: Men's 3rd Place Game
2:30 PM: U20 Girls Quarterfinal
4:45 PM: U20 Mixed Quarterfinal
ESPN3
12:00 PM: Mixed Final
2:30 PM: Men's Final
Tape Delay for Ultiworld Subscribers
Mixed 5th Place Game
Men's 5th Place Game
U20 Girls Quarterfinal
U20 Mixed Quarterfinal
Monday, August 8th
Live
9:30 AM: U20 Girls Semifinal
1:00 PM: U20 Girls Final
3:00 PM: U20 Boys Final
Tape Delay for Ultiworld Subscribers
U20 Mixed Semifinal
U20 Girls Semifinal
U20 Mixed Final
***
After a packed six weeks of pre-season, regular season, semi-pro commitments, and major international events, August is starting to settle into a familiar pattern: the heart of the club regular season. That meaty heart starts with the US Open.
WUCC means that we won't get to see either the smattering of international teams that have been a staple of the event in years past or the 2021 Nationals men's semifinalists1, but the competition won't suffer much for the lack of teams. The field includes a bevy of 2021 Nationals qualifiers, plus some top challengers for a spot at the 2022 show. Unfortunately, the heavily attended WUCC in the women's division means there will be no women's division at US Open for the second year in a row.
For mixed and men's, every team will make the bracket, so there is wiggle room for some sides to work out chemistry and kinks before the consequences set in. Elimination play begins on Friday afternoon, though, with the 3:15 PM round offering the potential for the first real blockbuster ultimate of the USAU season.
Tournament Profile
Date:

August 5-7

Location:

Blaine, MN

Weather:

Windy with highs around 95 on Friday; highs between 70 and 80 on Sat/Sun with rain likely
With the caveat that no one really knows anything yet, then, here is how the picture looks for each team heading into the club season's first major.
Men's Division Notes
Certified (On-Paper) Finalists
Call me optimistic, but it does not seem like #4 Chicago Machine's championship window has closed yet. They roared into the national final in 2019, geared up for a second run at the mountaintop in 2021, and then kind of blew it. A poor three rounds of pool play and a quarterfinal exit came as something of a disappointment.
But that's all stuff and nonsense now, because Machine are building something special. The D-line still hinges on the constant awareness and sudden athleticism of Von Alanguilan and Johnny Bansfield, with Team USA's Nate Goff around to wreak havoc on any kind of matchup. But all eyes will be on the offense where a steady Pawel Janas, a refreshed Joe White, and a top-of-his-game Paul Arters will (presumably) be joined by the likes of the talented Jordan Kerr (BYU, The Killjoys), Abe Coffin (Doublewide), and even Walt Jansen (GRUT). We'll see how the lines start to shake out in Machine's season debut this weekend, but it's more than clear that they have the talent to compete with the Rings and PoNYs of the division.
#7 Denver Johnny Bravo are not making their debut but rather attempting to build on an undefeated (so far) regular season. The case for their re-emergence as contenders has less to do with the fact that they beat Revolver twice at Colorado Cup, though, than that they injected the best parts of a team who challenged Sockeye in quarters of Nationals last year with the best parts of Boulder Lotus, the now-defunct 2021 spinoff for Mamabird players2.
If it isn't quite a Frankenstein's monster of a mash-up, it will at least be interesting to see what Bravo do with such a mixture. Do they leave Jay Froude and Matt Jackson to guide the offense, or give the reins to the collegiate due of Danny Landesman and Calvin Stoughton? Can Alex Atkins and Sandy Brown co-exist on a line without trying to sky each other every chance they get? However they organize themselves, look for the slate of competition at the US Open to either prove or disprove the theory that Bravo number among the division's elite.
Question Marks or Exclamation Points?
Another group of teams could easily play their way into the US Open final without causing too much of a stir, but for various reasons have more of a wait-and-see vibe about them. If we are just talking about paper, the best in the bunch might be #12 Washington D.C. Truck Stop. They've been at the level of Nationals quarters (or better) for years, most recently missing out on semis when an unlucky wind carried Rhino's universe point huck over two of their defenders. But with some major roster additions (Alexandre Fall, Ben Oort, Cole Jurek, Andrew Roy) to bolster an already strong young core (Duncan Fitzgerald, Moussa Dia, Jacques Nissen), this could be another breakthrough year along the lines of the 2017 semifinalist squad.
So…what's with the asterisk on Truck Stop this weekend? Two words: Virginia Vault. Truck Stop lost a game last month to the longtime in-region whipping boys – an unthinkable outcome before the season started. An early season knock won't necessarily derail a season, but it definitely lands Truck in prove-it territory ahead of the US Open.
#9 Boston Dig are in the opposite boat. They used the competition at Boston Invite like a sparring partner to sharpen their systems without subjecting themselves to even the possibility of defeat. But "undefeated" and "proven" are not synonyms. How will Dig fare against a slate of opponents around their level? As in previous years, the dynamic between their veterans (Jay Clark, Josh Markette) and younger cohort (Peter Boerth, Turner Allen) will be something to keep an eye on. If they can get experience and explosiveness on the same page, they could harness a very strong weekend performance. And look no further than Charles Weinberg and Orion Cable for a thrower-receive pairing made in heaven.
Another side in position to establish themselves in the upper-half conversation: #16 Pittsburgh Temper. Somewhat quietly, they have made two consecutive Nationals prequarterfinal appearances and pushed in-region rivals Truck Stop in both of them before coming out on the wrong end of a 15-13 result. Anson Reppermund has become one of the division's biggest playmakers, especially on defense. Meanwhile, Temper have featured one of the most potent offensive players in the division in each campaign: Max Sheppard in 2019 and Thomas Edmonds in 2021. Both of them are on the roster together for the 2022 campaign. If you mix in the infusion of Pitt En Sabah Nur talent who played on a separate club in 2021, all of a sudden Temper have a lot of firepower.
And finally we come to the most storied program in the division: #8 San Francisco Revolver. They haven't been a true title threat since their last run to the final in 2018, and twin losses to Johnny Bravo at Colorado Cup put a limiter on expectations, but the talent could be there for a new magnificent chapter. Andrew Moore, Byron Liu, and Jacob Smith will get plenty of blocks on the D-line. The addition of Nate Prior to the offense, though, is the most intriguing development for the team. Having that kind of rock in a distribution role ought to free up Adam Rees and Markham Shofner for more flexibility – the last thing any team who already has to worry about guarding finishers like Simon Higgins, Marcelo Sanchez, and Dillon Whited wants to see.
Quick Reboot or Full Rebuild?
What do you do when a huge chunk of your team departs for new opportunities? That's the question at hand for #19 Minneapolis Sub Zero and #14 Atlanta Chain Lightning.
For Sub, it's a tale as old as time in the land of a thousand lakes. Recent years have seen the departures of Grant Lindsley, Simon Montague, Nick Stuart, Ben Jagt, and Ryan Osgar – just to name some players who have won a USAU club title for other clubs after leaving. 2022 is just the latest chapter. Charlie McCutcheon (Ring of Fire), Andrew Roy and Cole Jurek (Truck Stop), and Charles Weinberg (Dig) will not be rejoining Sub Zero this year. Nor will star Nick Vogt, who is out all season with an injury. Sub will soldier on the way they always have done: leaning hard on the wealth of recent vintage college talent in the area to fill in the gaps. That means putting a lot of responsibility on Eddie Driver and Noah Hanson of Carleton, Will Brandt and Drew Otterlei of St. Olaf, and Paul Krenik and Anthony Jirele of Minnesota, among others. We'll see how they respond to the call. And if push comes to shove, remember that Sub Zero tend to perform very well at what is essentially a home tournament for them every year.
Chain Lightning will also lean a little on the local up-and-comers – see Georgia's Hayden Austin-Knab, Berry's Collin Hill, and Alabama's Trip Crowley – to help plug the holes left by the departures of such esteemed Chain alumni as Elijah Jaime, Kelvin Williams, Austin Taylor, and Matt Smith. But they took it a step further, reaching far afield for talent. As a result of their recruiting efforts, such notable lights as Tom Tulett – in this reporter's estimation, the single best player at last month's World Games – Max Thorne, and Nicky Spiva will be lacing up their cleats for Chain Lightning in 2022. Will it come together in time to put the division on notice with a strong US Open performance? Will it come together in time to match last year's quarterfinal run at Nationals? Whatever the answer, Chain will be a fascinating side to watch this weekend.
Getting the Plant Back Together
If you want to see what might be bubbling up to the future, look no further than the recent past. A pair of the lower-end Nationals finishers from 2021 will use the US Open to kickstart their campaigns to entrench themselves among the division's perennial elite.
#18 Amherst Sprout have stated in the past that they would consider turning down a bid to Nationals if they earned it. That didn't happen last fall, and based on the roster on the books for this fall, they still seem to have their eyes trained on San Diego in October. Playmakers Ben Sadok, Ben Ayres, and Cam Wariner return for another round. On the ageless wonder front, they have replaced Jeff Graham with a one-two handler punch of Miles Montgomery-Butler and Dylan Tunnell.
As intriguing as Sprout look, there could be something really unique growing in Utah. Last year's surprise team Orem Killjoys have re-branded as #13 Utah Pando. Let's take a moment to appreciate the new name: 'Pando' refers to a 108-acre colony of Aspen trees in central Utah that scientist have determined is actually a single living organism, possibly the heaviest living organism on Earth. It is impossible to imagine a more apt illustration of an 'all for one' team ethos. They lose star Jordan Kerr, but almost everyone else from last year's Killjoys side is back. Additionally, 2022 college First Team All-American Joe Merrill joins the team this year. So does Utah State phenom Jonny Hoffman3. When we look back a few years from now, we might view the 2021 and 2022 seasons as the makings of a new powerhouse program.
Joining the fray with the ten Nationals programs are Denver Inception and Seattle Emerald City Ultimate – two teams who have been just on the outside looking in and are surely hungry to start to tip into the picture the other way, starting this weekend if they can manage it.
Mixed Division Notes
Making NOISE, Breathing Fire
Can #6 Madison NOISE make another deep push at Nationals this season? They looked solid at WUCC but lost to Vancouver Red Flag in quarters and then to Amsterdam GRUT in the 5th place game for their only two losses of the week. Particularly impressive were Robyn Fennig, Dylan DeClerck, and new 2022 addition Victor Luo, who hopes to help drive the team back to a semifinals appearance or beyond in October.
Perhaps a sign of concern is that the team dropped an unsanctioned tune up game to Minneapolis Drag'N Thrust back in July. Drag'N lost its talisman in Sarah Meckstroth but remains one of the most talented rosters in the division, led by Caleb Denecour and Sam Berglund. Will captain Danielle Byers pick up some of the scoring that Meckstroth and Kat Ritzmann leave behind?
NOISE does get the top seed at the tournament, despite that loss to Drag'N. The two sides could be on a collision course in the US Open final live on ESPN2.
Get AMPed
One of the most successful mixed programs of the last decade, Philadelphia AMP is set to see some changes in 2022. Gone is Nicky Spiva, who was by far the team's most important offensive thrower, delivering 17 assists at 2021 Nationals. Now, the youth movement is afoot. A number of key players for Pittsburgh En Sabah Nur join the team this season. Henry Ing, whose brother Michael was a standout for AMP in the past, was a lock for the All-American First Team in 2022, just missing out on a podium spot for Player of the Year. His size and throwing ability will make for some instant offense and give AMP an option to fill some of Spiva's minutes on the O-line. Will Helenski and Leo Warren, two other Pitt alums, also join the team this year.
Florida's 2020 Callahan nominee Gabby Krajniak is another notable add — she joins a female-matching contigent packed with stars like Linda Morse and Raha Mozaffari.
Can the team continue to compete at the highest levels? They went 2-1 at an early season round robin, getting a close win over Loco and dropping a game to New York XIST. It's hard to know how much to read into what was effectively a preseason tournament. They'll get their first real test this weekend.
Other Nationals Teams
Four other teams — Boulder Love Tractor, Boston Slow, Arizona Lawless, and San Francisco Polar Bears — will take the fields in Blaine. Polar Bears has had the best start to the season so far, going 3-0 in pool play at the Pro-Elite Challenge before finishing in third after losing to Michigan Hybrid in semis and beating Love Tractor in the 3rd place game. Jonah Malenfant and Robert Yeagle both return, as does Margot Stert, and the team adds in long-time Mischief star Mac Taylor after the team shockingly missed Nationals last year, finishing all the way back in 6th place at Southwest Regionals.
Many of the other teams face big questions marks. Slow has had a bumpy start to the year, with losses to Darkwing, Obscure, and Sprocket. Lawless still has plenty of talent but lost many of its best female-matching players like Jamie Eriksson, Helen Eifert, and Megan Maxfield. And Love Tractor went 3-3 basically at home at Colorado Cup, where they typically play some of their best ultimate of the season.
Are all these teams poised to make it back the dance this year? This will be a bellwether tournament for each.
---
Ring of Fire, PoNY, Sockeye, and Rhino Slam! will all play at Pro Champs over Labor day weekend ↩

and onetime k.o.d. member Matt Bristol ↩

He of the 7G, 15A, 3B, 0T statline at College Nationals as a freshman. For what it's worth, I had Jonny Hoffman in the top spot on my own Rookie of the Year ballot. ↩