A suffocating defense and resilient offense led the Empire easily past the Chicago Union.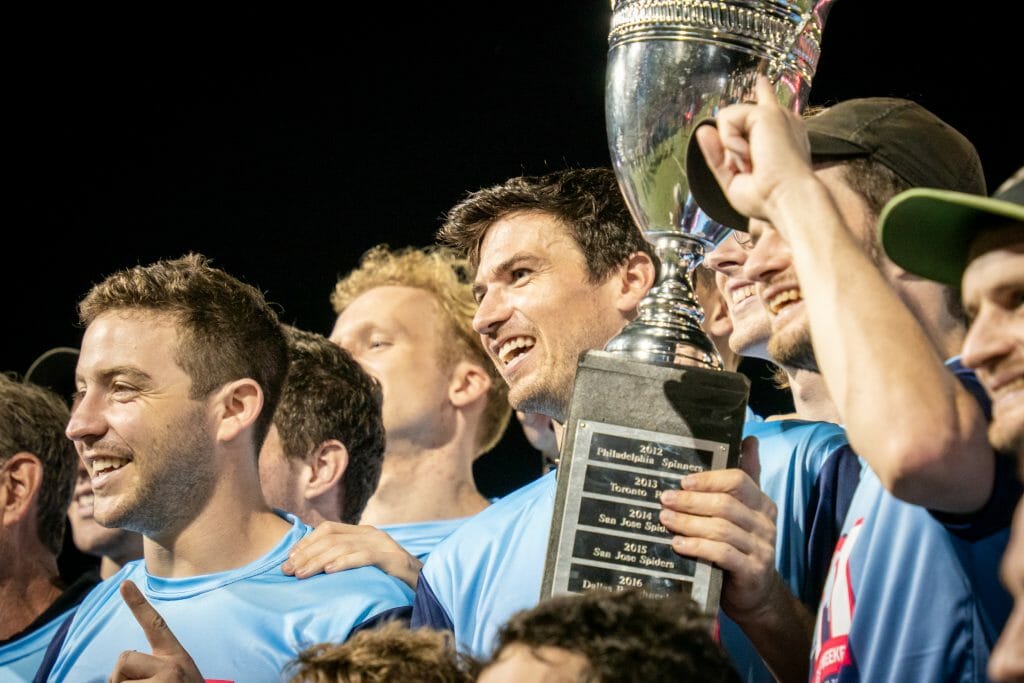 For the second time in three seasons, the New York Empire capture the American Ultimate Disc League Championship following an undefeated campaign. They were the most utterly dominant team the league has seen, taking home the league's championship trophy along with the $25,000 prize following 22-14 win over the Chicago Union. It was the largest margin of victory in the title game since 2014.
"We brought our best game," AUDL finals MVP Jack Williams said after the game. "That's what great teams do, they bring their best game at the most crucial moments. Really all the credit goes to our defense. I think it's the best defense of all time." Williams deserves some credit, too, for his five assist, two goal night when he lead the team in total yards and committed just a single turnover.
Both teams entered the game confident after each scored dominant wins in their semifinals on Friday night; Chicago beat Colorado by five while New York outscored Carolina by six to avenge their 2021 finals loss. Both the New York offense and defense were ranked the best in the league, and both units showcased their abilities this weekend, scoring 15 breaks across both games while giving up just three combined.
The Union surprised New York with a rolling pull to start the game, hoping to trap New York on the sideline and disrupt their rhythm. Elliot Chartock looked calm under the pressure and launched a 40 yard backwards reset to get New York's offense going before Sol Rueschemeyer-Bailey found Ryan Osgar for the first of his game-leading five goals. Chicago confidently answered right back as Jeff Weis reeled in a huck over Ben Jagt, and Paul Arters found Pawel Janas in the end zone set, setting up what looked to be a back-and-forth affair between the league's two most efficient offenses.
Jibran Mieser shifted the game with the first block of the night midway through the first quarter, jumping a reset aimed for Paul Arters. Chicago played tight end zone defense, but Jagt's hammer to Antoine Davis had just enough juice to sail over Weis's outstretched arms, and the Empire scored the game's first break for an early 4-2 lead. Ross Barker then dropped an in cut on Chicago's ensuing possession and New York called a timeout, looking to take control of the game with their offense on the field. Osgar collected Williams' deep look and New York had jumped out to its customary early lead. Chicago settled down and managed to hold, but the Empire had the last laugh of the first quarter when Williams' cross field hammer somehow found Rueschemeyer-Bailey's hands between two defenders as the horn sounded; the Empire extended their advantage to 7-4.
"On several points, we executed our game plan well," Union coach Dave Woods said after the game. "The problem was then we committed some errors on ourselves and we weren't able to capitalize on those mistakes that they were making."
New York's defense continually forced Chicago's players into uncomfortable situations. Marques Brownlee effectively pushed Janas into the cutter space, leaving Chicago's downfield players to take on more throwing responsibility. Early in the second quarter, Weis, with Jagt pushing him to the backfield, floated a backhand too high for Barker. Though the Union played tight, smart defense, the Empire kept possession moving until Charles Weinberg found Jeff Babbit for the quarter-opening break. Just like it did against Carolina, the Empire offense withstood plenty of defensive pressure and trickery and relentlessly continued to score.
Among Chicago defenders, Asher Lantz came closest to getting a block in the first half, grabbing on to the disc just as it was sandwiched between Babbitt's hands on an under cut. The Union defense played a tight, physical game that forced New York to hold on to the disc and look for its second and third options on nearly every throw, but the Empire always found a release valve somewhere among the small windows Chicago left open. Jason Vallee in particular forced Williams into some disadvantageous reset positions with physical, hard-nosed defense.
"We knew that they were going to have some really good schemes," Williams said, "and they had some big athletic defenders who could match up with us pretty well but we, going in to this, knew we had the advantage in quickness and we knew if we just kept the ball alive for long enough, things were going to open up."
Chicago had their first break chance of the game with 29 seconds left in the first half. Nate Goff elevated attempting to block a deep shot and forced Ben Jagt to go up earlier than he wanted to. The New York huck sailed over both of their heads giving Chicago the disc with a chance to bring the game within two at halftime. The Union immediately called timeout to sub on an end-of-quarter offense. Chicago got their offense moving midway up the field, but Joe White dropped a perfectly thrown under that slipped right through his hands. Williams picked up to start the Empire counterattack; a few moments later, he ran down Brownlee's upline toss around Janas as New York kept their foot on the gas pedal and entered halftime up 12-8.
The two point swing seemingly took the life out of Chicago who now faced a much longer road to mount a potential comeback. They wouldn't make the job any easier to start the second half.
New York patiently held to start the second quarter and brought intensity to their defense. Looking for any opening amidst rising pressure, Arters launched an ambitious hammer, but it helixed over Weis's head. Going the other way, Brownlee released an absolute dime of a huck and Davis ran it down as the Empire extended their lead to six.
Chicago likewise continued to bring plenty of defensive pressure — probably the best at the tournament, though they had the misfortune of facing an all-time elite offense. "We put a lot of pressure on [our offense] every practice and we prepare them for this," Brownlee said. "I think the best defense they see all season is against us at practice."
The Union earned a turnover when a trademark Osgar crossfield blade fell just a bit too far for Weinberg, who appeared not to have expected the throw. The Union called an immediate timeout, looking to jumpstart their comeback. Barker found a window to launch a huck aimed for White. It flew over both White's and John Randolph's heads but Dalton Smith ran it down and flipped the goal to White — tipped by John Randolph on the release — for the Union's first break of the game. With a crowd estimated at 1700 people suddenly energized, Chicago forced three turnovers on their next point–the last one just a few steps outside their attacking end zone. Asher Lantz earned the block and the assist as Chicago inched just a bit closer — down three goals at this point — with time winding down in the third quarter.
Of course, New York isn't one to let an end of quarter situation go their opponent's way. As time was running out, Williams launched a backhand and Babbitt boxed out a well positioned Lantz to sky with two hands and collect another goal. Brownlee intercepted the one-second-left huck from Chicago and the Empire entered the final frame up 16-12.
In the fourth quarter, Chicago's defensive pressure stayed as high as ever, but the Empire offense continued to fight through it. As the pressure to score quickly mounted, Chicago continued making execution errors and New York capitalized, knocking in two more breaks to add insurance goals in the fourth quarter and extinguish any hopes of a Chicago comeback.
New York went into full time-eating mode, with Chartock, Rueschemeyer-Bailey, Williams, and Osgar churning swings and resets across the field. The Empire took a three minute offensive point to extend their lead to 20-14 and put the game away as the Union resorted to quick hucks to try to score as quickly as possible. The Empire had no trouble defending the predictable offense and closed out the game with conviction, scoring six of the final seven goals to take home the 22-14 win.
"I feel like we've had a couple of years in the past where we've won a lot of games but took our foot off the gas at the end and we'd squeak out a one or two point game," Brownlee said. "This year we made a conscious effort to keep our foot on the gas every game of the season and that's what prepared us for this weekend."

New York saw contributions from all over its roster. John Lithio scored five goals and notched two important blocks. Charles Weinberg tossed five assists. Chartock and Rueschemeyer-Bailey continued to be rocks in the New York backfield, combining to go 77/78 against the tightest defense they've faced all season. Chartock, in particular, was very poised against tough sideline double teams and never turned it over in that position.
Janas was excellent for Chicago, scoring three goals and three assists to lead the team in each category amidst just two turnovers, one of them a quick strike huck after the game was out of reach. Janas also compiled 558 total yards to lead all players. However, it was the Union defense that stole the show. Lantz and Vallee played perhaps the best games of their careers doing everything in their power to slow down Babbitt and Williams, respectively.
"There's so many things I'm proud of about this team," Woods said. "This was a fantastic season for the Chicago Union. We made a lot of positive strides both on and off the field. I couldn't be prouder of this team. Although we came up short in the pinnacle game, we had so many successes. You saw the defensive pressure that our D-line was able to put on New York tonight and you call tell that they were flustered — they're not used to that pressure. I'm extremely proud of definitely the D-line."
After getting knocked out in the semifinal in 2021 and the final in 2022, all signs are pointing up for the 2023 Union if they can continue their upward trajectory. While it is tough to sustain success for multiple seasons in the AUDL, the Union have built a solid foundation over the past few years and only need to look at their championship game opponent to see a model that they could follow.
Following their dominant Championship Weekend performance, the 2022 Empire will go down in the history books as the fourth undefeated champion in league history and have cemented themselves in the discussion for the best team all-time. After following up their 2019 title and 2021 second-place finish with another championship, they can credibly claim to be the greatest dynasty in the league's young history. With no signs of slowing down, the Empire might have more history to make in 2023.