Plenty of upsets and intrigue in the Raleigh heat on Saturday.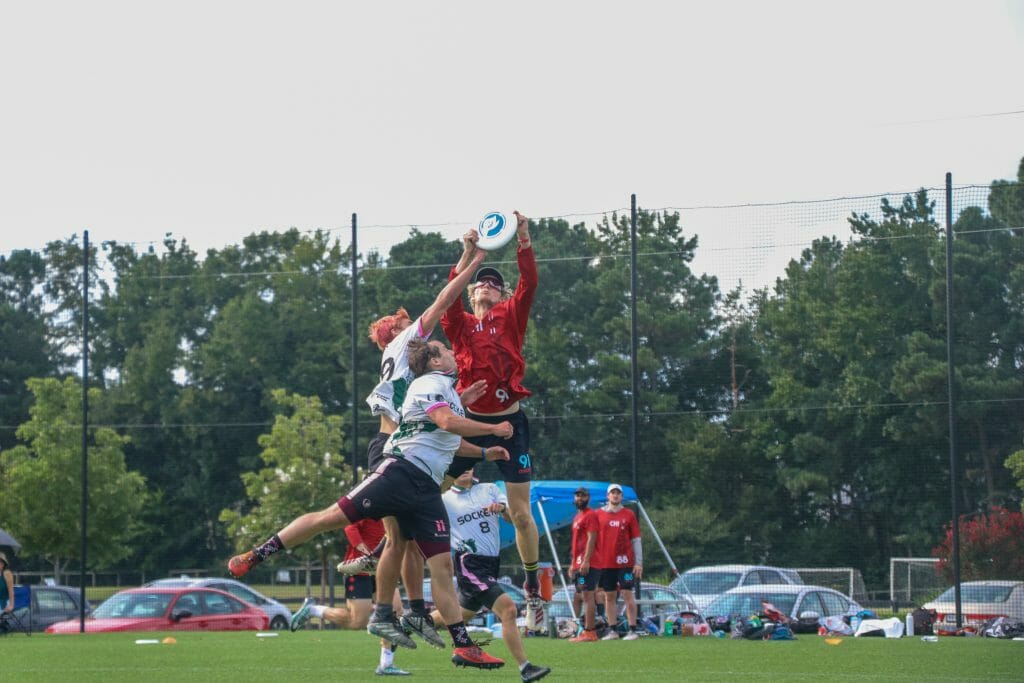 The men's division largely delivered on the promise of its stacked team list with unpredictable results and close games on Saturday. Raise your hand if you had Truck Stop and Machine making it through Day 1 of Pro Champs undefeated? Or if you had Sub Zero-Dig, Temper-Truck Stop, or Condors-Sockeye going to universe? Both US Open finalists were pool winners, but neither of the most recent World and USAU champions emerged from the day unscathed. With the caveat that no teams have yet to be eliminated from contention – Sunday will see us go from 12 teams left down to two – here are some clear takeaways from Day 1.
Stock Up
Machine's Roller Coaster Season
No team has pulled the trick of soaring on the heights and plumbing the depths of a day of ultimate this season quite like #9 Chicago Machine – as anyone who witnessed their Friday-to-Saturday about-face at the US Open will remember. For now? They're back on top. Small sample size, yes, but Machine looked like the best team at the tournament on Day 1 in Raleigh. While they haven't been perfect – a few too many badly executed hucks and a handful of boneheaded throws into poach schemes – they are undefeated.
2022 Pro Championships: Day 1 Stock Watch (Men's Division) is only available to Ultiworld Subscribers
Already have a subscription? Log in
Whether you visit Ultiworld for our reporting, our podcasts, or our video coverage, you can help us continue to provide high quality content with a subscription. By becoming a subscriber, not only do you receive benefits like exclusive articles and full article RSS feeds, you also help fund all of Ultiworld's coverage in general. We appreciate your support!