All the favorites, contenders, and sleepers as the regional championships begin.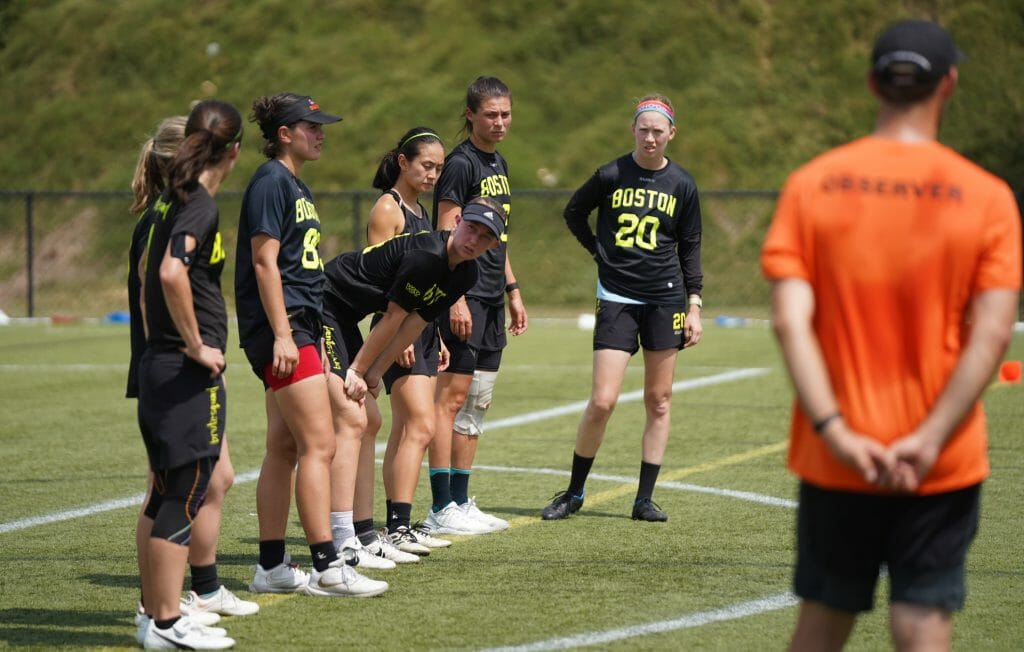 Ultiworld's 2022 coverage of the club women's division is presented by Spin Ultimate; all opinions are those of the author(s). Find out how Spin can get you, and your team, looking your best this season.
The regular season and Sectionals are now behind us. We can finally get down to business. After a regular season where incentives and motivations were constantly in flux, teams are at the point where their goals are on the line. After this weekend, labels will be slapped on their accomplishments, evaluating their season for better or worse. We take a look at who is on track to get a good grade — and which teams could surpass expectations and upset the order.
Great Lakes
Competition Schedule
Dates: October 2-3
Location: Zeeland, MI
Number of Bids: 1
Excitement Level: 🔥
For the past several years, the Great Lakes region has been dominated by Nemesis and Rival. #14 Chicago Nemesis had a tough regular season in 2022 and in any other year they might be sweating heading into Regionals with only one bid available to Nationals. They went 3-8 in sanctioned games during the regular season, including narrow wins over Siege and BENT at a round robin near Washington, D.C. in July, and then a third thin margin at Pro Championships in Raleigh, this time over Traffic. This year, though, they're clearly the class of the region and should still be heavy favorites.
The second seed is #25 Indy Rogue, who had a solid regular season. They started strong, winning both SCINNY and Heavyweights, and played well at Elite Select, beating Dish and Rival and firmly establishing themselves as the second best team in the region. Unfortunately for their hopes of stealing the bid, they lost to Nemesis at Sectionals 15-1. The teams are closer together than that score would indicate, but it'll still be an extreme longshot for them to advance past Chicago.
Rival has seen significant turnover, as all three captains from the start of the 2021 season are now playing mixed elsewhere, and many players from their consecutive Nationals appearances are scattered on rosters of more coastal teams – the area continues to be a transitory area for ultimate, as former Rival players move away to bigger ultimate hubs like Boston, Raleigh, and Seattle. As a team formed between the college programs Ohio State Fever and Michigan Flywheel and their alumni, the Rival roster has depreciated as those college programs have declined in recent years and the area has not retained the players that raised them to national prominence.
Nemesis should be expected to cruise to the Great Lakes title and continue to tune up for Nationals unless there's a significant upset. However, there's plenty of opportunities for the other teams to continue to grow and improve in the postseason – the Great Lakes only has seven teams that played sanctioned games in the women's division and those teams have a great chance to get meaningful experience against a wide variety of competition.
Mid-Atlantic
Competition Schedule
Dates: September 24-25
Location: Frederica, DE
Number of Bids: 3
Excitement Level: 🔥🔥
For the first time, Mid-Atlantic has three teams that earned bids in the women's division, as many as any region. The favorites are #5 Washington DC Scandal, who had notable turnover after taking a year off. Most notably, Claire Trop, Kat Ritzmann, and Lisi Lohre have been pushing Scandal into the conversation as one of the top teams in the country. Scandal notched several proof-positive wins late in the season by beating Phoenix at a showcase game, and beating 6ixers and Brute Squad at Pro Champs to go along with convincing wins over Nemesis, Traffic, and BENT.
The second best team by rating in the regular season was #15 Pittsburgh Parcha, earning a bid for the region in their second season. They return basically the entire roster that won the MA in 2021, including Carolyn Normile, Erica Baken, and Erin McCann. Parcha stumbled a bit at Sectionals, losing to in-state rival Philadelphia Flight in the de facto final of the round robin format. As a result, Parcha will find themselves seeded no.4 coming into Regionals, below Flight, and needing to fight up into the top tree in order to win the bid that they earned. (Note that an updated rankings after Sectionals would be expected to land Parcha behind Grit.)
The third best team by regular season rating was the second team out of the District, #11 Washington DC Grit. After missing out on Nationals in 2021 by the narrowest of margins, Grit had a strong regular season. Their only losses were to Brute Squad and Parcha at the round robin in DC in July, and they won the Select Flight Invite East, establishing themselves as a bid earner with convincing wins, especially over Philadelphia Flight.
The most hopeful team to not earn a bid is clearly #21 Philadelphia Flight, who proved at Sectionals that they're capable of toppling Parcha and winning the bid come Regionals. The Philly squad is to be taken seriously, with a roster that can compete at the top end with Grit and Parcha and a game plan that plays to their strengths. Flight gets key contributions from Emma Soiles, Maia Nguyen, and Allison Milligan. Soiles is a matchup challenge in open space with height to win any jump ball and speed to get open under and distribute the disc. Flight will be a tough obstacle in the game to go bracket that both Grit and Parcha would rather avoid.
With three bids and four capable teams, there's bound to be some excitement. The format may make a meaningful difference for how the tournament plays out, as Scandal is likely enough to win that most teams will probably be focused on winning the tighter games. All three of Parcha, Grit, and Flight will be focused on beating the other two, and after Scandal, the other two bids are up for grabs to the two teams that play best on the weekend.
North Central
Competition Schedule
Dates: September 24-25
Location: Hartland, WI
Number of Bids: 1
Excitement Level: 🔥
This season, we'll be reading the same old story that's been happening for years in the North Central division. It's almost certain that #19 Minneapolis Pop will again secure the region's only bid to Nationals. The long-time Nationals attendees made an appearance at WUCC this year for the first time in team history, where they proved that they still have a competitive fire in them. Their USAU tournament appearances this season also show this with a strong 4-2 record at Elite-Select Challenge, their only losses were to 6ixers and a strong Tabby Rosa side, resulting in a comfortable fifth place finish. They also proved that they are still the strongest team around with easy victories at Northwest Plains Sectionals; the only team to really challenge the regional powerhouse was Madison Heist, who only managed a 15-8 loss.
With core players such as Makella Daley, Sara Helm, and Stephanie Wood at the wheel, Pop looks as strong as ever. Mix in a large fraction of others who competed with Minnesota Strike for its first season (Reebs Enders, Alicia Carr, Kallie Poletto, Adrienne Baker, Kayla Blanek) and you have a recipe for regional success; they're all but sure to make another trip out to San Diego.
While there's really little question of Pop reaching Nationals, they will need to still play the games. The team whom they will probably face in the final will most likely be St. Louis Stellar. The team from Missouri has had a solid season, with success at Select Flight Invite East and Chicago Heavyweights in their early season and a middling appearance at Elite-Select Challenge. Stellar rocketed past their competition at West Plains Sectionals, with not a single close game, proving that they deserve to be in contention for Regionals finalists. As always, Madison Heist is another team to look forward to watching at Regionals with a season record that looks almost identical to Stellar's. They showed that they can hang with many other elite-level teams, performing solidly at Heavyweights and Elite-Select Challenge this year. Their only loss at Sectionals was to top-seeded Pop. The Wisconsinites will certainly be seeking to reach the regional final.
With one bid to Nationals for the region and one team that will finish ranks above the rest, the drama will lie in where the other teams will fall.
Northeast
Competition Schedule
Dates: September 24-25
Location: Devens, MA
Number of Bids: 2
Excitement Level: 🔥🔥🔥🔥🔥
The Northeast Region has always been an exciting one, but it may be especially so this year. For years, people have complained about Canadian teams not playing enough regular season games to earn bids in their respective sections and regions and then swooping in during the series to "steal" them, though at least there were usually a lot of bids to go around. But this year is different – there are only two bids for women's teams from the Northeast. Previous National competitors #8 Boston Brute Squad, #6 Toronto 6ixers, #16 Boston Siege, #18 New York BENT, and #12 Quebec Iris — along with new-kids-on-the-block #23 Northampton Starling — will all be trying win a fabulous, no expenses paid trip to San Diego, but most teams are simply not going to get a seat on the plane.
Beyond the numbers simply not adding up in terms of bids and teams, the landscape of the Northeast region has undoubtedly started to shift. For years, Boston Brute Squad was the obvious favorite, with Toronto 6ixers champing at the bit to overtake them. In 2019, the Canadian crew clinched the regional title, but Boston got the last laugh with their commanding performance in the National Championships. But after losing many of their top contributors in the past couple of years, Boston is simply not the infallible team they used to be. Their performance at Pro Champs a couple of weeks ago left much to be desired — they lost to 6ixers, Scandal, Traffic, and Phoenix — giving some hope to the other regional contenders that maybe they can knock off the former perennial favorites.
Toronto 6ixers are the clear favorite to earn a bid in Devens, considering they have beaten nearly all the top women's teams in the region this season.1 They are still a relatively young squad, but with World Games-level talent like Britt Dos Santos, Lauren Kimura, and Sarah Jacobsohn on the roster, they certainly don't lack big game experience. A nice end-of-season pickup in Molly Wedge, a Great Britain World Games star, adds even more fire to a hot squad.
Quebec Iris, Boston Siege, New York BENT, and Northampton Starling are all on the doorstep, and each has the potential to stir the pot should the stars align just right. Quebec Iris finished 13th at WUCC in July and won their section over Northampton on universe earlier this month. Boston Siege and New York BENT have both played a lot this season and are definitely hoping to peak at the right moment. And Starling are a fun addition to an already stacked region, heading into regionals with a 15-2 record.
Northeast Regionals will be a big one. Six teams with Nationals aspirations, one favorite, one perennial powerhouse trying to show they haven't fallen too far, four teams eager to prove themselves, and two days to leave it all on the field in Devens.
Northwest
Competition Schedule
Dates: September 24-25
Location: Lacey, WA
Number of Bids: 3
Excitement Level: 🔥🔥
Three teams, all alike in history, are back again to battle it out for Northwest supremacy. #7 Vancouver Traffic, #9 Seattle Riot, and #10 Oregon Schwa return to Northwest Regionals this weekend as the decisive favorites to once again take the region's three bids to Nationals for what would be a decade straight for each team. With only perpetual upstarts #24 Seattle Underground seeming to pose a threat to snag a surprise bid, the excitement in Lacey will likely come from the order in which Riot, Traffic, and Schwa finish.
Riot leads the Northwest contingent in a bounceback year after a 2021 season that saw Seattle bring back a mere six veteran returners. This year, though, the roster has been reinforced with the return of Steph Lim, Abbie Abramovich, and Alyssa Weatherford, as well as Washington Element superstars Sophia Palmer and Abby Hecko, the latter of which joins after an All-Club Second Team performance with Seattle Mixtape in 2021.
The additions have helped Riot rebound with a solid if unspectacular season where they took losses to Fury, Flipside, Molly Brown, and in-region rivals Traffic while winning all the games they would have been expected to. Although Seattle did take two losses to Vancouver on the season, both came back in June at the Eugene Summer Solstice, and Riot didn't get the opportunity to avenge the defeats at Sectionals after the final round was canceled due to poor air quality. With their reloaded roster, however, Riot will feel that they have as good a chance as any to reclaim the regional crown this weekend.
Reigning regional champions Traffic will look to retain their title as they return the vast majority of their 2021 roster that finished fifth at Nationals after taking a universe loss to semifinalists Raleigh Phoenix in pool play. Led by the incredible Catherine Menzies and a host of UBC Thunderbirds standouts including Madison Ong, Helena Tremblay, and Nancy Yang, Vancouver certainly has the firepower to take down Seattle for the third time running. Indeed, Traffic's victories over Riot are two of their strongest wins of the season, alongside close wins against Boston Brute Squad and regional competitors Schwa that helped salvage an uneven weekend at the Pro Championships. Sitting at 3-0 against your closest competition heading into Regionals is as good a place as any to be if you're Traffic, and there's little reason to think that the Canadians won't take their place at US Nationals once again.
What a few seasons it has been for Schwa. Semifinalists in 2019 to winless in pool play in 2021 to this season that has seen them both lose to youth club team Oregon Downpour at Summer Solstice and win against Raleigh Phoenix at the Pro Championships. Oregon's results this season encapsulate a team that still carries on the proud history of a title-contending team while having to constantly iterate as star players depart and arrive. Out are the likes of Georgina Tetlow and Mariel Hammond, key components of that 2019 final four squad. In are Greta Eisenbrey, Jaycee Jones, and coach-turned-player Aly Steinfeld, all three of whom had outstanding seasons in the Western Ultimate League with Oregon Onyx. As the only women's club team in Oregon this season, Schwa didn't have to play Sectionals and as such their only notable in-region crossover game is the aforementioned loss to Traffic at the Pro Championships. Still, it was a close match that finished 14-12 to Vancouver, and without a particularly potent chasing pack Oregon's Regionals focus will primarily be on simply securing their place at Nationals. What awaits them there, though, feels difficult to predict.
Speaking of the best of the rest, Underground appear poised as the team most likely to take down one of the three favorites. While the program does have a history of pulling out some unexpected results including an upset win over Riot at the 2021 Washington Sectionals, their results this season are less promising. Sure, Underground did play close with Riot at Sectionals again, this time losing 12-9, but outside of that game there's little to suggest that Underground will find the magic-in-a-bottle that they'll need to steal a bid out from under the feet of the favorites. The name of Abbi Shilts on Underground's roster may raise a few eyebrows after her outstanding college season, but it would be a lot to ask of the young phenom to outperform such experienced programs.
After Underground come the winners of the Big Sky section, Utah Swell, who have rebranded and built off of the team that was formerly Utah Elevate. Swell played their singular regular season tournament at Ski Town Classic and finished fourth after being seeded no.8, before they blew out Seven Devils to take the Big Sky title. With a cohort of players from the WUL's Utah Wild, Swell could be a sneaky trap game for any of the top teams between their lack of available footage to scout and chemistry built from a tight-knit Utah ultimate scene. Mackenzie Perkett, Brittany McCready, and Sailor Ong are among the carryovers from the Wild's 2022 squad, and will be key if Swell are able to pull off a surprise at Regionals.
South Central
Competition Schedule
Dates: September 24-25
Location: Tulsa, OK
Number of Bids: 1
Excitement Level: 🔥
New season, same story for the South Central women's division. With just a lone bid to Nationals and #3 Denver Molly Brown the dominant force in the region, it's all but assured that the Pro Championships champions will claim the regional crown for the fourth year running. #22 Colorado Small Batch leads the teams that will in all likelihood battle it out for second, while Texas tandem Houston Crush City and Austin Vengeance carry the banner for the Lone Star State.
Despite playing only a pair of tournaments this season at the Bay Area Tournament and the Pro Championships, Molly Brown's record on the season is sterling. Their only two losses were at the Bay Area Tournament to San Francisco Fury and San Diego Flipside, while their Pro Championships title was earned in decisive fashion—a 15-11 final win against Raleigh Phoenix being Molly Brown's closest win all weekend. The names remain much the same for Denver: Claire Chastain and Lisa Pitcaithley present matchup problems for nearly every opponent, Ronnie Eder and Manuela Cardenas provide highlight reel footage aplenty, and Rena Kawabata and Alika Johnston light it up in the end zone. Add collegiate standouts Clil Philips, Kristen Reed, and Saioa Lostra among others to this star-studded roster and you have a probable national semifinalist on your hands, with an all but certain Regionals title just a step along the way.
For the bulk of this season, the leaders of the South Central weren't Molly Brown, who didn't play their first tournament until the end of August, but Small Batch. Colorado took second to Flipside at SFI West in July before taking down the title at Ski Town Classic with aplomb. While Small Batch weren't able to hang onto a second South Central bid as the season progressed, they still showed off a level that other teams in their region outside of Molly Brown haven't been able to match. This included dominant wins over fellow Rocky Mountain section teams Jackwagon and Trainwreck, as well as Crush City at SFI West. Colorado's roster includes its fair share of recognizable names such as Colorado Quandary's Emma Cortright, Abbie Gillach, and Emma Williamson, but Small Batch's eleven-point loss to Molly Brown demonstrates just how much of a gap remains between the two top Colorado teams.
In contention for second with Small Batch are the two leading Texas teams, Crush City and Vengeance, and although Houston has the season head-to-head lead at 3-1, it was Austin fittingly taking their revenge at Sectionals with an 11-8 win in the final. Neither team has quite the potency that Texas Showdown formerly had2, but both have plenty of capable players to try and knock off Small Batch. Crush City are led by Anastasia Foster, who has not only led Houston to success but also the PUL's Indy Red, while Vengeance have the talents of current and former Texas Melee players to call on, including Sanja Stojcic, Olympia Walker, and Emma Berrigan. The battle for Texas may once again rear its head at Regionals, and the winner has as good a chance as any of claiming the second spot in the region behind heavy favorites Molly Brown.
Southeast
Competition Schedule
Dates: September 24-25
Location: Decatur, AL
Number of Bids: 2
Excitement Level: 🔥🔥🔥
First things first: #4 Raleigh Phoenix are going to win this region going away. They might not have looked their absolute best in the Pro Champs final, but there are not going to be any Molly Browns in the Southeast field to scuttle their plans. Sarah Meckstroth, having retired from mixed, might just be the best player in the women's division. The player whose crown she takes, Kami Groom, also joined Phoenix in the off-season. They join a phenomenal, mostly home-grown line-up that includes the likes of Ashley Powell, Dawn Culton, Amanda Murphy, and Mary Rippe. Rising with the same tide that brought UNC Pleiades two consecutive titles in the college division, Phoenix have star power everywhere you look. Southeast regionals is just a tune-up for them as they press for an even higher finish than their 2021 Nationals semifinal showing.
The competition for the second spot is where the excitement comes in. A pair of rivals are aiming to make Nationals once more, with room for only one of them. #17 Florida Tabby Rosa earned the bid. They took the region's second spot in San Diego in 2021, as well, spoiling a decades-long qualifying streak belonging to #20 Atlanta Ozone. Kelsea LeBeau and Erin Goding are among Tabby's major contributors returning to help defend the Southeast crown. But they've also lost quite a lot on the offensive side: Gabby Krajniak, Lauren Bahng, and star Kate Travaglini. Will newcomers Natalie Wilson and Erynn Schroeder play well enough to overcome those departures?
If Tabby have the knowledge that they can take the bid, Ozone have the psychological edge that comes with a win in the teams' only previous meeting this season: 13-11 at Terminus in July. Sammy Daugherty and Cate Woodhurst are among the storied Atlanta club's returners, but if they win it will be on the strength of an infusion of new blood. Chupzi Lema and Liz Leon figure to have prominent roles; meanwhile Soju Hokari and Fiona Cashin, both current college players, could learn how to make their impacts more consistent throughout a game.
With little hope of defeating Phoenix and little chance of falling to any of the teams in the field seeded behind them – at least not this year – the tension in the Southeast will all collect around that single, high-pressure second-place game. Ozone have the weight of history behind them and an edge in depth, but Tabby have the slightly better season and, in Schroeder, probably the best individual player on either team. Given the stakes, it could be a doozy.
Southwest
Competition Schedule
Dates: September 24-25
Location: Tucson, AZ
Number of Bids: 3
Excitement Level: 🔥🔥
In previous years, the relative closeness in team strength between teams like San Diego Wildfire, San Francisco Nightlock, and Oakland LOL helped feed the moniker of a 'Wild Wild West' at Regionals. San Francisco Fury might have held an iron grip on the region as a top seed, but there was plenty of opportunity for wild outcomes with the additional bids the region did or did not earn. This year is a little different. The landscape has changed over the past few years, and there's a lot more stratification in the division. It's unlikely we'll see any team outside of the top three make their way to Nationals, but the order is anything but certain.
The toast of the women's division is still #1 San Francisco Fury. Despite some close games, the most decorated ultimate team in history spent the regular season continuing the win streak they built last season, now 28-0 in USAU sanctioned events since last September. The team is headlined by the same core that has kept them competitive over the past decade, and even younger players like Anna Thompson or Julia Butterfield seem like veterans at this point. While the team has seen some turnover, their newcomers are a prime example of the rich getting richer. No one would ever really call Calise Cardenas, Michelle McGhee or Julianna Werffeli rookies in the traditional sense. Beating Fury means matching their depth and discipline, which is why they're almost assuredly making it to Nationals in October.
While Fury's return to San Diego is all but a given, their position at the top of the pecking order is finally in question. The Bay Area team might still be the presumptive favorites, but this year they'll have to go through #2 San Diego Flipside, a new team out of SoCal that has finally rallied together the best talent in the area, poaching players from other women's teams, mixed teams, and even Fury itself. The core of this team is made up of UCSD women's alumni who won College Nationals together in 2019. You might remember names like Dena Elimelech, Alex Diaz, Avery Jones, and Kelli Iwamoto, who are just a few of the 10 rostered UCSD alumna on this team. They've further stacked their line with stars like Kaela Helton (US World Games selection), Kristen Pojunis, and Dena Slattery. Flipside's roster isn't only impressive on paper, either. Their only losses as a team this year have come to Fury, and two of those went to universe. If a single point is all it takes for them to topple the reigning champs, there's definitely a chance it comes at Regionals. The Flipside vs. Fury rematch ups the heat level by one on its own accord and should be the most anticipated game of Regionals weekend in the women's division.
By now, #13 San Francisco Nightlock has to be sick of hearing about all the talent on the other teams in their region, especially when they have put in a ton of effort to secure a third bid for the Southwest. Nightlock continues to be the blue collar version of Fury's ruling class; they might not get the hardware of their same-city rivals, but you can always count on them to make it to Nationals through fundamentals and hard work. That doesn't seem likely to change this year, as their in-season results show them to be a step below the likes of Fury and Flipside, but ahead of the rest of the region. You can count on Rachel Chang, Sally Mimms, Malina Wiebe, and Eliza Chang to keep producing for their team on the offensive end, and a host of talented defenders to keep the pressure off their O line. The importance of Nightlock's defensive talent cannot be understated, either. The team has developed a reputation for getting stops after less-than-clean offensive points, keeping them from getting broken and staying atop their competition. Considering the teams they'll have to fend off to keep the third bid, this defensive intensity will be crucial.
When it comes to the programs that will try to supplant Nightlock for third place on the podium, there are three in the mix: the Bay Area's FAB, Oakland LOL, and San Diego Wildfire. Of the three, LOL has put up the most resistance to Nightlock so far, losing 12-8 at Sectionals. This might not seem like a good result for LOL, but they have some factors working in their favor. Sectionals was only their first tournament of the season and they were very clearly still working out some of the kinks. While it's unlikely they'll have perfected everything by Regionals, they still played Nightlock closer than one would expect for a team that largely took the regular season off. Having Bree Cahn and Meeri Chang on the team certainly helps bolster the team's chances, and a full roster of 28 will give them the depth that they've lacked in previous years. Don't count on the upset from them, but don't count them out.
After LOL, neither FAB nor Wildfire have really shown much this season to prove that they can beat Nightlock, although FAB might hold the edge over Wildfire, having beat the team at SFI West earlier in the season. FAB has embraced their blend of older veterans and younger players fresh out of college, which means the team is building at an encouraging pace. Of their younger stars, Betsy Siegal is known in the college game for her throwing prowess and Madison Tenney was a part of the UCSD women's team that saw such great success between 2018-2020. Mara Saltzman, Allyson Lutz, and Elena Good are among the veteran returners on this team that have kept them churning all year, and will likely still be relied upon to keep the disc moving. Regionals will continue to be an uphill battle for this team, as FAB has yet to beat either of LOL or Nightlock, but if the cards play out correctly, they have just as much of a shot at the third bid as Wildfire or LOL.
San Diego Wildfire's in a very different position to the other teams on this list, as they've gone through a massive upheaval since last year's roster as Flipside absorbed much of the team's top talent. That's after their 2021 roster saw a massive upheaval from their 2019 roster… and the team still made Nationals! This iteration of the San Diegan squad has more than a few players that are in their first competitive club season of ultimate but are balanced out by some of the more familiar faces in the San Diego masters3 scene. Wildfire has had to cover a lot of ground from the start of the year, but have enough pedigree that they can't be overlooked. Vivi Stevens has returned, as have her full field throws, and she's flanked by a squad of younger handlers from Santa Barbara, including Yu Ishii, Mika Leslie, and Hani Pajela. Defensively, Rachel Johnston and Liana Lin have made a big impact, and their cutting core has been bolstered by Lili Gu and Fabiola Lopez. The team has already faced some tough competition in the tournaments they've attended, so they're well equipped to understand the difficulty and the stakes at Regionals.
There's no easy path to a bid for any team outside of the top three, so San Diego will have to show how their process goals have added up into a cohesive whole if they want to return home with a bid.
---
Toronto 6ixers beat Quebec Iris at Fishbowl, an unsanctioned tournament in Ottawa in June. ↩

Notably one of Showdown's standout players Julia Schmaltz joined Molly Brown this year ↩

and grandmasters, and great grandmasters ↩