Plus, Australia names their WUGC 2024 coaches.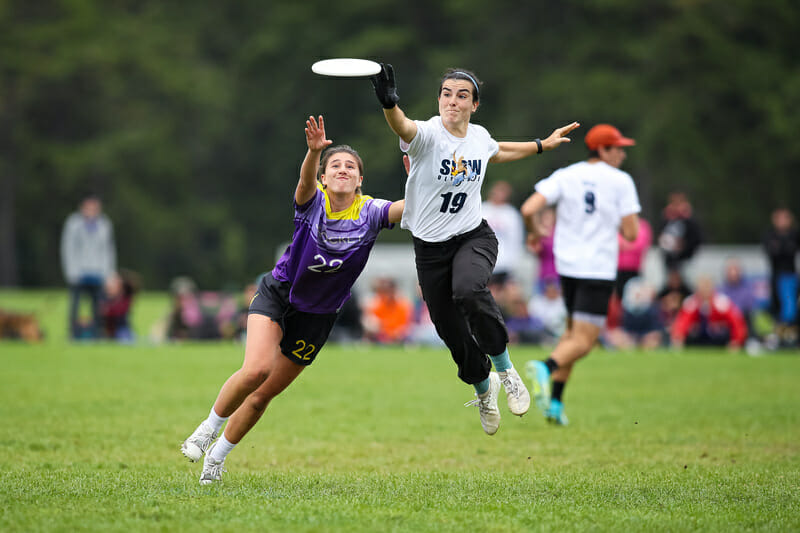 Opening Pull is Ultiworld's weekly wrap-up of the previous week in ultimate, available both here on the site and as an email newsletter. We've gathered the news you need to know and highlights you need to see. Check back weekly or subscribe now to receive Opening Pull in your inbox along with a rundown of the previous week's content on Ultiworld.
Regionals Super Sunday Packs Surprises
While Club Regionals can often feel predictable and straightforward, there are always a couple surprises. This year, there were more than most as upset winners, dramatic comebacks, and shock qualifiers made for an exciting Sunday of action.
Seven out of eight regions held their championships this past weekend, assigning 44 of the 48 bids to Nationals, including seven first-time qualifiers.
Some of the biggest headlines of the weekend include Austin Doublewide upsetting Denver Johnny Bravo to win the South Central, Ames Chad Larson Experience getting back to Nationals for the first time in seven years by stealing the third bid out of the North Central, Madison Mad Men knocking off Minneapolis Sub Zero to earn their first-ever Nationals trip, an incredibly tight Southeast mixed tournament that had 18 games decided by one point, and Boston failing to qualify a Men's team for the Club Championships for the first time since 1979.
You can check in on all the results in our qualifying thread and stay tuned for more Regionals recap content this week!
Australia Names WUGC 2024 Coaches
Nearly two years out from the next edition of the World Ultimate & Guts Championships, Ultimate Australia has named the head coaches for their national teams in all three gender divisions.
Bree Edgar is coaching the Mixed team (the Barramundis). Edgar was a coach of Lunch Box at WUCC this summer, and has previously worked with the U24 women's team. Yew Eng Ng is coaching the Open team (Dingoes); Ng coached Sunder this past season, and has previously coached the U24 mixed team to silver in London and U24 men's team to bronze in Perth. Steve Wright is coaching the Women's team (Firetails). Wright is the long-time coach of Melbourne Ellipsis and has also worked extensively with the Australian U20 program, as well as coaching the U24 women in London.
Highlight of the Week
Boston Slow completes a late-game comeback with a break on universe point to earn a spot at Nationals. Beautifully captured by videographer Charles Cleary, we get to see both the joy and agony of a game-to-go's final moments.
Coming Up
The final Regionals event of the season will round out the Nationals field as the Great Lakes decide their representatives at a tournament in Zeeland, Michigan this weekend.
Across the pond, 58 teams will meet in Caorle, Italy for the European Club Championships. The continent's best will clash to crown champions in each of the three gender divisions.