Ultimate Twitter had plenty of jokes and thoughts to share on Super Sunday.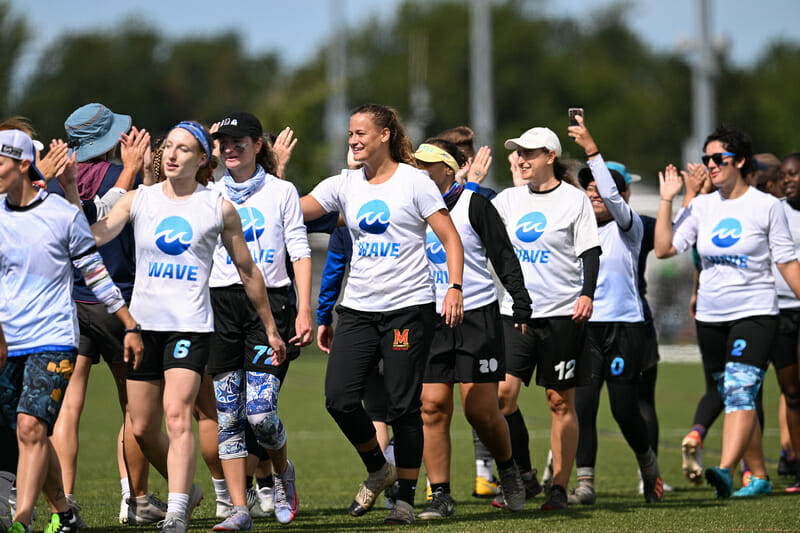 With the ultimate community spread out over several regional championship events nationwide, tweeters all over the country were staying connected to the action and each other through our favorite social media app. Here are our favorite tweets from this past weekend, when all but one region's postseason events took place:
San Francisco Mischief is close friends with regional rival San Francisco Polar Bears, who took the Southwest region's single (!) bid to nationals
Layne Dodge plays for Philadelphia AMP. If anyone sees this signal boost, get in touch with Layne.
Baltimore Wave competes in the women's division and may have made Nationals if the championships were about well crafted memes rather than ultimate frisbee.
David Alison coaches Raleigh Phoenix and couldn't help himself add a fifth line of facts related to the number four.
Seattle Mixtape with some well earned advice to any first time Nationals-goers.
Atlanta Dirty Bird, whose name is somewhat similar to a certain Seattle mixed team that also needed last minute jerseys when they first qualified for Nationals back in 2014, will hopefully heed Seattle's advice and also procure jerseys. Matt Smith is a longtime Atlanta area player who plays for Dirty Birds and the AUDL's Atlanta Hustle.
Ames Chad Larson Experience is not a first time Nationals qualifier, but many of their players likely are. CLX hasn't been to Nationals since 2015.
Greta Eisenbery plays for Portland Schwa. They expressed the thoughts of many ultimate players returning back to non-frisbee life on Monday morning.
The Pittsburgh En Sabah Nur to Philadelphia AMP pipeline is going strong with recent additions Henry Ing, Will Helenski, and Leo Warren. While they apparently didn't convince their teammates to run cross-field sprints after the tournament like Pittsburgh famously does, it appears the tradition continued later in the evening.
Laura Bitterman played for Boston Brute Squad and Portland Schwa. While celebrating Schwa's advancement to nationals, she also wishes all followers a happy new year per the Jewish calendar, or as we say in Hebrew "Shana Tova." Rosh HaShana, the Jewish New Year started on Sunday at sundown.
Delrico Johnson plays for Baltimore Fleet, who finished sixth at Mid-Atlantic Regionals. Fleet definitely missed out on Nationals this weekend, and will likely continue to do so if they insist on boycotting all non-Rockford based hosts.
Virginia Vault overcame this errant throw and qualified for Nationals.
For proof, this video of Brandon Lamberty's away shot should suffice. Congratulations are in order to his brother Riley, too, for his success eating an entire cheesy bread from Papa Murphy's – that sounds very impressive, and definitely like something that he and a group of 30ish other adults have been building up to for a few years. Seriously, congratulations!