Can anyone stop GRUT this year?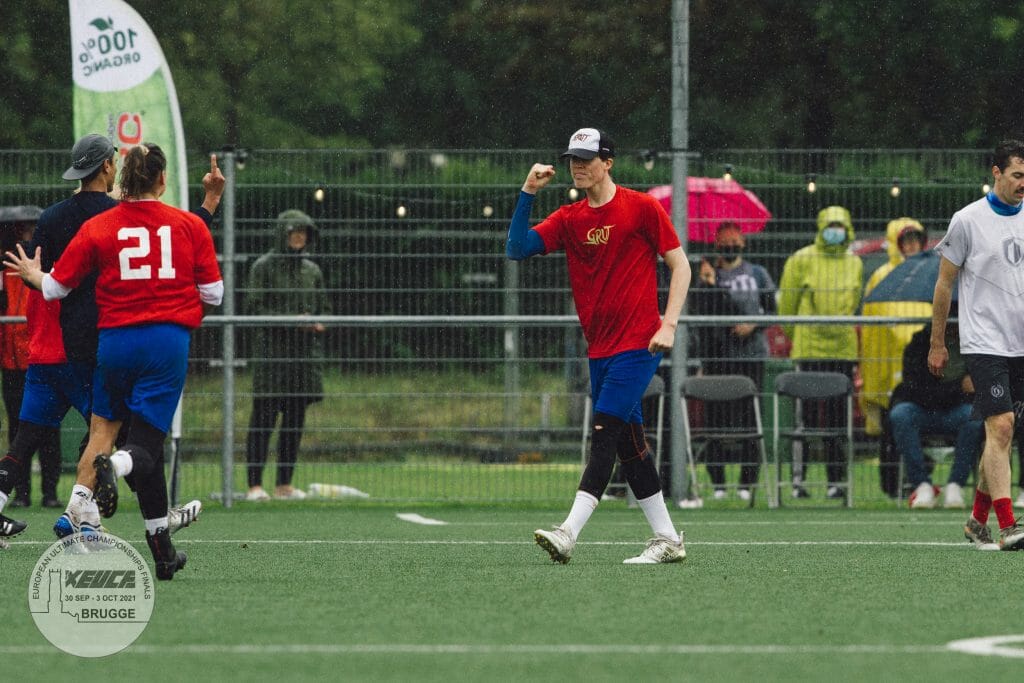 At long last, the 2022 season is coming to an end in Caorle, Italy. 12 mixed teams from around Europe will gather to fight it out for gold in an unforgiving format. Because there are only 12 teams this year, the format leaves little room for error. Two six-team pools feed directly into the semi-finals, meaning that even one early loss has the potential to take a team out of contention. With a forecast that currently looks more like Belgium than Italy, anything could happen.
Tournament Profile
Date: September 29 – October 2
Location: Caorle, Italy
Weather: Wet with dry spells, temperatures in high teens C/high 60s F and light wind
How to watch: On Ulti.TV's YouTube channel
Team breakdown:
Four teams: Great Britain
Two teams: Czech Republic, Austria
One team: Netherlands, France, Germany, Belgium
Group A
That said, Group A is headed by reigning champions GRUT (Amsterdam, Netherlands), and the field is missing the second, third, and fourth placed teams from 2021. GRUT started the season strongly by taking gold over PuTi (Helsinki, Finald) at Windmill, but finished one spot behind the Finns in Cincinatti while only losing to eventual champions Seattle Mixtape. Captain Ben Oort lamented  that they wouldn't have a chance to settle the score, but said his team remains extremely focused on the task at hand in Caorle. They're without a few players, including Walt Jansen, Anne Minnaard, and Chris Harris, so they'll need to adjust early on to sort themselves out. Even without those players, they remain the most talented team at the tournament. Anything short of a berth in the semi-finals would be a massive disappointment, and it's hard to see them finishing anywhere other than first in the group.
The rest of the group may find it difficult to overcome the Amsterdammers, but that is to take nothing away from them. Reading Ultimate (Reading, England) come into EUCF on the back of a relatively successful season, having finished eighth at both Windmill and WUCC. They did lose to SMOG in a close final at UK Nationals, but captain Bex Palmer notes that the mood in the team is good, and that expectations are high. Palmer says, "we bring the same supportive nature we have had throughout the season, we would like to hope we can place highly within the tournament."
Pushing Reading for that second spot could be PUC Ultimate (Paris, France) and Prague Devils (Prague, Czechia). The former are a solid team coming off a 25th place finish at WUCC in Cincinatti, and they also managed a seventh place finish at Elite Invite. The latter are joining the mixed division for the first time in a long time, and so come in as a relatively unknown quantity. Player Aneta Höschlová says the team have picked up some important players for the tournament and are looking to surprise some teams.
The group is rounded out by two other debutantes in Mosquitos (Klosterneuburg, Austria) and Leamington Lemmings (Leamington, England). On Mosquitos, Christoph Nurschinger says he reckons that they might be the youngest team at the tournament with 14 of their 23 players playing for the Austrian U20 team. They're looking to embrace their underdog role and gain as much high-level experience as possible. On Leamington Lemmings, Nathan Sanders says this season was the club's first ever berth in a UK semi-final, and that it's "an achievement they're savoring." For many, it will be their first time at EUCF, and they're looking to make the most of getting to play other teams from around the continent, and Sanders says they're doing so without the burden of expectations.
Group B
Group B is led by UK champions SMOG (Manchester, England). While they may not have placed where they would have liked in Cincinnati1 their season has certainly seen them achieve some important milestones. They were able to beat GRUT on their home turf in Amsterdam on the way to a fourth placed finish at Windmill2, and they picked up their third consecutive UK title. They will be missing a few big names, but player Alex Greer still believes their goal should be to push for a spot on the podium, maybe even the top one.
Also in Group B are teams like Disconnection (Freiburg, Germany), Catchup (Graz, Austria), Leftovers (Brno, Czechia), Deep Space (London, England), and GOLD (Ghent, Belgium) who may all believe they have a shot at advancing from the group.
Disconnection are coming off a strong season. They were able to finish eighth at Elite Invite, seventh at Windmill, 14th at WUCC, and first at German Nationals. Philipp Steffan thinks the team has been heading in the right direction all season and believes they have what it takes to beat any team in Caorle. He identified his team sticking to their tried and true systems as key to their success, as well as "playing two second halves," referring to the team's tendency to get stronger as games go on.
Catchup player Sven Kleinhapl says the team are hungry after a disappointing WUCC which saw them fail to achieve their goal of breaking into the top twenty, finishing 33rd. Kleinhapl is tamping down expectations, saying the team is pushing only for a top ten finish at EUCF. However, they managed a fourth place finish at Elite Invite, and took fifth place at xEUCF in 2021, so the team is certainly capable of fighting for the top of the table.
Leftovers enter after a season which has seen them take sixth at Elite Invite, third at Czech Nationals, and first at EUCR-E. Although they haven't been able to break into the top four at EUCF yet, their goal is to fight for "heavy metal." František Szczepanik also noted that they take great pride in developing players, saying almost every player was raised in the club's academy.
Deep Space may also think they can challenge after a 21st place finish at WUCC and taking fourth at EUCF the last time they played. After a strong third place finish at UK Nationals they seem to be peaking well and will be bringing a full squad to Italy, including two players involved with the World Games squad; training squad member Leila Denniston and coach Sam Vile.
GOLD may be surprise qualifiers from Belgium, but they will be hoping their experience can help them surprise a few of the more established clubs. They are a masters team affiliated with the Gentle club and will be bringing a nothing-to-lose energy to Caorle.
---
Finishing 27th after losing in pre-quarters. ↩

GRUT avenged that loss in the semi-finals at Windmill, so it's 1-1 on the season. ↩