Some surprises but a familiar final!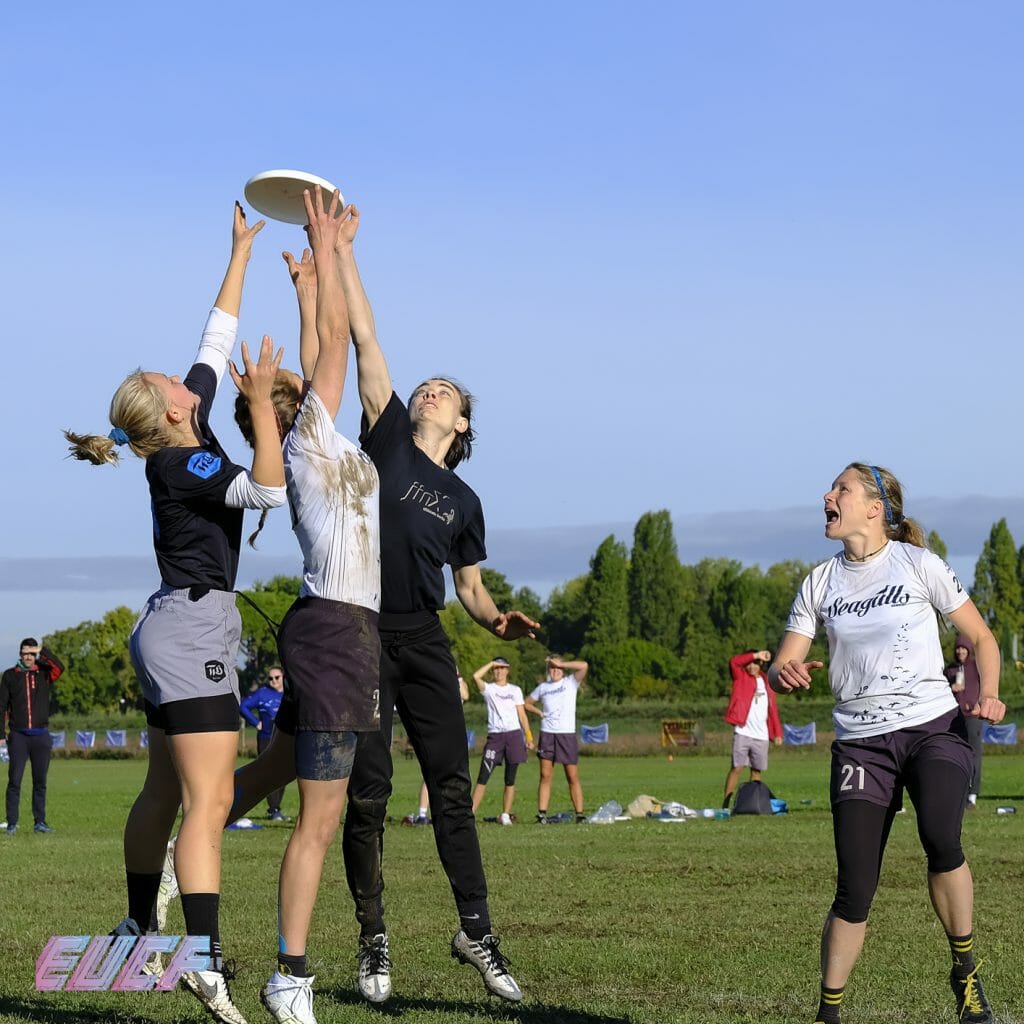 There were some upsets across the day today but the two favorites have come through the fray and will be playing for the title once again tomorrow. Here's a summary of play from the women's division overall.
Upsets in the quarters
It was tight throughout the Seagulls (Hamburg) vs. jinX (Berlin) match yesterday morning. The two German teams are big rivals and, going into the game, will have been familiar with each other's players and tactics. Going into the match, jinX was looking like the favorites, comfortably unbeaten on the first two days. Seagulls took an early break to put them ahead 3-1, after which jinX seemed to turn on the jet and proceeded to score the next four points in a row to make it 3-5. The two teams continued to switch who was leading, each allowing the other to get a break before breaking back themselves. This can possibly be attributed to a somewhat surprisingly high number of turnovers and mis-throws from both teams, most likely a result of the wind that was beginning to pick up.
jinX were up 10-11 when the time cap went. Seagulls managed to finish the point to equalise and make it a game to 12. jinX came out on offense and worked the disc up to Seagull's endzone, but a dump to Nici Prien saw her forced to go to ground for the catch, which she unfortunately fumbled. This gave possession back to Seagulls and the disc was hucked to Valérie Ebner, who caught it just short of the opposite endzone. One pass to Sonja Laurhun and Seagulls snatched a spot in the semis from the favorites.
This was not the only surprise result in the quarter-finals today. The even bigger upset came from the Bristol Women (Bristol) vs. 3SB (České Budějovice) game. After half time you'd be forgiven for thinking that Bristol might have left themselves too much to do with 3SB up 9-5. 3SB had been beating their matchups in the air and Bristol appeared to be lacking momentum. Another point apiece and Bristol were still trailing by four points at 10-6. It was at this point, however, that the Bristol comeback began, and they scored five out of the next six points to make it equal at 11-11. Bristol had started to contest everything in the air and Molly Wedge reeled in the goals for her team. A few points later and Bristol equalised again at 14-14, with the task of coming out on defense for universe point. Before 3SB knew what was happening, Bristol had generated a turn and, in what was certainly the most exciting comeback of the day, they secured their spot in the semis with a game-winning catch from Ruth Taylor.
After the game Carla Link, from of the Bristol team, said: "This is the highest Bristol has achieved as a team and we felt we had nothing to lose and everything to gain. We have had previous experience of being a break or two down and managed to pull it back to take a win. What changed the game was our defense being able to shut down their deep looks. So belief was there for the comeback. On offense we were able to work through their zone effectively so we were able to put clean holds in".
Meanwhile Sarah Tošnerová, captain for 3SB, commented: "Going into the game we were very determined to make the semis, we came into the game undefeated with very strong wins by minimum of four points in all our previous games, then we took a lead right away and we felt confident. Bristol made a great comeback and unfortunate mistakes in the universe point decided the game. We are still proud of our performance, but obviously it hurts more knowing that our chances for medals were realistic."
This result meant Bristol was now set to face CUSB Shout (Bologna) in the semis after Shout comfortably beat Valkyria (Stockholm) 15-11. Meanwhile, YAKA (Noisy-le-Sec) also had a comfortable victory1, 15-10, over Box (Vienna), meaning YAKA would be playing Seagulls in the semis.
Top seeds held strong in the semis
It is no surprise that the two teams who had the most comfortable victories in the quarters were also the two that came out on top in the semis. The French team, YAKA, made very few mistakes, leaving Seagulls with limited options. YAKA secured a relatively easy victory, taking the game 15-8, confirming their place in the EUCF final 2022.
In the other semi final, Bristol looked for a moment like there might have been an outside chance for another dramatic comeback in their game against CUSB Shout. The Italians seemed to have a dip in momentum towards the end of the first half, which they eventually took 8-5. They then went on a scoring streak and put in the next four to make it 12-5. At this point hopes of a Bristol comeback were all but gone and Shout finally closed out the game with a 14-9 victory, securing their spot in the final and end Bristol's hopes.
The final
Tomorrow we will see a repeat of the xEUCF 2021 final as CUSB Shout go head-to-head with YAKA once again. Both teams have had a fairly comfortable journey to the final, each comfortably unbeaten in almost all their games. YAKA are last year's champions, but earlier this year Shout beat YAKA to take third at Elite Invite and then came out victorious again in the London Invite final. It really is either team's game tomorrow but the Italians seem to have the upper hand.
Bristol has a chance for a bronze medal if they can beat Seagulls in the 3-4 playoff. If they do manage it, they would be the first British women's team to win a European medal, other than Iceni, since LeedsLeedsLeeds won silver in 2010.
All other matches have been cancelled due the deterioration of the pitches so we can expect a big side line and ample excitement as focus turns to the finals at EUCF in Caorle tomorrow.
---
Although the reigning champions were only able to notch three clean holds over the Austrians. ↩