My best guess at USAU's seeding.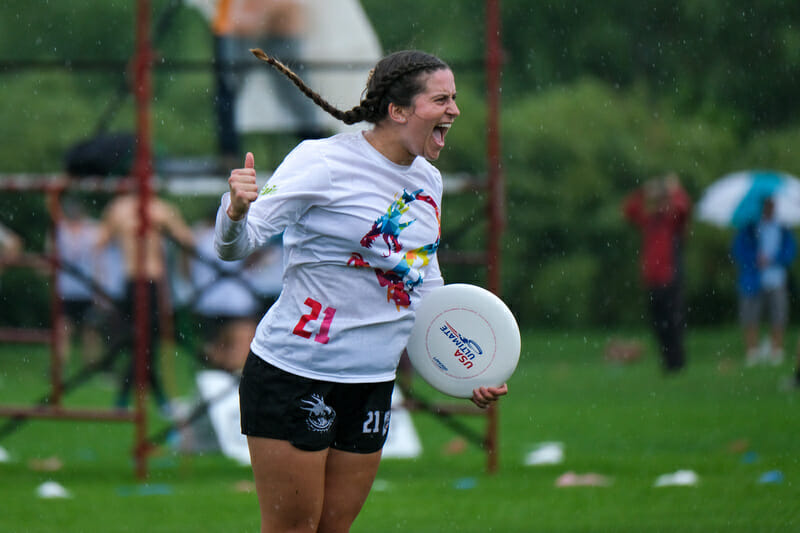 Ultiworld's club mixed postseason coverage is presented by Spin Ultimate; all opinions are those of the author. Gear up for your big games, your tournament parties, and everything in between at Spin Ultimate!
UPDATE 10/4 at 4 PM ET: USA Ultimate's post-Regionals rankings had significant errors, including leaving out the results of Northeast Regionals. These rankings and predicted seedings have been altered to reflect the new, corrected rankings.
Now that Regionals are wrapped up, it's time to turn our attention to the National Championships. It's now been three years since we had a normal regular season with rankings — we're going back to the algorithm for seeding, folks! The language around seeding is the same as it was in 2019: it's primarily about regular season performance and rankings, and "the order of finish at Regionals will be strongly considered in determining seeding for nationals, but will not be binding."
I do my best to follow USA Ultimate's guidelines for my seeding predictions: USAU's post-Regionals rankings are very heavily weighted, head-to-head wins matter at the margin, and historic success is considered. We do not explicitly try to avoid regional matchups.
Let's kick things off right away with the pools generated by my predicted seeding.
| POOL A | POOL B | POOL C | POOL D |
| --- | --- | --- | --- |
| Drag'N Thrust (1) | BFG (2) | AMP (3) | Hybrid (4) |
| XIST (8) | Toro (7) | Mixtape (6) | Polar Bears (5) |
| Dirty Bird (12) | shame. (11) | Space Force (10) | NOISE (9) |
| Slow (13) | Love Tractor (14) | Red Flag (15) | CLX (16) |
1. Minneapolis Drag'N Thrust
Drag'N is the top-ranked team by more than 100 points. They split a pair of games with AMP and have a win over Hybrid. Clear #1 seed.
2. Seattle BFG
Things get tricky right away. BFG had an excellent regular season and is #2 in the rankings, but they lost at Regionals to a Mixtape team that underperformed for much of the season. This is where you have to lean on the algorithm. Wins over Hybrid and Polar Bears help solidify this spot for the defending champs.
3. Philadelphia AMP
#4 in the algorithm but they have a H2H win over Hybrid.
4. Ann Arbor Hybrid
#3 in the algo. H2H loss to AMP and win over Polar Bears.
5. San Francisco Polar Bears
#5 in the algo. 1-1 vs. Mixtape and 1-0 vs. Toro. H2H loss to Hybrid. Pretty clear #5 seed.
6. Seattle Mixtape
It's a little tricky to figure out what to do with Mixtape. They are pretty clearly better than they will get seeded. They are #7 in the rankings, a spot behind Toro. Ultimately, I think USAU will seed them ahead of Toro (against whom they split a pair of games) because Toro finished in third place in a so-so Southeast and Mixtape won a very strong Northwest. They split games with Polar Bears. This seeding also has the ancillary benefit of getting BFG and Mixtape out of the same pool.
7. Durham Toro
Don't expect Toro to drop very far. They could even go at #6. The rankings are king when it comes to the seeding. Their H2H win over NOISE only solidifies this spot.
8. New York XIST
#8 in the rankings.
9. Madison NOISE
The next highest team in the rankings.
10. Huntsville Space Force
SE Regional champs. Ranked 10 points ahead of shame.
11. Fort Collins shame.
Rankings. Almost dead even with Space Force.
12. Atlanta Dirty Bird
Next in the rankings.
13. Boston Slow
Rankings. Clearly well ahead of the bottom three.
14. Boulder Love Tractor
The next highest ranked team.
15. Vancouver Red Flag
Dangerously underseeded! But this is where they fall in the rankings.
16. Ames Chad Larson Experience
The 10th Nationals appearance for CLX! The one-time powerhouse will be the bottom seed this year.