The US Open finalists DC Truck Stop and Denver Johnny Bravo face off in pool play of the 2022 Club Championships.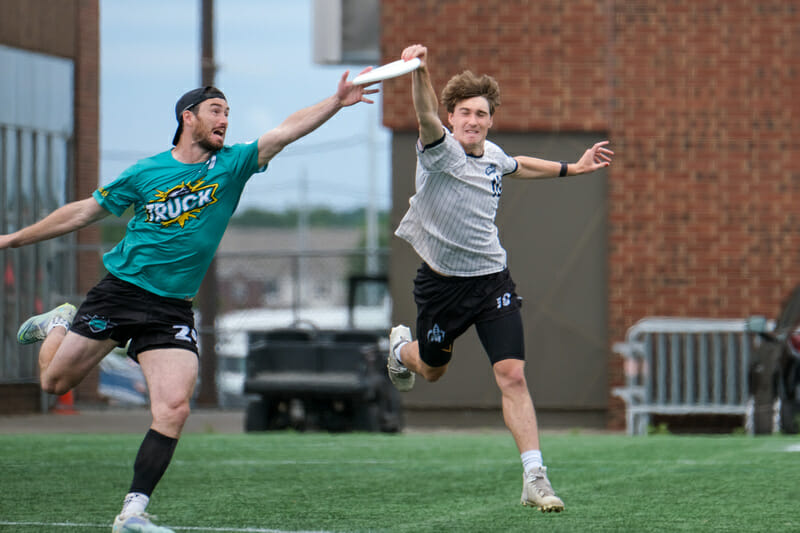 Ultiworld's coverage of the 2022 Club National Championships is presented by Spin Ultimate; all opinions are those of the author(s). Find out how Spin can get you, and your team, looking your best this season.
Pool B Preview — Pool C Preview — Pool D Preview — Competition Schedule
The men's pool A at this year's Club Nationals is the pool of rematches! Washington DC Truck Stop earned the no. 1 overall seed for the first time off winning performances at US Open and Pro Championships, but to earn a bye to the quarterfinals they'll have to face one of just three teams they've lost to all season: Denver Johnny Bravo. Joining their pool are first-time Nationals qualifier and one of this year's surprises in Cincinnati Omen and Toronto GOAT, who are likely to have the highest ceiling of any pool fourth seed and will be looking to avenge their 13-8 loss to Omen at the Elite-Select Challenge.


Washington DC Truck Stop
Seeding: Overall No. 1, A1
Power Ranking: #1
Regional Finish: Mid-Atlantic 1
Overall 2022 Record: 25-3
Against the Nationals Field: 14-3
Against the Pool: 2-1 vs. Johnny Bravo
It has been a season for the ages so far in DC. Truck Stop arrive in San Diego with a sterling 25-3 record, tournament victories against deep fields at the US Open and Pro Championships, and solid wins over both the defending national champions and the current world champions. Several clubs have put themselves in position to compete for the title, but Truck are the frontrunners – for good reason.
It starts with an offense like an octopus: smart, adaptable, and many-armed. It is one of the most evenly-distributed attacks in recent memory. "I have never felt less pressure to go make a cut in my Truck Stop career," said Tyler Monroe, a 2022 captain and O-line mainstay. Too often one of his talented cutting corps mates – longtime Truck star Jeff Wodatch, rookie Aaron Bartlett, Sub Zero transfer Cole Jurek, or, especially, Christian Boxley, who is playing the best ultimate of his life – are already in place.
The cutters' freedom to hang back and pick a spot is augmented further by a teamwide tendency to keep the disc moving among the handlers for unprecedented lengths of time: "We are all comfortable playing small-ball. We are all very comfortable playing at a high tempo," said Monroe. They went more than ten possessions in the Pro Champs final against PoNY without so much as attempting a deep throw. And while that tendency is a clear exaggeration of the handler-driven sets that have become prevalent throughout the sport in recent years, it doesn't really resemble what other teams have done in that it isn't so much a dominator set as a game of patience. You get the sense watching players like Andrew Roy, Rowan McDonnell, Gus Norrbom, and Johnny Malks that they could keep the disc moving as long as it takes.
The defense, though less unique, has been equally effective. Truck have shown an ability to get the disc in a variety of ways. Whether it's David Cranston or Troy Holland locking up a front-of-the-stack reset, Alexandre Fall or Fred Farah sprinting step-for-step with an under, David Bloodgood or Jasper Tom finding that last extra inch to layout in the way of a dump pass, or Moussa Dia and Luke Rehfuss getting position early against a deep look, they seem to have a wrench to throw in every one of a well-oiled offense's gears.
Whence this level-up? Credit the long hours of preparation and communication by Alex Crew and Darryl Stanley, credit a bumper crop of DC, Virginia, and Maryland youth talent all seeming to find their stride at the same time, credit the year-in and year-out example of the Truck's long-haulers, credit the weird-yet-inspiring new hymnal of sideline cheers. Regardless of the cause, one thing is clear: this isn't the Truck Stop of yesteryear. "It's really been a big change since I first started playing for Truck in 2015," said Monroe.
The work isn't done, though, and it isn't going to be easy. Having ironed the proverbial bull's eye onto their jerseys with such a dominant summer, they will get a tough test from every other contender. But if the way they handled the season is any indication, every piece is in place to prepare them for the challenge ahead.
Likely Ceiling: National Champions
Likely Floor: Semis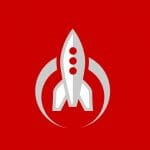 Denver Johnny Bravo
Seeding: Overall No. 8, A2
Power Ranking: #9
Regional Finish: South Central 2
Overall 2022 Record: 22-5
Against the Nationals Field: 6-5
Against the Pool: 1-2 vs. Truck Stop, 1-0 vs. GOAT
Johnny Bravo have come extremely close to being *that* team in 2022. Those tournament results that Truck have in their pocket? If a few moments had broken differently, they could have belonged to Bravo. They were a tipped disc layout away from gaining possession on universe point against Truck Stop in the US Open final, and they were an extra half-inch of Cody Spicer's wingspan from getting the disc on universe in the Pro Champs quarterfinal against PoNY.
The what-ifs, though, somewhat mask what has been an excellent season for Denver. "I view Bravo this year as a defensive team," said captain Denny Bechis. They have built a hard-nosed defensive unit around such luminaries as Cody Spicer, Alex Tatum, Sandy Brown, and Felix Pronove. "Our defense is in the right spot so that we can be close in pretty much every game that we've been in," said Bechis. That corps can simply squeeze the juice out of an offense point after point. Perhaps just as impressive is their post-turnover poise: of all the teams in the Nationals field, only poolmates Truck Stop have looked as comfortable with the disc in the D-line's hands as Bravo. Chalk that poise up to a lot of reps with the disc as the offense. In an unorthodox – but clearly beneficial – coaching decision, the D-line spent quite a few halves, and even whole games, at competitive tournaments as the O-line. "It instilled confidence in guys that everyone can play both sides of the disc," said Brown.
The offense haven't always looked quite as poised as their counterparts, but both Cole Wallin and Danny Landesman have been growing into the handler position throughout the year and could level into consistent high-level quarterbacks. "Seeing Danny catching a centering pass and look upfield… looks like he could be a 35-year old savvy vet, even though he's still only 21," said Brown. Downfield, though, Bravo have really shown an ability to turn close plays their way, with Calvin Stoughton, Will Lohre, and Quinn Finer proving themselves in countless one-one-one situations.
A couple of x-factors could turn the tides inexorably toward Bravo for the weekend, however. The first is the potential for Jay Froude to return to his typical scorched earth self – he's been a little on the quiet side so far this club season, but last year he had an argument as a top-10 player in the game. The other is the return of Alex Atkins. After missing 2021 as a key member of the Boulder Lotus consortium and most of the 2022 season with a knee injury, Bravo are really excited to bring his explosive all-around game back into the fold for Nationals.
The one true stain on their resume is the loss to perennial rivals Austin Doublewide in the South Central final. The hope is that it says far more about the Doublewide's upside than Bravo's downside. In any case, Bravo's two opening games against Omen and GOAT will be as the favorites and should be an effective measure of whether – regardless of what happens against Truck Stop at the end of the day – they are as good as their fine regular season suggests.
Likely Ceiling: Semis
Likely Floor: Prequarters

Cincinnati Omen
Seeding: Overall No. 12, A3
Power Ranking: #16
Regional Finish: Great Lakes 2
Overall 2022 Record: 18-4
Against the Nationals Field: 2-2
Against the Pool: 1-0 vs. GOAT
The men's division's biggest surprise of 2022 was Omen wresting a strength bid away from the vaunted Northwest and Northeast regions. It's fair to say that Cincinnati wasn't on anybody's Nationals radar at the start of the season. But destiny doesn't care about a radar. After they took Doublewide and GOAT by storm at Elite-Select Challenge in August, after a gritty game against Machine in the Great Lakes final and a trouncing of Trident I in the game-to-go, after the cheers and tears upon the recognition that they had qualified, the knowledge that Omen have accomplished something special has set in, both within the ultimate community in general and within themselves.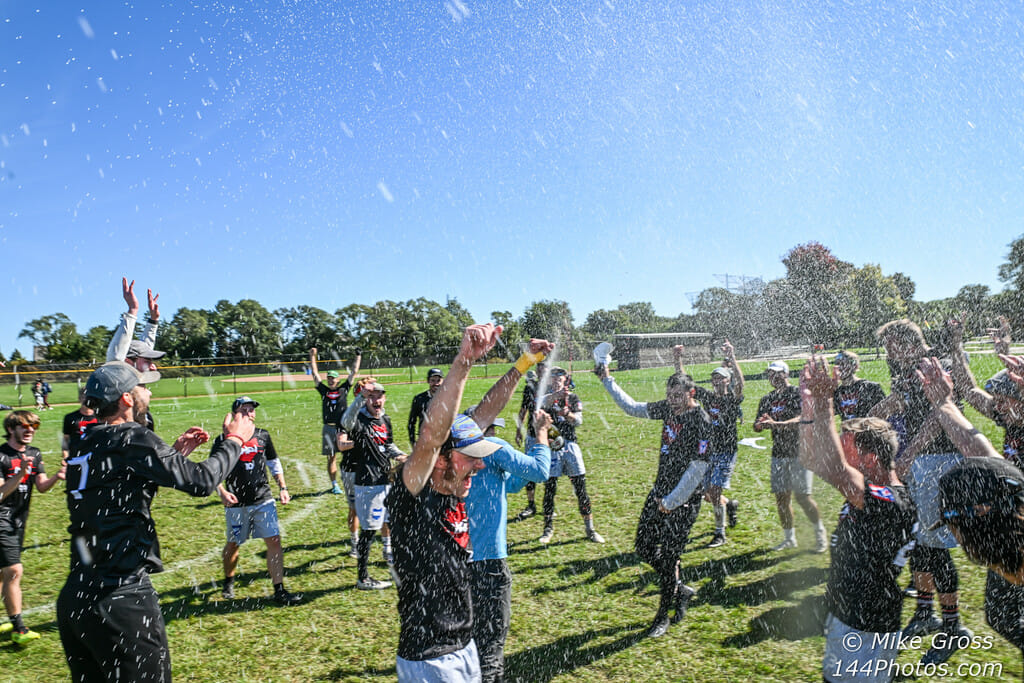 For all the hope and allure of gathering every great ultimate player in a given area into one heroic, consolidated unit that can compete with the perennial qualifiers, it isn't easy to pull off. For every Utah Killjoys there are two or three Huntsville Freaks or Cleveland Smokestacks who fall just short. "A lot of cities say that [they can compete if they consolidate their talent], a lot of teams say that," explained Omen captain Michael Ames.
Now that they are in the mix at season's end, what can we expect? It isn't lost on Omen that the other three teams in their pool have much more Nationals-level experience – 48 combined appearances at the Club Championships.1 There is bound to be some level of organizational knowledge gap that Omen will have to overcome right away in order to compete at the same level as these teams whose Nationals experience spans multiple generations. The good news, though, is that they've already shown that they can set aside an opponent's reputation and just play better ultimate. "When we played GOAT [at Elite-Select Challenge] we talked in the huddle about 'these are just guys who play frisbee – and we're just guys who play frisbee,'" said Ames. "We have to take them off the pedestal."
The D-line has been quick to take advantage of mistakes all year long, a quality that turned a few GOAT errors into a quick string of breaks for the signature Omen win of the season: a 13-8 thumping in the final of Elite-Select Challenge. How do Omen feel about the scheduled rematch? "I think we like it," said Ames. "[It gives us] the chance to show people that it wasn't a fluke. Because it wasn't a fluke." And whether the end result of each day-one game is a win or a loss, don't expect Omen to play lower than the level they have shown this season. When the chips are down, they have shown the ability to dig in and find their best gear, whether that's getting enough of an edge to knock off a very good Doublewide side or refusing to give an inch in the Great Lakes game-to-go when they defeated a hopeful Trident I by a nine-goal margin.
Ames, Kyle Murray, Noah Krumme, and Tim Settles have all been on the winning end of big plays this season and they will more than likely continue to find themselves in those positions in San Diego. Unfortunately, not everyone will be joining the team for the tournament: high school phenom William Wettengel couldn't take the time off from school, and, in an unfortunate scheduling mishap, two other players are missing the tournament to attend the wedding of… one of last year's Omen captains. Still, this is a punchy, ambitious team who will not look out of place if they make the bracket.
Likely Ceiling: Prequarters
Likely Floor: Out on Day One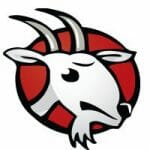 Toronto GOAT
Seeding: Overall No. 13, A4
Power Ranking: #11
Regional Finish: Northeast 2
Overall 2022 Record: 20-4
Against the Nationals Field: 2-2
Against the Pool: 0-1 vs. Johnny Bravo, 0-1 vs. Omen
Much to the chagrin of the pack of Northeast hopefuls, Toronto are back in the USAU series after a year away.2 Emerging from the tussle of a region with too much ambition for its actual postseason allotment? That's just classic GOAT – on the surface. But you're mistaken if you think this is the same Toronto crew who burst out of Devens for most of the 2010s. Many of the top playmakers from those teams have moved on in life, if not away from ultimate entirely. Yes, Thomson McKnight will still be taking some centering passes, and Remi Ojo still finds moments to fly for a block – but gone are the days when Cam Harris, Andrew Carroll, and Mark Lloyd dominated the scoresheet.
Honestly, though, they're doing just fine. Southern Ontario is teeming with youth talent, and GOAT are the beneficiaries of that development. Ace defender and all-around fireball Mike Mackenzie (coming off of a World Games tournament with Team Canada this year) is the most prominent among them, but that's only the point of entry. Lewis brothers Samuel and James have been major players for the team this year, too: you'll see any number of GOAT scores this weekend finish with the disc in James Lewis' hands. And keep an eye on Ryan Poloz to make an impact on the defensive end.
For all that they gain from the local wellspring, however, a pair of imports will number among GOAT's most effective players. Akifumi Muraoka, who was excellent for Japan at the World Games, first entered the Toronto scene at Rush tryouts in 2019 – without reaching out to anyone beforehand. "Aki just showed up… unannounced, nobody knew him, very limited English. He absolutely crushed the fitness portion of the tryout, and he said he was going to move to Toronto if we took him. And so we took him on Rush and GOAT," said captain Thomson McKnight. The other is Frenchman Gaël Ancelin, who helped carry Team France to a strong World Games performance and, perhaps more memorably, picked up with Mooncatchers at WUCC and point-blocked Dylan Freechild at a crucial moment to knock Sockeye out of the bracket.
Those WUCC and World Games performances highlight the fact that it has been an incredibly busy year for the various GOAT players. On one hand, lots of individuals have had multiple chances to compete at the highest levels. On the other, in-season reps as a full team were hard to come by: one of the reasons for their poor performance against Omen in the final of Elite-Select Challenge was the fact that the 15 players they brought to the tournament were simply exhausted. That performance, characterized by an inconsistent defensive effort and jarringly poor offensive execution that ultimately cost the Northeast a second strength bid, represents the low end of the spectrum for what the team might accomplish in San Diego. "Watching that game back is hard. The overthrown hucks, the reset into the defender's arm," said coach Michael Kukucska. "[It] left a strong impression on us and really helped establish a need for simulating game situations even within traditional standard drills." If that focused practice doesn't do the trick they will be in trouble, because another GOAT effort like that will result in an 0-3 round of pool play.
The high-end potential, of course, is a repeat of the team-wide effort necessary to beat an extremely good DiG team in the Northeast game-to-go. If GOAT show that face, they catapult themselves from 4-seed afterthought to legitimate bracket terror – rather like the GOAT teams of yesteryear.
Likely Ceiling: Quarters
Likely Floor: Out on Day One
---
GOAT – 11, Truck Stop – 15, Johnny Bravo – 22 ↩

GOAT declined to compete in 2021. ↩