Without yielding a break, Johnny Bravo's young stars fearlessly held off a historic Truck Stop team for their first title in eight seasons.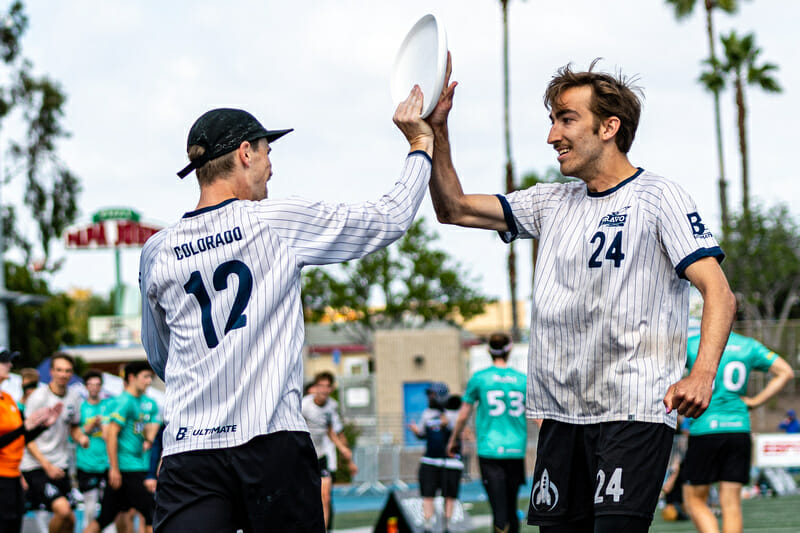 Ultiworld's coverage of the 2022 Club National Championships is presented by Spin Ultimate; all opinions are those of the author(s). Find out how Spin can get you, and your team, looking your best this season.
With a near flawless offensive performance and a defense that challenged Washington DC Truck Stop more than any other team this season, Denver Johnny Bravo took down the title favorite and #1 seed 15-11 to win the 2022 national championship, their first since 2014.
Johnny Bravo spent the season building to their peak and played their best offensive game of the season at the most important time. "It's hard to believe, obviously," Bravo veteran Ben Lohre said after the game, holding back tears. "It's gonna take a while to set in."
To understand Bravo's championship, it is helpful to look back to the beginning of the club season. Their early season was spent working to integrate ten players from Boulder Lotus, the darling underdogs of the 2021 club championships, into an experienced Bravo squad. Alex Atkins, Alex Tatum, and Daniel Landesman headlined that starting line of contributors, most of whom are just getting started with their club careers. Their experience taking on important roles for a club nationals team in Lotus last season proved to be vital when tasked with leading this Bravo team deep into the bracket.
Even with their clear talent and plenty of wins on the docket, the consensus about this year's Bravo team was that with their youth and inexperience as an integrated team that they were a few years away from being serious contenders. Though they started the season strong at home with a win at the Pro-Elite Challenge, Bravo entered the bracket at Nationals on shaky ground. They had lost their regional final to rival Austin Doublewide, were upset in the opening round of pool play by Toronto GOAT, and fell again in pool play to the very Truck Stop team they would see in the final.
"After Regionals, we kind of came together as a team," said Ben Lohre. "And we're like, hey, you know, that obviously wasn't the result that we wanted. And some of the guys also felt like, you know, they just generally weren't getting what they wanted out of the team. And so we kind of had a player-only meeting and decided that we can't think about results, like, we just need to think about our own play. "
Unlike Johnny Bravo, Truck Stop had a clear path to a championship in sight all season long. This was supposed to be Truck Stop's coronation. After tournament victories at the US Open and Pro Championships, Truck Stop had the chance to win USA Ultimate's Triple Crown for the first time since New York PoNY did so in 2018.
Until their wheels came off in the final, Truck Stop had passed all of the tests. It's not just who they beat but also how they were playing. Truck Stop tries passes nobody else dreams of attempting. It is often noted how a defense putting incremental pressure on an opposing offense is nearly as good as getting a block itself; the blocks are expected to come later in the game against a weary opponent. All weekend and all season, Truck Stop structured their team the opposite way. It was their offense who was tiring out opposing defenses while barely breaking a sweat themselves.
They sped past last year's champion Raleigh Ring of Fire at Pro Champs and again in the national quarterfinal. They maxed out their horsepower against New York PoNY's athletic and intelligent defense in the Pro Champs final and again the national semifinal. With three wins already this season against Bravo including one just a few days earlier in pool play, Truck's GPS should have shown them the route to victory. But Johnny Bravo brought a rocket ship to a street race and their out-of-this-world play shone in the brightest possible spot.
"I mean, when you're the favorite all season, there's kind of one game that matters to win," Ben Lohre said, commenting on Truck Stop. "And so there was a lot of pressure on them today. I think we just wanted to kind of feed into that and apply pressure, play loose, play confident, and see if they can respond to the situation."
As Lohre predicted, Truck Stop looked pressured from the get go and fell into an early hole. Normally very precise with his cutting and movement, Truck Stop first gave up the disc when Rowan McDonnell pulled out of a slash cut a step early. Jonny Malks, who has been steadily excellent in the Truck Stop backfield all season, released the trust throw–a completion these two have made probably hundreds of times. McDonnell was able to adjust his route and come back towards the disc, but Cody Spicer laid out and beat him to the spot to get the block. Bravo converted the short field break chance for a 3-1 lead.
After a semifinal in which he effectively eliminated Rhino Slam!'s top deep threat Raphy Hayes, Spicer took on a different kind of matchup in McDonnell. Though also a downfield initiator like Hayes, McDonnell spends most points squirreling in the backfield and powering through give-and-go moves in tight spaces. Spicer's defensive versatility keyed Bravo's defensive game plan and allowed them to slow down what had been the division's most potent attack through its focal point.
"[Coach Tim Kefalas] is a fantastic defensive mind," Atkins said. "I mean, sometimes as an offensive player, he can get under my skin, because I would like to think about offense a little bit more. But he is always on defense. He's always thinking about it. And he really, really makes some spectacular schemes. I think in this game, everyone knew what Truck wanted to do, they wanted to do small ball, they wanted to get back to the middle of the field. And we were just really focused on getting them to where they didn't want to be…and the connection that him and Spicer have is something special. It's pretty awesome." Spicer played under Kefalas' coaching at Colorado State in college.
Bravo's first break opportunity came courtesy of a short field turnover, which Spicer converted with a backhand to Mathieu Agee, but the team was comfortable with their D-line offense moving the disc no matter the yards to gain. Early in the season, Bravo played games in which the D-line played the entire time on offensive points. The time spent building trust in that unit came in clutch as Spicer, Agee, Alex Tatum, Conor Tabor, and Chance Cochran all looked effective on the counterattack after Bravo forced a turnover.
Throughout the club championships, Truck Stop had typically been the team to take an early lead. Against all of their top opponents (Bravo in pool play, Ring of Fire in the quarterfinal, and PoNY in the semifinal), Truck was the first team to score a break. They hadn't faced a significant deficit since the US Open back in early August and suddenly were thrust into an unfamiliar situation.
Faced with the mounting pressure and a need to be perfect the rest of the way, along with the inherent pressure that comes with a tournament final, a season final, and a potential Triple Crown earning victory, Truck Stop hit the brakes. Truck Stop's throwers have been so confident hitting small spaces and trusting their execution of tough plays all season long, but in this moment that stellar execution failed. Andrew Roy and Malks each suffered uncontested drops, and Christian Boxley misfired an open backhand that would have scored an early goal. Even as Truck Stop held their early offensive points, their typically fluid motion was stunted and they looked discombobulated.
"First of all, credit to Bravo," said Truck Stop captain Tyler Monroe said. "They played a great game, they put that level of pressure on us all year, I think whatever matchup and, you know, up until now, we'd always basically played perfect ultimate. I mean, this, I think, was our first time making just a couple of little miscues, little errors, and they took advantage of that."
Contrary to Truck Stop's broken offensive rhythm and the tightness that enveloped the team, Bravo was playing fast and loose on both sides of the disc. Whether Landesman and Calvin Stoughton were trading give-and-go moves in the backfield or Quinn Finer was netting big-gain in-cuts, Bravo rarely looked troubled on their way to the end zone. Alex Atkins and Ben Lohre took on the bulk of the throwing duties for Bravo, with the dynamic duo hitting everything from cross-field hammers to full windup hucks to space for scores.
On one first half play, Will Lohre launched an angled flick huck to older brother Ben Lohre for a crucial score after Bravo had given up a turnover earlier in the point. "[It] means the world to me," Ben said, when asked about playing with his brother Will. "I mean, he's one of my favorite people in the world, one of my favorite teammates, on and off the field. Like the stuff that he does off the field just to keep the energy positive; he's just so fun to be around. It was so cool to just spend a season with him, you know, regardless of the outcome. At the last few games, we've been hugging before every point, you know, just kind of remind ourselves like, it's amazing to be out there with him. And then when he caught the frisbee, you know, I was like, 'I know if I go deep, he's gonna put it up,' and I don't want it any other way."
Riding on their positive energy and the spirit of an underdog, Bravo flew into halftime with a highlight. Stoughton's exclamation point of a grab, twirling as he launched himself over McDonnell, set up Bravo's red zone set. After dishing off the pass, Stoughton elevated once more a few moments later to secure the goal. Bravo took a well-deserved 8-5 lead into the halftime break.
"The development out of both Calvin [Stoughton] and Quinn [Finer] has been truly spectacular," Atkins said after the game, thinking back to the number of highlight catches the downfield pair secured. "I mean, when you get guys with that sort of athleticism, you kind of expect this from them. But it doesn't always pan out. But those guys work so hard. They have excellent mindsets about frisbee and they just get better every day. And when you have teammates like that, it honestly makes your job really easy."
The teams settled into a pattern of holds throughout the second half, with Bravo maintaining a two to three point cushion for most of the game. Veteran handler defender Elliot Erickson prowled the sideline imploring his team to continue to keep their foot on the gas pedal, saying to his teammates, "we're down by three," despite Bravo actually holding a three point lead.
Johnny Bravo's game plan worked in forcing Truck Stop out of its typical small ball approach, but Truck Stop handled their new opportunities with aplomb. On three consecutive second half points, they dialed up set play deep looks against a defense intent on taking away their quick movement in the backfield by sagging extra defenders in Truck's preferred throwing lanes and pinning them to the sideline.
"All year you know, we're all so talented in the smallest spaces and dancing and throwing break throws, for us we don't feel like we have to huck," Monroe said. "But it's some of these higher pressure games, Pony, Ring. Bravo, they all front us so hard under that that opens up shots that don't feel difficult."
Indeed, all season long teams gameplanned to stop Truck Stop's offense and failed — DC was just that stingy with the disc. In the final, it was the Johnny Bravo offense that did not give up a single break — and only offered up two total turnovers. Alex Atkins played the game of his life for Bravo, finishing with two goals, four assists, and a block. Quinn Finer caught four goals and had barely an inch of space on any of them. Troy Holland played excellent positional defense while marking up against Finer, but Finer managed to get the better of him every time.
"We have nothing but pride for our defenders," Malks said. "They're, in my opinion, what makes our offense so good, because they push us every practice every time we get the opportunity to play against them, and they truly are like the heart and soul of our team. That being said, I think that Bravo played an incredible game offensively, as we could see down the stretch, especially, it was pretty much impossible to take the disc off them. They're hitting all of their hucks. And sometimes it's just how the ball bounces. So all the credit to them."
The normally distributive Truck Stop offense filtered into the hands of a few key players. Malks caught six goals and Monroe tossed six assists – each more than half of the team's totals. Aside from their game opening miscues, Truck Stop played the kind of beautiful offensive game fans have seen from them all season, but Bravo's offense simply executed at a level that made it impossible for Truck Stop to mount a comeback. Atkins' high release backhand to Finer scored Bravo's fifteenth point of the game and clinched the team their second championship.
Entering the tournament seeded 8th, Johnny Bravo is the lowest men's seed to win a national championship in recent history. They are also the first men's team to win a title with two losses at the club championships since San Francisco Jam did it in 2008 in a power pools format that featured far more games than today's tournament. Bravo's ability to make adjustments mid-tournament and to squeeze the best out of every player on their roster brought them to this peak. Between an offense that simply wouldn't surrender the disc, despite struggling for large stretches the day prior against Rhino Slam! in semifinals, and a defense that suffocated the air out of the most efficient team in the country, Bravo felt like they could do no wrong on Sunday afternoon. Bravo's strategic tactics and their on-field execution earned the team this win, and Bravo's love for each other and goofy energy contributed just as much to their championship.
For Denver, this title only foreshadows more to come as long as the team continues to have so much fun playing together. "You don't have to focus on the results," Atkins said. "Just go in there to each game, and bond with your teammates, and the results will come because if you go out there and have fun, if you play really hard, doesn't really matter whether it was just really fun to get to go out there and then play with the team. And so at the end of the day, just try really hard and have fun while you're doing it."
Looking ahead to 2023, expect both of these programs to be at or near the top of the division once more. Johnny Bravo expects to bring many of its players back and with the bulk of the team still in its athletic prime can credibly claim to be pushing for a dynastic title. Similar sentiments can be shared about this wholesome Truck Stop team after their 'Year of the Smile' concluded. Fans can expect that the team will return in 2023 to chase glory, wholly aware that the special bond and connection this group has for each other contributed as much to their success as their unique approach to the offensive side of the disc and the trouble that gave opposing teams.
"This is the most special Truck season that I've been a part of," Monroe said. "We've been building up this program in the city for so long, bringing in young guys, changing our culture, building up just the talent and the city…there's so much to be proud of. This season will be looked at as nothing other than a massive success…We've achieved things these past two years–winning our pool, winning tournaments that DC has never been in a position to do before. Part of building that greatness is having your heart ripped out a couple of times. We're used to it. We're gonna keep building. We have an incredible program. We have an incredible, young, talented team. We're one of the youngest teams in the division. We're here to stay and we're excited to keep fighting and come back for another game."
"I just think that it's a really special group," Malks said, "and one that I feel honored to win and lose with. The losing part is something that we haven't done for a month or two. And obviously, those are different emotions. But I don't necessarily think that they are completely negative, because we have had a growth mindset all season and I do see this team as not an ephemeral one year type deal. I think that we are going to be a group in my mind for many years to come. Regardless of the personnel that come and go, so looking forward to building with DC."