Seattle Mixtape's 14-12 win over Madison NOISE adds a national title to the world championship then won a few months prior.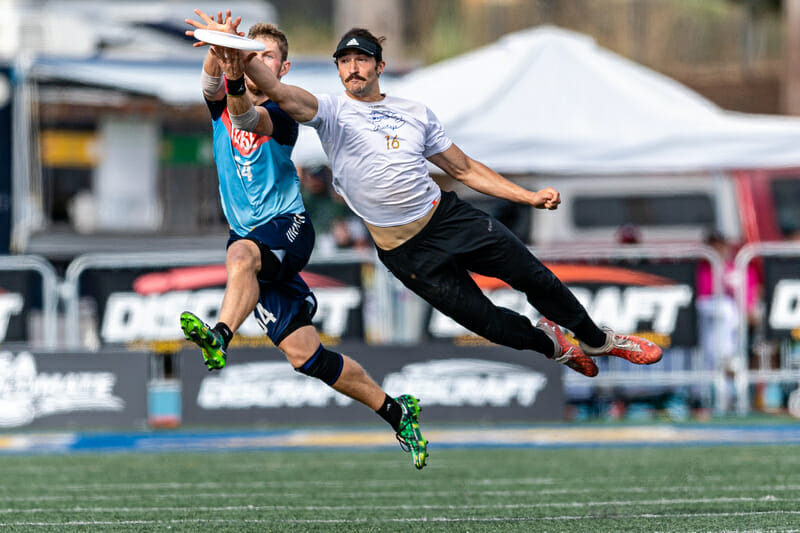 Ultiworld's coverage of the 2022 Club National Championships is presented by Spin Ultimate; all opinions are those of the author(s). Find out how Spin can get you, and your team, looking your best this season.
Seattle Mixtape hit a double peak, the first time in the mixed division since Drag'n Thrust did it in 2014.1. Winning both WUCC and USAU club Nationals, in the same year, rarely happens, especially since club Worlds is only every four years. To achieve this, they beat Madison NOISE in the mixed final, with a final score of 14-12.
Coming into this tournament, Seattle Mixtape were the clear favorites to win. Despite a few losses in the early part of the USAU season, they won WUCC this summer, with only one game (against Lunch Box) where they were truly pushed to their full capacity.
Everyone who knows anything about the mixed scene from the last year know that Mixtape came into this tournament criminally underseeded down at no.5. One of the only tournaments they played was Pro-Elite Challenge, where their short roster did not do well against other national-level competition. And yet, they became world champions this summer, with star Khalif El-Salaam winning the World Games as well with Team USA.
At this tournament, they continued their reign with cushioned wins in most of their games. They only allowed one game to get within a five-point margin, and that was in their 15-13 semifinal victory against XIST. And this was only because their D-line could not force turns to get breaks.
Madison NOISE also attended WUCC, but did not have such success in that tournament. They lost the first round of bracket play to Red Flag. The Wisconsin team made it to the final in another TCT tournament this season, losing to AMP in the US Open in August. This weekend, they played Mixtape in pool play and lost 15-10. In bracket play, they couldn't help but make things exciting, winning on universe point against BFG and Drag'n Thrust in quarters and semis. They played the game of their lives in the semifinal, with a victory that was years in the making over their regional rival.
With contrasting histories and paths to the final, each club gave off, for lack of a better word, vastly different vibes. Mixtape knew this game was theirs to win and were confident that they'd hit that elusive double peak. NOISE was coming in hot, fueled by victories over the top two seeds of the tournament, thinking anything was possible.
This mindset definitely helped them score the first point of the game, a shot-across-the-bow of a break. At their first defensive opportunity, Mixtape got the break right back. NOISE's defense was able to reclaim the lead after multiple Mixtape turnovers. Neither team's offense could take control of the game, with Mixtape's defense soon responding in kind with a goal. With every other score being a break, the game chewed up clock, on serve with Seattle holding a 4-3 lead 40 minutes in.
From then on, the teams started cleaning things up a bit. They still made errors and every hold wasn't necessarily clean but they were holds nonetheless. It was only after an unforced throwing error by NOISE into the arms of Evan Klein, and a clean conversion by Mixtape that the score had a two-point difference and Mixtape took half.
Throughout the game, the plays were truly a team effort, where big highlights were evenly distributed throughout the team. For NOISE, their offense was run by Robyn Fennig, who it felt like had the disc in hand every other throw, on her way to 170 throwing yards on 30 touches, both leading her side. Kelsen Alexander was strong on defense for the Wisconsin team during the game, earning a pair of blocks. Almost every offensive point that Mixtape played opened about the same: swings by the handlers, Kelly "Vegas" Johnson in the handler set throwing to Khalif El-Salaam for a 20 yard under. Only then would some variety in the play arrive. Both of these players have been release valves for Mixtape's O-line, and NOISE put the same players on them every point: Ashley Welsh marked up on Vegas and Dylan DeClerk took El-Salaam. This matchup did not allow El-Salaam to run deep nearly as much and he had to instead take the unders and deep throws.
Two of the arguably unsung heroes for 'Tape, however, are the only two players on their roster who are under the age of 25: Marc Munoz and Alex Nelson. Both stepped up their games throughout the weekend and were dangerous cutters. Munoz tallied three goals and an assist in the win over NOISE, while Nelson's 180 receiving yards led the team and he added a goal and a block. These players came from the Seattle youth scene, which the team team prides itself in helping shape.
"We have a lot of coaching, it's not just about us, it's about building a program that is consistent over the years so that as people begin to leave we have a pipeline coming in," said El-Salaam. "We definitely have started and we got Munoz who I coached up from high school, we got Alex Nelson who we coached up in high school… It's really amazing to see the kid that you put so much effort into actually be the one to catch the goal to win the championship! Mother of pearl, I almost broke down right there. That's the goal, that's our goal."
"It's just seeing players like that who put in obscene amounts of work, not only to play good ultimate, but play good mixed ultimate… And the program has put a lot of effort into teaching us how to do that and be a great team and win a great mixed championship. There's a reason why we're here and I think it's a testimony to that," he added.
The second half of the game started with a hard-fought hold by NOISE. From there, Mixtape went on a three-point run with a string of breaks. After NOISE finally regained some of their composure and scored a hold, Mixtape went on a second three-point run, appearing as if they were going to run away with the game then and there. NOISE's offense couldn't get it together and, despite errors by Mixtape, they just couldn't punch in a point.
The score was 13-7 at that point, dangerously close to blowout territory. At that point, everyone had a feeling the game would be over with the next point. However, NOISE didn't want to go down without a fight and started scratching and clawing their way back.
It started with a clean hold with a throw from Tom Annen to Sydney French to make it 13-8. NOISE took away Mixtape's deep looks, as Caitlin Murphy swatted down a deep scoring attempt. Eventually, Madison capitalized with a hit from Laura Farolfi to Matt Grinde for their first break in the second half. At 13-9 with soft cap on, Mixtape worked the disc up the field, was forced to take a high-stall timeout. Immediately following the timeout, Brad Houser picked up the disc, but his reset attempt to Vegas was dropped and NOISE struck, Ben Parrell threw the assist to DeClerk. Mixtape tried their same play again the following point, but Alexander jumped on a reset miscommunication to deflect a throw from Cam Bailey. Declerk threw Welsch an easy upline pass for yet another NOISE break.
At that point, it became evident that Mixtape was getting in their own heads and NOISE was starting to play their own game, with little margin left and even less to lose. With a turn from Titcomb on a swing attempt that went straight into the ground, DeClerk was a hero yet again as he hucked to Nico Ranhabat, who tracked the disc down to score, 13-12.
"I never lost trust in our team and the fact that we continued to take advantage of the break opportunities we got," said Fennig about the string of breaks. "I'm really proud of my teammates and I think that was what I was feeling in the moment too, was an immense amount of pride in how everyone stepped up and I think people will know other people on our team besides me and Dylan."
Given NOISE's track record with universe points from their semifinal and quarterfinal, it was very plausible that the game would go their way if Mixtape allowed the Wisconsinites to score one more time. But a patient Seattle possession never gave them the chance, concluding with Johnson throwing the assist to Munoz for the game-winning goal.
By only looking at these matchups on paper before the game, Mixtape was a favorite to grind NOISE to a pulp; the line flying around the Ultiworld Discord was Mixtape -3.5. However, the team from Madison put up a good fight and honestly had a bigger chance of winning that game than others give them credit for. They played close with 'Tape for the entirety of the game and if they would have went on their string of breaks earlier than they absolutely could have emerged victorious. It was just too late by that point and the stakes for Mixtape were just too high for them to let the game get away.
In the end, Mixtape is a powerhouse with a program strong enough to double peak. They never let their lead to disappear and did what they had to do to win. They showed their strength when they increased their lead. Sure, they may have stumbled under pressure, but they had their eyes on the prize to win the game. A high level of buy-in and strength through the depth of their roster were key to winning gold.
"NOISE is a really good team and I think we saw that and it was very impressive," said Mixtape captain Qxhna Titcomb. "But we also are a really good team and I feel like we came together and really put that away as a team."
"We focused on game to 3's, just staying with the team, keep the energy up and just finish with whatever legs we have," added Munoz, with the game-winning disc still in hand. "Just put it on the field and that was it for the season."
Pretty good for a team that's never won sectionals.
---
Donner Party also achieved the feat in 2002, in the UPA days. ↩