Molly Brown took home their first ever national championship with a win over Fury as their young stars took charge.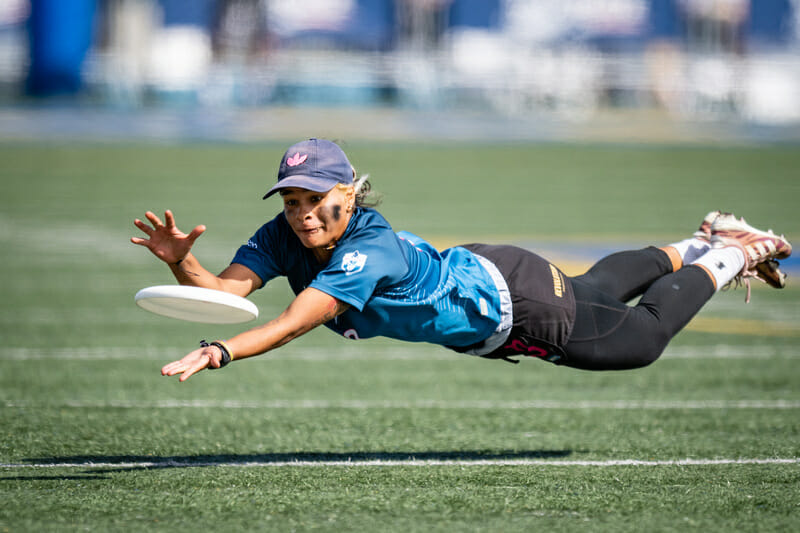 Ultiworld's coverage of the 2022 Club National Championships is presented by Spin Ultimate; all opinions are those of the author(s). Find out how Spin can get you, and your team, looking your best this season.
SAN DIEGO — First time national finalists, first time national champions: Denver Molly Brown.
The South Central champions are now the national champions, having dethroned reigning champs San Francisco Fury 15-13 as they led nearly wire-to-wire. Molly Brown's young stars anchored the win, taking advantage of mistakes from Fury in the first half to build what was an unassailable lead. Their offensive line gave up only two breaks all game. Despite some defensive adjustments in the second half, Fury simply could not break through and Molly Brown celebrated their first ever title that had been a long time in the making.
Fury started the game on offense and, in traditional fashion, held cleanly, Fury veteran Sharon Lin catching the first goal from Maggie Ruden on a deep throw over the top of Molly Brown's defense. That was the last lead Fury would have.
Denver's offensive line responded in kind on the next point with their own clean hold, Valeria Cardenas throwing a low release backhand to Kristen Reed for one of the three first half assist-goal connections between the two young stars. Cardenas went on to throw an incredible seven assists and 377 throwing yards in the final while Reed grabbed five goals, the clear statistical leaders for Molly Brown in the win.
After the routine holds by each team Fury gave up the first turnover of the game, Ruden dropping a simple pass from Michelle McGhee to give Molly Brown the disc twenty yards out of the end zone. While Claire Desmond nearly got up for a block on Claire Chastain, a few throws later Alika Johnston found Molly Brown rookie Kendra Miller cutting to the sideline, giving Denver the first break of the game to put them up 2-1. Fury were down a break for only the second time all tournament, but unlike in their semifinal against Brute Squad, it didn't get better from there for the defending champs.
Over the following four points Molly Brown picked up two additional breaks, taking advantage of uncharacteristic drops and execution errors from Fury. "I mean it's tough to lose a game like that, and personally I think I wish we could've had that first half back," said Fury lifer Nancy Sun. "Come out with those adjustments and played two second halves, and I think we figured a few things out a little too late for us."
While Fury certainly didn't help themselves in the early going, Molly Brown's defense made the normally clinical San Francisco offense work for most everything they were able to get. In particular, Denver's strategy of poaching off of Fury's handlers while trusting their downfield defenders to make the throwing windows tiny meant that, more often than not, Fury had to go sideways and backwards before they could make much forward progress. "The fact that they poached off our handlers, I feel like that happens to us, and knowing [Molly Brown coach Andrew Loveseth] pretty well and obviously he's coached against us a lot, we just took a while to adjust," said Fury coach Matty Tsang after the game.
To Molly Brown's credit, in the first half with the disc in their hands they were near perfect, the entire team only giving up three turnovers as Denver built an 8-5 first half lead. It wasn't just the aforementioned relative youngsters who made the difference for Molly Brown in the early going too, as Cassie Swafford threw upline to Liza Minor for the 3-1 break score and then caught a goal from Sam Peletier for Molly Brown's third break of the game and a 5-2 lead.
While Fury's offense was finally able to settle for a clean hold on the ensuing point, Magon Liu putting out a touchy low-release backhand huck out for Marika Austin, they still couldn't touch the Molly Brown offense to generate a break chance. With Valeria joined by her twin sister Manuela Cardenas, Reed, and Saioa Lostra on Denver's "Purple Line," the pace and youth of Molly Brown were simply too much for even Fury's savvy veterans to keep up with at times.
Notably, that quartet, along with Lostra and Reed's Colorado Quandary teammate Clil Phillips, among others, came into this season without the burden of Molly Brown's past failings weighing on their shoulders. Before making a comeback from their own 8-5 deficit to Toronto 6ixers in the semifinals, Molly Brown had been a team plagued by defeat in the semifinals, or earlier, year after year. Each and every year, it had seemed like the pressure got to them, the team running into a door that slammed shut in front of them anytime they got close to breaking through. That didn't happen this year and that may have been in part due to their youngest, or at least newest, players that played without fear even when facing down legends of the game.
No player might exemplify that mentality shift the best than Reed, who only started playing ultimate during her junior in college at UNC-Wilmington and yet went up over both Ruden and Sarah "Surge" Griffith with two hands to secure a 6-3 Molly Brown lead. The two Fury veterans, who between them have at least two decades of club experience over Reed, could do nothing to stop her from making the catch from a gorgeous Valeria Cardenas cross-field flick, in as apt a metaphor as you could draw up for the contrast in this game between Molly Brown's youth movement and Fury's old guard.
"They do the things that you need them to do right when you need them to do it, and they don't seem very fazed by the moment or by the matchup," said Chastain after the game about the play of Reed and Lostra. "I think at one point Reed went up against Surge and [Ruden] and I was like 'dang, these are legends, total legends of the game,' and Reed's just like, 'I don't care.'"
"You know to be honest I get made fun of a lot by my teammates for how I play because they always say that I just have no idea what's going on. They'll give me a matchup of a person's name and I'm like, 'how do you pronounce this, who is this person,' and they're like, 'how do you not know?'" shared Reed
That cross-field throw from Cardenas to Reed was her first of three straight assists to end the first half for Molly Brown, as Denver remained clean and in control. It wasn't always easy, as Valeria's layout catch to save possession on what would be the final point of the half made clear, but her following low-as-you-can-make-it release flick under the arm of the defending Carolyn Finney to Megan Cousins gave Molly Brown the three-goal advantage at halftime.
Out of the break, both teams settled in with clean holds as Valeria picked up two more assists, one each to Rena Kawabata and her sister Manuela. Despite Finney's best efforts, she simply could not win the matchup with Valeria, the matchup of World Games players going the Colombian's way time after time as Molly Brown took a 10-7 lead after a smooth Fury offensive point ended on an assist from Anna Thompson to McGhee. Molly Brown looked in control, their offense seemingly impenetrable with Valeria at the helm.
Denver got a scare, then, when both Valeria and Chastain exited briefly with injuries. Even with both out, though, Molly Brown was not overly concerned, their three-line rotation ensuring that others would be able to step up at that moment. "I think we just have faith in us being 26 people deep," said Nhi Nguyen after the game. Still, they weren't out of sight of Fury yet with an 11-8 lead, and the defending champs were ready to make their move.
A Shayla Harris goal line interception initiated a more even exchange, and after earning another break chance, Finney found Kirstin Johnson for a break. At 12-10, a pass intended for Cousins bounced right off of her chest and Fury had the opportunity to bring the game to within one. They worked it downfield to five yards outside the end zone, and Finney threw what she thought was the break-scoring assist to Austin. Instead, Manuela came out of nowhere for a ridiculous layout poach block, somehow able to shift her weight in an instant to deny the Fury break. Finney dropped her head into her hands as the Molly Brown sideline erupted, and from there it was easy for Denver.
Finney took the Lostra matchup on the turnover but was primarily poaching into the lane in a clear strategic shift from Fury, and the emerging Colorado standout came through with the assist to Reed for the Molly Brown hold. Molly Brown were now just two points away from their first ever title up 13-10 and Finney was left shaking her head as she walked off the field, seemingly thinking "what else can I do?"
"Our concept is we wanted to try and get it out of [Valeria's] hands, and so the goal was to support Vale's mark which turned out to be [Julianna Werffeli] and then get it out of her hands," explained Fury coach Tsang about the decision to have Finney poach off of Lostra. "Give us another game and we can get better at it for sure, we were making a lot of adjustments even at the end in those last couple of points."
While Fury did hold on the following point with a quick strike hold as Anna Nazarov put it deep for a wide open Sharon Lin, their strategy of letting Finney roam while poaching off of Lostra once again didn't work on the ensuing point. Lisa Pitcaithley this time had the assist to Lostra and it was 14-11, and Molly Brown just needed one.
The final Denver goal wouldn't come immediately, though, as Fury were able to hold and then pick up their second break of the game to bring the game within one, 14-13. Thompson threw the assist for the San Francisco hold to a bidding Nazarov who luckily escaped injury after Molly Brown's Ari Nelson laid out into her, while Finney connected with Austin for the Fury break after a high throw went off the hands of Reed. Fury's second break of the game delayed the Molly Brown celebration, but the ask of two more breaks from Fury's defense was too much in the end.
On what would be the final point of the game, Molly Brown brought out the same "Purple Line" that had been so successful for them with one exception: Chastain, the face of the franchise in many ways, coming on for Megan Cousins. Denver worked it down the field with the same formula, Valeria Cardenas and Lostra combining as Molly Brown's primary handlers as Finney continued to poach off of Lostra in favor of trying to block off throwing lanes. Side to side down the field they went, until Lostra pitched it to Valeria two yards outside of the end zone, who then snapped a flick to Chastain cutting toward the front cone and that was it. Chastain wheeled off to the center of the end zone as Molly Brown flooded the field and Fury was left standing stunned. The first time finalists had beaten the reigning champions and the title was heading to Denver.
"It definitely feels extremely hard to process," said Chastain after the game. "Like I moved to Colorado in 2013 very intentionally to play for Molly Brown and to win a championship, and it's been a really hard long arduous journey to get here. This is the best version of the team that we have had in terms of the amount of trust we have for each other and the amount of belief and confidence that we had that we could do it, and I don't know how we got there, but we got there, and it feels amazing, it's indescribable."
Said Reed about Chastain coming on for that final point: "It was great, I mean it seemed like everything happened the way it was supposed to because she flexed onto Purple line for that last point and caught the game winning goal. And I mean I've talked to her and this has just meant so much to her, this team and wanting to win, and so the fact that she was able to get that game winner was just incredible."
While Chastain's leadership has been key as one of the captains of Molly Brown and one of the coaches of a Colorado Quandary team that seems more and more like a fantastic Molly Brown feeder team by the year, it was the play of Denver's younger players that made the difference against Fury. Nearly two-thirds of Molly Brown's goals and assists in the final came from players under the age of 30. With such production from their young superstars, Molly Brown are well set to contend for titles for years to come after finally breaking through this season.
For Fury, they fall just short after an undefeated USAU season, arguably their worst game of the season coming at the least opportune time. With once again one of the oldest rosters in the division, the question remains the same for San Francisco—will their best veteran players retire or come back for one more ride? This season Fury had no players under 25 and thirteen players who were thirty or older, and yet they also put two players on the USA World Games roster and a third as an alternate. Finney, Nazarov, Griffith, Sun—all seemingly ageless players and yet time remains undefeated.
In this game, though, Fury were a few first half errors away from potentially outright winning and on another day maybe they do. Instead it was Molly Brown taking home their first title and Fury left to rue what could have been.
"The unfortunate thing for us is that we have actually practiced, like what you saw in the second half in terms of our offense and how quick it can be, we've done a lot of practice on that," said Tsang. "I think even great teams, great coaches, great leaders, like sometimes we blink, [and] we blinked and didn't give each other enough time unfortunately."