A round up of week 3 college action, headlined by BYU's historic undefeated run at Florida Warm Up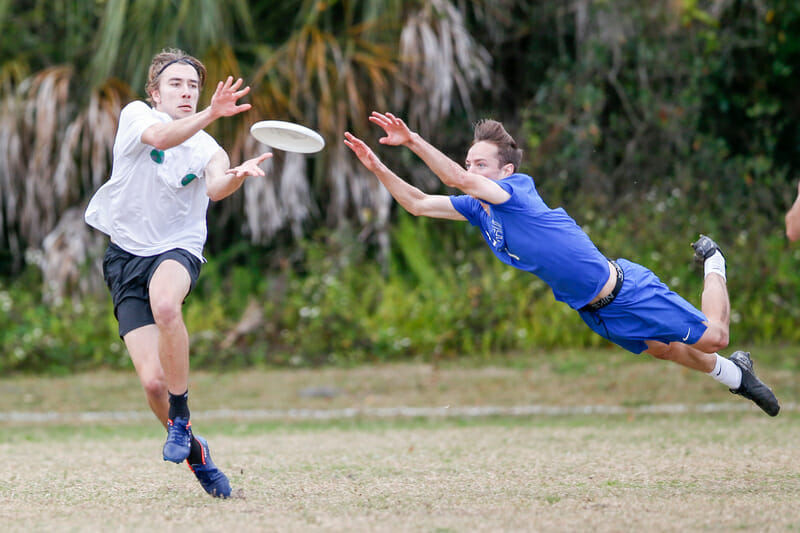 College Update, presented by Spin Ultimate, is back! Throughout the spring season, we will publish a bite-sized weekly recap of all the action across the college division. This will serve as a supplement to our standard tournament reporting and will offer a high-level look at the latest happenings and the biggest stories of the week. Please support the brands that make Ultiworld possible and shop at Spin Ultimate!
Want your tournament listed here? Submit a recap of what happened right here.
D-I Men's
BYU Remains Unbeaten; UMass Unmatched En Route to Warm Up Title
Florida Warm Up has developed a reputation over the years for being one of the season's best tournaments even in its Week 2 slot and the 2023 edition didn't disappoint. BYU CHI went undefeated coast-to-coast, following up their unblemished Santa Barbara Invite weekend with an 8-0 run through the loaded Warm Up field. This is the first time BYU have gone undefeated at Warm Up, although their sterling record was nearly spoiled a few times over. Luke Yorgason and Jensen Wells helped get the CHI offense over the line in a universe point win against Pittsburgh, and the Mountain West powerhouses had to hold their nerve to secure 13-11 wins over both Carleton and Vermont.
BYU weren't the only team to go undefeated on the weekend, however, as UMass took home the Warm Up title with an 8-0 weekend of their own. ZooDisc held off a stiff challenge from Minnesota Grey Duck in the process, winning 15-13 in the final on a Wyatt Kellman to Gavin Abrahamsson connection. Jonah Stang-Osborne and Luca Harwood were a couple of the two-way standouts for a UMass team that were effectively unchallenged during the course of the weekend outside of their two games against Minnesota. To Grey Duck's credit, they had an impressive weekend themselves, with their only two losses coming to ZooDisc. Anthony Jirele was a prolific goal-scorer for Minnesota throughout the tournament, and he caught the double-game-point winning score in Grey Duck's 13-12 semifinal win over Georgia Jojah.
Elsewhere in the Division
Santa Clara SCAB will be in attendance at Stanford Invite this year after taking down Stanford Open over precocious Bay Area high school YCC team Gold Rush on double game point 9-8. Gold Rush and SCAB had to go through the UC Davis Dogs and D-III standouts Occidental Detox to get to the final, though, with Oxy's semifinal showing boding well for their chances out of the Southwest.
D-III Men's
The defending D-III Men's champions Oklahoma Christian Eagles got their season off to a good start with a win at Just Plain Chilly, going 3-0 on the weekend including a tight 11-9 win over John Brown Ironfist.
D-I/D-III Women's
The fields at both Stanford Open and Antifreeze in Houston, Texas featured teams from both the D-I and D-III divisions, making for a rare wholly cross-divisional weekend of play in college women's. Carleton Eclipse and Portland UPRoar represented D-III with aplomb at Stanford Open, Eclipse moving on to Stanford Invite as champions with a final 10-5 win over Cal Poly-SLO SLO Motion, while UPRoar took third with a 9-5 win over Santa Clara RAGE. Meanwhile, UT-Dallas Whiplash took down the Antifreeze title in a 9-7 win against Texas State Trainwreck, Whiplash going an undefeated 6-0 on the weekend. D-III once again had a pair of semifinalists at Antifreeze, Trinity Altitude and Rice Torque, though came up short of an all D-III final, with Torque winning the third place game 8-7 over Altitude.
Looking Ahead
Queen City Tune Up highlights the collegiate Week 3 schedule, with a loaded women's field including UNC Pleiades, Vermont Ruckus, and SBI champs Carleton Syzygy and a men's field led by UNC Darkside. Ultiworld will be livestreaming games, so look out for the streaming schedule and tournament previews later this week.
While QCTU is happening in Rock Hill, South Carolina, the Cutlass Classic will be held one state north in Greenville, North Carolina, featuring both men's and women's fields and teams from both the D-I and D-III divisions.
In the women's division, TOTS, held in Knoxville, Tennessee, is headlined by a Georgia Tech Wreck team that already has one tournament win on their books this season at T-Town Throwdown. On the men's side, the UMass Invite and Ugly Dome will host primarily D-III teams as the college season starts to ramp up.