Florida Tech Flux is a growing team despite the challenges they face.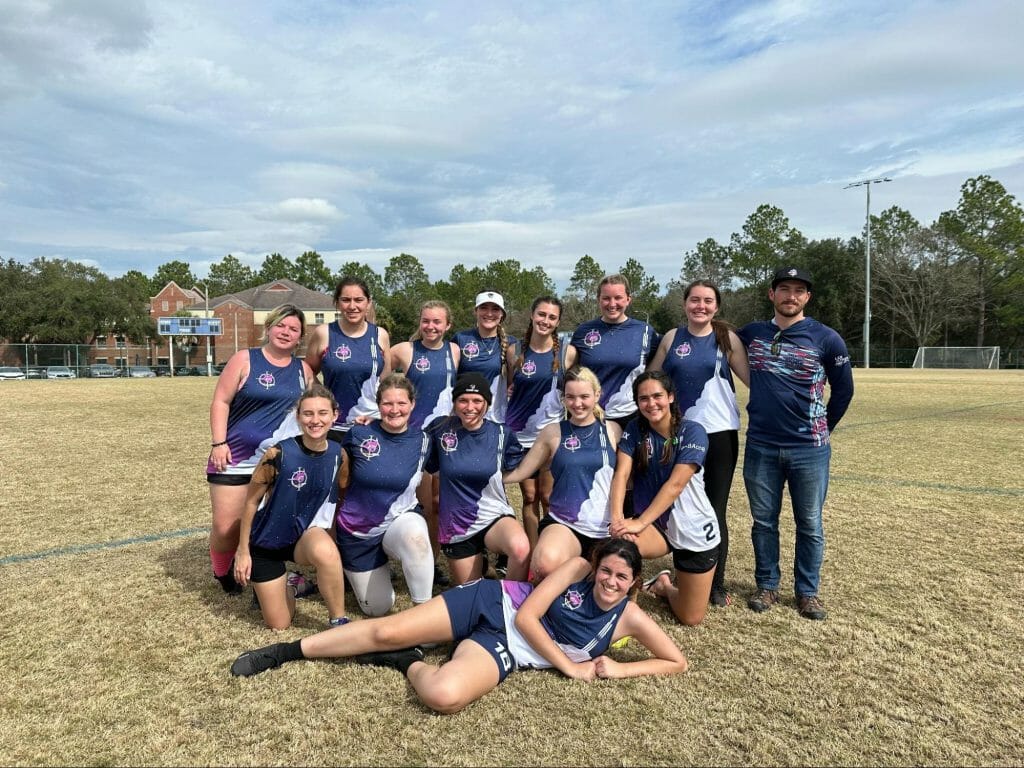 Ultiworld's coverage of the 2023 college ultimate season are presented by Spin Ultimate; all opinions are those of the author(s). Find out how Spin can get you, and your team, looking your best this season.
In many ways the Florida Tech Flux represent the typical D-III team. They're a small squad with only 15 rostered, and nine of them rookies. Most of the teams they will play this year come from bigger D-I schools with bigger rosters and more experience. Add to this Florida Tech's student body consisting of nearly 70% men, and it is even more difficult to recruit players to Flux.
But all of these obstacles haven't stopped Ruthie White, a Ph.D. candidate in the biomedical engineering program at Florida Tech. "I actually learned about ultimate from one of my students that invited me to come to a practice," she said, smiling. "And I said, why not? And I went and I just loved it. So I've been playing ever since."
"Ever since" turns out to be two years ago. She's now one of the main handlers for the squad. "I'm in charge of all the paperwork kind of things. And getting to the tournaments," she said, although she admits she loves doing the menial tasks.
When I finally got around to asking her about her team her demeanor shifted. She sat up a bit more in her chair and it was clear from her voice that Flux is something that she's fiercely proud of.
"We're a relatively new club," she said. "We originally had a lot of women on the men's team, and we were like, you know what, we have enough [players where] we want to compete in women's tournaments. So we broke off from the men's team, and we created our own club." Which was a big deal, especially with such a small number of women on campus.
"We have very few women already," Ruthie continued. "Because all of us are STEM students, we are in classes with a bunch of men. So one of our big things is just that we were, for a while, the only women's-based club on campus. So we kind of base ourselves around that. Although we are gender inclusive -we let anyone in our team -we are women-based and that's a big deal for us."
Ruthie's enthusiasm with her team doesn't stop with pride at being one of the few women's organizations on campus; it extends and blossoms when she speaks about her players, especially her team's rookies. "They're going to grow the team and become just monsters," she said hotly. And I'm inclined to believe her, especially when she speaks of Ana Vosinakis, who Ruthie says is the "tallest player on the team…she'll just stand next to me and just put her hand up because she knows she can outjump me." Ruthie seemed to be happy with this, knowing that when they take the field at tournaments, it'll be the opponents handlers having to contend with Ana's height.
Ruthie isn't all boundless optimism for her team, rather she's quite aware of the hardships that her team faces. Because of the scarcity of D-III teams in the region, it's rare that they get to face a team that doesn't have more resources, more players, and a wider talent pool from which to draw those players from. "I have to tell my freshman women… every cut you make off of these women, every catch you get off of them, that's an achievement. And I have to tell them, 'don't get frustrated.'" It's the mindset she adopts herself. She says that she and her captains use games against tougher competition as a way to build the team's chemistry and develop their player's skills.
Playing against bigger, and often better teams, isn't their only problem to solve. Ruthie explained that a lack of funding can make opportunities to play different teams difficult. Flux wanted to attend the Mardi Gras tournament at the end of February, but couldn't make things work. "But we ended up not being able to get the funding because of just some limitations with our club," she said with clear frustration. "But hopefully next year we can go."
The biggest difficulty the team faces, however, is getting to — in the literal, physical sense — the postseason. The team of STEM majors often have to focus on studying for finals or completing projects during those April postseason events. Despite their efforts last year, the team could only get eight players to agree to make the eight and a half hour drive from Melbourne, Florida to Cartersville, Georgia for Southeast D-III Regionals.
Despite technically having enough women to play, Ruthie said the team ultimately elected to not attend. "It's just a recipe for permanent injuries, and that is something that we are very against," she said. The team is hoping that this year they will get lucky with the scheduling and the tournament will land after finals.
Even with the lack of clarity about the future of the team's playing, Ruthie has clear goals for the team this season. She pointed to growing the team as the central goal, and with a lot of progress on that front already, anything more than that is the icing on the cake to Ruthie. They hope to continue that trend by attracting new players. "We're a club first kind of club, we're first a group of friends, and then we play frisbee," she said. They start recruitment early, grabbing freshmen women and pulling them aside at orientation to introduce themselves and the game of ultimate.
Ruthie just wants to keep her team alive, and watch the sport grow in the Southeast region. She wants more chances for her team that she's helped build to play. She also wants to encourage other schools, especially those with D-III men's teams, to encourage women at their school to start their own clubs just like her school did.
"If you find any D-III women's schools that want to scrimmage with us, we are always down!"