From 7 down to 1, news and notes from Stanford Invite Saturday.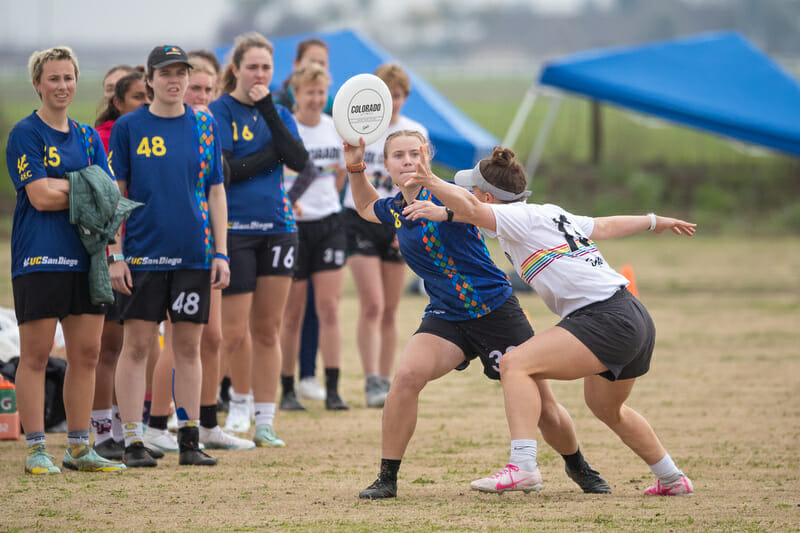 Ultiworld's coverage of the 2023 college ultimate season are presented by Spin Ultimate; all opinions are those of the author(s). Find out how Spin can get you, and your team, looking your best this season.
Day one at Stanford Invite was filled to the brim with action out on the windswept Central Valley fields of Stevinson, so much so that it was sometimes hard to keep track of it all. To make it easier, I've counted it out so that you at home can make sense of everything that happened in another day of eventful college ultimate.
Day One Results & The Bracket
Score Reporter


Day Two Streaming Schedule
All times Pacific. Schedule subject to change. These games feature natural sound only, no commentary. Available for Full & Plus subscribers and those with 2023 College Team Packs.
All games can be found on our Stanford Invite event page and will be available both live and immediately following the games on-demand.
Sunday, March 12
Seven Names to Know
I had the chance to watch two-thirds of the field on day one and saw incredible plays and players on each and every team. Here are seven names that you may not be as familiar with that stood out for me over the course of four rounds of play.
Julia Berard (Oregon): An electric cutter, Julia Berard was a go-to outlet for Fugue's handlers; against UCSD, she picked up three goals and an assist. A joy to watch and will be a key component for Oregon's offense as they jostle for their place in the crowded Northwest.
Emily Deino (UC Davis): With persistent wind throughout the day, the player Rogue seemed to rely on most was Emily Deino. A rock-solid handler, Deino played in the center handler role for UC Davis nearly every point she was on and looked unfazed regardless of what opposing defenses were throwing at her.
Denika Hallin (UCSD): It turns out that Abbi Shilts isn't the only show in town for UC San Diego, as Denika Hallin was everywhere for D.Co on day one. One of UCSD's lead handlers, Hallin got a goal and an assist against Oregon and had an abundance of stat-free involvement too.
Megan Lam (Tufts): One of my favorite types of players is the do-it-all spark plug who can ignite their team from any spot on the field. Enter Megan Lam, who against UCLA had two blocks and the score in a single point in the first half, along with a number of important plays against UCSD in prequarters.
Vienna Lee (UCSB): As one of UCSB's veteran leaders, Vienna Lee helped marshal the Burning Skirts the entire day, patiently guiding their zone offense point after point. Lee also showed off her hops with an incredible leaping grab in the first half against UNC, her versatility truly on display.
Sydney Rehder (UNC): The beating heart of the Pleiades' defensive line's offense, Rehder helped power break score after break score for UNC. Whether going over sets on the sidelines or directing traffic on the field, you can trace much of the Pleiades' defensive success back to Rehder.
Lucy Tanner (Washington): You wouldn't know that Lucy Tanner is just a freshman watching the Roosevelt High product play. With supreme confidence under pressure, Tanner has slotted right into a primary handling role for Washington and is among those leading a talented Element rookie class.
Six Teams That Missed Out
With Cal Poly-SLO SLO Motion dropping from the tournament at the last minute, that left six teams, along with BYU, who would miss out on making it past prequarters. They're still worthy of mention, though, with each having their bright spots even by the end of a disappointing day.
Stanford Invite 2023: Counting Down Day One (Women's) is only available to Ultiworld Subscribers
Already have a subscription? Log in
Whether you visit Ultiworld for our reporting, our podcasts, or our video coverage, you can help us continue to provide high quality content with a subscription. By becoming a subscriber, not only do you receive benefits like exclusive articles and full article RSS feeds, you also help fund all of Ultiworld's coverage in general. We appreciate your support!