Bids, Nationals seeding, and big time bragging rights on the line at the premier men's tournament of the season.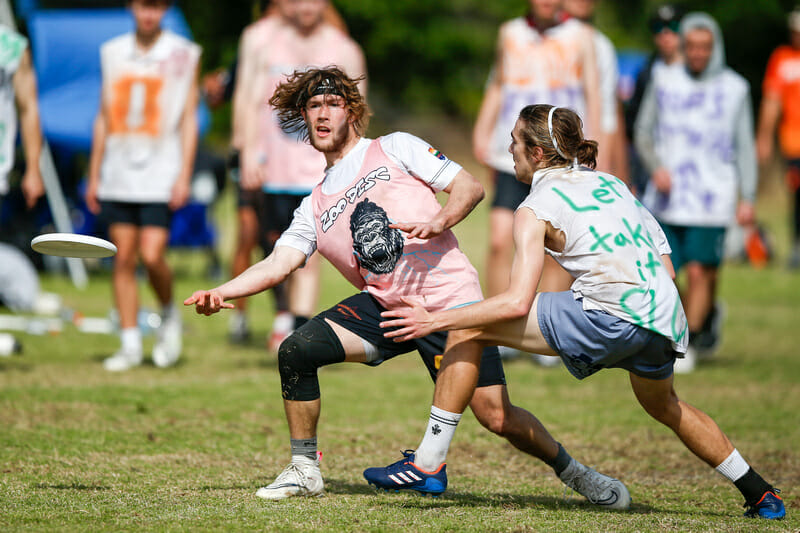 Ultiworld's coverage of the 2023 college ultimate season are presented by Spin Ultimate; all opinions are those of the author(s). Find out how Spin can get you, and your team, looking your best this season.
The final weekend of the 2023 season has arrived with astonishing speed. Wasn't it just the other day that we were checking Score Reporter and Twitter for Carolina Kickoff and Santa Barbara Invite updates? The Series now looms on the horizon; the bid picture is taking shape.
As has become tradition, there is one more action-packed event left for the top of the division before the transition to elimination play: Easterns. The combination of having so many of the country's best teams (including three major competitors from the West Coast) in attendance, the famously unforgiving path to the championship bracket, and the last-minute jostling for bids to Nationals makes it the crown jewel of the college men's season. And while much remains to be discovered over the course of two days, we have some sense of the storylines to keep in mind as it all unfolds.
Tournament Profile
Date: April 1-2
Location: North Myrtle Beach, SC
Weather: Very windy (20-45mph), 72 degrees with a passing thunderstorm on Saturday; high of 64 and pleasant on Sunday
Top 25 teams: #1 UMass, #2 UNC, #4 Vermont, #7 Oregon, #8 Cal Poly SLO, #11 Minnesota, #12 Pittsburgh, #13 Carleton, #14 Brown, #15 Tufts, #17 Michigan, #18 Northeastern, #20 Ohio State, #21 California, #22 Georgia, #24 NC State, #25 South Carolina
Streaming Schedule
All times Eastern. Schedule subject to change. Commentary from Charlie Eisenhood and Eric Taylor. Available for Full & Plus subscribers and those with 2023 College Team Packs.
All games can be found on our Easterns event page and will be available both live and immediately following the games on-demand.
Saturday, April 1
Sunday, April 2
Mighty UMass
There's something about an undefeated season that is like leading an egg-and-spoon race, yeah? It has a fragility to it, and a natural tension builds the nearer you approach the finish line – especially as the other egg-bearers (UNC at Smoky Mountain, BYU at Centex) fumble their precious cargo and drop out of sight. At the moment, there are precisely two undefeated seasons1 yet to shatter. And, without any disrespect to 11-0 Iowa State ISUC, who will try to walk their egg through a difficult Huck Finn field this weekend, the far more impressive of the two campaigns belongs to #1 Massachusetts Zoodisc.
It's hard to overstate what a success 2023 has been for Zoodisc: 15 wins with nary a loss against such top-10 titans as UNC, Vermont, and Texas across two of the most difficult tournaments on the calendar. More than the record, though, they have the look of an undefeated team. They're so deep at the top that it's a fool's errand trying to pick a team MVP of a single game, let alone the season. (Caelan McSweeney, Luca Harwood, Wyatt Kellman, Jonah Stang-Osborne, Tobias Paperno, and Noel Sierra could lay claim to it at various points.) They're so deep in the rest of the roster that it would be inaccurate to call it a back-end – the developing players are all already ready to make a play, and the "role-players" — Artie Aucoin, Sam Green, Gavin Abrahamsson, Carter Hawkins, Daniel Kang, Isaac Kaplan — often betray that designation by taking over for one or two points a game. They are really, really good.
But you're going to break the egg if you start looking backward. The question ahead of them is whether they can keep up the steadiness that has brought them this far. They'll be tested as early as pool play, where dangerous lower seeds #24 NC State Alpha and #21 California Ursa Major could score an upset even before the headliner against the extremely talented #12 Pittsburgh En Sabah Nur. Should they make it through unscathed, they'll have to survive a gale-force storm of a bracket on Sunday. Will we see some yolk, after all? And, if we don't, will Zoodisc's regular season go down as one of the finest in the history of the division?
Top Contenders
UMass may have the most sparkling record, but they are far from the only threat to take the tournament. The number one challenger – with a bullet – are two-time defending national champions #2 North Carolina Darkside, whose only loss on the season through 20 games was in the Smoky Mountain Invite final a month ago against Zoodisc. Not only do they have payback as bulletin board motivation, they also have a fabulously talented team, one of only a handful in the division who have, to this point, shown consistency, top-end talent, and roster depth in the same range as UMass.
The O-line has plenty of pop: star thrower Rutledge Smith has a quarterback's delight of three of the best initiating hybrids in the game in Josh Singleton, Ben Dameron, and Dylan Hawkins, not to mention one of the most polished backfield partners around in John McDonnell. They score rapidly and confidently, and if they can clean up the kinds of execution errors that dogged them late in the game in their lone loss, they could leapfrog UMass to reclaim the top spot heading into the post-season. And even if they don't clean up all the way, a D-line with Kevin Pignone, Andrew Li, Matthew McKnight, Daniel Zhu, and Lucien Noël have been among the top break-getting units in the country.
UNC and UMass are not the only teams in the field that have won major tournaments, though. #7 Oregon Ego makes the long journey east to prove that their phenomenal performance at Presidents' Day Invite was no fluke. 2023 has been a bit Jekyll-and-Hyde so far for Ego, but at their best they have looked the part of true contenders. Itay Chang has already made his mark on the season as one of the best two-way players in the country. The only reason that his penchant for outlandish throws (which demonstrate not only his skill and daring but also his trust in a talented receiving corps) was not the most engaging spectacle on display at Prez Day was because he overshadowed it with superb post-turn defensive plays. He's the leading edge, but Ego – like UNC and UMass – are deep at the top: Gabe Nobis, Ben Horrisberger, and Adam McNichols can light it up, to say nothing of Ke'ali McCarter, Chander Boyd-Fliegel, and showy freshman Mica Glass. The talent can definitely hang – but after a disappointing finish at Stanford Invite, they will need to show they can keep it together game-in and game-out with a little more consistency against the toughest slate of games yet.
Finally we have #4 Vermont Chill. Unlike the three teams above, they don't have any tournament victories to their name – and they don't have the same historical pedigree either. Don't let that fool you, though. Last time out, Chill pushed Zoodisc to their narrowest win of the year (universe point) with a spot in the SMI final on the line. Chill, like Ego, have not always played their best ultimate every time they toe the line in 2023, but when they are clicking they are an overwhelming force. Turner Allen's move to the D-line (from his position as a mainstay O-liner in their breakout 2022 campaign) alongside Kuochuan Ponzio has proved a brilliant decision, giving the defense two of the country's best 10 defenders to help restrict opponents' top looks – and a whole lot of extra pop after the turn. It came in handy as they clawed their way back from a four-goal deficit in the second half to *almost* ruin UMass' day.
The offense, meanwhile, remains a multi-headed monster. Johnny Sickles, Carl Crawford, Eli Standard, Casey Thornton, and Zack Watson-Stevens play with a fearlessness that, while it has verged past the boundary into recklessness from time to time, has allowed that unit to build a stockpile of mutual trust that few other teams in the division can match. This season has seen unprecedented heights for the program: a top-5 ranking and their first trips to Warm-Up and SMI. Now, at their first Easterns2 they will see if they can both look the part and come away with one or two extra victories.
Road to Redemption
Not every team with the talent to take home an elite tournament has played up to that level at every opportunity – and Easterns figures to be a clear last chance to prove to the outside world, not to mention to themselves, that they are in the contending tiers. Will they continue to sputter along beneath the level of their talent, or can they place themselves once more in the midst of the contending tier?
The most likely to jump back up the ladder is #12 Pittsburgh En Sabah Nur, last seen limping away from Knoxville with a 3-4 record at SMI. That major underperformance does not (I think) represent the team's expectations even now. They still have a top line (Tristan Yarter, Henry Ing, Harry McNamara, Kevin Tsui, Scott Heyman, Peter Kotz, Nicky Troilo – to pick seven names that fit the bill) that can run with any other team's top line. It is incumbent upon them, though, to continue to play up to their own standards point after point. Easterns will be a showcase for Pitt one way or another, either for what many of us persist in believing is their championship potential, or for a more modest end-of-season forecast.
Pitt's stumble through Smoky Mountain was nothing compared to #22 Georgia Jojah's clattering breakdown. In what has become an annual tradition for the Athenians, they forgot everything they knew about elite-level ultimate and fell to a 14th-place finish. Last season, however, they made up for it by busting through to the Easterns final. Could we see a similar bounceback this weekend? Maybe.
Senior Aidan Downey has made his mark as one of the most uncontainable players in the game; Adam Miller, Jack Krugler, Cole Chanler, and Ryan Flick are not far behind him. The O-line players have a sometimes troublesome affinity for heroism – as opposed to coordination. A little more balance in that regard combined with the kind of defense that Cole Krucke, Scotty Whitley, and Adam Bell have demonstrated have them looking capable.
And what can we make of #11 Minnesota Grey Duck? They have not hit the skids in the same way as two teams mentioned above, but it's hard to say they don't have a little more potential than what they've shown – even with a strong 2nd-place finish at Warm Up. The simple fact is that they have three of the most talented pure offensive players in the division in Anthony Jirele, Ian McCosky, and star freshman Max Dehlin. With significant depth on both sides of the disc (Sebastian Brauer, Levi Dohman, Austin King, Kenji Her) and a monumental two-way talent in Paul Krenik, whose assertive play often leaves the opposing players around him looking slow and clumsy. Grey Duck have the pieces, clearly, to find their way to the Easterns championship bracket and put up good results when they're there. Now let's see them do it.
Finally, there is the curious case of #17 Michigan MagnUM, who have been, to borrow from the internet messageboard vernacular, lurking around the division since just after Groundhog Day. No one really knows who they are or what they're thinking at this point, and their last post was a little scatterbrained. A win over Texas has aged extremely well; so have a close loss to Carleton and a competitive game against UMass. But losses to Wisconsin and Georgia Tech speak to the murkiness of their prospects. Here's what we know: Eli Weaver and Owen O'Neill, two very different players, are going to be two of the better quarterbacks at the tournament; Aaron Bartlett is an elite club-level cutter; Cian Johnson is a lightning bolt of athleticism; and Jimmy Baker and Yipeng Wang anchor a nimble D-line. Is it going to be enough to make a cohesive statement in their first appearance in many weeks?
East for Easterns
Three major challengers from out west are flying cross-country to test themselves against the best teams from the Eastern half of the country. Oregon (see above) have flashed the kind of potential that could sweep a tournament like this; Cal (see below) look to play their way into bid range. Somewhere between those two you can find #8 Cal Poly SLO Slocore, entrenched as bid-earners but not quite at the level to take home a tournament trophy… yet.
With any luck, Slocore may be able to push past the standard set by UCLA during a recent romp through Smoky Mountain Invite. They have a Vermont team who have shown the ability to self-destruct at the top of the pool, and three opponents behind them (Tufts, Georgia, Wisconsin) who have not at all put together the same high-level season profile. Could they skate through with a 4-0 Saturday?
It isn't out of the question. Alex Nelson has brought his recent club stardom fully to bear on the college season. Calvin Brown, though extraordinarily inconsistent point to point as he comes back from injury on the D-line, has demonstrated his ability to shape whole possessions according to airborne logic of his throws. Kyle Lew, Carson Crouch, and Anton Orme have proven effective in the absence of stars Seamus Robinson and Garrett Bush – which is good, because it's unclear whether they'll be back in action in time for Easterns. What SLO's season lacks is a marquee win: their best to date have been squeakers over British Columbia, UC Santa Cruz, and Washington. Felling Vermont, Tufts, and Georgia would immediately raise their simple flat tiled ceiling to something resembling a medieval arch.
Bid Fight
The appeal of Easterns is not limited to its cadre of top-teams getting their last high-level reps in before more-or-less assured journeys to Nationals. Its position at the end of the spring calendar also ensures the drama of teams fighting to give themselves a better shot at getting to take that journey. The teams on the bubble can be loosely divided into two factions. There are those hoping to hold on to their positions, and those on the outside looking to gain a foothold before the final rankings are run.
Hoping to Hold
#13 Carleton CUT: CUT is the least likely team in this bunch to lose their grip on a bid – and not only because they have the most points to give over a prospective cutoff.3 The more important reason is that the defense has been too tough, both from the Leo Jordan-Leo Xiao-Sawyer Blair D-line and from Declan Miller and the O-line after turns, for most of their losses to get out of hand. Still, a bad Saturday-Sunday slog is not out of the question for a young side and could lose the second bid for the North Central.
#15 Tufts E-Men: Oscar Graff and Zach Singer have drawn praise like metal shavings to a powerful magnet so far this spring. It would be a genuine shame not to see them (and the rest of E-Men) not have an opportunity to show out in Cincinnati at Nationals. But standing at the tail end of the bid picture and in a New England region sure to play out like a round of musical chairs, they can't afford to slip on Saturday. If they can make the upper bracket, consider their position locked.
#24 NC State Alpha: Considering the program's recent history, it doesn't feel right that Alpha don't have solid ground under their feet yet for the postseason. But with Brown and Ohio State hot on their heels and in action at Easterns – not to mention Washington simultaneously looking to shore up position on the opposite coast at Northwest Challenge – they find themselves in a precarious position. Sean Wiles, Hiatt Von Alten, Daniel Ferriter, and Henry Kennedy must show more consistency on the O-line; or else Suhas Madiraju and Chris Nelson might have more than they can handle trying to get enough breaks to secure the crucial wins necessary to give Alpha good footing in the Atlantic Coast.
#25 South Carolina Gamecock Ultimate: And the award for 'most precarious' position goes to the Gamecocks, at the back of the pack of strength bid earners and sitting on the third Atlantic Coast slot. But while their ultimate position is uncertain, their claim to be in the conversation is not. This year's iteration is perhaps the best yet for a program that has been hanging around at the edge of the AC conversation. Trip Crowley has had enormous impact as a graduate student transfer. Combined with the firepower of Jaida King and the rest of a team that has already gone deep in the bracket at both Carolina Kickoff and Easterns Qualifier, it might be enough takes to muscle past Michigan, Brown, or Carleton and firm up the bid before Sunday even starts.
Hoping to Gain
#14 Brown Brownian Motion: You could be forgiven for doubting your eyes when you see that B-Mo currently are not in bid-earning position. But facts are facts, and you can bet they are going to do everything they can to claw a fourth for New England. Jacques Nissen, Leo Gordon, Elliott Rosenberg, and Cal Nightingale have proved more than a handful for opponents this season. And other players – Jason Tapper, Oscar Low, Noah Ball-Burack, to name three – may now have enough reps against high level teams to have settled into their roles. Their last four rounds at SMI, including a universe loss to Colorado on Saturday before barreling through the 9th place bracket on Sunday, point to a rosy outlook.
#20 Ohio State Leadbelly: Nipping at B-Mo's heels are another squad who have been a mainstay at Nationals in recent years. Ohio State has been solidly very good – without yet showing consistent greatness – through Queen City Tune-Up and SMI, showing a much high floor than most teams with similar aspirations. Still, they will need to kick it up a notch this weekend if they want to guarantee themselves better odds coming out of the Ohio Valley than "winning a game-to-go against Pitt." They'll definitely need to take care of business against Northeastern and UNC Wilmington on Saturday to make it happen, and probably play as close as possible against Minnesota and UNC. Having a shot to reach Nationals again has been a grueling climb in 2023, but Alex Warrington, Aidan Stevens, Noah Krumme, and Sion Agami might just be poised to ring the bell at the top of the rope.
UNC Wilmington Seamen: Don't look now, but the Seamen are actually in range to earn a bid if they can put together a good weekend, even though they haven't played a similar tournament schedule so far this season than many of the other teams in the conversation have. Their best result was a win over South Carolina at Queen City, but they've definitely been in the 'solid' range all season. Jay Thomas, Patrick Grossheim, Colby Francfort, and Cole Feltman are strong enough players that they could conceivable put together a good run against higher level competition. The biggest impediment, however, is not their relative ceiling: it's the fact that the last two teams in the current rankings (NC State and South Carolina) are in their region. If they storm into the ranks, it would likely bump another Atlantic Coast outfit, leaving the region in the same position.
#21 Cal Ursa Major: There might actually be four Nationals-worthy teams in the Southwest in 2023, which is a sentiment that would have seemed crazy just three months ago. Unless Ursa Major can do some serious work at Easterns, though, they'll be capped at three. The good news? Pool A has a lot of winnable games, Cal's players have been running zone defense since they were in diapers, and the Saturday forecast calls for a lot of wind. That will surely bother the opponents much more than it will the steady throwing of Dexter Clyburn, the large margin of error on the receiving end provided by Gavin May, and the lightning-in-a-bottle play of Sam Laur and Camden Mah. It's going to be a tough task, yes, but the cards might just fall in their favor.
#18 Northeastern Huskies: Is there a team on the bubble with a higher floor than Northeastern? Unlikely. Between Peter Boerth, Brendan King, Alex Storrer, Phil Dias, Gabe Vordick, and Sam Freedman, they have as solid a foundation as any team in the country outside the top 5. What we haven't seen evidence of yet, though – and what has been holding them back in the rankings – is a high ceiling. Their best wins are against Brown (who have also beaten them), Ohio State, and NC State, three of the four schools on either side of the cutoff line at the moment. The Huskies have played against a plethora of the nation's best this spring, but they haven't earned a win in any of those games. That will have to change this weekend if they want to fatten New England's pockets – and their own chances to return to Nationals.
Wisconsin Hodags: At last we come to the Hodags, owners of the longest consecutive Nationals appearances streak in the country. It hasn't always mattered that they earn the bid, since this is a team who always seem to toughen up just in time for North Central Regionals as the ground softens in spring, but with Grey Duck and CUT looking particularly formidable in 2023, they will want to rocket up the ranks and secure a bid on their own. Furthest from the cutoff of all the contenders, it isn't exactly clear whether they have a path forward without making a serious run into the bracket. But that isn't completely out of the realm of possibility, either: this is a team with a crunch-time win over Texas on their resume. When Zane Stein, Nico Ranabhat, Oliver Walke, and Luke Youngdahl start clicking, they score in bunches. And between Pieran Robert and Joe Leibforth on the D-line, they'll stack up some breaks if you're not careful. Look – it might not matter if Wisco get a third bid for the North Central; sometimes it seems written in the stars that we'll see them on Memorial Day weekend. Still, everyone likes a little breathing room.
---
minimum 10 games played ↩

Chill qualified for the tournament in 2022 and were slated to attend but pulled out the week before the event. ↩

According to frisbee-rankings.com, they are 90 points ahead of the last team in. ↩