UNC travels north for a round-robin and showcase double-header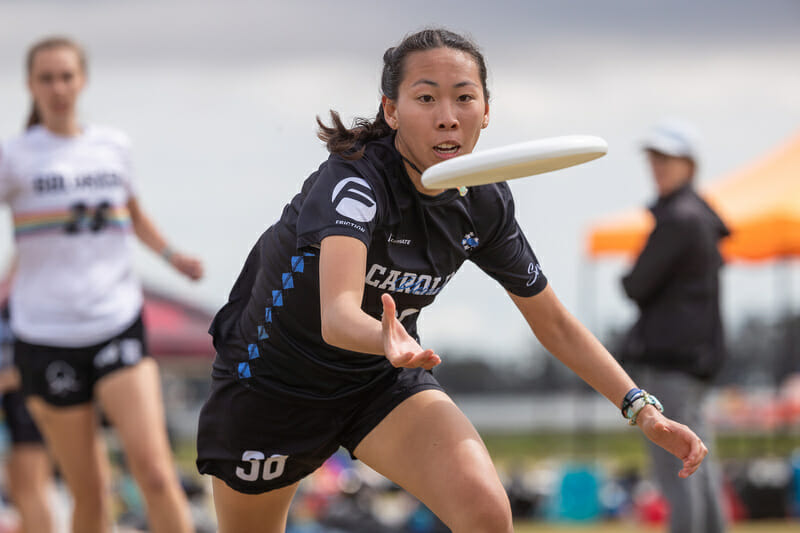 Ultiworld's coverage of the 2023 college ultimate season are presented by Spin Ultimate; all opinions are those of the author(s). Find out how Spin can get you, and your team, looking your best this season.
As the college postseason looms and the PUL season starts up, we've got a surprise series of games on view this weekend, courtesy of the #1 North Carolina Pleiades. It's a two-part weekend road trip for UNC: a Saturday unsanctioned round robin featuring Vermont Ruckus, Tufts Ewo, and Yale Ramona, followed by a Sunday scrimmage that pits the Pleiades against the PUL's Philadelphia Surge. The weekend's games will offer a chance for these four Nationals contenders to get one final tune-up, and give us our first glimpse at the PUL's newest franchise.
Tournament Profile
Date: April 1-2
Location: Ardmore, PA
Weather: Very windy (20+mph), 71 degrees and rain on Saturday; high of 51 and partly cloudy on Sunday
Teams: #1 UNC, #2 Vermont, #5 Tufts, #15 Yale, Philadelphia Surge (PUL)
Schedule: Score Reporter
While the Saturday round robin is only recreationally sanctioned — done so in order to not upset the delicate rankings balance this late in the season — each team has good reason to look forward to the weekend. Just pray that the cyclone-like weather holds off, but don't worry, they've already got a rain schedule drafted.
After Vermont's successful lobbying to change the Northwest Challenge format, Ruckus ended up in the fifth place bracket and didn't get a crack at UBC or Colorado. They'll relish the chance to get a few more tough games in before the series.
UNC is looking forward to some competitive games as well, seeing as they gave up just 27 goals over seven games en route to the Stanford Invite crown.
Tufts has been steadily improving this spring as evidenced by their scores against UNC (12-5 at Queen City, 12-8 at Stanford), so they'll attempt to set a new personal record this weekend against the Pleiades.
Yale will see the best crop of competition they've played all year before driving down to Maryland for Kernel Kup on Sunday to squeeze in a few more sanctioned games.
However, the most exciting ultimate of the weekend might not come until Sunday, when we get our first look at Philadelphia Surge. Surge's imposing roster makes them immediate threats to win the East division title, and even potential contenders for a first year championship right out of the gate.
Also, given that we love our hypothetical questions, there's one clearly up for an answer this weekend: would the best college teams stand a chance in the major leagues? In ultimate, we've been asking this question for years, and other sports ask it too. It's not often we get to test a hypothetical like this in real life, and these are about as perfect as experimental conditions could be.