The last four of sixteen D-III College Championships qualifiers will be decided in Williamstown, MA this weekend!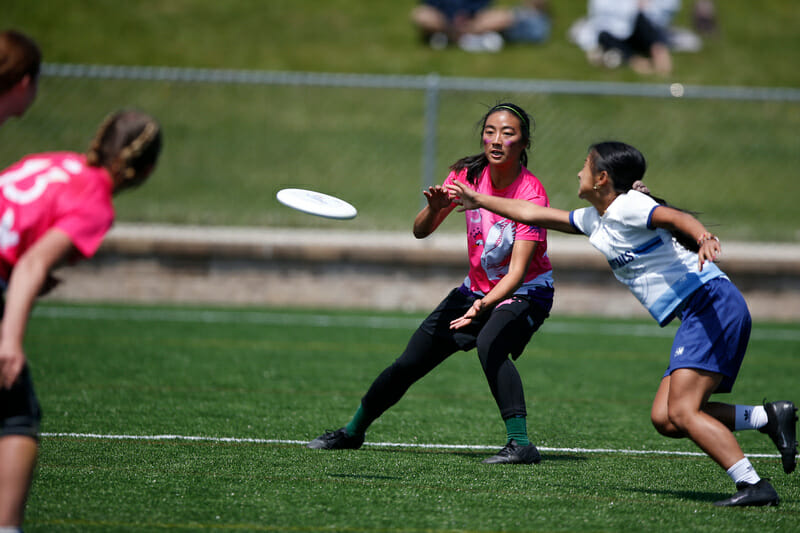 Ultiworld's coverage of the 2023 college ultimate season are presented by Spin Ultimate; all opinions are those of the author(s). Find out how Spin can get you, and your team, looking your best this season.
Note: Ben Moyer is a coach for Brandeis Banshee who are competing at this tournament.
Twelve teams have already earned their place at Nationals, and this weekend will decide the final four. We break down the major storylines, expected contenders, and who could cause some chaos ahead of the 2023 College Championships.
New England
Weather: 35-65 degrees, sunny, 8 mph winds
Collecting the max amount of strength bids throughout the season, New England is a stalwart region in the D-III Women's landscape. Housing both teams that competed for the title last season, talent is a given – the teams that will claim the bids, however, are far from predetermined. Keep your eyes glued to the score reporter this weekend to stay updated on electric games that may foreshadow semifinal or final matchups come Nationals!
The Front Runners
Over the course of the regular season, all four bid earners from New England posted impressive records. In the brightest limelight of all was #1 Middlebury, whose incredible performance at Centex put them on the map not only as the clear frontrunner in D-III but a squad who would be in the conversation for one of the top teams in New England, period. In the coming seasons we'll surely be able to see the Pranksters compete against tier one talent around the country from both D-I and D-III. Led by POTY three-peat seeker Claire Babbott-Bryan, Middlebury are poised to blow through the field of play at Regionals and safely secure a bid.
On a crash course to meet the Pranksters in the regional final are #2 Wellesley. Wellesley have only lost a single game all season, falling to the D-I Metro East regional champion SUNY-Binghamton Big Bear at New England Open in the tournament final. While the Whiptails have their fair share of star power with Tess Dolan and Bella Steedly at the helm, what makes Wellesley such a formidable opponent is a level of depth out of the ordinary for most D-III squads. Every player up and down the roster has the skills to get open, play shut-down defense, and keep possession of the disc with crisp throws. With 2022 COTY Marshall Goff steering the ship, a bid to Nationals is not far out of reach for the Whiptails.
Earning the third strength bid for New England are #6 Williams. While they did drop a game to #8 Mount Holyoke at Conferences, Williams finished above Daisy Chain in the USAU rankings after playing against mostly D-I competition in the regular season. Games against D-III in-region top talent left something to be desired for Nova, notably posting two losses to Wellesley at No Sleep Till Brooklyn and the aforementioned loss to Daisy Chain at Conferences. Still, Williams are not to be underestimated – as a top 10 team with a chip on their shoulder after unfortunate circumstances kept them out of contention last season, Nova are looking to storm back onto the Nationals stage. Guided by the steady handling of Lauren Lynch, Nova will look downfield to their standout roster of cutters and leverage their D-line of Coco Rhum and Lucy Grossbard to secure breaks and win their bid to Ohio.
Late in the regular season, the Northwest region snatched a strength bid from New England. With one weekend and one tournament left in the regular season, #8 Mount Holyoke put on a heroic 6-1 performance at Shady Encounters to skyrocket up the USAU rankings and reclaim the fourth strength bid for their region. With only one loss on universe point to eventual tournament winners Penn State, Daisy Chain showed their potential to be a team that comfortably makes it out of New England. Gigi Downey and Molly Potts are sure to be at the forefront of Mount Holyoke's offensive and defensive efforts, but don't count out the rest of the Daisy Chain squad who can hold their own and more against solid competition. After putting up huge results at their past two tournaments, can Mount Holyoke punch their ticket to two straight Nationals appearances?
Even with four bids, in a region like New England nothing is guaranteed for these top contenders. There are just as many teams with skilled lineups ready to vie for that final bid in the game-to-go.
On the Hunt
The next four seeds at New England Regionals are not to be trifled with. Three of these teams are in the Ultiworld Top 25 in #12 Bates, #21 Dartmouth, and #24 Brandeis. While maybe not at the forefront of people's mind when they think of New England D-III powerhouses, underestimating the prowess of this group of talent could lead to a rude awakening for the teams discussed above.
Bates Cold Front have been putting up promising results as their season has progressed. After a subpar performance at No Sleep Till Brooklyn where Williams took a booming win 9-3 in the third place game, this team battled to get their name back in the mix. At Northeast Classic, Cold Front wowed the competition to beat Ohio Valley Nationals qualifier #7 Haverford/Bryn Mawr 9-7 as well as posting great results against D-I schools like RIT, Syracuse, MIT and Connecticut. Bates only dropped a game to Brown in the finals of that tournament and won convincingly in every game prior. Riding a wave of good results, Cold Front will be looking to rise from under the radar and snatch a bid.
Dartmouth Daybreak have had a quiet tournament schedule this spring, as shown by not getting enough sanctioned games during the regular season to earn their own bid. This is not for lack of trying though – a good few of tournaments they signed up for ended up getting canceled. That being said, the results they did get show a high level of play. Wins over Haverford/Bryn Mawr and Lehigh early in the season and Bates late in the season bode well for the type of breakout performance they could have at Regionals.
Brandeis Banshee, a team with a history of Cinderella story runs through the backdoor bracket, are ready and waiting for their chance at another game-to-go. Results in their regular season show promise and ability, as shown by a tight 8-6 loss to Mount Holyoke and a universe point loss to Boston University at New England Open. With an experienced handler core made up of XiHu Arfa, Nina Zhang, and Sofia Cohen firing on all cylinders as well as the downfield cutting abilities of Laurie Chen, Banshee will surely be eyeing another backdoor bracket climb.
Surprise contender Stonehill, after posting a 13-10 win over Brandeis at Conferences, may also be able to throw their hat in the mix. With a cohesive zone defense and handlers with deep shots for days, Stonehill could definitely catch other contenders off guard and post an upset win or two on their way through pool play and the early bracket. Captains Jillian Wexler and Hannah Gennaro will be looking to lead their team to some wins and a possible run up the backdoor bracket this weekend.
The story of the weekend will be watching to see if the cream of the crop can retain their bids and punch their tickets to Ohio, but no team will go quietly. Seasons and college careers will end on Sunday, but everyone will be fighting their hardest to keep theirs alive this weekend in Williamstown.