Rating everything from offense to depth to sideline impact, and the margins are thin at the top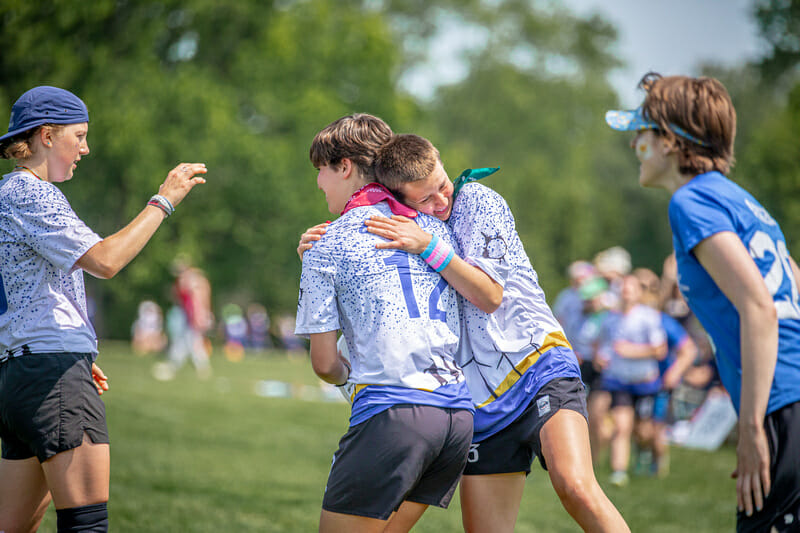 Ultiworld's coverage of the 2023 college ultimate season is presented by Spin Ultimate; all opinions are those of the author(s). Find out how Spin can get you, and your team, looking your best this season.
These are the two best teams in the division this year, so they undoubtedly have A+ skills across the board. Zack and Fiona need to break down the minutiae of their different games.
Star Power
Carleton: A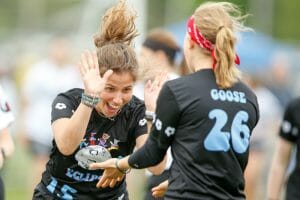 Carleton Eclipse live and die as a team. That said, they have some really strong contenders for POTY in some of their seniors. First is Harper Brooks-Kahn, their Donovan Nominee, who plays an incredibly steady game from the handler position. Oft times on her flank is Maya "Troy Bolton" Kalmus, just as deadly and crafty with the disc. Kalmus leads the tournament in assists with 23 and will surely look to add more tomorrow. Alex Rowell is their D-line center handler and is capable of launching missiles to the endzone with 18 dimes of their own. Claire James is a force in the middle of the field, a truly great player at facilitating the disc.
Middlebury: A+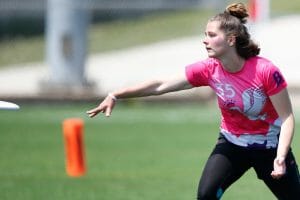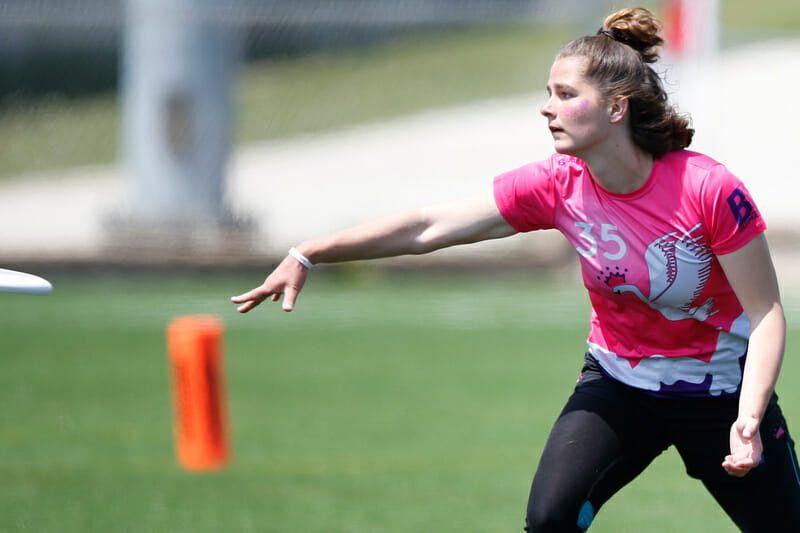 With the defending POTY Claire Babbott-Bryan on their roster, backed by All Americans Keziah Wilde, Kamryn You Mak and Mady Lander, there is no easy matchup for defenders on the Middlebury roster. Able to spread their stars between O- and D-lines, Middlebury can completely shut down opposing offenses for breaks, while saving legs with clean holds. Keziah Wilde's throwing prowess (14 assists in the tournament, tied only with Babbott-Bryan on her team) and has only expanded since last year, able to shred zone defenses and find wide open receivers in places on the field de-prioritized by the defense.
Offense
Carleton: A+
Carleton's offense is subdued, but efficient – only two players on Eclipse's entire roster have a negative plus/minus through five games. They're not looking for the flashy play or the deep look, their offense is looking for the sure thing. They're not afraid to throw as many throws as they need to to march up the field. This offense is capable of cutting through any defensive set that has been thrown against them. They rarely turn the disc and when they do generate a turn they don't often miss a break opportunity.
Middlebury: A-
Middlebury doesn't have a very set O-line. Many of their O-line players switch over to D-line, and defense really seems to be where Middlebury make their impact. Against Portland, Middlebury's O-line was only broken twice, but had very few clean holds. This is a potential weakness in Middlebury's armor; if Carleton can capitalize on an error by Middlebury's O-line, breaks could start to get away from them.
Defense
Carleton: A+
This is Carleton's bread and butter. Carleton's D-line is a cut above. They are efficient at generating turns, both through blocks and forcing tough throws. They play tight person-to-person matchups as well as lockdown zones and are capable of transitioning from one to the other mid-point without giving up space to attacking teams. Once they have the disc, many of the D-line players are more than capable of scoring.
Middlebury: A
Middlebury showed off their defensive skills in their semifinal against Portland, stopping Portland's handler motion and forcing high-stall punts. The Pranksters defenders are unafraid to lay out, forcing receivers to be decisive with their grabs. Mady Lander is smart with poach defense, filling space when her matchup is no longer an option to cause a turn. Once they have a turn, Middlebury's D-line has strong offense and converts quickly, so their defense will be their best bet to pull ahead.
Depth
Carleton: A+
Carleton's depth is what defines Eclipse. Each player has the ability to step up and run the team. They stay within their roles, and don't have to rely on any single player. They're comfortable sharing the disc and working their systems. While yes, there are some standouts on the team, there's no one on this squad afraid of having the disc in their hands.
Middlebury: A+
The Pranksters graduated nine seniors last year, and have 11 more graduating this spring. Many players have stepped up to fill the shoes that have been vacated, and the Pranksters have certainly made way for new stars to rise. Ali DePaolo and Lily Laesch have burst onto the field, stacking their stat lines with goals, assists and Ds. And these are only two names on what is a full roster, with all but two players having at least one D attributed to themselves this weekend. Should points get long, Middlebury have the legs to have a fresh line of solid players to run it back.
Sideline Impact
Carleton: A-
Carleton have a great sideline presence, but not often does it manifest itself in a raucous chorus or song. They're often engaged in more immediate help, such as calling around or inside, giving directions, or shouting encouragement. Like everything else with Carleton Eclipse, their sideline is a team effort. They play as a team, and truly embody the eighth person with their sideline.
Middlebury: A
Aside from the fact that their men's team will be lining the sideline prior to their own final appearance, Middlebury have been renowned for being an electric team; singing and dancing at halftime, covered in glitter and wearing loud crazy colors. Middlebury doesn't have a [human] coach, instead led by the fearless Steve the Swan, so the players are making defensive set decisions, observing how they can best tackle their opponents strengths. It's worked for this undefeated team so far, will it take them to a championship?
— Ultiworld (@Ultiworld) May 21, 2023