Can anyone prevent another YAKA vs Shout final?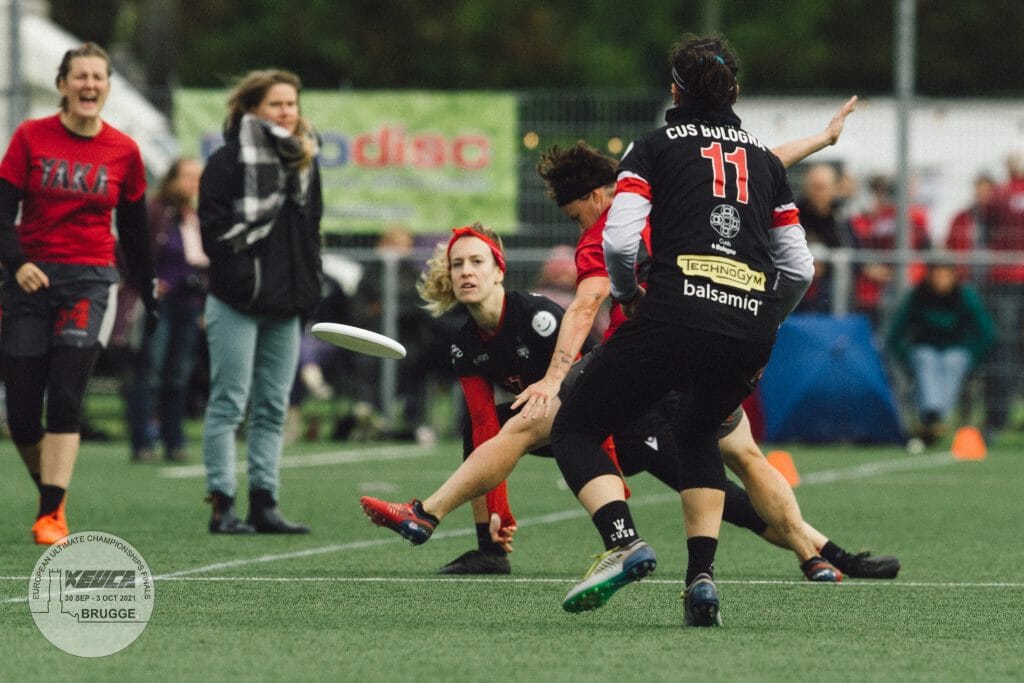 We've discussed what has happened in Europe ahead of EUCF, but who's going to win? What teams are the ones to watch? Here's what you need to know about the teams fighting for the title in Wroclaw.
Tournament Profile
Date: September 29 – October 1
Location: Wroclaw, Poland
Weather: Warm with temperatures between 19 and 25 C/66 to 77 F, with light showers on Saturday
How to watch: On Ulti.TV's YouTube channel
Schedule: EUF website
Pool A
This pool features jinX (Berlin, Germany), one of the best teams at the tournament. Superstar handler Anna Gerner is still returning from a knee injury sustained at EUC but this team has enough talent to be a problem for anyone else in the draw even if Gerner isn't at her spectacular best. Swedish additions Sarah Eklund and Oda Homlong are both all around threats, while Germans like Lena von Stebut, Frederike Wagener and Nici Prien are pillars to build around. They are one of the top seeds for a reason after reaching the final of the Elite Invite and will be in the running for the title. A disappointing loss in the quarters last year will surely be on their minds as they try to go at least one step closer to glory.
This pool is tough, though. Dublin Gravity (Dublin, Ireland) qualified at Spring Invite in London and have not been at full strength at many tournaments since. They have experience of success in Europe having made semis twice before, and have the kind of players that can carry them to those loft heights again. Áine Gilheany is one of the best handlers in Europe but Jessica Chambers, Jane Linehan and Kate Daly need to be accounted for downfield. The addition of Linnea Siebert for this tournament is a very, very handy one as well. JetSet LUV (Leuven, Belgium) finished third in a very competitive central region and will be a tough matchup as well, with strong Belgian players complemented by French World Games player and EUC gold medallist Coralie Fouquet. The bottom seed is 3SB (České Budějovice, Czech Republic) who have enough talent to cause any team problems. This is a tough group, and while jinX will be favored there's certainly scope for an upset here.
Pool B
YAKA (Noisy-le-Sec) won the Elite Invite and London Invite. They are as strong as ever with some outstanding French players – Aline Mondiot, Chloé Vallet, Clara Mathias and more – augmented by some of the best players from around Europe. Maria Castillo, Caroline Tisson, Esther Vanwijck, Rikke Louise Kjaer Knudsen, the list goes on and on. They have reached two finals in a row, winning the title in 2021 against Shout but then losing to the same opponent last year. Who's betting against a trilogy?
They match up with one of the most intriguing teams at the tournament in the pool. Mooncup (Brussels, Belgium) are in their first year as a team and have made significant waves by winning the central region. As well as some excellent Belgian players – look out for Sarah Rahali – they have French mixed and World Games sisters Eva and Lison Bornot, as well as Swiss star Charlotte Terrasson. They will be looking to cause more waves in Wroclaw. Troubles (Warsaw, Poland) have been a team at the top table of European ultimate for some time and will be solid, especially with the addition of Canadian Alex Benedict, while Flame (Dublin, Ireland) are a young team playing at this level for the first time and would do well to pick up a win in a challenging pool. This looks like a two-horse race.
Pool C
This pool is similar to GRUT's pool in mixed: Shout (Bologna, Italy) will win the pool because they look about as terrifying as the Death Star, but the other teams here will have a very fun battle to try and finish as high as possible.
Shout, the reigning champions, have added well. Martina Kmecova, Lasma Kublicka and Charlotte Schall are about as good as pickups get, with Schall in particular seeming yo add another dimension to a roster already laughably well stocked with talent. The loss of Laura Farolfi to retirement and Irene Scazzieri to the USA would cripple most teams; not Shout. Elena Benghi was excellent at EUC, as were Susanna Casarini and Francesca Sorrentini. Gaia Pancotti simply does not stop running. This team will be in the semis, and it would surprise no one if we see them in yet another final, vying for their fourth title in five EUCF events.
Iceni (London, UK), box (Vienna, Austria) and Spice (Nottingham, UK) are all teams with very good players and the potential to take wins against each other. Iceni come in with a UK title in their pockets and a system that seems to get the best out of the talent the roster has had but not quite maximised in recent years. The number of Great Britain players here is an indication of just how high their ceiling is – Hannah Brew, Fi Kwan, Hayley Dalmon, Ellie Taylor, Hannah Smith, Bailey Melvin-Teng, Hannah Thompson, Sarah Hills, Lucy Barnes and Madeline-Rose Leong all played at EUC while Gráinne McCarthy played with Ireland mixed. They could be a dark horse. Meanwhile, box feature the fantastic Helen Tera and several Austrian stars while Spice boast the Gibson sisters, Kate and Heather, as well as fellow GB women's player Amy van Zyl. Picking the order here is a challenge, but look for Iceni to be the team pushing Shout hardest.
Pool D
East Block (Eastern Bohemia, Czech Republic) are the team that's no longer underrated, full of Czech women's players that won a bronze medal at EUC this summer. While they're young, this team is already accomplished and pushed Shout close at Spring Invite, losing 15-11 to one of the very best teams on the continent. They won't surprise anyone this time around but Kristýna Tlustá will be ones to watch once we get to the bracket. There's not much experience of getting deep into the EUCF knockout stages in this roster but at some point soon that will change. The question is whether this will be the year they realise that potential.
They are faced with a tough pool. Tequila Boom Boom (Rimini, Italy) feature a number of talented young players including Nicole Lafiata who was dominant for Italy mixed as they won a silver medal at EUC. Heidees (Eppelheim, Germany) feature the throwing talents of Ava Müller alongside cutting threats like Vera Forsch and will be a very difficult matchup with their experience and versatility. Bristol Women (Bristol, UK) won bronze last year but without central World Games stars Molly Wedge1 and Carla Link2 as well as captain Lisa Hocking, they may struggle to keep pace with the other teams here.
Bracket
YAKA and Shout look like good bets to get byes, while jinX will have to pass some difficult tests but should be able to find the answers to take the third. East Block certainly have the ability to take the by on offer in pool D, but Heidees are a very unlucky third seed for a young team to draw in their first tournament as one of the favorites.
Below those four, there are a number of teams that could reach the quarters. Dublin Gravity, Mooncup, Iceni and Heidees are the four that stand out, but JetSet LUV will be no pushover and nor will Tequila Boom Boom. This promises to be a great battle.
The question, though, is whether anyone can prevent another YAKA vs Shout final. jinX seem to have the best shot, but the French and Italian teams have experience and a winning culture behind them. We'll see if jinX can put their struggles in the big games behind them.
---
Who moved to the mixed division this season. ↩

Who is playing with 6ixers in the USAU series. ↩