Top young talent, vying for spots in mixed, open, and women's divisions.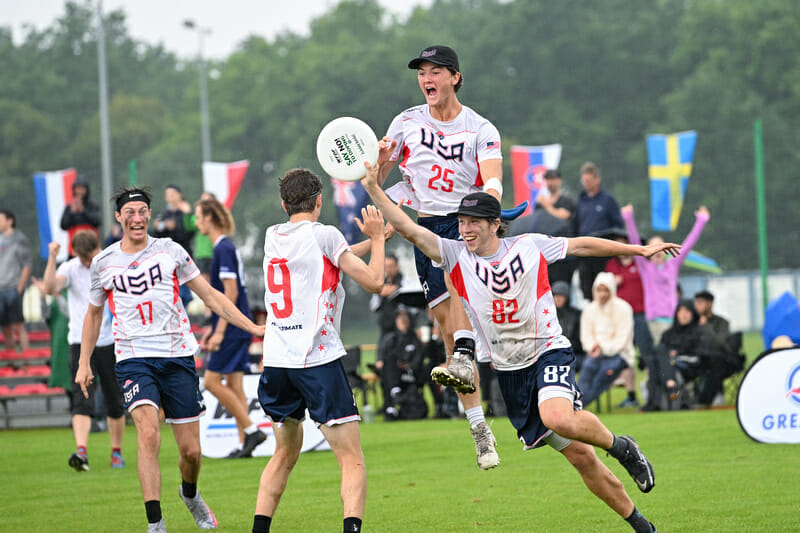 On Monday, USA Ultimate announced the 200 players invited to tryout for the Under-20 USA National Teams that will compete at the 2024 World Juniors Ultimate Championships in Birmingham, England in late July of 2024. 100 female-matching and 100 male-matching players have received invites.
For the first time, the United States will field a mixed division team in addition to open and women's division squads. As has been the case in the past, the rosters will be selected after a split tryout process between eastern and western tryouts this November.
The mixed team will be managed by head coach Martin Aguilera. Both women's division coach DeAnna Ball and open division coach Reid Koss return.
Here are the 200 players invited to try out for the team.
FMP TRYOUTS
| Name | Hometown |
| --- | --- |
| Pilar Abele | Montpelier, VT |
| Stella Anhder | North Logan, UT |
| Emma Awtrey | Cincinnati, OH |
| Hadley Ayers | Bentonville, AR |
| Milo Brown | Seattle, WA |
| Helen Burruss | Deadwood, OR |
| Opal Burruss | Deadwood, OR |
| Nola Busansky | Northampton, MA |
| Caitlin Buzzard | Carrboro |
| Kate Campbell | Seattle, WA |
| Anna Carlson | Louisville, CO |
| Rachel Chang | Palo Alto, CA |
| Irene Chen | Maplewood, NJ |
| Alessandra Christakos | Northampton, MA |
| Anneliese Collin | Portland, ME |
| Isla Cusick | Pelham, MA |
| Ellen Cymrot | Fredericksburg, VA |
| Zora DeSilva | Falmouth, ME |
| Caroleen DeWolf | Durham, NC |
| Sofia Dillon | Rosemont, PA |
| Gabriella Everett | Arlington, VA |
| Sumi Farrell | Durham, NC |
| Mia Fischer | White Bear Lake, MN |
| Anja Floisand | Seattle, WA |
| Abigail Freund | Arlington, VA |
| Ashima Gandhi | Atlanta, GA |
| Katherine Gearing | Medford, MA |
| ZsaZsa Gelfand | Clinton, WA |
| Audrey Goeddeke | Minneapolis, MN |
| Chloe Hakimi | Seattle, WA |
| Vivian Hakimi | Seattle, WA |
| Scout Harper | Burlington, VT |
| Eva Hayes | Murphy, TX |
| Melba Henley | Seattle, WA |
| Elise Hetland | Durham, NC |
| Mara Hindery-Glasinovic | Eugene, OR |
| Breesen Hoehne | Hyde Park, UT |
| Diana Huang | Bryn Mawr, PA |
| Joyce Hui | Seattle, WA |
| Rachel Joy-Rocha | Austin, TX |
| Haviva Kalenkowitz | Portland, OR |
| Madeline Kallin | Dresden, ME |
| Eleni Kauffman | Eugene, OR |
| Ella Khoury | Eugene, OR |
| Phoebe Koehler | Chicago, L |
| Emily Kretschmer | Silver Spring, MD |
| Lilith LeDonne | Western Springs, IL |
| Joyce Liang | Canton, MI |
| Rona Liu-Zhong | Wayne, PA |
| Rowan Lymp | Seattle, WA |
| Sydney Mager | Amherst, MA |
| Sabrina Mannion | South Orange, NJ |
| Grace Maroon | Philadelphia, PA |
| Cora McCabe | Arlington, VA |
| Dora McCotter-Hulett | Seattle, WA |
| Kyliah Mcroy | Seattle, WA |
| Lucy Mertz | Seattle, WA |
| Rina Meschke | Yardley, PA |
| Ella Monaghan | Burlington, VT |
| Willa Morales | South Portland, ME |
| Elizabeth Nelson | Eugene, OR |
| Margo Nissen | Washington, DC |
| Scout Noble | Seattle, WA |
| Abigail O'Callaghan | Madison, WI |
| Cecilia Pardo | Atlanta, GA |
| Simone Pierotti | Minneapolis, MN |
| Olive Polson-Filas | Northampton, MA |
| Ann Pozzy | Portland, ME |
| Matilda Pro | Wynnewood, PA |
| Petra Radmanovic | Seattle, WA |
| Mariabelen Restrepo | Boston, MA |
| Alice Rieger | Swarthmore, PA |
| Nika Rockafeller | Metuchen, NJ |
| Meirav Roisman | Oakland, CA |
| Sanam Rozycki-Shah | Berkeley, CA |
| Isabella Russell | Apex, NC |
| Mrida Sadhu | Oakland, CA |
| Katherine Sanders | Decatur, GA |
| Grace Schifilliti | Needham, MA |
| Mira Schneeweis-LaRene | Seattle, WA |
| Madelyn Seedall | Hyde Park, UT |
| Julia Segre | Berkeley, CA |
| Audrey Selfridge | Salt Lake City, UT |
| Amaya Shean-Jones | Portland, OR |
| Carys Shepard | Washington, DC |
| Nora Snyder | Seattle, WA |
| Katherine Stack | Swarthmore, PA |
| Maude Stevens | New York, NY |
| Zola Stevens | New York, NY |
| Emma Talton | Cary, NC |
| Ashley Talwar | Westfield, NJ |
| Madoka Uo | Seattle, WA |
| Grace Vaughn | Newton, MA |
| Maxine Volkman | Madison, WI |
| Evelyn Wagner | Minneapolis, MN |
| Poppy Wagner | Philadelphia, PA |
| Shifra Wagner | Richmond, CA |
| Ella Widmyer | Seattle, WA |
| Layla Wissink | Falmouth, ME |
| Violet Yap | Alameda, CA |
MMP TRYOUTS
| Name | Hometown |
| --- | --- |
| Truman Abbott | Highland, UT |
| Bram Allahdadi | Milwaukie, OR |
| Samuel Anderson | Eugene, OR |
| John Thomas Atema | Franklin, TN |
| William Basden | Durham, NC |
| Jack Bembenek | Ann Arbor, MI |
| Zachary Bensky | Washington, DC |
| Mitchell Blaha | Arlington, VA |
| Benjamin Bolan | Seattle, WA |
| Emmett Brosowsky | Washington, DC |
| Oscar Brown | Salt Lake City, UT |
| Matthew Burris | Washington, DC |
| Elias Chang | Lexington, MA |
| Dominic Chiodi | Seattle, WA |
| Marcos Collazo-Garcia | Charlotte, NC |
| Micah Davis | St. Louis Park, MN |
| Nathan De Morgan | North Logan, UT |
| Riley Dobush | Carpentersville, IL |
| Joseph Dokken | Arlington, VA |
| Gabriel Dowd | Washington, DC |
| Roan Dunkerley | Northampton, MA |
| Ryan duSaire | St. Louis Park, MN |
| Ben Feeney | Hadley, MA |
| Kyle Ford | Yardley, PA |
| Milo Friedman | Seattle, WA |
| Henry Garcia | Alameda, CA |
| Micah Glickman-Flora | Seattle, WA |
| Sam Grossberg | Blue Bell, PA |
| Taylor Hanson | Belchertown, MA |
| Elliot Hawkins | Louisville, KY |
| Maxwell Heirigs | Edina, MN |
| Max Hemeon | Cape Elizabeth, ME |
| Luke Henke | Austin, TX |
| Tamir Hill-Marshall | Washington, DC |
| Cedar Hines | Seattle, WA |
| Filip Icev | Kirkland, WA |
| Oscar Jacobsen | Burlington, VT |
| Owen Johnson | Dallas, TX |
| Collin Kaperick | Eugene, OR |
| Graeson Kerr | Highland, UT |
| Hayden King | Denver, CO |
| Calan Kirkpatrick | Concord, MA |
| Akira Koenigsberg | Eugene, OR |
| Adam Kohn | Delmar, NY |
| Jordan Lazer | Seattle, WA |
| Gavin Leahy | Seattle, WA |
| Marcus Lee | Washington, DC |
| Cameron Levine | Arlington, MA |
| Ethan Lieman | New York, NY |
| Joshua Lightner | Arlington, VA |
| Christoper LoFrese | Chapel Hill, NC |
| Benjamin Lopez | Reisterstown, MD |
| Vance Mader | Austin, TX |
| Maxwell Majersik | Salt Lake City, UT |
| Sarek Mallareddy | San Francisco, CA |
| Michael Maroon | Plymouth Meeting, PA |
| Jonah Marquart | Salt Lake City, UT |
| Stefan McCall | Berkeley, CA |
| Nolan McColskey | Wayne, PA |
| Gray Middleton | Reson, VA |
| Cole Mires | El Cerrito, CA |
| Brayden Morrison | Durham, NC |
| Joshua Morton | Pittsburgh, PA |
| Zachary Morton | Edina, MN |
| Evan Moss | Vienna, VA |
| Tej Murthy | Princeton Junction, NJ |
| Innocent Ndikuriyo | Castleton, VT |
| Ellis Newhouse | Minneapolis, MN |
| Vincent Nguyen | Seattle, WA |
| Samuel Nichols | Hyde Park, UT |
| Erin Niesen | Middleton, WI |
| Luke Norby | Allen, TX |
| Axel Olson | Mercer Island, WA |
| Watkins Parker | Carrboro, NC |
| Isaiah Platt | Plano, TX |
| Charles Puttkammer Saxen | Seattle, WA |
| Syon Rao | Bellevue, WA |
| Grayson Rettberg | Salt Lake City, UT |
| James Rhodes | Charlotte, NC |
| Jackson Riley | Corvallis, OR |
| Charles Rosenfeld | Ann Arbor, MI |
| Ethan Sarles | Havertown, PA |
| Dustin Schrader | Broomall, PA |
| Augustus Serff-Roberts | Austin, TX |
| Boaz Shames | New York, NY |
| Thomas Shope | St. Louis Park, MN |
| Mason Stone | Seattle, WA |
| Jovan Strange | Montpelier, VT |
| Jared Tellez | Federal Way, WA |
| Charlie Teply | Edina, MN |
| Ezra Thoreson | Lafayette, CO |
| Griffin van Rhyn | Montclair, NJ |
| Alexander Vu | Berkeley, CA |
| Micah Wagner | Bethesda, MD |
| Andy Wang | Austin, TX |
| John Wellons | Nashville, TN |
| Kyler Wieties | Durham, NC |
| Jonah Yang | Seattle, WA |
| Neal Zeng | Chapel Hill, NC |
| Daniel Zhang | Chapel Hill, NC |