shame., Sprocket, 'Shine, and Rally all have familiarity and belief.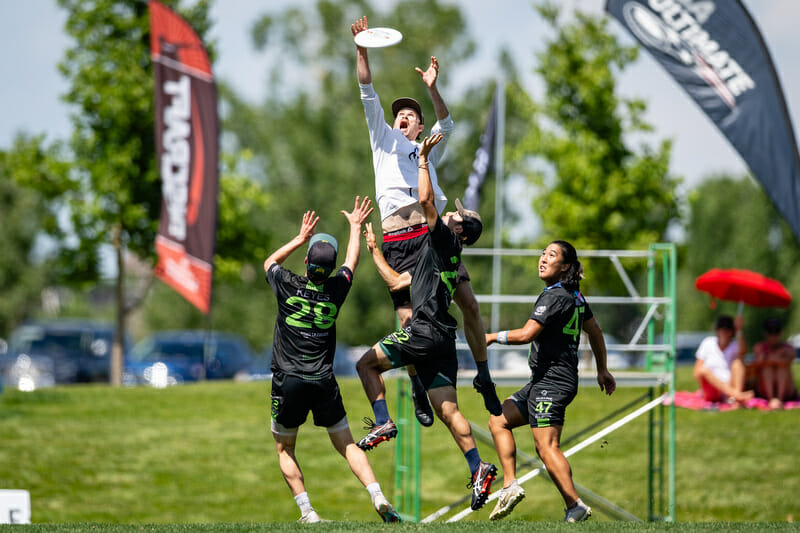 Ultiworld's coverage of the 2023 Club National Championships is presented by Spin Ultimate; all opinions are those of the author(s). Find out how Spin can get you, and your team, looking your best this season.
Pool B Preview — Pool C Preview — Pool D Preview — Competition Schedule
Welcome to the mixed division where nothing is particularly straightforward. Pool A has a dominant top seed with a shaky history at nationals and three teams chomping at the bit to prove themselves on the national stage. With a recipe ripe for intrigue, each game will matter as all four teams have their sights set on at least winning a bracket game.
Fort Collins shame.
USAU Ranking: #1
Power Ranking: #1
Regional Finish: South Central 1
Overall 2023 Record: 22-1
Against the Nationals Field: 7-1
Against the Pool: 2-0 vs. Sprocket,
This year's #1 Fort Collins shame. team is different. They drink Dr. Pepper rather than White Claw. They push each other to achieve competitive goals. They only lost a single game all season. They have a coach. Compared to a team that bragged that they "don't practice, throw hucks, win, and drink with friends," two years ago, shame. seems more…serious? Prepared? Ready? Just like in 2021, they're the number one overall seed. This time around, they're entering Nationals with a different mindset and a developed sense of maturity.
"We had a couple of our teammates being like, 'hey, we should not be afraid of failing. And we can just accept that we're good.' And weirdly enough, that has helped," said Aubree Dietrich, who has played with shame. since 2015.
"In previous years," Dietrich continued, "if we lost, we kind of got down on ourselves, threw a little pity party and, that's just not the way you win games or win tournaments in general. And so…I've definitely matured to where I don't throw as many pity parties. Just ask yourself what do you need to do to make up for that, where do you need to be right now?" The team proved that they can bounce back, storming through the US Open fifth place bracket after their lone loss (to AMP in the tournament quarterfinal).
While longtime leaders like Owen Westbrook and Joe 'Smash' Anderson have led the mindset switch, one of the newcomers to the team, Sarah Itoh, also plays an important role in bringing positivity and belief to a team that previously hadn't exuded mental strength. "She has a way of looking at the world," Dietrich said. "She is so positive. She truly believes that everything's going to work out in the end and does not get down. Um, she's also blazingly fast."
Itoh is part of a group of players who joined shame. after playing with the WUL's Alpenglow alongside shame. stars Dietrich, Jade McLaughlin, and Sarah Pesch. Shayna Brock and Rory Veldman have been key additions to the shame. D-line that has overpowered opponents this season. They might not have made the trek up to Fort Collins (some players commute over two hours from the other side of Denver and from Albuquerque) if it weren't for connections forged during the WUL season.
That defense paired with an offense helmed by the patient Sarah Pesch and Owen Westbrook, and now armed with a "cheat code" (Dietrich's words) in Matty Russell, shame. is racking up wins. It's not like shame. is only beating up on teams from the ultimate desert of Central Arkansas or teams like Risky Business or Space Ghosts. Wins over Drag'n Thrust, Mixtape, NOISE, Sprocket, Lawless, and Rally prove their national bona fides.
One X-factor for the team: Marvin Vuong is enjoying his first season as shame.'s coach. Vuong adds strategic know-how and a bit of an outside perspective to a team that has more or less looked the same for the past seven or so seasons, and has quickly earned the trust of the entire team. Vuong is part of a leadership team that has shame. once again in contention for a national championship. After two seasons of disappointing finishes in the bracket, it might just be shame.'s time to shine once and for all. "I think most people would be angry if we lost in quarters again," Dietrich said.
Likely Ceiling: National Champions
Likely Floor: Prequarters

Boston Sprocket
USAU Ranking: #6
Power Ranking: #11
Regional Finish: Northeast 2
Overall 2023 Record: 26-6
Against the Nationals Field: 6-6
Against the Pool: 0-2 vs. shame., 1-1 vs. 'Shine, 0-1 vs. Rally
#11 Boston Sprocket has just six losses this season. Two are to in-region opponents and the other four are to teams they'll face in pool play at Nationals. Their losses to shame., 'Shine, and Rally occurred early in the season before the current iteration of the team really took shape, and Sprocket are confident that its growth over the course of the season will prove that they're an improved team capable of winning the pool. "It really feels like there's been this continuous ramp this season," Sprocket captain Tannor Johnson-Go said, "and it feels like even our practices, they're still getting better even after regionals. So going into Nationals, it feels like that ramp will continue and I hope to see us get even better throughout the season."
Sprocket are unique in that they tend to run three even lines and balance playing time across a deep roster. Those lines practice together and have developed their own unique identities. Different lines might specialize in different strategies allowing Sprocket to throw multiple defensive looks and offensive sets at their opponents. Johnson-Go acknowledged that there are game situations when it might make sense to split into offensive and defensive specialties, and the team is prepared to shift its strategy when the situation calls for it, but the variability of a talented roster is a significant competitive advantage for a new-ish team looking to make their mark.
Sprocket last made Nationals in its inaugural 2021 season and played its way into the bracket. After a 2022 that saw a team with high expectations fall short of a repeat Nationals appearance, Sprocket changed their approach this season. Last season, the team won a number of regular season games through second half comebacks, but wasn't able to replicate that success in the Series as opponents tightened up their rotations.
"This year," Johnson-Go said, "our focus was really, let's come out, let's have a strong first half, and let's go from there, because we know we can play in the second half. So it was a little bit of a focus on, how do we get the team there? How do we get the team ready out of point one to really attack and get the points on the board that we need to get going? And then keep the same team energy that we had before going into the second half."
With a focused team, Sprocket can let their talented players like Johnson-Go, Clara Stewart, Ivan Tran, and Bretton Tan go to work. Two newcomers take on a significant throwing load: Rocco Essex-Linehan (who is a 2021 Sprocket alum returning to Sprocket after spending 2022 with Minneapolis Drag'n Thrust) and Makk Kestin. Makk is nursing a hand injury and may be limited at Nationals but expects to play and should play an important role given her throwing talent.
Wins over XIST, Lawless, Dirty Bird, Mischief, and Hybrid show Sprocket's skill and potential. With lots of roster consistency, they'll be able to rely on experience barely a single player had last time this team played in San Diego. While Sprocket hasn't set a specific outcome goal for Nationals, they'll be able to threaten in both their pool and in the bracket and are a good sleeper pick in the ever-chaotic mixed division.
Likely Ceiling: Semis
Likely Floor: Quarters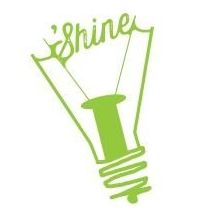 Nashville 'Shine
USAU Ranking: #12
Power Ranking: #14
Regional Finish: Southeast 1
Overall 2023 Record: 20-8
Against the Nationals Field: 3-6
Against the Pool: 1-1 vs. Sprocket, 0-1 vs. Rally
About a month ago, it was tough to predict who would win Southeast Regionals. Four teams were hovering around the bid cutoff and were all talented enough to warrant attention on the national stage. Yet, of those four it was the one who missed Nationals last season who made light work of the competition. #14 Nashville 'Shine won all eleven of their series games by four or more goals.
'Shine enter Nationals with a healthy swagger. "The results of the regular season," 'Shine captain Eli Motyka said, "they matter if you're planning to lose the region. But they don't matter because every region has [at least] one bid and that's what we stayed focused on."
Given the season 'Shine had, that success should not come as a surprise. The team put themselves back on the map with a Pro-Elite Challenge – East tournament victory, including a double game point victory over #2 Philadelphia AMP in the final back in July.
This season has been one of redemption for 'Shine, after the heartbreaking loss at 2022 Southeast Regionals kept them out of the national spotlight last year. "After we lost at regionals," captain Chris Calhoun said, "there was a period where we were all pretty down, but after three weeks out, we all got back in the gym and we slowly started building an off season, building that momentum collectively…And we've just had a year where we've been building towards regionals and then Nationals. And we just have like an insane amount of momentum."
'Shine has more than momentum, they also have something to prove. "Watching teams that we beat go to semis," Motyka said, referring to New York XIST, last season's surprise semifinalist who 'Shine had beat in the regular season, "you hold this chip of like the best players, the best team in the country should be playing at Nationals in front of an audience for something that matters. And I think we all were not just sad to miss Nationals, but embarrassed because we were like, 'we're better than we've played and we're better than we showed.' Especially as you get into your 20s, like maybe early 30s for some people, you have to bring your best product out there every single time you play or else you're gonna have regrets and excuses. And we just learned that lesson the hard way…the whole season just felt like us waiting to prove something."
One potential X-Factor for 'Shine will be their sideline. "I feel comfortable saying that 'Shine is going to be the loudest team at Nationals," Calhoun said. "We have really big sidelines. We're always having fun, we play with a lot of joy in the game."
With a sideline full of players itching to get on the field when it's their turn and highlight-ready athletes like Jesse Shofner and Justin Burnett filling the stat sheet, 'Shine will assuredly turn some heads in San Diego.
"When [Shofner] is playing, the field just becomes so much more accessible in every kind of way," Calhoun said, "whether it's throwing or cutting. She makes our offense's lives much easier just because she gives us all these options that are very high percentage, whether it's 100% cut or 100% throw. She brings that sense of gravity on the field and off the field. She's a fireball and she can really–like in a similar way that Eli like guides and directs our emotion–Jesse helps us peak that emotion and also channel it in the right direction." Whether it's Shofner, Burnett, Motyka, Calhoun, or not-yet-well-known names like Tori Taylor or Rebecca Henley making the plays, 'Shine is coming to win games and turn heads.
"You don't need to have any superstars, though it helps, like Jesse and Justin," Motyka said. "But you don't need to have any superstars. You can build a great team with commitment and buy-in and hard work, and that's what we've tried to do."
Likely Ceiling: Quarters
Likely Floor: Out on Day One
Washington DC Rally
USAU Ranking: #14
Power Ranking: #13
Regional Finish: Mid-Atlantic 2
Overall 2023 Record: 20-6
Against the Nationals Field: 3-5
Against the Pool: 0-1 vs. shame., 1-0 vs. Sprocket, 1-0 vs. 'Shine
In 2018, #13 Washington DC Rally finished fifth at Mid-Atlantic Regionals. It was their first year as a team and they managed wins over XIST and Slow White in the regular season. For a team that was clearly the second best in their own city, it was a more than respectable showing. In 2019, Rally finished fourth at Regionals, losing to Loco in the game to go to the game-to-go. In 2021 Rally beat Loco in the backdoor semifinal before losing the game to go and finishing third. In 2022 Rally made their first regional final, though they lost to regional powerhouse Philadelphia AMP and finished second. This year, they couldn't quite keep up the incremental placement improvements, but because of their regular season success a second straight second place finish was enough to clinch their first trip to Nationals.
"We proved last year that we were in a tier of our own," Rally captain Anthony McLean said. "Like, sure, we didn't stand a chance against AMP last year, but I think against the rest of the region, we proved that if there was a second bid, we were definitely gonna go. And then when the three of us were elected captains in January, we sat down and it was like, this is a team that's going to Nationals. Like we are doing everything we possibly can this season to make sure we're going to the right tournaments, make sure we were recruiting players to be able to join Rally that were gonna help us push a little bit further. And we did it. We did it."
With wins early this season over Sprocket and 'Shine, Rally already proved that they can play at a national level. Those wins earned enough rankings points to earn the Mid-Atlantic a coveted strength bid, and Rally converted it into their first appearance at nationals where they'll get to prove that they're one of the elite teams in the division.
"We went to FROGS, had a great showing there, and then, you know, I mean, from there, I think that was like the light bulb turned on and it was like, this is a great frisbee team," McLean continued. "We're gonna have a successful summer. It was also just particularly huge with that tournament because like it was a round robin with just really good teams I think that really set the tone early for what we're trying to do this season."
Adding to the benefit of scheduling games against top teams, Rally put a big emphasis on recruitment this season. With higher level players excited about playing for Rally, the goal of making Nationals did not just feel within reach, but seems like an inevitability more than a possibility. "I think the focus on recruitment was huge," captain Sami Smalling said. "At least from the start, Anthony has been our master recruiter. [He] just knows everyone. I mean, X[avier Maxstadt] is the same way. They're both super connected, and I feel like they both have a lot of pull in the community just from how much experience they have and also just because they're great guys and everyone wants to hang out with them and be with them. So Anthony going around and telling everyone, this year's gonna be different, it's gonna be different here – that has a lot of sway, and I think it got a lot of people really interested in wanting to come out and play with us and see what the team vibe was. And then once you get people to Rally tryouts, they can feel the community that we've built and they want to be a part of it."
"We added players that came with a lot of Nationals experience that were really able to push the tempo," McLean said. Among them: Zach Norrbom (Space Heater, Truck Stop) has been a big addition to the offense as someone who can attack the breakside with both precise and touchy throws. Jin-Mi Matsunaga (Ozone, 'Shine, Dirty Bird) has a wealth of experience to lend to a team with 17 first time Nationals attendees. Olivia Monroe (Scandal, UNC Pleiades) likewise brings a championship level know-how. And of course Alan Kolick (Space Heater, Truck Stop, Team USA) adds a sense of calm on the field despite playing uptempo ultimate.
Given the long buildup to get to this point, Rally's experience at Nationals is both well earned and has a lot at stake. With success comes the possibility of even higher expectations, more high-level interest on the recruiting circuit, and the potential to open up a new era of DC mixed ultimate. Rally have all of the tools to make that happen.
Likely Ceiling: Quarters
Likely Floor: Out on Day One