Close regular season results between Pool D's teams could indicate a spicy pool.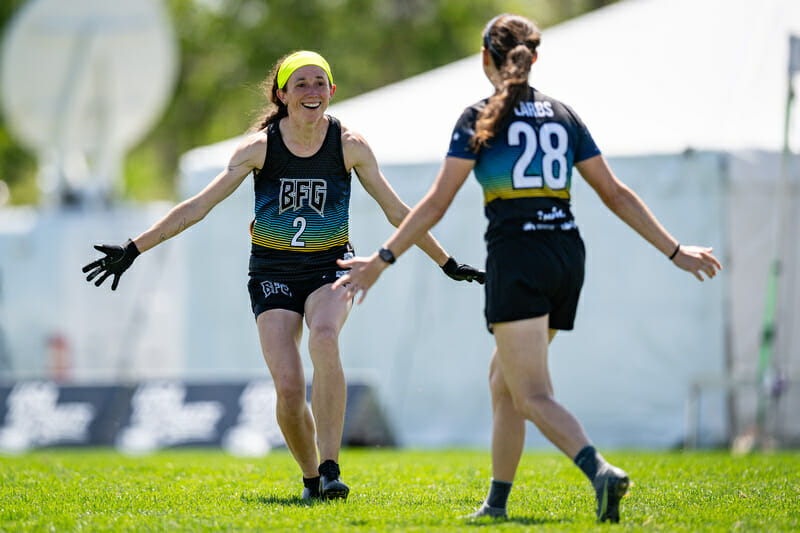 Ultiworld's coverage of the 2023 Club National Championships is presented by Spin Ultimate; all opinions are those of the author(s). Find out how Spin can get you, and your team, looking your best this season.
Pool A Preview — Pool B Preview — Pool C Preview — Competition Schedule
To the untrained eye, it appears as if after the end of pool play, everything will go to chalk in pool D. But let's be honest, this is the mixed division, when has that ever happened? While the odds are high to expect BFG to win the pool, we can expect some surprise outcomes and quite possibly a chaotic fight for the order of the last three spots.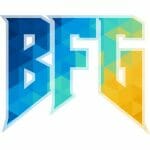 Seattle BFG
USAU Ranking: #4
Power Ranking: #5
Regional Finish: Northwest 2
Overall 2023 Record: 19-6
Against the Nationals Field: 10-5
Against the Pool: 1-0 vs. Lawless
Being the only team to make the finals in the other two tournaments in the Triple Crown circuit (US Open and Pro Champs) this season is something that not many can say (in any season). In doing this, #5 Seattle BFG has shown once more that they are a force to be reckoned with. At last year's Nationals, they suffered a universe point loss to #9 Madison NOISE in the quarterfinal, landing them with a fifth-place finish, denying their chance at a back-to-back championship title.
From early on this season, BFG has staked themselves as an elite team capable of summiting the division. They started their season with a bang at Pro-Elite Challenge West, winning all of their games as well as the tournament. The team looked solid at US Open and Pro Champs as well. Even with a handful of losses in pool play (NOISE at US Open, Love Tractor and Drag'n at Pro Champs), they made it to the finals for both. However, with losses in both of those finals, as well as a loss in the final at Northwest Regionals against Mixtape, they'll be coming in with a chip on their shoulder.
"The work that we've done and the mental toughness has been pretty vital," said BFG captain Sam Pickel about making the finals at both TCT tournaments. "Being able to take things one point at a time and focusing in on the trust we have in one another. Not thinking too far ahead in the future, not dwelling on mistakes that might have happened earlier in the game or last point. Just doing a good job of both adapting to what other teams are doing in real-time and also staying true to what we know our superpowers are."
Great talent is abundant in this team. With a majority of the team being veterans1, they can certainly lean on their experience to have a good tournament. Cheryl Hsu has proven to be an unstoppable force whenever she has the disc in her hands. Leah Bar-On Simmons and Jamie Kauffman are also both starting to peak and are on track to have a breakout tournament. Tommy Li and Jason Yun both bring a strong presence to the cutter space as well.
"Top to bottom, our team has really high disc skills. When our D-line gets the disc, when we're at our best, we're hard to get the disc back from," said Pickel. "So, leaning into that and doing whatever it takes to grind out breaks is something we have that not a lot of other teams do."
They could be onto something.
Likely Ceiling: National Champions
Likely Floor: Semis
Cleveland Crocs
USAU Ranking: #5
Power Ranking: #8
Regional Finish: Great Lakes 2
Overall 2023 Record: 21-5
Against the Nationals Field: 4-4
Against the Pool: 1-0 vs. Slow
For the first time, a club team from Cleveland, Ohio has made it to USAU Club Nationals. And that's a badge that Cleveland Crocs wear with honor and pride. In their third year of existence as a team, they've made quite a name for themselves. In fact, they've done so well this season that they earned a second bid for the Great Lakes region (the first time in the modern era this region has had more than one). Their record for this season has shown that they can not only hang with the Nationals-level teams, but also win against those teams. It started with successes at Pro-Elite Challenge and Select Flight East, where they won the whole tournament. Then they moved on to Elite Select Challenge and added victories against Slow, 'Shine, and Hybrid.
In the past two seasons, they've worked hard to make it as far as they can up the regionals ladder in the Great Lakes region, making a trip to San Diego always in their sights. Making the bracket at Pro-Elite Challenge not only allowed them to see how their hard work at practices paid off, but also fueled the team to get to the next level.
Coming into Nationals as the new hatchlings2 on the block is exciting for the team, but can also be a bit daunting. They know some of their experience doesn't stack up to several other teams they will be playing against this weekend, but they won't let that get them down. The team knows they are the most successful in games where they can goof off, play loose, and have fun, and want to prove throughout the weekend how maintaining their culture will generate the on-field results that they want.
"We're trying to be a gritty team," said captain David Picone. "When we go into that, we're just going to bring our energy, cause some kind of frustration for the other team… and win the mental battle as opposed to the fundamental and technical battle."
"The thing that we do best, for us, is have fun with our team," added captain Maddie Pletzke. "We have a lot of energy and hopefully we'll be able to showcase that at Nationals."
Likely Ceiling: Quarters
Likely Floor: Out on Day One
Boston Slow
USAU Ranking: #13
Power Ranking: #10
Regional Finish: Northeast 1
Overall 2023 Record: 21-7
Against the Nationals Field: 5-4
Against the Pool: 0-1 vs. Crocs, 1-0 vs. Lawless
It's been said in previous years, but this season it might actually happen; this could be the season that #10 Boston Slow rebuilds their team enough to cause some mayhem in their pool and in the bracket. Okay, okay, perhaps it sounds like a long shot since they placed 14th out of 16 teams at last year's Nationals, but stranger things have happened3. It's a bit harder this year to know what to make of Slow.
The Bostonians started out with two tournaments where they rolled through their competition at Mixed Easterns and Boston Invite. Continuing their hot streak, they got wins over teams such as #14 'Shine and #16 Lawless at Elite-Select Challenge. Things slowed down for the team at Pro Champs where they only won two games against Toro4. But when many counted them out, they went on to beat XIST and Sprocket to win the Northeast region5.
"All seasons have their peaks and valleys and for us, it's definitely been that. Coming together over the course of four or five months takes a lot of different people bringing a lot of different kinds of effort. A strength of our season so far is that we've been looking at the long game since the beginning. It was really so heartening to see our work pay off at regionals," said Slow coach Sophia Herscu. "[Having a season that is really post-season heavy] was a lot of throwing darts in the dark before getting tested. But, [I'm] really proud of how we were able to put it all together again."
As the team that has made the most consecutive Nationals appearances6 out of all of the teams in the mixed division, they have the experience and know-how to perform at this tournament. Combine that with their recent Nationals performance history over the past few years and you have a smart team with not much to lose. The past few years have been those of rekindling the team's identity and refocusing on the team sets and goals. But they built up resilience and strengthened the team's foundation and structure of their systems to help prepare them to face the challenges they'll see in San Diego this year and perhaps make it out of pool play once and for all.
"I have a ton of faith in the work that we've done this year and the tough moments making us mentally resilient. All we've got to do is show up and trust each other and regardless of what happens there, I know that we put in our all. I'm very proud of the work that we've done," said Herscu."This team has a long and storied history of sticking around even when people count us out. I think last year we weren't ready and this year we are ready that it's going to be very challenging. We believe that we can do very well at Nationals and we also know that it's going to be a ton of work. We put in the work on and off the field (this year) to be able to believe that we can make it through that first day. But nothing is given, everything is taken."
Likely Ceiling: Prequarters
Likely Floor: Out on Day One
Arizona Lawless
USAU Ranking: #17
Power Ranking: #16
Regional Finish: Southwest 2
Overall 2023 Record: 14-8
Against the Nationals Field: 0-6
Against the Pool: 0-1 vs. BFG, 0-1 vs. Slow
After missing out on the Nationals scene last season, Arizona Lawless are back.
In their first season as an established team in 2021, Lawless qualified for Nationals7 and saw their potential to play at the highest level. The moment they lost to Polar Bears in the Southwest regional final in the following season (as the region only had one bid last year), the team started putting in the work for the 2023 season. They upped the baseline conditioning and throwing levels, and everyone on the team was willing to do the work.
"Some years you have teams that really just want to play," said coach Mark Borger. "Some teams can drill on the things that they can or can't do but really it's a team together. We looked at our culture, we looked at our work ethic, and decided it was worth it to make it back."
As determined as they were to qualify for Nationals, Lawless did not have the most straightforward path. At Pro-Elite Challenge and Elite-Select Challenge, they have wins over upper-regionals-level teams but failed to secure a victory over any team in the Nationals field. Every loss at a tournament is an opportunity to learn and readjust and this is what Lawless did, especially with their mental game.
Even though they're a younger team without the experience that many of the teams in their division have, they'll still have ways to play to their strengths to give them success. In doing so, they may just have a chance to shake everything up in their pool because, after all, the mixed division at club Nationals is truly a lawless land. The younger players shine in being unselfish and self-regulating by knowing when to call themselves off of the field if they cannot give it their all. Their legs also want to run. Players such as Lauren Pisani, Travis Dunn, and Kay Powell all can take over games if their defenders aren't careful. If the team, as a whole, is on their game, they will beat their defenders deep, forcing opponents to adjust and open up the rest of the field. At that point, they know they have the legs to carry them the rest of the way.
"As a team, we're ready to show we've got it," said Borger. "All of the work has been validated and the culture we built has been validated."
Likely Ceiling: Prequarters
Likely Floor: Out on Day One
---