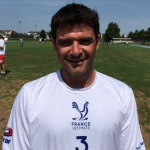 Sébastien "Tinmar" Martineau, a French ultimate player, collapsed on the field in a Masters tournament in Switzerland over the weekend and later died in the hospital from a heart attack.
The tournament continued in his honor and there has been an outpouring of support to the French ultimate community.
Our condolences to his family, friends, and fellow athletes.