Austin's Doublewide comes into 2013 as the defending National Champions, but without a big component of the roster that got them there. With some big-name new talent, will they be able to stay on top?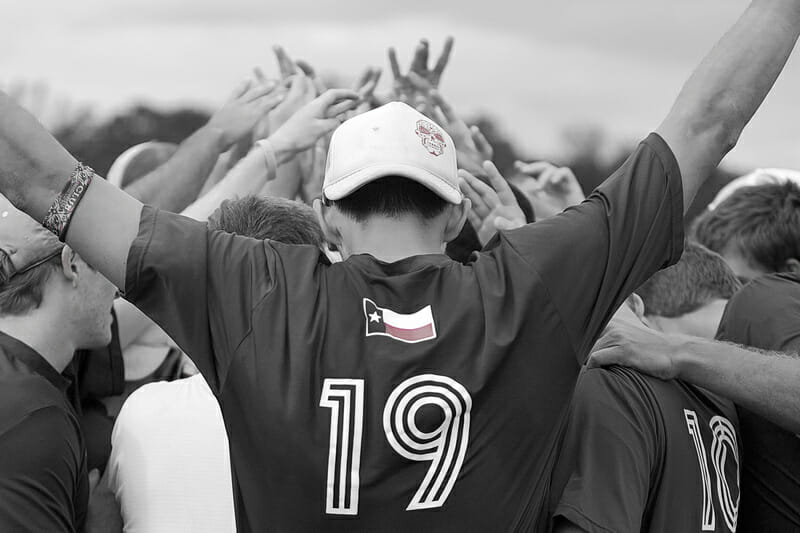 Doublewide finally made it. Since the team's founding in 2001, Doublewide has consistently improved — despite ups and downs — into a powerhouse national program. After missing Nationals in 2006, these are their finishes: 14th, 11th, 5th, T-3rd, T-3rd, National Champions.
Now that they have reached the top, they are going away from what got them there. The team's success in the past three seasons can't be boiled down to any one thing, but there's no question that the influx of talent from Florida — including household names like Brodie Smith and Tim Gehret — was a major component of what finally got them a National title.
With gold medals now in hand, Smith, Gehret, Cole Sullivan, and Chris Gibson are all now leaving the team. The only remaining vestige from Florida is Kurt Gibson (who was certainly the MVP of last year's finals against Revolver). Along with the team's other turnover (five players including O-line stalwart David Melancon and defensive stud Stephen Presley), it's going to take some adjustments.
They all have their reasons for leaving, and may well return in the future. Cole Sullivan just graduated law school and got a job in Florida. He will play for Florida United along with Chris Gibson.
Gehret had a baby at the end of last season and may not even play club this year.
"When you lose guys like Tim Gehret, Cole, and Chris, you can't really replace that on a roster," said Doublewide captain Jerrod Wolfe. Naming Gehret first makes sense — he was phenomenal for Doublewide last year and his chemistry with Kurt Gibson made them one of the most dangerous duos in the country.
But Wolfe is not thinking about last year's team. "We don't talk about 2012," he said. "Even if we brought the entire roster back, it would be a different team than 2012."
That may be for good reason. Doublewide has restocked their roster with some big-name talent that they are hoping will fill the gaps left by the nine departures. The team made waves when they announced their roster by adding back-to-back college champion Pittsburgh's biggest stars, Tyler Degirolamo and Alex Thorne. How they landed two of the country's top recruits is a story on its own.
They've also picked up 6'6″ Ethan Pollock from their regional rival Johnny Bravo, Kevin Christian (2nd team All-Region out of Oklahoma and "a good lefty handler"), and Michael Matthis, who is poised to be a breakout defensive star.
"He's gonna really surprise people," Wolfe said of Matthis, who plays at TCU. "Some of the things he did in tryouts were disgusting." After the first tryout, the Doublewide captains only knew for sure of one player who had made the team: Matthis.
With a crop of new young talent playing alongside Kurt Gibson and the Austin veterans like Max Cook, Doublewide hopes to stay on top of the Men's Division. They'll get their first test at the US Open next week.
"The US Open to us is a good opportunity for us to get guys to get reps together," said Wolfe. Certainly the team has work to do to get their pieces to fit together. However, only 17 players will be making the trip to Raleigh for the tournament. Only around 14 of them will be healthy and playing. Notably, they'll be without Gibson, Will Driscoll, Trey Lamastres, and Jake Anderson. It's unclear whether Degirolamo and Thorne will make the trip.
Although the team is still entirely focused on the Club Championships, they are eager to play at the US Open with a chance to be on ESPN.
"It definitely adds some motivation," said Wolfe. "You put so much time and effort and money into the sport you love…Now you can tell your family, 'Hey you can watch us on ESPN3.' What athlete wouldn't want to be on that stage?"
Even with that motivation, the returning National Champions are focusing on October, not the ups-and-downs of the season. Making Nationals is not nearly enough, particularly in a region where they and Johnny Bravo are pretty clear favorites to make it through every year.
But will they be able to take the Region again this year? Johnny Bravo has some superstar additions of their own for 2013.
"Based on what they've picked up, they might be the favorite to win our region," said Wolfe. "Which is crazy since we won Nationals last year."
The team welcomes the challenge. "When you have a region with two great teams, it forces you to be always on your game," Wolfe said.
And they'll need to be on their game to manage a season with a big crop of new players and a target on their back as the defending champs. But, Wolfe said, they're used to the pressure. Especially since adding the Florida guys, they are familiar with being notorious.
Wolfe summed it up: "If we didn't have a reputation, maybe we wouldn't be as good as we are."