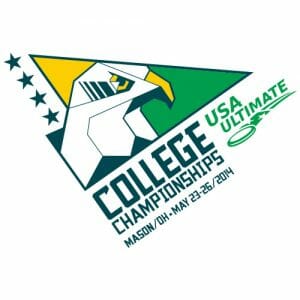 The College Championships approacheth! The impending penultimate tournament has announced the seedings, pools, and upcoming schedule for the Cincinnati event.
This year's field made seeding particularly challenging and has yielded unpredictable pools. Up and down the pools, teams have won and lost against teams seeded around, above, and below them.
Winners
#6 Carleton: The big winner here, perhaps on the back of last season's final appearance, but definitely courtesy of a NW Challenge victory over #7 Stanford. Our predictions had them landing at #11, as they hold losses to two of the tournament's bottom seeds, Kansas and Colorado, plus three other teams seeded below them. Syzygy finished the regular season ranked 13th in USAU's rankings, so their seed is especially surprising in that light. Comparisons with other regional winners do favor them, a side effect of the Northwest's bid amassing and subsequent regional upsets.
#16 UCLA: BLU got out of the pool five seed basement, after finishing 3rd in the Southwest and taking on a grueling schedule. They sport a 17-13 record on the season and have played tight against some top ranked competition, plus BLU has a W against Western Washington. With a strong performance against non-qualifiers, they've lost to only one team below them while beating a top seeded above them. On the other hand, they are 1-15 against the field and finished the season ranked lower than their seed.
Losers
#10 British Columbia and #11 Western Washington: #9 Whitman falls from our predicted #8 spot and into pool three seed territory. They take their Northwest brethren, UBC and Western Washington, with them. Whitman's resume isn't that strong, but they beat Western twice at Regionals and finished third there. Both the T-Birds and WWU would otherwise be placed in much higher places, but they'll settle for three and try to take care of business.
***
Pool A: Ohio State, Michigan, Victoria, Virginia, Kansas
As is customary, the top seed, Ohio State, draws a pool they look comfortable in. There is the excitement of one of the best college sports rivalries — Ohio State vs. Michigan — playing out in the Buckeye state.
After that, it could get messy. #8 Michigan lost their only matchup with #12 Victoria, and #13 Virginia and #17 Kansas have also done battle. Kansas has been gearing up all season to be ready for the elite competition of nationals and could be a dangerous bottom seed.
Stil, OSU has beaten every team in their pool already — Victoria came within three points at Northwest Challenge — and looks unlikely to be threatened.
Pool B: Oregon, Stanford, Western Washington, Tufts, Colorado
#2 Oregon headlines Pool B, but it won't be easy. #7 Stanford took the reigning champs to double game point earlier this season, and #11 Western will be very familiar with them, having lost to them three times by 4 or 5 points each.
Meanwhile, Stanford and Western Washington have had a heck of a history this season. Western thumped Stanford at the Stanford Invite, but Stanford got revenge by a point at the Northwest Challenge. Their rubber match will play out on a much grander stage.
#14 Tufts and #18 Colorado College are not well connected with their pool and their capabilities are tough to analyze. Tufts has performed below their talent level for most of the season and Colorado College is the tournament's most surprising invitee.
Stanford and Western Washington have both struggled with injuries, but have shown they can beat top teams when healthy. Oregon knows how to take care of business, but a fully stocked Stanford is likely to push them.
Pool C: Central Florida, Carleton, British Columbia, Northeastern, Colorado
#3 Central Florida comes into their second nationals ever as their pool's first seed, ahead of more vaunted programs like #6 Carleton. Their impressive resume earns them a lot of respect. They've already managed to defeat UBC and Northeastern (twice), alongside some other high profile victories.
#15 Northeastern is a very scary fourth seed, with a two seed's results, but struggles at Regionals holding them down. Their last game against UCF was only a two point loss, and they won't be intimidated. They've also knocked off Carleton, 12-9, at QCTU, though they'l have to contend with Julia Snyder this time around.
#10 UBC has a skilled and high powered roster filled with inexperience. After a great weekend at NW Challenge, neither the Conference Championships nor Northwest Regionals went ideally. UBC has taken their losses hard, including 15-11 against Western. The talent is there, but this is a high pressure environment for a squad loaded with freshmen.
#6 Carleton has had an up and down year on the field. They lost to both Northeastern and #19 Colorado at Queen City, but rolled that same Colorado squad 15-8 at Northwest Challenge. Syzygy could be rounding into form, playing very well at Regionals and have plenty of momentum going into the familiar setting of the Championships.
Colorado Kali is perhaps one of the country's most talented teams and a capable bottom seed, but are scuffling late in the year. They were foiled at Northwest Challenge, crumpling in all of their losses, and dropped two surprise games at Regionals. Colorado barely got in, after missing the cut last year, and won't want to waste it.
Pool D: Washington, UC-Santa Barbara, Whitman, UCLA, Cornell
#4 Washington Element brings a talented and veteran crew to Cincinnati, eyeing a title, but won't have an easy journey. They've struggled against elite competition, and #5 UC-Santa Barbara offers a potentially elite pool two seed. However, Element has been performing at a high level in the series and looks to be peaking.
UCSB has made it very clear that they are willing to ride their stars to success. With a shallow rotation, the two games a day format could benefit them as much as anyone. The Burning Skirts can go toe to toe with anybody in any given game, but have also been prone to lapses in intensity and game intelligence. They've already beaten #9 Whitman and #16 UCLA.
Whitman returns to nationals a much more threatening team than the pool five seed they were last season. They have a crucial win over Washington, but the circumstances make that win worth less than face value; UW crushed Whitman at Regionals. The Lady Sweets are familiar with UCSB (a Pres Day loss) and UCLA (a NW Challenge win).
UCLA's struggles against the field are documented (in this article, no less), but their schedule has been incredibly difficult. They dropped a single game at Regionals and controlled all of their other games. BLU will be well prepared for the rigors of nationals, but have failed to make a dent against the quality of team they'll face there.
#20 Cornell has little experience against this level of competition, but have some good wins this season and have strong leadership. The teams seeded above them have suffered some surprise losses this year and may open the door for Cornell to pull an upset.