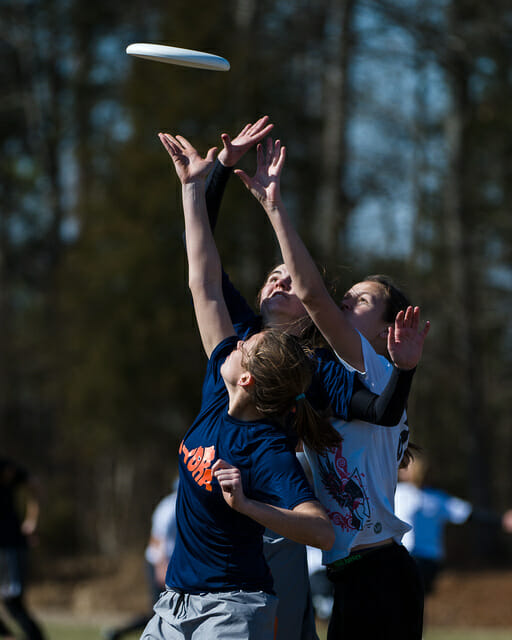 Three of the four seeds have spent time in Ultiworld's top 10 this season, while the one remaining cracked USAU's top 10. They lack big wins this year – UCLA's victory of Western Washington and Northeastern's Ws against Michigan and Carleton stand as the best – but have delivered solid results.
In 2011 and 2012, a pool four seed won their pool, while last year was a down year for the group. Minnesota was a point away from quarterfinals, and who knows what would have had happened had UCSB scored a couple more on Carleton in pool play and made prequarters.
After that, the teams are a bit of a mixed bag. There are two Regional champions in Virginia and Tufts. Northeastern has the strongest resume, but was pinned by falling to Tufts twice in the series. UCLA, the lone west coast representative of the group, has the most experience against nationals competition.
Four seeds always have flaws, so nobody looks like a surefire upset, but you can bet at least one of these teams will be making an impact in Cincinnati.
Virginia Hydra (Pool A, #13)
Yet again, University of Virginia Hydra emerges from a one bid region that featured several hungry and angry teams. Their season, like North Carolina's, contained a full deck of decisive wins but too few trump cards. They beat Kansas and North Carolina at Queen City Tune-Up, but they lost to Northeastern and Central Florida (twice). They rolled through most teams at Bonanza, but they barely defeated Maryland, 14-13. They had high hopes and high stakes at Centex, but they left Austin with a 4-3 record of close wins and losses. And thus, only one team was destined to leave the Atlantic Coast.
The Atlantic Coast Regionals were a bloodbath, but Hydra was able to gain and hold a lead against North Carolina to make it out alive, 13-9. Now they face a tricky pool and a trickier Nationals landscape.
Captain Alika Johnston (DC Scandal) continues to be the favorite name on everyone's lips when they discuss Hydra, and not without warrant: their offense is quick-paced and can rocket toward the endzone through a wide range of looks. But they are only able to do so effectively with Johnston behind the disc making two-step handler reset cuts that most teams can't challenge.
Her speed, her throws, and her experience are the engine for Hydra's game. Rebecca Meeker, Michele DeRieux, and Tess Warner are invaluable wingmen for Johnston, and downfield Sarah Hansen, Jane Mockrish, and Theresa Hackett can grit out long points like seasoned pros.
Virginia is in a difficult position in Pool A, despite being veterans for 4 straight years, in a pool with 3 teams that weren't at Nationals last year, 2 of whom are essentially rookies. The only team they've played this season is Kansas Betty below them, and Betty is a team that refines their game with every rematch. From Queen City Tune-Up to Centex, Kansas doubled their score against Hydra, and they know what Hydra will look for.
Ahead of them, Virginia faces Victoria, Michigan, and Ohio State. All three teams frankly have had better and bigger seasons. Ohio State sits comfortably atop a pool of their own past triumphs, Michigan has looked confident and ready all season, and Victoria's list of losses reads like a VIP list for Nationals. Hydra can give close games to some of these teams, but not all three. They lack the discipline of Ohio State, the depth of Michigan's small roster, and the pedigree of Victoria's season.
Tufts Ewo (Pool B, #14)
When you look at the strange season Tufts has had, and consider the context, it begins to make sense. Last year's Ewo team was anchored by two veteran teammates – Callahan finalist Claudia Tajima and Hailey Alm – with elite club experience and great chemistry. That team was the 5th seed at the College Championships and was a couple of points away from making the national semifinals.
There were questions about how the team would fill the massive voids in production. But the materials were all there. It took time, however, to figure out where those materials needed to go to make a solid structure.
Regionals may have revealed a Tufts team that is turning the corner.
After an underwhelming regular season – prior to NE Regionals, they were 2-9 against teams that would qualify for nationals – Ewo turned it on in the series. They beat Northeastern twice, including a decisive 15-7 showing in the regional final. Less powerful opponents were dominated by Tufts, a good sign for them moving forward.
The weather hit Tufts pretty hard, keeping them from getting a lot of field or game-like practice in and canceling some of their tournament opportunities. That delay is part of the reason they struggled to get their legs underneath them until April.
Chemistry could turn out to be one of the strongest arrows in the Ewo quiver. Their offense relies on the skills and knowledge of a core group. Emily Shields is the most versatile threat, but Michaela Fallon, Mia Greenwald, Jojo Emerson, Alex "Nala" Earle (the team seems to exclusively call her this nickname), Laura Fradin, Hannah Garfield, and Qxhna Titcomb all make heavy contributions. Their time together this season should have them well aware of one another's capabilities and preferences.
Rachel Kramer, Hanna Buechi, and Emily Eibl help spell their top end, but the team is not afraid to rely on that central roster presence.
Ewo has yet to line up across from any of the teams in Pool B, perhaps giving them an edge because their chemistry can give them flexibility opponents struggle to match. Coaches Sangwha Wong and Meriden D'Arcy are intelligent and have a group that understands strategy.
Execution has been a bugaboo, but that change could launch this team into another strong performance at the show.
Northeastern Valkyries (Pool C, #15)
This season the Northeastern Valkyries set out to prove something at every tournament. At Queen City Tune-Up they proved that they deserved notice. After a poor performance in the final against OSU, they battled at Centex to show that they weren't a one hit wonder. They could have looked sharper int he College Series, notching two losses to Tufts, but they were able to snag the second bid to return to Nationals this year.
Northeastern's defense will carry them further in difficult games than their offense can. Their defensive line is aggressive and tall, and their zone may be one of the best in the country, disrupting Sunny Harris and Mariel Hammond's notorious rhythm for most of their last game against Central Florida. Kate Flood and Jenni Ladutko establish dominance in the deep space, while Lizzie Jones and Hannah Walter orchestrate their offense from the backfield.
The Valkyries must be feeling confident entering a pool in which they took the 1st seed to an 11-13 finals loss at Centex. They know how to play Central Florida, and they know what it would take to win; actually winning would require high percentage throws and smart decisions from the Valkyries' offense.
Wind willing, their claustrophobic zone will be fun to watch against the agility and throws of Carleton and UBC. Watch their game against Syzygy to discover how Julia Snyder and Kirstie Barton navigate the Northeastern cup. Syzygy lost 12-9 to Northeastern at Queen City Tune-Up, but without Snyder that game reveals little about the two teams that will step on the field Friday.
Watch their game against UBC to watch height, speed, and talent clash. Northeastern has had a more consistent season so far, but British Columbia's stacked roster of rookie talent could be too many guns for Northeastern to stifle.
Northeastern is a dangerous 4th seed, prowling and ready to pounce on any team that stands in their way. But when the Valkyries lose, they lose to discipline. Their defense is great, but better teams – Ohio State, Central Florida – can lock down and find the smart looks to score. Northeastern has talent and drive, but they will need patience and control to rise in the ranks of Pool C.
UCLA BLU (Pool D, #16)
The Los Angeles ladies played it close this season, finishing just 5.1 points up for the final strength bid for the Southwest. At Regionals, they were able to firmly secure that third bid and qualify for nationals after missing out last season. Now the team is playing with house money.
"In previous tournaments, there was a heavy focus on needing to perform well, in order to secure strength bids," said the BLU captains to Ultiworld. "Having qualified, the team is feeling more relaxed and confident, and our offensive flow has much improved."
UCLA got off to a hot start to this season, posting strong results at the Santa Barbara and President's Day Invites. However, their Stanford Invite and Northwest Challenge performances left a lot on the table and nearly cost them the bid they had fought so hard to position themselves for.
The captains credit a lot of the team's struggles to injuries and struggles with the weather and are eager to put out a healthy and seasoned team. While there are still some injury problems – Margot Stert is one of the team's top players and will be missing the tournament with a broken wrist – the leadership is excited to field a strong roster.
Few teams can match the gauntlet of elite competition BLU took on this year, with an impressive tournament slate that gave them 16 games against nationals qualifiers. The schedule beat up on them, literally and figuratively, leaving them with a 1-15 record against the Championships field.
But their experience has prepared them for the challenges of the show. The time off has given them a chance to recuperate and even implement and prepare for new defenses. It means they have a good sense of what they are getting into and what their opponents are capable of.
"We are thrilled with the opportunity to wreak a little havoc in our pool. Having played both UW and UCSB multiple times, we have a good idea of what to expect, and are excited for the chance to break seed and advance as far as possible."
UCLA has already played against Washington, UC-Santa Barbara, and Whitman; the only team in their pool they missed during the regular season was Cornell. In those five games – they played the pool's first and second seeds twice – they were only blown out once, meaning BLU can compete with even the best teams they'll see in pool play.
There's a veteran core at the center of UCLA. The heart of that core is Michelle "Chip" Chang, a graduate student who came over from UC-San Diego. Chang has the power to launch bombs to UCLA's numerous athletes and constitution to muscle her way through opposing zones. Fellow grad students Kelcie Ralph and Alex Cohen, along with senior Katie Swinnerton, form the rest of that core. The injured Stert will be the only missing piece of that puzzle.
The final bidwinner has a real challenge in front of them, in taking the lessons away from their struggles and turning them into action. It is a straightforward plan that many teams each year fail at, but UCLA's confident that they won't be under the same pressure the regular season brought.