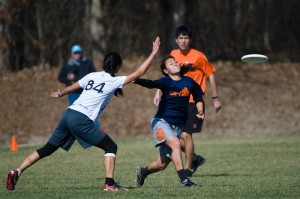 In sports, we're all looking for a winner and a loser. Its a zero-sum game. The competition for the 10 strength bids allocated for each year's College Championships follows the same rules: in order for a team to gain one, someone else has to lose one.
As one of the year's most competitive tournaments, and occupying a late season slot in the schedule, Women's Centex is often the last chance a team has to make a move in the rankings. Teams are also gearing up to peak in the series, meaning the quality of play can often be more representative of a team's actual ceiling.
The Atlantic Coast enters the tournament with work to do to protect their somewhat precarious two bid status. And this time, Virginia Hydra (#13 USAU, #5 UW) and North Carolina Pleaides (#17 USAU, #17 UW) won't have the support of a third team; Maryland Helpful Corn may be in Division I, but is essentially eliminated from strength bid contention.
The Ghosts of Yesteryear
Last year, it was the Atlantic Coast region finding themselves without. UNC-Wilmington Seaweed and North Carolina Pleiades fell just 3 and 7 points, respectively, behind the final strength bid. So close, yet so far.
Facing a tournament where the reward was only a single ticket to the show, teams in the region ramped up their intensity in preparation for the grind of regionals. The pressure was on.
"There were still plenty of nerves going into Regionals," said Virginia captain Alika Johnston.
The impact of Women's Centex on those rankings cannot be understated. UNC and their Wilmington rivals were a combined 7-7 in Austin last season. Neither was helped by lackluster results from fellow AC squad, Virginia, who suffered two blowout losses and failed to beat any team ranked above them.
"Our team was definitely disappointed in the way we had played in our earlier fall and spring season tournaments. It made us reflect on the way we approached the season, and taught us valuable lessons for this year," said injured UNC captain Lisa Couper. "Thankfully our coaches always push us to ignore the uncontrollables."
Atlantic Coast regionals was a bloody affair, with tight games in the bracket among the big three, with top seeded Virginia punching their ticket in a 15-12 win over UNC. Touted North Carolina would see their season end, just a round later than future Callahan winner Claire Chastain and her Seaweed teammates had concluded theirs.
"Our team was pretty devastated after not making nationals last year. The strength of our program in recent years seemed to make going to nationals every year an expectation," said Couper. "It was definitely a shock for us to have our season end at regionals."
The Hard Way
The regular season so far has not lived up the to talent within the region. Virginia and North Carolina have each peaked at #5 in the Ultiworld power rankings, while James Madison has also spent time in the top 25.
Pleaides' results are littered with inconsistency. A 4-3 turn at Queen City Tune Up included wins over Tufts and Kansas, as well as close losses to Virginia and and Tufts. However, they also dropped their opening game against Florida State.
It was less than seven days later that UNC was back in action, traveling across the country to California for the Pres Day Invite. They'd return to Chapel Hill with six additional red marks in their results – all against top 25 teams – and with four wins over unranked opponents. The weekend echoed last year's flop at Stanford Invite, the last time the Carolinians made the trip to California.
The team doesn't think the decision to play back to back weekends of high level Ultimate hurt them as much as the effects of the travel and the weather.
"We planned our season around those tournaments being back to back and for taking mental breaks where needed to avoid burnout and injury. Unfortunately weather made the travel to California very stressful and many players almost didn't make it," explained Couper.
The Easy Way
Meanwhile, Hydra was been without elite competition since Queen City Tune Up. No top five team has less on their resume, and while early season expectations for Virginia were high, we simply don't know if they are that team yet. Their only marquee victory is that one point win over North Carolina. During their tournament victory at JMU Bonanza, they were nearly dethroned by Maryland, escaping with a 14-13 win.
Part of their weaker schedule comes from the weather cancellation of their home tournament, Winta Binta Vinta Fest, where the Atlantic Coast's top squads battle it out in early season battles.
Women's Centex will be a step up in level of play.
"QCTU was a bit of a wake up call for the team. It was our rookies' first exposure to elite competition, so that got some of them hooked and raring to go," said Johnston. "That excitement from our new players and strong group of returners has certainly carried over into our practices."
Amped up practices are a good start, but experience may be Virginia's ultimate weapon against the challenges of Centex.
"Last year's tournament…taught us a lesson about mental toughness in general," said Hydra captain Melanie Chastka.
"The schedule is grueling – every game is meaningful and extremely competitive," added Johnston.
It Starts In the Frying Pan
The AC teams won't lack for opportunity. Virginia will draw in with Texas for the first time this season and North Carolina gets a rematch of their double game point CCC matchup with Central Florida. Unfortunately for both, a crossover with each other's pool — plus Maryland joining Virginia in the three team Pool C — means the AC could see quite a bit of each other in Austin.
With competitive teams even stocking Division II, both teams can expect opportunities to boost their ranking and protect their second bid. That means they'll also be given every chance to throw it away.
Both leadership groups are downplaying the importance of the bids, keeping their teams focused on the field and on outscoring opponents. Pressure, however, has a way of creeping into team's collective psyche, even when they don't want it to. Fortunately for both teams, they already know all about it.
"It's such a great opportunity to see strong teams from all over and close out the regular season," said Virginia captain Sarah Hansen.
"It's by far the team's favorite tournament of the year," concluded Johnston.