USA Ultimate's observers are increasingly making subjective, active calls. Does that make them referees?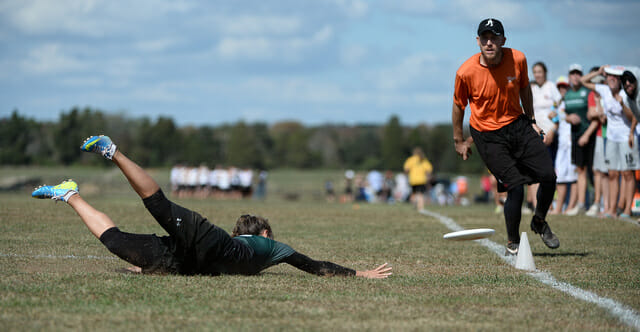 I recently wrote an article that discussed (among other things) USAU's challenges in holding to their gender-equity policy. Whether or not they had been fully following the gender-equity policy was not clear.  In the article, I made the case that, since the gender-equity policy was one of the ideological pillars for USAU's position of not partnering with the semi-pro leagues, USAU had an even greater responsibility to be transparent about how they were following it themselves.
Another of USAU's ideological pillars for their policy regarding the semi-pro leagues is their position on observers versus referees. USAU's published policy is that they endorse the use of observers and not referees. The policy defines the main difference between observers and referees as follows:
The primary difference between Observers and Referees is that Observers shall not make active foul and violation calls of a subjective nature, while Referees are empowered to make any call authorized in the rules, bylaws, officiating guide, or any set of tournament ground rules. 
In their position statement regarding the semi-pro leagues, USAU claims that since the semi-pro leagues employ officials that make all active foul and violation calls, including those of a subjective nature, the leagues are using referees. Therefore, USAU can not support the semi-pro leagues without violating their own long-held policy regarding observers and referees.
While USAU's adherence to their gender-equity policy is, at least initially, a question of transparency (it is not clear, at least to me, whether or not USAU is fulfilling their obligations to their gender-equity policy), USAU is clearly falling short when it comes to their policy on observers.  Beginning at the 2014 College Championships, observer roles expanded to include issuing team misconduct fouls (TMFs) even when players on the field did not call fouls or violations.
This is a critical philosophical change for USAU and one that puts them at odds with their policy on observers and referees. Fouls like defensive contact downfield and contact on the mark are clearly subjective, at least as much as any foul or violation that is covered in the rules. Determining who initiated contact and judging whether the contact affected play is far more subjective than a ten-second stall count, a travel violation, or a double team. In fact, if foul calls are not subjective, than USAU's policy makes no sense at all. 
And while the TMFs are typically issued without stopping play, that does not make them any less "active." The observers, rather than the players themselves, are inserting themselves into an officiating role and dictating how physical the play can be. Not only is this "active" and "subjective" officiating directly in contradiction to USAU's written policy, it upends many of the great benefits of self-officiation that USAU has long claimed: Players themselves are responsible for defining the implementation of the rules and must learn the rules, are responsible for following the rules, and must use their voice to advocate for themselves when they believe the rules have been violated. And when disagreements arise, players must develop and use conflict resolution skills so that the game can continue in a mutually acceptable way. These benefits are at the heart of the idea of a "Spirit of the Game" that goes beyond the rules of the game.
And this isn't just theory. As a coach of a team that will play in games with these newly defined observer roles, I have to make decisions about the best use of my team's time at practice. In previous seasons, it was clear that for my team to be successful we needed to understand the rules of the game and how to implement them ourselves. We spent time at practice dealing with following the rules and making and resolving calls. This new observer function means that the observers, instead of the players, are responsible for ensuring the rules are followed and reduce the need for my team to work on these aspects of the game in practice.1
And, on the broader level, if USAU cannot hold themselves to their own policy it is hard to defend using that same policy as a key foundation for not working with the semi-pro leagues.
***
This article, as was my critique of the USAU's gender-equity policy, is hard to write. I strongly support USAU's policy on gender equity and this one on observers vs. referees. I also believe that our best hope for the sport is a robust player-controlled organization that holds strong core values derived from its membership's will.
The risk of critiquing the USAU is that players become cynical about the organization. As our trust erodes, so does our ability to move collectively. Instead of one organization that speaks for the sport and works closely with others (like the semi-pro leagues) to brand the sport and move it forward, we have many organizations each working completely independently. As this happens, we lose out on creating a cohesive, powerful brand for the sport, and more importantly, the sport has a significantly reduced positive impact on the players who play it and the larger culture around the sport.
I believe that the best way forward is to believe in the ability of USAU, while being engaged in USAU's decision-making processes (surveys, feedback forms, voting for board members, and communicating with the board) and working to hold USAU accountable to its values and policies as well as to a higher level of transparency.
The last few weeks have seen me critique USAU's implementation of their gender policy and their observer policy. Meanwhile, I've made the case that it's in the best interest of the semi-pro leagues to hew closer to USAU's stated values. While some have said in comments that I'm pro-USAU, I hope it's clear that I'm in lockstep with a vision for the sport, not any specific organization.
---
We will still use time at practice this season to cover these topics because I believe that even if it doesn't contribute to our success at Nationals it is a big reason why I coach Ultimate and not other sports and it is my responsibility to help teach these concepts to players. ↩