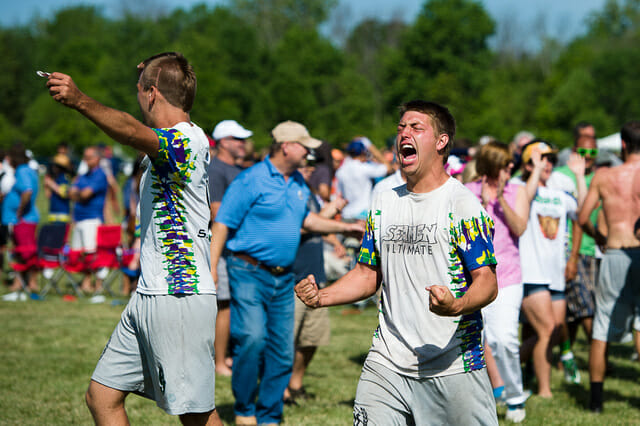 It's been a great 12 months for the UNC Wilmington program.
After stunning regional rival UNC Darkside and walking away champion in the Mid-Atlantic Region, last year's squad went on to knock Pittsburgh out of the quarterfinals in Cincinnati an an instant-classic game. It was the cap on a roller coaster ride through pool play and pre-quarters that culminated in three straight double game point victories. UNC got their revenge in the semifinal, but UNCW temporarily bucked the title of underdog and surprised the competition. UNC Wilmington has thrived as the underrated competitor.
In 2015, UNC Wilmington will have to do more than beat the odds and surprise top contenders — they'll have to live up to new national expectations.
Overall Indicators
2014 Nationals Finish: tied for 3rd, entered seeded 5th
Mid-Atlantic Region: 1st
Big-game wins in crunch time despite losses at every regular season tournament in 2014
QCTU tournament victory over strong UMass team
Positives
Returning standout handlers Xavier Maxstadt and Luke Hancock
Downfield explosiveness from Jack Williams
Dedicated and experienced coaching from Greg Vassar (2014 Ultiworld Coach of the Year Runner-up), Brian Casey, and Tully Beatty
Permanent chip-on-shoulder gives them fiery energy
Concerns
Some important losses including Robert Goode, Nick Jackson, and Truman Nottingham
Finding consistency early and winning the games that matter on Sunday
Succeeding with more public attention and pressure
Season Outlook
Much in the way that regional rival UNC returns a top-notch backfield duo, one of the most standout factors for UNC Wilmington in 2015 is the combined throwing prowess of Xavier Maxstadt and Luke Hancock. Maxstadt goes beyond the label of creative handler. His flick huck is a force to be reckoned with, and it will continue to force defenses to respect the deep shot. He's been given the full green light by the coaching staff to throw anything at any time, and it's paid off early this season. The Seamen will likely benefit from a lot of open field underneath initially with these two at the helm.
Coach Greg Vassar, also a notable talent for the program, expects to run his sets using that space. Though Goode, Jackson, and Nottingham are all irreplaceable in their maturity and experience, Williams had a breakout year in 2014 and was a lightning rod receiver. He'll be a good fit with newcomer Kevin Mateer, a highly skilled rookie making a rare appearance for the Seamen on the offensive line.
"Looking back, it's pretty rare for a freshman to get PT on O for us, so he'll have to maximize his chances. He's done a good job so far this past fall," said Vassar about his rookie talent. The Seamen also return another explosive talent in Eric Esposto, who compliments Williams' leaping presence with plus speed.
UNC Wilmington will (like Darkside) benefit from the wealth of talent created by the Triangle area's excellent YCC teams. Mateer is joined by YCCers Grayson Sanner and Willie Stewart. "That [experience] is nice to have and somewhat rare for us," said Vassar. "Our on-campus recruiting has also landed us the most athletic group we've ever had."
Discounting what the growth of the youth division has done for UNC Wilmington and its regional rivals would be a huge mistake. Vassar and his players are able to take large leaps in progressions with their top players, placing more of a work load on younger athletes who are now entering the program with much more experience. With fundamentals less of a concern, the Seamen will try to blend their top rookies into their systems early and find their rhythm early this season.
That'll be no small task with the toughest schedule the team has under Vassar and without some of the mainstay leaders the Seamen have relied on in recent years. Mark Evans, Tommy Lamar, Jackson, and Nottingham have all departed. "I think [the schedule] will be a definite challenge for our guys to adjust to," Vassar observed. "Off the field we will be challenged by the expectations we've set for ourselves in practice and in off day workouts." The task of guiding the team through these challenges and adjustments will fall to Maxstadt, Hancock and their fellow captain and vital defensive handler Charlie Lian.
Where 2014 may have afforded the team the opportunity to surprise with both systems and athleticism, these captains have their work cut out for them in 2015. The Seamen face heightened expectations beyond their own and will contend with last season's legacy and their reputation with more public attention this year. What else would you expect from such an impressive run to the semifinals?
No coach or captain should plan to have every victory be an extremely close game, but the Wilmington program succeeded repeatedly in games decided by two points or less on the national stage last year. There was only a single break point scored in their quarterfinal knockout of Pitt — and it was the double-game point throw from Maxstadt. The Seamen didn't just hang with the best in the country last year, fighting for scraps. The beat some of the best and earned a place in the top four teams in the Men's division. Overcoming any expectations based on last year's performance could be the toughest battle ahead for UNC Wilmington in 2015.
"2014 doesn't matter anymore," said Vassar. "Any energy focused on that will be a waste and something we've specifically talked about avoiding."
2015, then, would be at the top of the list and, after a rocky debut at Carolina Kickoff, the Seamen made their first big statement of the season with blazing run through the competition at Queen City Tune Up. The Wilmington of 2014 faced some adversity and inconsistency at QCTU — this year's team faced neither. Maxstadt, Hancock, and Lian were in full control of their units on both sides of the disc. Opposing markers offered little challenge or resistance for Maxstadt's length and Hancock's confidence, much of which may be due to their quickly building chemistry. Vassar worked with nine players in rotation for offense, keeping things tight and trusting that the versatility of this throwers would help his cutters threaten all parts of the field.
Lian, ever-present on the D-line, led the charge with a much larger rotation. While his co-captains made appearances on defense in bracket play, Lian thrived with an athletic rotation of newer role players. The Seamen's recruiting certainly seems to have stepped up its game and even before the scholarship comes fully into play, they're reaping the benefits. The newer talent will give rise to new and adjusted defensive sets designed by Vassar and Casey, giving them greater flexibility on defense.
As of our latest college power rankings, the performance at Queen City bumped Wilmington up a few more spots, placing them at #5 overall. They'll hang around in the top 10 at this pace, as long as they can keep their mental game in line.
The pieces are there for this team. There's no shortage of offensive talent or athletes on defense. If they plan to return to the semifinals, the Seamen will need to win more games convincingly at later season tournaments and give themselves a bit of a tailwind headed into the post-season. And how will they do that?
"By not focusing on any other team other than the Seamen," said a definitive Vassar. "Getting caught up on what another team is or isn't doing is a trap we have to avoid."
That's a big ask, but it certainly isn't out of the question.
Likely Ceiling
A finals appearance. This is as strong of an 'up year' that most college teams will get and they have all of the parts that they need to excel again — coaching, throwing, cutting, defensive schemes.
Likely Floor
Quarterfinals exit. It's a long season and Wilmington doesn't have much experience 'playing with a lead' in the early season. Can they continue to progress throughout the spring?