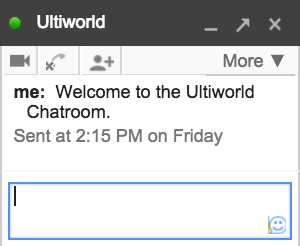 This is the first article in a new experimental series, Ultiworld Chatroom, where Ultiworld writers gather on Gmail chat and talk casually about ultimate. Be sure to let us know what you think — and email us if you think we should include you in our next chatroom session.
Charlie Eisenhood
Welcome to the first Ultiworld chatroom.
We have no idea how this is going to go, but we are going to throw a dart here and see what happens.
Tad Wissel
It's been a while since I've been in a chatroom. So i'll start.
A/S/L?
CE
lol AOL throwback.
I still remember when we did everything online through one portal.
TW
Alright. Alright. I've regrouped. I'm ready.
CE
Today, we're talking Warm Up — and the general, big picture of Men's College ultimate.
First topic of conversation: how the hell does Pitt go from looking like they'll lose at any moment to then destroying everyone on Sunday?
TW
Experience.
Everybody says "Hey we want to win Nationals" and claims that as their goal. The difference is that Pitt has been there and done that – and had enough missteps with good teams to know what they need to do in February to get there.
Everybody wants to win – now, tomorrow, whenever – but most of all, Pitt wants to win in May.
CE
I have to say, though: we see two different offenses out there. One on friday and saturday. Another on sunday. I think they have a real issue with staying focused and motivated in every game.
It was the same thing that cost them vs. UNC Wilmington in their shock loss at nationals last year
TW
I'd agree with that.
Pitt has struggled with motivation against teams they have no history with. When the chips were on the table against FSU, Pitt came to play.
The biggest thing — Pitt was playing some open D lines at the end of the Arizona State game in semis. There was a foul/contest situation and ASU ended up scoring. Some younger Pitt dudes were jawing at ASU guys and captain Trent Dillon, in a game with no observers, said, "Hey, Pitt, let's watch our vulgarity and move on."
You and I saw it at Club Nationals. Swearing gets you penalized in today's USAU game. Trent Dillon is getting his team ready for the big tournament.
CE
It is a long game. For sure.
Before we move on, I do want to address what I thought was the most remarkable quote from your recap of the tournament.
"[For] a team that's as good as we are, we layout less than anyone else at the national level," Pitt assistant coach David Hogan told me following their semifinal victory. "It's soft, it's embarrassing, and it's something we need to fix. It's not anything other than we're just not doing it."
Those are some sharp words coming from a coach!
TW
Dave Hogan said that to me off the record and I asked him to repeat it into my phone.
To me, this team wants to get tougher. Mean and nasty still goes a long way in college Ultimate.
CE
They lacked toughness last year. They have appeared to lack it at times this year as well.
TW
The coaches realize that too. Hogan went on to say, "We counted five times in the first half [against ASU] where if our player actually laid out it was going to be a D."
Props to Pitt for coming up with things to work on.
No more deadly a poison in college Ultimate than thinking you're good. Pitt certainly trails similar teams in Ds. If Kaczmarek and Hogan can get that number up…
CE
OK, next topic: is the North Central starting to slip? Carleton made semis in 2013 but it's been a couple years since we've seen a really good NC team. Wisconsin doesn't look close to semis-quality this year.
This appears to have been correlated with a meteoric rise in quality from the North Carolina teams and the southern teams.
TW
They're playing good Ultimate down south right now.
CE
I should note: both Carleton and Wisconsin made semis in 2012 (and of course both have had incredible historic success).
TW
You have to wonder, all things created equal: tons of freshmen who have played in high school, greater knowledge of the game…
North Carolina teams can be outside all year long. How significant is that?
CE
Unclear (and perhaps entirely unproven) in the short term, but it may reap dividends over the course of years through HS and College.
TW
No doubt.
CE
i certainly don't want to be seen as saying Carleton won't be a threat — they had one of the best recruiting classes in the country this season (if not #1). And that's typical. They are stacked with youth talent.
They could well win a title next year.
TW
Wisco is still a ways away. Carleton is the toast of the North Central.
CE
BUT, I think the North Central has faded in its aggregate strength.
I think the workout culture that Wisconsin lived and breathed in the 2000s has been caught up to by the market.
They aren't simply faster and stronger anymore.
TW
Carleton is good. They could be great. More so than any other team, they are affected by the seasons.
That's true about Wisconsin.
I don't think you'll ever see a team like the 2007 Hodags win a National title ever again. They were the '85 Bears of college ultimate.
They could huck it away and set man. They could huck it away and set zone. That was a great team…in a different era of college ultimate.
CE
What will they call this era of college ultimate?
TW
Hah. Right now… The Era That Everyone Was Good?
Look at that 2007 Wisconsin team. That was eight short years ago.
There were less guys playing in high school, leagues, pickup (I'd love to look at the UPA member numbers vs 2015).
Ultimate is a reps game. Time on task.
CE
Talking to coaches around the country, you hear the same thing.
These rookies, man.
TW
Lot more playing these days.
CE
we are seeing baller rookies on teams all over the place:
Brett Gramann throwing dime hucks for UMass as a key handler.
Nathan Kwon, perhaps the most important cutter on the O line for UNC right now.
Sol Yanuck starting on offense for Carleton.
TW
Yep.
CE
Kevin Mateer for UNC Wilmington
TW
That's the thing; college teams don't just automatically take freshman that can throw a flick anymore.
CE
What's impressive to me is not just their skill; it's their poise.
Not scared of the big game.
Maybe that's the benefit of U19 teams and the like — it preconditions young players for meaningful roles on college teams
TW
Yeah, look at some of those guys you named. Gramann, Yanuck… U19 guys.
But, now high school kids are playing against those kids and, as the bullshit gym by my work has written on the wall, "Iron sharpens iron."
I think the great freshman have a lot to do with it, but i think better coaches have a lot to do with it as well.
CE
Very true — the coaching quality has just shot through the roof over the last 5 years.
So a final thread: what teams from warm up are best positioned to be good in May? And which are overvalued right now?
TW
Alright… I'll get a little crazy on you… not too crazy…just a bit…
In order, give me Pitt, FSU, UCF, Carleton, Texas, and Florida.
Challenge me.
WHO DO YOU HATE AND WHY DO YOU HATE THEM?
CE
Carleton will whoop on UCF in May.
The reality for UCF is that they are emotionally volatile and they get swept up into highs and lows.
Look at Nationals 2013. They narrowly avoid losing to Dartmouth in quarters — flat.
Then they play the best game of their season – by far – against carleton. Everything going right. Incredible celebration after the game.
Pitt punched them in the mouth in finals and good night. Party's over.
They had no chance.
They still play the same way today!
Team looks different, sure. But they have this huge emotional comeback win over Carleton on Friday, then just embarrass themselves against Illinois
the next morning.
Highs, lows, emotions. They are dangerous, for sure, as emotional teams are (see Ring of Fire)
But they are not contenders
TW
Give me the emotional bullshit and the talent, instead of the poise and no talent any day.
UCF is going to fix that stuff and the reason is because they have no choice.
Give me your six.
CE
OK, I digressed. My top six from Warm Up in May:
Pitt, FSU, Carleton, Texas, UCF, Florida.
I am a believer in Florida State this year. But they have to improve their defense and get better over the next three months. They cannot rest on the laurels of a warm up finals appearance or they will get crushed.
They look like the Southeast's best team, though.
TW
That they do. And as I sit here, trying to find a way to put a picture of Deion Sanders in his Florida State uniform on here in a way that people will be able to see it, I cannot disagree.
In all seriousness, I like FSU's approach. Their coaches command the huddle. I expect them to win the Southeast and make Nationals, but it is to their benefit to be tested again beforehand.
CE
Tell me why i'm wrong about my six
TW
You have the right six. Just the wrong order.
It's no secret, the open field is anyone's game.
I wanted to put A&M in there but I don't have enough room.
CE
I like A&M, but not over those teams. I like Arizona State, but not over those teams.
Big sell on Wisconsin. Like the defense — offense was nowhere to be found.
TW
I like ASU too – especially in the Southwest.
Phew… Wisconsin has some work to do offensively.
After being up 4-1 against Texas in a game that was – moderately upwind/downwind – Wisco elected to punt. Then they got rocked, 13-8.
It's great that they trust the defense that much, but at the same time, you're asking your defenders to go out there and gamble with every break chance. Talked about it in the recaps – the Hodags need to get healthy. Eight guys out of cleats come Saturday of Warm Up.
CE
That obviously has a big impact. They'll surely get better, but they are a long way from the team that won Warm Up two years ago.
Let's finish with this: which Regionals will be most exciting?
TW
SPOILER: Not the Ohio Valley.
I've got to go with the Southeast. FSU is up this year, then you've got proud teams like UCF who are going to be blood-n-guts like sniffin-gun-powder hungry to prove everyone wrong, then Florida who has the system to steal the show.
Oh, wait… Georgia? That's a team that exists, right?
I'm going Southeast. It should be fun.
What region do you like?
CE
I think that the Southwest is going to be a blast again. They will get shorted with bids again and there will be immense pressure on ASU. Teams like UCSB and Stanford are going to be right there.
Good times. Let's do this again soon.