Spring training started for a lot of teams this weekend in Florida, both in baseball and ultimate.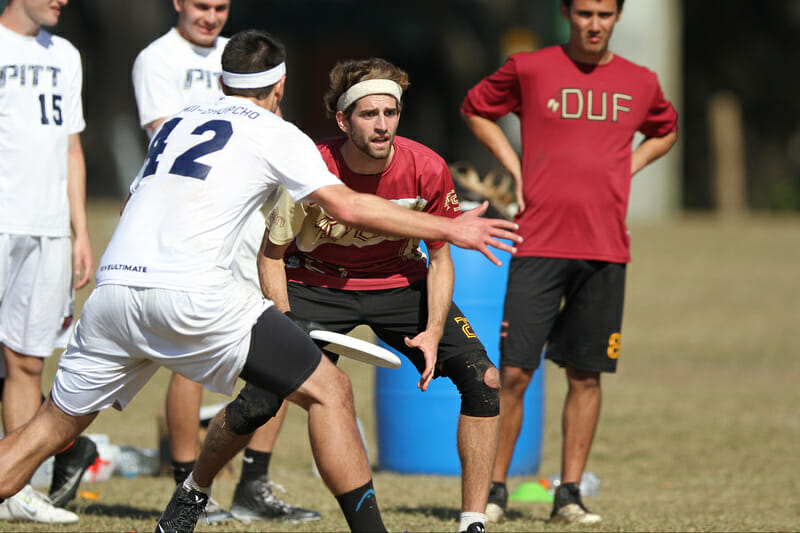 For more coverage of Warm Up including some detailed looks at teams mentioned below, see our Friday and Saturday recaps, our Saturday night podcast, and the finals, semis, and quarters recaps.
It's early. But it's not that early.
The spring season is in full swing and, for many teams, Warm Up: A Florida Affair provides the first chance to get outside and play some elite competition. The tournament might have been a little light on upsets but it was heavy on parity as every team, even those playing late on Sunday, left with plenty of things to work on.
Baseball isn't the only sport doing spring training in Florida.
Arizona State: Nationals or Nothing
"That's why we come to these tournaments. Even if it is to lose to some great teams," Arizona State coach Fernando Lugo calmly explained to me after Prime's semifinal loss to Pittsburgh. "We'll take the learning and the experience to become the best team in the Southwest. [ASU]'s not a team. It's a program."
If the goal is to be a program, beating Texas to get into the bracket then toppling Florida to stay there is an effective way to make the announcement.
Prime has a core of guys that can really play, including Nate Bridges, Danny Bellissimo, and Andrew Kohl, who Lugo believes to be the best defender in the Southwest. Now they're spending the money to traveling to play good teams outside of their region and get meaningful reps against top competition.
Lugo knows a thing or two about great programs. He won a title his last year of college with Florida in 2010. Not a bad model for what a destination Ultimate school can be.
"Stanford is going to be the next step," Lugo said. "We'll see what we can do after we start running our track workouts and whatnot. We'll be ready."
A little bit of confidence can go a long way in the college game. After Warm Up, Arizona State should have a lot of it.
Here's a fun moment from the weekend. Lugo was coached in his final year at Florida by none other than Cyle Van Auken, who ASU played and defeated on their way to the semifinals.
Arizona State called a timeout late in the game against Florida. Both coaches made their way out to talk to their team on the line. Van Auken yelled to Lugo something like, "Hey. I'm timing this." By my assessment, he was not kidding.
Pitt Plays Rope-A-Dope
Looks like Pitt had everybody fooled after Friday and Saturday. When it was time to play their best Ultimate, they did. As we saw in a 15-7 win over Florida State, that best game is pretty good.
This team knows they need to keep improving. During the semis against Arizona State, you could hear Pitt coaches yelling "Hit the floor!" when their players had a shot at the disc while on defense. They don't want to be reminding players during the series.
"[For] a team that's as good as we are, we layout less than anyone else at the national level," assistant coach David Hogan told me following their semifinal victory. "It's soft, it's embarrassing, and it's something we need to fix. It's not anything other than we're just not doing it."
There were noticeably more bids in that game than in pool play. Laying out on D is cultural. (See: FSU). We'll see if this new focus generates any momentum moving forward.
Something else notable that Pitt did was take a couple O line guys and sprinkle them in on some defensive points. Not true "Kill Lines" like we've seen where they march out their clear top seven. Just a one or two guys from offense who can play D and regulate on a turn.
There's a lot of big game experience on this young roster. With one tournament win in the books in 2015, get your popcorn ready for Stanford.
Florida State Still Very Much A Contender
There are two silver linings to a blowout finals loss like the one FSU just experienced. It's still early and Florida State knows what to work on.
"We just need to focus on getting better," FSU assistant coach Matt Childs told me at halftime after citing a number of adjustments DUF would need to make then execute. "The result doesn't matter. If we get better – that's the goal."
Defensively, Pittsburgh abused FSU with strike cuts. Pretty simple.
On offense, Florida State stared down field looking for break cuts or deep shots. DUF had a few stubborn turnovers that way, not getting to or engaging the reset soon enough. That's stuff you can't do when you play the best teams.
It is all fixable stuff. Coaches Peter van de Burgt and Matt Childs know that. This group still had a great weekend. Undoubtedly the second best team at the tournament. It's early, but with a top three like Chris LaRocque, Andrew Roney, and Connor Holcombe, this team already has a high floor.
Watch — with that athlete heavy defense and a great deep game Florida State is going to blow teams out a lot this year. Whether or not they're able to flip through the rolodex and find a possession game when they need it will determine if they're headed for an early exit or singing the Seminole Rap come May.
Regional Implications for Illinois and Northwestern
Northwestern went 0-7 through the first two days and wouldn't find themselves in the win column until consolation play. Meanwhile, Illinois quietly went 4-3 with the upset of the tournament against Central Florida. Last year it was Illinois looking up at NUT in the Great Lakes standings. After last weekend the boys from Champaign look like they have a good shot to get to the regional final.
Florida is Fine
It's not the worst thing in the world for Florida to get an early reminder of what can happen when you come out flat. They got a teachable moment for coach Cyle Van Auken and his squad. Florida dug a 7-3 hole in their bracket play game against Arizona State. Van Auken made some great adjustments and the next thing you know it's 8-8.
They'd go on to lose but they did some encouraging things. Florida was able to score against ASU's tough zone by both making a ton of passes and with Bobby Ley's huge, creative throws. That's something to look for in good college teams; they know when to let their stars shine and they know when to play the system. Florida isn't going anywhere.
Report: Carleton Ultimate Team Sees Grass For first Time Since..?
CUT gained strength as the weekend went on, which seemed to be a direct result of actually playing outside. Even though their Warm Up was bookended with losses to Florida State, Carleton posted blowouts over lesser teams and more-than-solid wins over Florida and Central Florida. Pretty soon they'll be outside all the time and then who knows? Even through the blustery winds of Tampa, Carleton still moved the disc well. Justin Lim is the reset king of the North Central.
Texas A&M Looking to Balance Attack
Not much to say about Dozen that we haven't already said. They're a very good team right now but if they can figure out to work with Matt Bennett off the O line and as the field general on the D line… look out. Bennett finally saw some meaningful time on offense when Pittsburgh went up 9-8 in pool play, though don't expect that to happen every time A&M stalls offensively. Coach Jose Cespedes seems content to trust the process early in the season.
"The plan is to not have to do that but we wanted to get our defense back on the field," Cespedes said following their pool play loss to Pitt. "It's not something I plan on having to do much. The O line will get better."
Dalton Smith was clearly still not 100 percent and worked behind the disc on O. Ben Lewis and Bob Lewis stood out with their play as well, including Ben Lewis' monster layout grab to take half against Pittsburgh.
'Next Man Up' For Texas
We talked about guys like Chase Cunningham, Joel Clutton, Dillon Larberg, and Logan Kinney stepping up for Texas at length in the recaps and on the podcasts.
When you go back and look, none of those guys were able to steal any spotlight from their bell cows last year – at least in the minds of All Region voters. Well. These are your new studs, and they carried the water for TUFF this past weekend.
After their comeback turned blowout over Wisconsin, I asked coach Calvin Lin what Texas still had to work on.
"We've got a lot of new guys," Lin said. "They've just got to get used to this level of play."
Warm Up is a great place for getting young dudes high grade points and valuable experience.
Growing Pains For UCF
They call them growing pains because, you know, you're growing.
With a small roster and a lot riding on their stars, Central Florida has that "College Ultimate 10 years ago" feel — and I love it. The dogs still have the playmakers. They have enough role players, too. There just won't be that luxurious depth.
After an injury to defender Chad Russom early on Friday, UCF was down to 19 guys in cleats.
The mindset is different with a small roster. If someone is playing poorly it's not so easy to take them out and let them think about it from the sideline. Starters need to simply play better, and make that adjustment from the field — something the Dogs couldn't do in the Illinois game Saturday morning.
This team looked uncomfortable at times during Warm Up. Mixed results bear that out. But when they're on, they can beat A&M and Carleton.
The Dogs will be right there in the Southeast.
The Southeast Region
Man, Southeast Regionals is going to be a great tournament. Florida State, UCF, and Florida really represented themselves well at Warm Up with three teams in the top six. Some other teams are lurking just behind the big three, including Georgia and Auburn. This region tournament is going to be…spectator friendly.
Wisconsin and Tufts Still Without Big Wins
These two teams are in similar spots. Both teams beat who they were supposed to and stopped there. That shouldn't last long. Wisconsin will get healthy, which should help to create some offense. Tufts had a sniff at a quality win against Texas but found themselves behind in the first half and made the adjustment from zone back to man a little too late in the game.
Hey, these guys could have lost the games they were supposed to win. Look for Tufts and Wisconsin to round into form.