Schwa took home the third bid as Riot won its fourth straight Northwest title.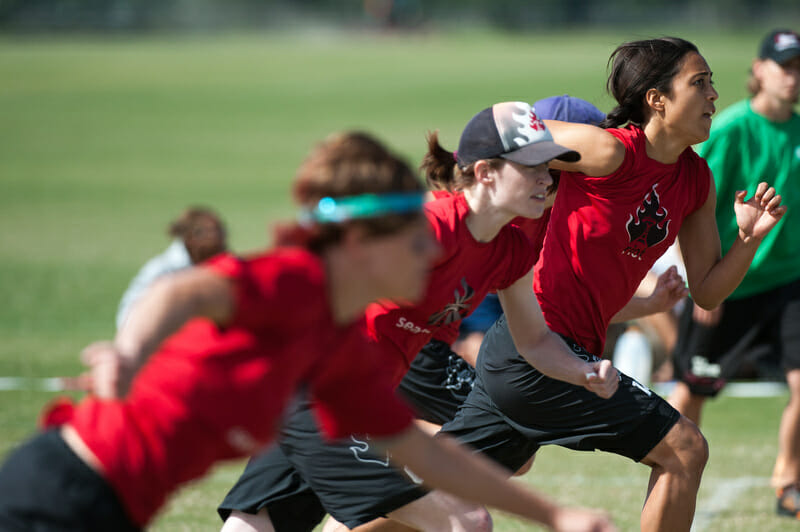 The 2015 Northwest Women's Regional championship included two teams in the USAU top 5 and five teams in the top 25. With three bids to Nationals, but two heavy favorites in Seattle Riot and Vancouver Traffic, the tournament was a search for who would take the third and final bid. It came down to a classic battle between Portland Schwa and Seattle Underground.
Saturday
Pool Play
In two pools of four teams, twelve Saturday games yielded just one upset: (6) Seattle Wavz beating (7) SLC Elevate 12-10. The first two rounds saw the top four seeds win easily over the bottom four teams, but the third and final round finally got a close game in (2) Vancouver Traffic vs. (3) Portland Schwa.
As noted in the Regional preview, Traffic has won every sanctioned game against Schwa since the team's inception in 2007. Their game on Saturday was mostly Traffic's to lose, as Vancouver took half 8-5. Shortly into the second half, Schwa would find momentum on the backs of Jesse Shofner, Bethany Kaylor, and Trisha Thoms, as all three would make pivotal bids and throws to fire up the Portland crew, who tied the game at 11. Traffic's new pick-up, the All-Star Ultimate Tour's Kate Scarth, would stop the game from getting out of control with an impressive scoring catch on a disc thrown behind her at shoelace level, and Vancouver would continue on to a 15-12 victory to keep the streak alive.
Quarterfinals
The last round of the day was the quarterfinals of the 1st place bracket: Schwa vs Wavz, and (4) Seattle Underground vs (5) Seattle LoCo. Wavz, having played three long games with just nine players, played a light, fun game against Schwa, since losing wouldn't eliminate them from 3rd place contention. Underground and LoCo played through a real game that Underground won convincingly, 10-4.
And with that, Sunday's 1st place semifinals were set: (1) Seattle Riot vs Schwa, and Traffic vs Underground.
Sunday
Regional Semifinals
The first round semifinals were strongly in favor of the higher seeded teams, but Schwa found the closer game again, this time against Riot. Riot opened the game with a hold on offense and two straight breaks, giving them a 3-0 lead. The teams traded points to an 8-5 halftime score.
Schwa came out with a strong second half, holding on offense on the first point, breaking on the next, and forcing a turnover in the third point, giving them a chance to tie the game at eight. This time it was Riot's Sarah Griffith, looking plenty healthy, bidding past Shofner to get the disc back for the eventual Riot score. Seattle quickly closed the door, giving up no more breaks, and beat Portland 15-9. The opposite semifinal saw Traffic earn a much easier win against Underground 15-6.
Regional Final: Riot v. Traffic
With bids to Nationals in the bag, Riot and Traffic played in the Northwest Regional final with only bragging rights (and seeding) on the line. Vancouver Traffic opened the game with a break, followed by 13 straight holds on offense between the teams. At 7-7, Riot finally got their break back to take the half. Riot started the second half in the same vein, breaking Traffic again for a 9-7 advantage, and both teams seemed to be protecting their offensive points as the game neared its conclusion, yielding no more breaks.
Seattle went on to win the Regional title, 15-13, for the fourth straight time.
Riot finished Sunday giving up just two breaks in two games, despite missing two big-time handlers in Gwen Ambler and Rohre Titcomb. Paige Soper had a great Sunday showing with her increased playing time, particularly in the final, both throwing and catching multiple scores. Seattle performed how one would expect them to this tournament, and will likely land the third overall seed at Nationals after Fury and Brute Squad won their regional tournaments in similar fashion.
Traffic had a great tournament as well, and should also take a seed at Nationals close to their final season rank: fifth. It says a lot that Traffic was the only team — other than San Francisco Fury — that lost to Riot by two points or fewer during the entire season. While not as close to perfection as Riot was this weekend, Traffic still had a great weekend, winning their games by an average of over eight points.
Third Place Semifinals
On paper, Schwa seemed to get the unlucky draw as they faced (5) LoCo in the bid-elimination game, while Underground squared off with (8) Seattle Grind. On the field, a different story unfolded. Schwa cruised through the game, winning 15-5, but Underground encountered a different Grind team than the one that didn't win a game on Saturday. The two teams exchanged holds all the way to an 8-7 halftime lead for Underground before Grind seemed to run out of gas, and eventually fell 15-9. But with the game-to-go looming, would Underground's much tighter game give them a disadvantage against the already favored Schwa?
Third Place Game: the Game-to-Go to Nationals
Schwa came into the 2015 Northwest Regionals as the favorite to take the third bid, and the results of the tournament so far had supported that fact: while both teams won easily against the lower seeds (save the Undergound/Grind game the previous round), Schwa had played better games against (1) Riot and (2) Traffic. Schwa was competitive in the second half of both games, while Underground lost by wider margins, and never found their groove against the superior teams. But the only thing that mattered was this one game that would conclude or continue these teams' seasons.
Schwa started the game on offense, and both teams scored their first O-points. Then, Schwa held again, only to find three consecutive breaks, jumping out to an early 5-1 lead. You could hear spectators on the sideline start to sigh and roll their eyes, but then Underground did the exact same thing: hold on offense, and break Schwa three consecutive times and tied the game, 5-5. After trading two points, Schwa received the pull, only to turn the disc over on Underground's end-zone line. Seattle worked the disc three-quarters of the way downfield, threatening to break, before Bethany Kaylor made a game-changing play on defense (full video of the point here):
http://gfycat.com/DistantPlasticHare
Kaylor called a timeout; Schwa scored the point and broke the next, winning the first half 8-6. Schwa took a couple more breaks in the second half before the soft-cap shortened the game and Portland scored the final point in a 13-9 victory.
Portland Schwa showed a lot of talent at this tournament, but had trouble maintaining their highest level of play. They had great streaks of points against Riot and Traffic, but outside of those 2-3 point bursts, struggled to keep up. This is definitely a talented team, and with their seemingly high dependence on emotion to drive them to the highest level of ultimate, is a group that could find themselves upsetting some teams at Nationals. At the same time, a team with such a dynamic is at risk of losing games they shouldn't, thought that didn't seem to be a problem at this tournament.
Seattle Underground also showed a lot of heart this tournament with the biggest swing of momentum throughout the entire tournament: their three-straight-break run against Schwa after themselves being broken three straight points. This is a particularly young team, compared to the three teams that qualified for Nationals, and this game is a good building block for a team looking to build on the future.
Final Standings
Place | Team | +/- from Seed | Point Differential
Seattle Riot (+0) (

+42

)
Vancouver Traffic (+0) (

+31

)
Portland Schwa (+0) (

+35

)
Seattle Underground (+0) (

+13

)
Seattle LoCo (+0) (

-12

)
Seattle Grind (

+2

) (

-35

)
Seattle Wavz (

+0

) (

-33

)
Salt Lake City Elevate (

-2

) (

-41

)
*Bold teams earned bids to Nationals.