Four great teams, just three bids.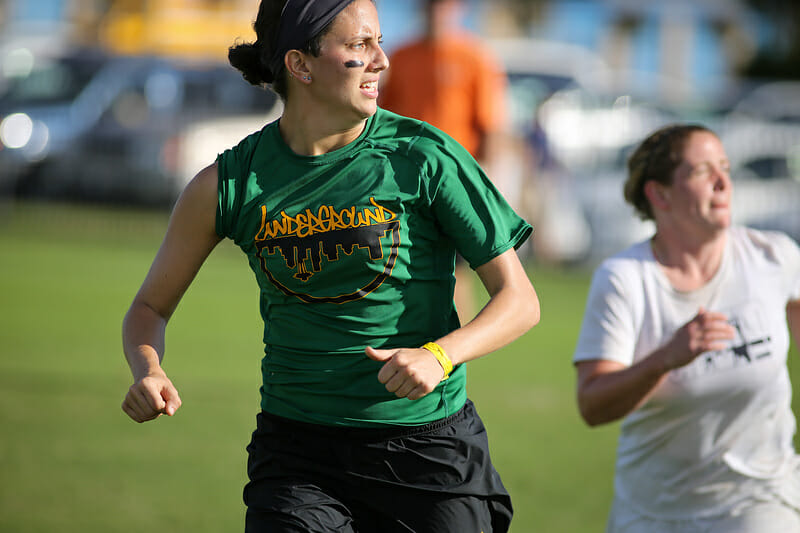 The 2015 Northwest women's club region shares one important similarity to the 2014 campaign, and one important difference. Just as it did last season, the region boasts four high quality teams that can compete at a national level: Seattle Riot, Vancouver Traffic, Portland Schwa, and Seattle Underground.
The difference: the region's bids dropped from four to three this season. While all of these teams are qualified, only three will earn bids to Nationals, and with heavy hitters Riot and Traffic likely locking down the first and second place bids, the teams to watch are Schwa and Underground — both qualified for 2014 Nationals — as well as #22 ranked Seattle LoCo, as the tournament becomes a battle for third place, and the final bid to the Club Championships.
Tournament Profile
Date: Sept. 12-13
Location: Burlington, WA
Number of teams: 8
Number of bids to Nationals: 3
Seattle Riot has owned this region for a while, and nothing has changed this season. After making several notable roster pick-ups this off-season, Riot put together another super regular season. In each of the three tournaments that Riot attended, they reached the championship game. They lost each of those games: Fury (Solstice), Fury (US Open), and Brute Squad (Pro Flight Finale) and ended up finishing third overall in the USAU rankings, barely behind #2 Fury and #1 Brute Squad.
Riot accomplished all that despite a season filled with missing players. Paired with the loss of U23 and All-Star Tour players Qxhna Titcomb and Jaclyn Verzuh, Sarah "Surge" Griffith has been on the sideline for most of the season recovering from the knee injury sustained against Fury in the 2014 Nationals semifinals. Griffith returned to the playing field at the Pro Flight Finale, which featured Riot's full roster for the first time all season.
While Traffic came close to besting Riot in an exciting 15-14 universe point win for Seattle at the U.S. Open1, no Northwest team has beaten Riot this season [1-0 vs Traffic, 2-0 vs Schwa]. In fact, Riot hasn't lost to a regional opponent since a 2013 Regionals pool play game against Traffic. Since that game, the team is 12-0 against Traffic, Schwa, and Underground combined. They are clearly the #1 team in the region.
Vancouver Traffic comes into the post-season as the #5 team in the USAU rankings, but again takes a back seat to the perennial powerhouse, Riot.
It was a somewhat quiet season for Traffic in 2015, playing in only 11 games, compiling a 7-4 record. This is not including the showcase game against the All-Star Tour, where they handed the traveling team their biggest loss of the Tour, 15-10. It also leaves out their undefeated turn at the Canadian Ultimate Championships, where they took home gold.
The regular season yielded only one notable win against Washington D.C. Scandal and losses to only Brute Squad and Riot, two of the top three teams in the nation. They also took a loss to Scandal. This short USAU season also meant that Traffic played only one game against a regional rival, a double game point loss to Riot in the U.S. Open semifinal. Despite no games against Schwa and Underground, Traffic still has the higher rankings and are clearly favored to take the second bid to Nationals, especially with announcement that All-Star Kate Scarth will be joining the team for the series.
Additionally, Traffic has a massive winning streak against National contenders Schwa and Underground, having currently won 26 consecutive games against the two teams (13-0 vs Schwa, 13-0 vs Underground). The last game they lost to either team was in 2009 in a Regionals pool play game against Underground. In 19 games against Schwa, Traffic's record is a perfect 19-0.
Portland Schwa might be the most interesting team at the tournament. Along with Seattle Riot, Schwa has seen an entire regular season with a uniquely smaller roster after seeing Jesse Shofner, Alex Ode, and Bethany Kaylor leave for the silver medal U23 U.S. Women's team, as well as Hayley Wahlroos and Shofner again leave for the All-Star Ultimate Tour.
Schwa did not attend a tournament this season with all of those four players either at practices beforehand or at the tournament itself. Clearly, those four players are each very talented and important to this team, and their absence in both tournaments and practices leaves a big question mark for this team's abilities as an entire unit. That said, plugging these four players in together will almost definitely make this team stronger.
The question is: how strong?
Schwa is a talented and capable team even without the four young stars. It wouldn't be a stretch to say Schwa could give Traffic a run for the second place bid at this tournament with their roster intact and healthy, but maybe the lack of full-team experience will keep them back from such a performance.
As far as regional match-ups go, Schwa went 1-2 in the regular season, losing twice to Riot early in the season at Summer Solstice and the U.S. Open, and beating Seattle Underground 12-8 in their final game at the Pro-Elite Challenge. That game, paired with the potential of a full roster, should be enough evidence to suggest that Schwa will come away with one of the three bids out of this region.
Seattle Underground are the underdogs amongst the contenders.
After a great year in 2014, earning a fourth bid for the region and making Nationals, the team has taken a small step back, just small enough for the Northeast region to snag the fourth bid from the Northwest. Boasting a 9-11 record in 2015, Underground has logged the most games in the region (Riot: 19, Schwa: 17, Traffic: 11), which could provide an advantage in team chemistry and experience when it comes time to play fellow hopefuls, Schwa, and maybe even Traffic after their shallow season.
The 2015 team has a couple strong youthful additions in Emma Kahle (Washington Element) and Hallie Dunham (Team USA U19), who join the likes of U23 Women's Nikki Bruce and U23 Mixed's Ari Lozano. Lead by second year coach Frank Nam, Underground will need to have an especially strong tournament. They have not had great success against the three other Northwest contenders recently; their last win against Riot, Traffic, or Schwa was during pool play at 2013 Regionals (13-9 win over Schwa, who they would later lose to 9-11 in the game-to-go to Nationals).
Seattle LoCo is a collection of Seattle players that have been with Riot/Underground in the past. Many of them don't have the resources to compete in the taxing TCT season (hence the name LoCo: "Low Commitment"). The team has only had a couple games against high-level clubs this season, and those came early at Eugene Summer Solstice: a 9-11 loss to Los Angeles Viva, and a 9-13 loss to regional contender Schwa.
Outside of those games, LoCo holds an 8-2 record after winning the Washington Women's Sectionals. While the team doesn't practice nearly as much as its sister teams in Seattle, it has a wealth of talent, like former Riot players Katy Craley, the legendary Val Dion, Heidi-Marie Wiggins, and many others. If any off-the-radar team has a chance to break seed and steal a bid, it's LoCo.
Salt Lake City's Elevate rounds out the competition at the event, earning an automatic bid from the Big Sky sectionals. After years of hosting solely mixed teams, Salt Lake City now fields a women's team, and this is their first year together. The team's mission states:
Elevate is founded with the concept that we need to come together as women to build skills and strengths within the women of the community.
Elevate includes many local college players paired with implants from around the nation, and the scene has finally come together and decided to create a women's team that hopes to compete at Nationals.
Despite a 2-5 performance at Summer Solstice, Elevate won their first game as a team against regional opponent Seattle Grind, 9-8. Elevate found more success at the LA Invitational, notching a 4-3 record against more established teams like Reign and Tempo, and breaking seed. The team could find some wins at this tournament, but is a long-shot to find a Nationals bid. Regardless, it is great to see some new faces in the NW region.
Seattle Wavz is a collection of young high-school players, formerly of Fryz and Seattle YCC teams, coached by Kyle Weisbrod. The roster holds just one high-school graduate, and two high-school seniors, and is littered with U19 Girls, U19 Mixed, and U16 Girls players. For the second year in a row, Seattle high-school girls have defeated the #32 ranked team in the nation to qualify for Regionals2.
The 2014 Fryz team managed to win a couple games, but was never in a position to compete for any of the four bids, and I would expect a similar result for Wavz this year. If you are in attendance, however, this is definitely a team to watch, as the Seattle YCC team just came off a National Championship win, and their are potentially a few future stars on the team that recently housed Riot phenom Jaclyn Verzuh.
Seattle Grind is the fourth and final Seattle women's team to gain a bid to Regionals, which comes after Portland Ivy declined its automatic bid from the Oregon section. Grind lost by just a single point to Seattle Wavz to earn the last bid from Sectionals, but now find themselves back in the mix. The team consists of players from several local college teams, including Washington Element, Whitman Lady Sweets, Western Washington Chaos, Washington State University, and more. There is a lot of rising talent on this team, including the 2015 U23's Nora Landri and a few other youth National team participants/alternatives and USAU high-school award winners. While slightly older, this team's talent is comparable to that of Wavz.
Grind didn't find much success against regional opponents this season, losing to LoCo on three separate occasions, but they also took a game from LoCo early in the season. This is another young Seattle team looking to steal some games from the likes of Wavz, LoCo.
---
Two pools of four teams will battle for six championship bracket seeds. Pool A (Riot, Underground, Elevate, Wavz) has the superior team Riot likely cruising to a 3-0 pool play finish and a bye in semifinals. Underground should be able to take the second place position, leaving Elevate and Wavz to battle for third.
Pool B (Traffic, Schwa, LoCo, Grind) will hold the more intense games throughout the day, but is also the easier pool to predict: Traffic is the leader on paper, Schwa a solid second, and LoCo a solid third. The important game will likely be between Grind and LoCo to compete for the third quarterfinal spot.
While six teams are eligible for the first/second place bracket, all eight teams are eligible for the third/fourth place bracket. This will make for an incredibly long, intense day on Sunday for the battle for third place. One team is going to have to play and win three elimination games in a row that day in order to qualify for Nationals.
---
The Battle for Third
The Portland Schwa and Seattle Underground Regionals rivalry story is a long one: the two teams have finished third and fourth, respectively, for three straight seasons (after the regions were re-aligned). Two of those seasons saw the Northwest region secure four bids, meaning Underground secured a bid in 2014 and 2012 despite losing to Schwa in the third/fourth place game by an average of three points. In those three seasons, Schwa has a 7-1 record against Underground, and a +17 point differential. As stated previously, Schwa defeated Underground 12-8 in the only game they played in this season, and with no team taking any major steps forward or back, 2015 Northwest Regionals seems to be heading to a similar finish.
The biggest factor affecting the Schwa/Underground third place fight are the other teams: LoCo and Elevate have yet to play either Schwa or Underground this season, but both teams have found more success as the season has progressed, and might be building towards a bid-stealing performance.
---
While this year seems to host the same contenders in the same positions as the last couple years, this is going to be an exciting tournament with a lot of implications for both the immediate and distant futures of the teams and players involved.
How does Riot look heading into Nationals?
Can Traffic finally topple Riot for the top seed in the region?
Does Schwa have talent to challenge Riot/Traffic for the regional title, or can they even hold seed and head to Nationals?
Can Underground break seed and find their way back to Nationals?
Does LoCo have what it takes to succeed against elite talent?
Just how good is this rag-tag team of Seattle youth players?
Will Grind or Elevate sneak out some wins?
Off we go.
---
Available on film in Ultiworld's 2015 Video Package ↩